How much is home insurance?
Homeowners insurance companies take many factors into account before quoting you for a premium. There are some tips and tricks to follow to reduce those rates.
Have you been paying more in-home insurance premiums than you need to?
Have you ever stopped to wonder why your home insurance is so expensive? As the cost of homeownership increases across the country, does the cost of insuring those homes. Understanding how insurance companies determine rates, what goes into the cost of a homeowners policy, and what factors will influence your costs now and in the future will save you thousands over your time as a homeowner.
A few national trends to consider:
Across the country, fraudulent contractors looking to charge insurance companies more than a fair price are raising insurance rates for homeowners. Your state may be trying to pass legislation to deal with this issue.

Climate change exacerbates natural disasters like annual flooding, storms, and wildfires. The area you live in may be more or less susceptible to worsening weather. If you're trying to estimate the future cost of homeowners insurance, be sure to consider how climate change may affect your area.
Are you ready to compare cheap home insurance quotes now? Use Insurify to access real quotes real fast.
At a Glance: How Much Does Homeowners Insurance Cost?
According to the Insurance Information Institute (III), the national average for a homeowners insurance policy is around $1,200.
However, there are two main factors influencing the cost of your insurance:
Where you live. In areas with higher home values, claim rates, or crime rates, premiums will be higher. The weather where you live will also affect your premiums, especially where instances of hail, tornadoes, or hurricanes are high. Other natural disasters, like earthquakes, floods, and wildfires, can also affect your costs.

The condition of your home. Certain structural advantages can lower your rate, a new roof or new pipes, for example. The replacement value also affects cost, as the more expensive the replacement cost, the more expensive the insurance premium. Lastly, older homes are typically more expensive to insure due to the higher likelihood of structural issues.
These factors will influence the types of optional insurance, or insurance riders, homeowners should add to their policy. The more optional insurance needed to cover loss, the more expensive the policy. More on this later.
Average Home Insurance Cost by Region
Location is the biggest factor that determines how much you'll pay for insurance. Every region of the United States faces different risks—like flooding, hurricanes, fire, and earthquakes. And locations within each region, down to the ZIP code and street number, will face different exposure to each risk.
Thinking about relocating? Knowing the cost of home insurance in addition to the average cost of a home will more accurately calculate your potential costs of living. To get an up-close look at your home insurance cost, check out Insurify.
Here is an overview of the home insurance rates for each region of the U.S., as exemplified by some states with notable or unique insurance landscapes:
Southeast: Average Insurance Cost for Homeowners in Florida
Floridians pay some of the highest premiums for home insurance in the country—almost a $2,000 annual premium according to research at the Insurance Information Institute (III). In addition to risks due to hurricanes and flooding, Floridians also face threats due to sinkhole damage.
Keeping costs low will depend on a number of factors, not the least of which includes reviewing discounts carefully. Comparison shopping for your best rate on a regular basis could also save you hundreds from year to year. The Southeast region includes Alabama, Georgia, Kentucky, Maryland, North Carolina, South Carolina, Tennessee Virginia, and West Virginia.
Compare Florida home insurance quotes here.
Southwest: Average Insurance Cost for Homeowners in Texas
Everything seems bigger in the Lone Star State, and home insurance premiums are no exception. Why is home insurance so expensive in Texas? There are a few factors:
Risks due to hurricanes, whether through water or wind damage, are high across the state and especially along the Gulf Coast

While North Texas avoids most hurricane risk, hail damage is extremely common

Hill Country experiences wildfires across the brushland
Other Southwestern states include Louisiana, New Mexico, Oklahoma, and South Dakota.
Compare Texas home insurance quotes here.
Northeast: Average Insurance Cost for Homeowners in New Jersey
Homeowners in densely populated New Jersey certainly feel the pressure of rising home insurance costs. Property owners face risks due to snow, hail, wind, and rain. But there are several easy ways these homeowners can protect their property:
Install storm shutters or other protections for your windows

Keep up with roof maintenance

Remove snow from your roof to reduce the weight it bears

Keep your gutters clean

Maintain the trees on your property to lower the risk of branches coming down during a storm
Your insurance company will likely offer you a discount for taking many of the above precautions, so be sure to ask for discounts when you take great care of your property. Other Northeastern states include Maine, New Hampshire, Vermont, Massachusetts, Rhode Island, Connecticut, New York, and Pennsylvania.
Compare New Jersey home insurance quotes here.
Midwest: Average Insurance Cost for Homeowners in Ohio
Ohioans know about spring storms with the occasional tornado, freezing winters with ice and snowstorms, and, for those who live near rivers, annual flooding. While Ohioans due often pay less than the national average, in areas more prone to natural disasters, premiums cost more.
Keeping home insurance rates low works the same way for all Ohio homeowners, as the same recipe can be copied no matter what region they call home. Here it is:
Prepare your home for natural disasters

Look for discounts

Choose a higher deductible to lower monthly costs

Comparison shop for your best rate on a regular basis
Other Midwestern states include Illinois, Indiana, Iowa, Kansas, Michigan, Minnesota, Missouri, Nebraska, North Dakota, Ohio, South Dakota, and Wisconsin.
Compare Ohio home insurance quotes here.
West: Average Insurance Cost for Homeowners in California
Earthquakes, floods, sinkholes…Californians across the state face a wide variety of risks associated with their property. But over the last few years, climate change has led to an increased frequency of wildfires, and premiums have increased in turn.
The insurance market and the homeowning industries are struggling to cope with this quickly changing landscape, but there are still many ways to lower costs and lower your risk for damages:
Fireproofing your home

Working with your "fire-wise" community to address wildfire prevention and protection
And don't forget about comparison shopping and doing other things to protect your property specific to the risks in your area: preparing for earthquakes, floods, and mold, for example.
Other Western states include Oregon, Colorado, Arizona, Hawaii, Idaho, Montana, Nevada, Utah, Washington, and Wyoming.e
Compare Home Insurance Quotes Instantly
Personalized quotes in 5 minutes or less
No signup required
Home Insurance for Renters
If you're renting out your property as a rental unit, you will need to purchase insurance as a landlord. Like standard home insurance, landlord insurance covers the building and other structures on your property,
However, it differs from standard home insurance in a few ways:
It does not cover personal belongings unless those belongings are used to service the home, a ladder for example. For this reason, we recommend requiring or encouraging tenants to purchase their own renter's insurance policy.

It has three coverage options, DP-1, DP-2, and DP-3. Depending on the option you choose, you may not be covered for common perils.

It is typically more expensive than standard home insurance, anywhere from 10 to 25 percent more.
If you are planning to rent out a single room in your home, your regular home insurance policy may cover you. Be sure to speak with your insurance company to understand your risk.
Home Insurance for Condo Owners
Condo insurance, also known as HO-6 insurance, is typically much less expensive than a standard home insurance policy. This is because condo insurance covers your unit and your unit only. Coverage for the shared parts of the structure is shared by all owners and paid for by HOA dues. Homeowners insurance premiums for condo insurance vary based on location and other factors. Lower rates may be available for people who live in gated communities or belong to homeowners associations.
Choosing a Home Insurance Company
The company you use to provide you insurance can also have a big effect on what you pay. But choosing the right company for you will depend on more than the price. Be sure to consider other factors, such as:
Customer service: Does the company have good reviews? You can read reviews of several major home insurance carriers right here at Insurify.
Availability and accessibility: You may want to be able to use an app, an online portal, or you may want to work with an agent in-person. Choose a company that offers the access you desire.
Claims process: Be sure you understand how the insurance claims process works before you purchase your policy. Some companies use a separate company to underwrite policies. In the event of a claim, customers have to work with the underwriter. This can cause a ton of confusion during an already stressful time. Know before you buy.
Factors that Affect Premiums
A home insurance policy typically consists of these components:
Dwelling coverage

Personal property coverage

Personal liability coverage

Medical payments/medical expenses
There are several coverage options that do not typically appear in a home insurance policy. Depending on your risk, you may want to add these common riders to your policy:
Mold

Flood

Hurricane

Sinkhole

Tornado
Knowing how much insurance you need will take thoughtful consideration. But taking that extra time saves you thousands or more in the event of a claim.
There are also some demographic factors and personal choices for your insurance that will impact the rates insurance companies will quote you. Some of these include your:
Credit score

Claims history

Preset coverage limits

Bundling options with car insurance

Actual cash value of your personal property

Living expenses

Attractive nuisances like swimming pools and trampolines

Amount of coverage

Dwelling coverage amount

Property damage and dwelling coverage limits

Old or new home
Frequently Asked Questions
The cost of insuring your property will vary greatly depending on a number of factors, including your location, how much insurance you need, discounts available to you, and the condition of your home. If you understand how these factors affect your costs, you will save every year on your home insurance costs. For example, investing in a new roof can save you hundreds in the first year, while bundling your home and auto insurance can also save you hundreds.

This will depend largely on your policy agreement, which you can get a great overview of by reading your declarations page. Common coverages that are optional, and thus not provided unless you pay extra for it, including flood, fire, earth movement, and identity theft.  Remember that some of these, like flood insurance, may be required by your lender if you have a mortgage on your home.  There are some things that an insurance company flatly will not cover, no matter which company you choose. These are sometimes unlikely, but important to keep in mind: dwelling or property damage due to failing to maintain the property; nuclear disaster; and acts of war.

Due to the ease of the internet, there are many ways you can calculate and estimate the cost of insuring your home. We recommend a quote comparison site like Insurify because it's simple and fast: fill out your form once and see a range of insurance options. Use this information to compare quotes at popular companies.
The Best Way to Lower Your Home Insurance Rates
No matter who you are or where in the U.S. you call home, there is one simple and easy way to lower the cost of home insurance: comparison shopping. Insurers take many things into account when quoting your home insurance rates, but there are a few steps you can take to get the best and cheapest options or get lower rates on your existing policy. Higher premiums don't always beam enough coverage – make sure you're comparing your homeowners insurance rates to make sure you've got both quality and price, make sure your policy covers all the things you care about.
Knowing the range of options available to you helps you choose the best insurance coverage for the best price.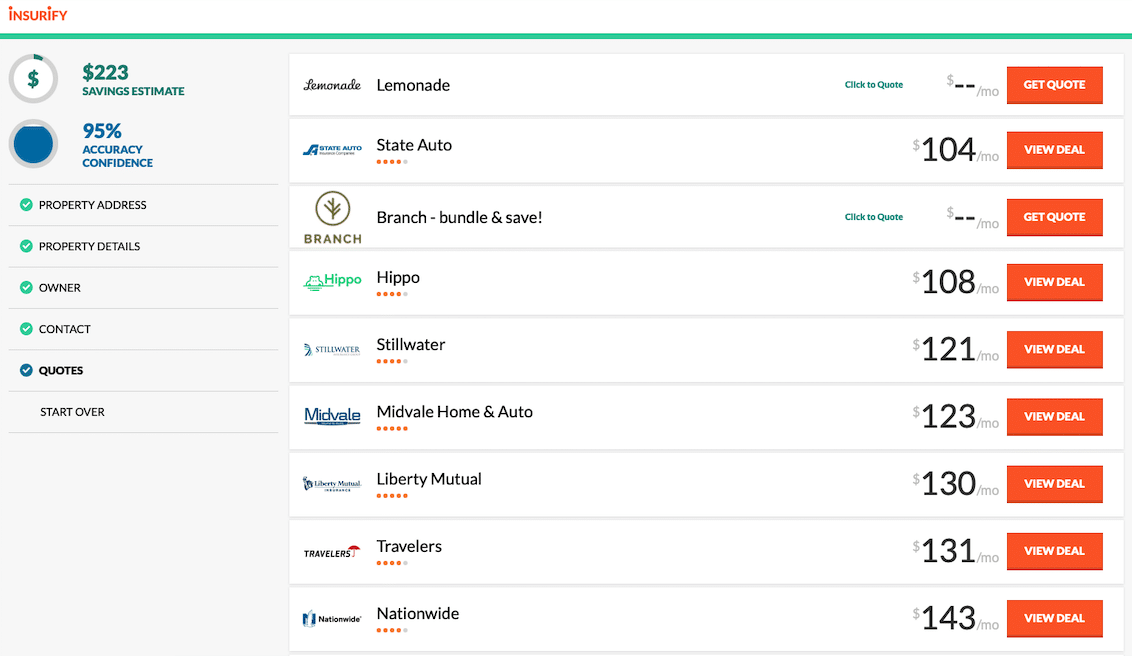 Compare Home Insurance Quotes Instantly
Personalized quotes in 5 minutes or less
No signup required
Data scientists at Insurify analyzed over 40 million auto insurance rates across the United States to compile the car insurance quotes, statistics, and data visualizations displayed on this page. The car insurance data includes coverage analysis and details on drivers' vehicles, driving records, and demographic information. With these insights, Insurify is able to offer drivers insight into how their car insurance premiums are priced by companies.