Is homeowners insurance required to get a mortgage?
Yes, all mortgage lenders will require you to buy homeowners insurance and provide proof of insurance before closing on your home loan.
A house could be the largest purchase you'll make in your lifetime. So it makes sense to compare homeowners insurance to cover potential damages.
However, homeowners insurance benefits more than just you. It's also financial protection for your mortgage lender. That's why your lender will typically require you to buy a policy before closing on your home loan.
This guide will walk you through the homeowners insurance requirement for a mortgage. You'll also discover additional coverage options to safeguard your home and give you peace of mind.
Homeowners Insurance Requirements for a Mortgage
Homeowners insurance comes in many sizes and shapes— eight different types of policies exist, including specific policy types for condo owners and mobile homeowners.
No matter the kind of policy, mortgage lenders can require specific insurance coverage when offering a loan to buy a house.
Hazard Insurance
A standard homeowners insurance policy contains several parts. One component is hazard insurance. Put simply: it protects your home against threats like theft, fire, smoke, lightning, and wind damage.
Lenders require hazard insurance to protect the dwelling and structure—if a bad storm damages your home, it can cover the cost to rebuild it.
But don't get confused if your mortgage company asks you to get " hazard insurance." The term is used interchangeably with homeowners insurance.
Covered Damage
Your policy should protect against the most common perils. A peril is an event that can damage your home or belongings.
According to the Insurance Information Institute (III), the most common covered losses are:
Fire or lightning

Windstorm or hail

Explosion

Vandalism and malicious mischief

Damage from an aircraft, car, or vehicle

Theft

Falling objects

Weight of ice, snow, or sleet

Limited water damage
Your home insurance policy may also list scenarios that it won't cover. Policy exclusions are important to know before disaster strikes. Check with your mortgage lender to make sure you're protected against all required perils.
Types of Coverage
Homeowners insurance includes protection for more than just your home. A typical homeowners insurance policy includes several types of coverage:
Dwelling coverage: Coverage for the physical structure of your home and attached structures like a garage or carport

Other structures: Protects detached structures like a shed, fence, or detached garage

Personal property: Coverage for your furniture, clothing, power tools, and other personal belongings

Loss of use: Pays reimbursement costs for additional living expenses if you can't live in your home after a covered loss

Liability coverage: Protects you financially from medical expense claims or lawsuits if someone is hurt on your property
Home insurance typically includes these five categories. However, limitations exist and can vary by insurer.
Minimum Policy Limit
Your mortgage company will set a minimum coverage limit. The amount must be high enough to fully replace your home if a fire or other disaster destroys it.
Depending on your lender, your minimum policy limit must be enough to cover:
The full replacement cost or insurable value of your home as determined by your insurance company

The unpaid principal balance on your mortgage
If your home is destroyed, you won't have an incentive to continue paying your mortgage payments. The minimum policy limit makes sure the mortgage is paid if disaster strikes.
Additional Insurance Requirements for Your Home
A mortgage lender can require additional coverage if your home is considered at-risk for some natural disasters. For example, you may need flood insurance if the home you're buying is in a flood zone.
Flood Insurance
Borrowers looking at a new home may need to buy flood insurance. Lenders can require it before releasing the funds for a mortgage loan if the house is in a high-risk flood area.
According to FloodSmart.gov, you must have flood coverage if you're using a government-backed mortgage like an FHA or VA home loan to buy a home.
Your real estate agent or mortgage company can help you determine the risk of flood in your area.
Windstorm Insurance
Most property insurance policies include wind damage. But there are a few exceptions. Insurers in some areas—coastal or high tornado risk—may exclude wind damage in a standard policy.
If it's required coverage, you may have the option to purchase windstorm insurance for an additional cost.
Earthquake Insurance
In most cases, lenders don't require you to get earthquake insurance. But you may want to buy a policy anyway.
A standard homeowners policy does not cover earthquake damage. This isn't a problem if you live in an area that doesn't get earthquakes. However, a study by the III reports millions of people across 42 states are at risk for earthquake damage.
Compare Car Insurance Quotes Instantly
Personalized quotes in 5 minutes or less
No signup required
Optional Coverages You May Want
The bare minimum coverage is all a lender requires, but homebuyers may want additional peace of mind. Optional policy endorsements and coverages can help them get it.
Water Backup
A standard homeowners policy covers limited water damage. Typically, it includes sudden and accidental discharge or overflow from plumbing, heating, air conditioning, and household appliances.
But what about property damage caused by backups in sewers or drains? You'll need additional coverage for that.
Many insurers offer water backup coverage as an endorsement to your home insurance policy. But keep in mind that this won't protect against water damage caused by flooding—you need flood insurance for that.
Replacement Cost vs. Actual Cash Value
When shopping for homeowners insurance, you'll notice several policy options available. Two policy types you'll see are replacement cost coverage and actual cash value. Here's the difference:
Replacement cost reimburses you for your loss according to current market prices. If you paid $500 for a TV four years ago, and it costs you $500 to replace it, your insurance claim can cover the total amount.

Actual cash value reimburses you for the loss minus depreciation. If you paid $500 for a TV four years ago, your insurance claim would cover the cost of an equivalent four-year-old TV (which is rarely enough to replace it).
Many standard homeowners coverage defaults to actual cash value. It provides a lesser amount of protection but usually results in lower insurance premiums.
Ask your insurance agent about upgrading to a replacement value or replacement cost coverage policy. It can increase your insurance cost, but it also increases your amount of coverage.
Lower Deductible Amount
Your deductible isn't a type of coverage, but you can choose the amount to personalize your policy. A deductible is an amount you pay out of pocket when you file a claim.
Deductibles can vary by insurers. Typically, you can choose from a $500 or $1,000 policy deductible.
If you're looking to save on insurance costs, choose a higher deductible. However, a lower deductible means you pay less when filing a claim.
Frequently Asked Questions
Yes. Mortgage companies require borrowers to get homeowners insurance before releasing the funds to buy a house. The policy protects the interest of the lender. It can pay to rebuild or repair your home in the event of potential damages.

Yes. Lenders can require home insurance if you're buying a condo. Condo insurance is a type of homeowners coverage called an HO-6 policy. It can protect your unit and your personal belongings if a fire, tornado, or other peril damages your property.

Many people confuse mortgage insurance with homeowners insurance. Homeowners insurance covers your home's structure and the contents inside of it. Mortgage insurance, commonly called PMI or private mortgage insurance, reimburses the lender if you stop making your monthly mortgage payments.
Is Homeowners Insurance a Requirement?
Mortgage companies require homeowners insurance as part of the home-buying process. If you're buying a new home, you must provide proof of insurance to your lender before closing on the loan.
It protects the lender 's investment, but it offers protection for you, too. So you shouldn't cancel your policy as soon as you pay off your mortgage.
Standard home insurance is a smart move—with or without a mortgage. It covers the dwelling and your personal property and offers additional coverages and benefits to safeguard you and your family financially.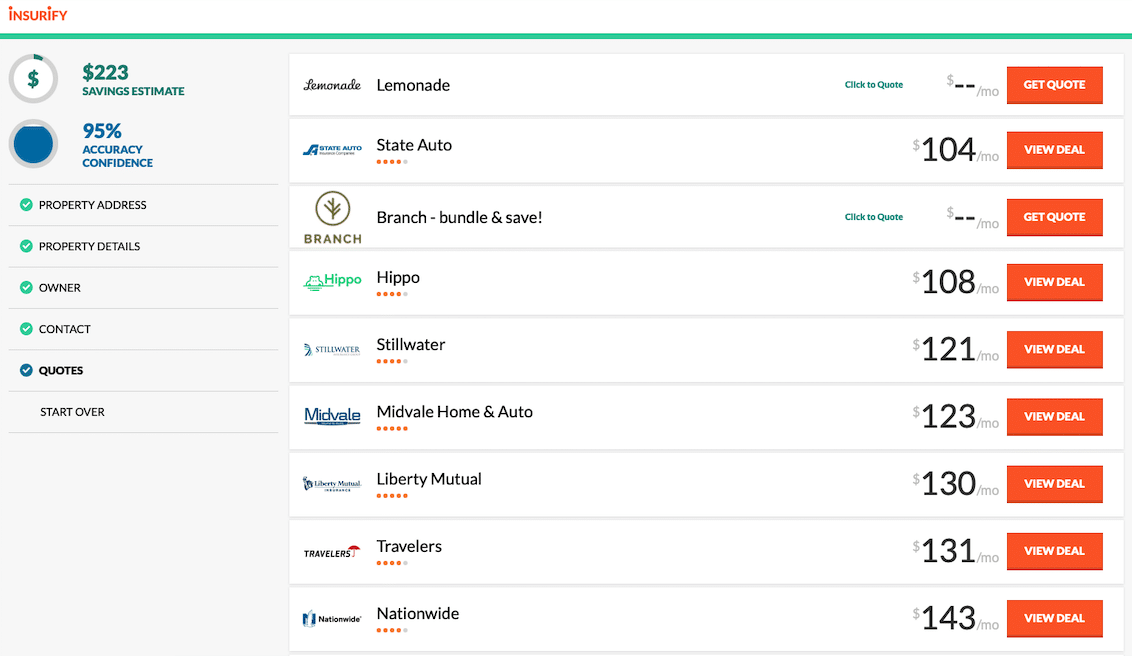 Compare Car Insurance Quotes Instantly
Personalized quotes in 5 minutes or less
No signup required
Data scientists at Insurify analyzed over 40 million auto insurance rates across the United States to compile the car insurance quotes, statistics, and data visualizations displayed on this page. The car insurance data includes coverage analysis and details on drivers' vehicles, driving records, and demographic information. With these insights, Insurify is able to offer drivers insight into how their car insurance premiums are priced by companies.