What are homeowner insurance endorsements?
Homeowners insurance endorsements are any changes you make to an existing homeowners insurance policy. If you need to include a certain type of additional coverage to your plan, you would add an endorsement to your policy.
Homeownership can come in many shapes and sizes, and so can homeowners insurance forms and endorsements. If you're new to homeownership or homeowners insurance, then knowing what insurance form and endorsements you need will make sure you and your property are properly protected against any apparent risks.
What Homeowners Insurance Forms Are Available?
As mentioned previously, there are a handful of different homeowners insurance policy forms that cover various scenarios. Some may not apply to you, and some may be relics of the past, but there is undoubtedly one that you will need as a homeowner.
HO-1: Also known as " basic form," this is the most basic and limited of homeowners insurance policies. Given that these policies provide such limited coverage, they are all but extinct, and virtually no insurance companies continue to offer them.
HO-2: Also known as " broad form," this type of policy offers a broader range of insurance coverage than an HO-1.
HO-3: Also known as " special form," this is the most common home insurance policy currently available. It provides more expansive coverage than an HO-2 and has what's known as "open peril" coverage, which means that the policy will cover repair costs from any peril unless it is listed as an exclusion. These policies also offer " named peril " coverage, which includes personal property coverage from perils named in the policy. These perils typically include:
Fire and smoke damage

Water damage

Damage caused by the weight of ice, snow, and sleet

Damage from vehicles, such as cars, aircraft, and watercraft

Lightning strikes

Explosions

Vandalism

Theft coverage

Falling objects
HO-4: Also known as " renters insurance," this type of policy will typically cover personal property replacement costs if you rent property and experience damage to your personal belongings. Renters insurance does not cover damage to the actual unit being rented.
HO-5: The most expanded home insurance policies available. These policies typically have more covered perils as well as higher coverage limits.
HO-6: Also known as "condo insurance" or "walls-in coverage," these policies cover condominium units, as well as the unit owners ' personal belongings contained within the unit.
HO-7: Also known as " mobile home form," this type of policy is essentially a slightly modified HO-2 that applies to mobile/manufactured homes. HO-7s may not cover the same perils as an HO-2, so be sure to check the policy to get a clear sense of what is covered. Properties that qualify as mobile homes usually include:
Trailers

Single-wide manufactured/ mobile homes

Double-wide manufactured/ mobile homes

Sectional homes or modular homes

Park model homes and RVs
HO-8: Also known as "modified coverage form," this type of policy exists for older homes that do not meet an insurer's standards for HO-2 or HO-3 policies. If your home fits this mold, you may need to upgrade certain portions of the property to meet building codes and qualify for other policies.
Obviously, if you're a homeowner, you wouldn't consider renters insurance or other forms that wouldn't necessarily apply to your situation. The best thing you can do is read the finer coverage details of your policy to see what's actually covered. If you see specific gaps in your coverage that could put you and your property at risk, it may be time to start considering endorsements.
What Are Endorsements, and Which Ones Do I Need?
As mentioned above, endorsements occur when you add or remove optional coverage from your homeowners insurance policy. If, for example, you have a policy that does not include earthquake coverage and you live in an area at risk of earthquakes, you can obtain an earthquake endorsement to get that coverage.
Of course, it may not be the most economically sound idea to pay for every endorsement available. Instead, take the time to review the risks facing your home, and add endorsements to cover high-risk gaps in coverage.
Most insurance providers offer policy endorsements for the following:
Windstorm Coverage: Otherwise known as "hurricane coverage," this endorsement mostly applies to coastal homes at an elevated risk of hurricane damage. While many plans offer named peril coverage for generic wind or hail damage, insurers may not extend that same coverage in the event of a hurricane. If windstorm coverage is not offered as an add-on, you may need to purchase a separate policy (and pay a separate deductible).

Flood Insurance: Flood coverage is typically not offered in standard home insurance policies. However, many insurers can offer a flood insurance endorsement that is commonly provided by the National Flood Insurance Program. The only downside is that these endorsements have notoriously low coverage limits, so for higher coverage limits, you may need to turn to private flood insurance.

Earthquake Coverage: Probably the most widely excluded peril (due to the financial risk caused by potential widespread damage), earthquakes are usually specific to certain geographic regions. California, for example, is consistently at a high risk of earthquakes, and so insurance providers can offer earthquake endorsements from the California Earthquake Authority. If you live in California or another state known to experience earthquakes, consider getting an earthquake endorsement.

Extended Replacement Cost Coverage: An extension of dwelling coverage (which covers home repair costs), this endorsement effectively raises the coverage limit of your home insurance policy.

Additional Personal Property Coverage: As with replacement cost coverage, insurers can enforce limits on how much property damage to your personal belongings they will cover. They can also impose sub-limits on specific categories of items. If you are the owner of fine art, silverware, jewelry, or equipment with a high monetary value, it might make sense to purchase a personal property endorsement to make sure you are covered. If you have an item that requires a particularly high level of coverage, you may need to appraise the item in order to purchase the correct endorsement.

Sewer/Water Backup Coverage: While standard policies cover some instances of water damage, this type of endorsement is specific to water that has overflowed into your home from the home's drain, sump pump, or sewage system. Given that this water contains a higher level of contamination and potential for damage, insurers can require you to obtain an endorsement for coverage.

Service Line Coverage: This type of coverage helps cover the cost of repairs to an essential water or utility line on your property.

Food Spoilage Coverage: This type of endorsement can help cover the cost of perishable food lost as a result of refrigerator power loss from a larger power outage.

Identity Theft/Cybersecurity Coverage: In truth, identity theft endorsements rarely cover more than court costs or time lost at work as a result of an identity theft incident. On the other hand cybersecurity coverage covers various cybercrimes, though this type of coverage is typically reserved for high-value homes.

Personal Liability Coverage: This endorsement can help you in the event that you are sued and found liable for damages that occurred to others on your property. This can include things like medical payments and court costs.

Personal Injury Coverage: This type of coverage can help cover bodily injury sustained by you or members of your household. It can even go so far as to cover emotional damages or settlement costs insofar as your policy limits will allow.

Mold/Fungus Coverage: Typically, standard homeowners insurance coverage will cover mold if caused by a covered loss. This type of endorsement will cover for mold testing, the cost of property damaged by mold, and the cost of replacing damaged property.

Dwelling Construction Coverage: If your home is vacant due to construction, some insurance companies will view this as a heightened risk and might cancel your policy. A dwelling construction endorsement can help make sure your home stays insured while it's under construction.

Loss of Use Coverage: This type of endorsement will help cover additional living expenses resulting from covered losses. For example, if you are forced out of your home due to fire damage, loss of use coverage will cover the costs of temporary housing, additional food expenses, and other costs that you otherwise would not have incurred had the damage never happened.
Compare Car Insurance Quotes Instantly
Personalized quotes in 5 minutes or less
No signup required
How Much Will Endorsements Cost?
The cost of endorsements—and the cost of your overall homeowners insurance policy —depends on a handful of factors, including:
The rates provided by individual insurance companies, including things like premiums and deductibles

The risks that are inherent to a specific area or property

The amount of coverage you require
Some endorsements are more or less expensive than others. For example, something like an extended replacement cost endorsement could cost between $25 and $50 per year, and w ater backup coverage could cost $30 to $70 per year. On the other hand, things like additional personal property coverage can balloon depending on how valuable your personal property is and how much coverage you need to properly insure it.
Overall, the best thing to do is to take stock of your property, both your personal belongings and the home itself. Once you get a sense of the general value of everything, you can begin to make decisions about how much coverage you need. In addition, it would make a lot of sense to do some risk analysis surrounding your property.
Do you live in an area that experiences frequent earthquakes? Are floods or hurricanes a regular occurrence in your region? Is your property situated in an area with a high burglary rate? Once you can reasonably answer questions like these, you can reliably add or remove endorsements.
No risk of earthquakes in your area? Then you can pass on an earthquake endorsement. Live on the southeast coast of the U.S.? You might want to pay for windstorm coverage to head off damage from hurricane season. Having a realistic view of what risks can befall your home will give you a realistic view of how much endorsements will cost you.
FAQ: Home Insurance Forms and Endorsements
While there are no endorsements that will cover things like HOA/COA dues, there is a loss assessment endorsement that can help cover costs that the HOA passes on to its members. For example, if an HOA must pay a deductible of $30,000 to a master policy, the HOA can pass the deductible cost to its members in equal portions.

While standard homeowners policies will cover around $1,000 in such costs, a loss assessment endorsement can help raise that coverage so that you can minimize the costs that your HOA can pass on to you.

Generally speaking, you would have to enroll in an entirely separate auto insurance policy to make sure your car is properly covered. Interestingly enough, auto insurance policies have their own sets of endorsements that you can pay for to expand your car's coverage.

It would be entirely possible for you to save money by forgoing any endorsements. The major downside to this would be that you would be at massive financial risk if anything outside of the basic coverage happens.

Granted, an HO-3 (for example) could cover you for a handful of perils. However, the best course of action would be to consult with a licensed insurance agent to make sure you're not forgoing coverage for an obvious risk that could cost you far more than the coverage rates.
Assess the Risks to Get the Right Coverage
Of course, it's difficult to know for certain which perils might befall your property. You could live in a flood-prone area and never experience flood damage. You could also live in a totally safe neighborhood and experience a burglary.
The best thing for you to do, as mentioned previously, is to analyze the risks inherent to your property and area. With these things in mind, you can cross some insurance types and endorsements off your list and add some insurance types and endorsements onto your policy to make sure you are properly covered at all times.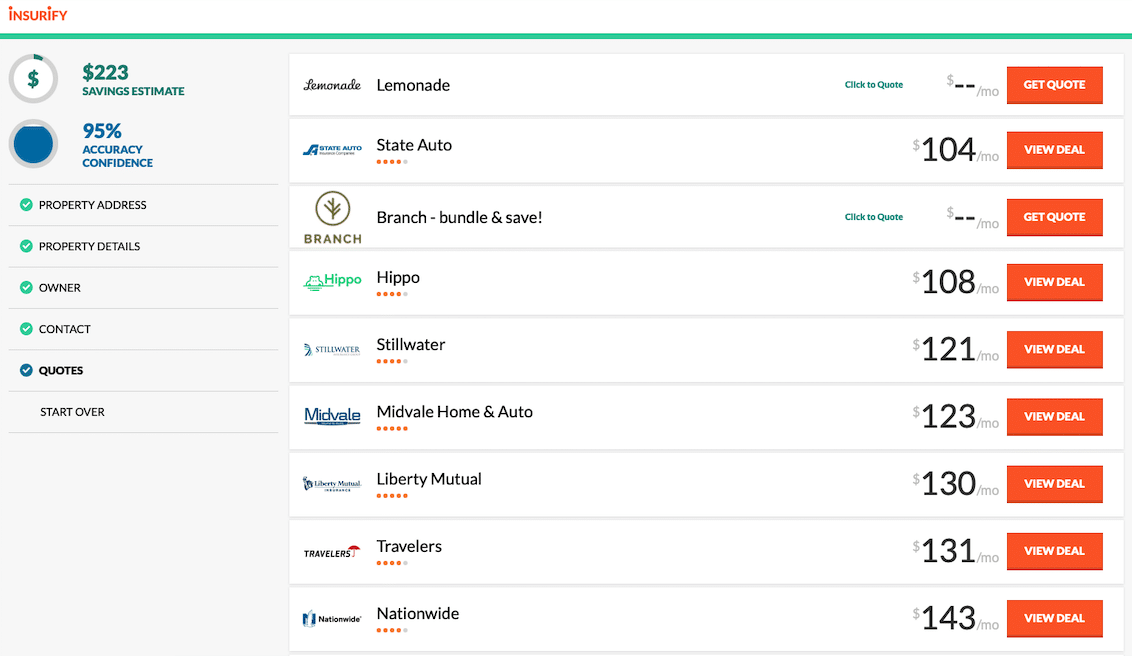 Compare Car Insurance Quotes Instantly
Personalized quotes in 5 minutes or less
No signup required
Data scientists at Insurify analyzed over 40 million auto insurance rates across the United States to compile the car insurance quotes, statistics, and data visualizations displayed on this page. The car insurance data includes coverage analysis and details on drivers' vehicles, driving records, and demographic information. With these insights, Insurify is able to offer drivers insight into how their car insurance premiums are priced by companies.