What is hazard insurance in Texas?
Texas hazard insurance protects your home from fire, lightning, theft, vandalism, and other losses. It doesn't protect against all threats. You may need additional coverage for flood, tornado, and hurricane damage.
The wide-open spaces of Texas are a great place to buy a home. The state has a low cost of living and doesn't charge personal income tax. In fact, it's one of the fastest-growing states.
As a Texas homeowner, you're proud of your home. You'll want to protect it with comprehensive insurance coverage. Hazard insurance in Texas is one way to safeguard against threats. But is it enough? Find out in this hazard insurance guide for Texas homeowners.
What Is Hazard Insurance in Texas?
Hazard insurance protects your home from damage. But you must know the difference between hazard insurance and homeowners insurance.
Think about what would happen if a tornado, fire, or other hazard destroyed your home. Will hazard insurance pay to rebuild your house?
Hazard insurance refers to the part of your homeowners policy that covers the dwelling or structure of your home. It can pay to repair or rebuild your home if disaster strikes, similar to high risk home insurance.
However, it doesn't cover the home's contents. Other components of your home insurance policy will pay to replace your personal belongings, such as furniture, clothing, and electronics.
Texas Home Insurance Coverage Options
A Texas homeowners insurance policy has a few coverage aspects. It starts with dwelling coverage and expands to include your personal property, personal liability, and more. Here are the coverage options you typically find in a policy:
Dwelling coverage: This is the standard part of your insurance policy. It covers the physical structure of your home.

Other structures: This coverage is for the structures that are separate from the house, such as a detached garage or fences.

Personal property coverage: Also known as "contents coverage," this protects your personal belongings. The coverage applies whether the items are inside or outside of your home.

Liability coverage: This protects you financially if someone sues you after being hurt on your property.

Additional living expenses: Also called " loss of use," it pays for extra costs you might have if you can't live in your home after a covered loss.
The amount of coverage you have for each section of your policy can vary. Generally, dwelling coverage is based on how much it would cost to rebuild your home. Keep in mind that the amount may differ from the current market value or what you paid for the house.
Personal property protection is usually 50 to 70 percent of dwelling coverage. Some coverages, such as liability coverage, allow you to choose the policy limit. The more liability protection you buy, the more you typically pay for insurance premiums.
Compare Car Insurance Quotes Instantly
Personalized quotes in 5 minutes or less
No signup required
Home Insurance Coverage Types in Texas
Another option you have when setting up your home insurance policy is the type of coverage. Insurance companies let you choose between actual cash value and replacement cost. Your choice determines how much the insurer will pay if you have a covered loss.
Actual cash value (ACV) is usually the cheapest policy type. But it can also pay the least amount if you file an insurance claim. That's because ACV subtracts depreciation due to wear and tear or age.
For instance, let's say you paid $500 for a TV five years ago, and it gets destroyed by a covered loss. If the expected lifespan is about 10 years, depreciation will cause the value to drop by $50 each year. In this case, the insurance company would subtract depreciation of $250 ($50 per year for five years) before issuing you a claim check.
The other option is replacement cost. Replacement cost is based on current market prices. It doesn't account for depreciation and will pay up to the coverage limits when you file a claim. If you choose replacement cost coverage, you would receive the full $500 for your TV after a claim.
What Hazard Insurance Covers in Texas
Hazard insurance is protection for your home. What it covers depends on the policy type. There are eight types of homeowners insurance. The most popular is an HO-3 policy. It offers the greatest amount of coverage, including:
Fire or smoke

Lightning

Windstorm or hail

Explosions

Vandalism

Theft

Damage caused by vehicles

Damage from the weight of ice or snow
Hurricanes, floods, wildfire, tornadoes, and thunderstorms are some common causes of damage in Texas. While an HO-3 policy covers several disasters, it doesn't cover all of them. Some policies exclude wind or hail damage, especially if you live on the Gulf Coast.
Read your policy carefully. If you have questions about what's covered, ask your insurance agent. They can review your coverage and help you identify areas where you might need separate insurance to get the protection you need.
What Isn't Covered
You might have heard the term hazard insurance used interchangeably when talking about catastrophe insurance. But they're not the same thing.
Hazard insurance doesn't cover flooding. Depending on your insurer, your policy may not cover damage caused by hurricanes, earthquakes, wind, or hail.
Most coverage doesn't include termites or insects, wear and tear, or losses if your house is vacant or unoccupied.
Your policy may not cover windstorm, hurricane, or hail damage if you live in any of the 14 coastal counties or on Galveston Bay in Harris County. The Texas Windstorm Insurance Association (TWIA) offers protection if you can't get it from your homeowners policy.
How Much Is Homeowners Insurance in Texas?
According to a National Association of Insurance Commissioners report, the average annual cost of homeowners insurance in Texas is $1,955. That's more than 1.5 times the U.S. average of $1,249.
The increase in cost is likely due to Texas being a prime state for natural disasters like hurricanes and tornadoes. Both disasters can cause substantial damage.
You might pay more or less than the average. Several factors determine your insurance premiums:
Your home's age

Your home's location

Your home's value and characteristics

Your claims history

The coverages you choose

The insurance company you choose
You don't want to skimp on valuable coverage to get cheap Texas homeowners insurance. But there are a few ways to lower your insurance costs.
Shopping around to compare home insurance rates is one of the quickest ways to save. Insurance companies calculate premiums differently, and the price can vary from one insurer to the next.
Increasing your deductible is another way to save money on home insurance. The deductible is the amount of a claim that you must pay yourself. The higher the deductible, the lower your premium.
You might also ask your agent about discounts. Many companies offer home insurance discounts if you install a burglar alarm, use deadbolt locks, keep your garage door closed even if you're home, or replace a damaged or worn roof.
Texas Hazard Insurance FAQs
No, hazard insurance does not cover water damage from flooding. Your lender may require that you have a flood insurance policy if your home is in a flood zone. If your agent doesn't sell flood insurance, contact the National Flood Insurance Program at 1 (877) 336-2627 for help.

Texas law doesn't mandate that you purchase hazard insurance. But you may be required to buy a policy if you're using a home loan to buy a house. Mortgage lenders can insist you have hazard insurance before scheduling your closing.

Hazard insurance is part of a homeowners insurance policy. Most insurance companies offer home insurance. To get a quote, use an online comparison site like Insurify to compare home insurance costs and coverage.

Some rental contracts can require you to have hazard insurance. A renters insurance policy includes hazard coverage. Read your policy carefully. It may not cover flooding, hurricanes, or hail. Ask your agent about additional policy options to get the coverage you need.
Get Hazard Insurance in Texas
Hazard insurance is an excellent option for homeowners. It can protect you and your family from fire, lightning, theft, and more. Keep in mind that your coverage can vary by insurance company and location.
Hazard insurance doesn't cover flood damage, and most policies won't cover windstorm or hail damage if you live on the Gulf Coast.
You may need to buy additional insurance to get the protection you need. Talk to your insurance agent to identify gaps in coverage. Before you buy a policy, compare home insurance quotes to get the best coverage at the best price.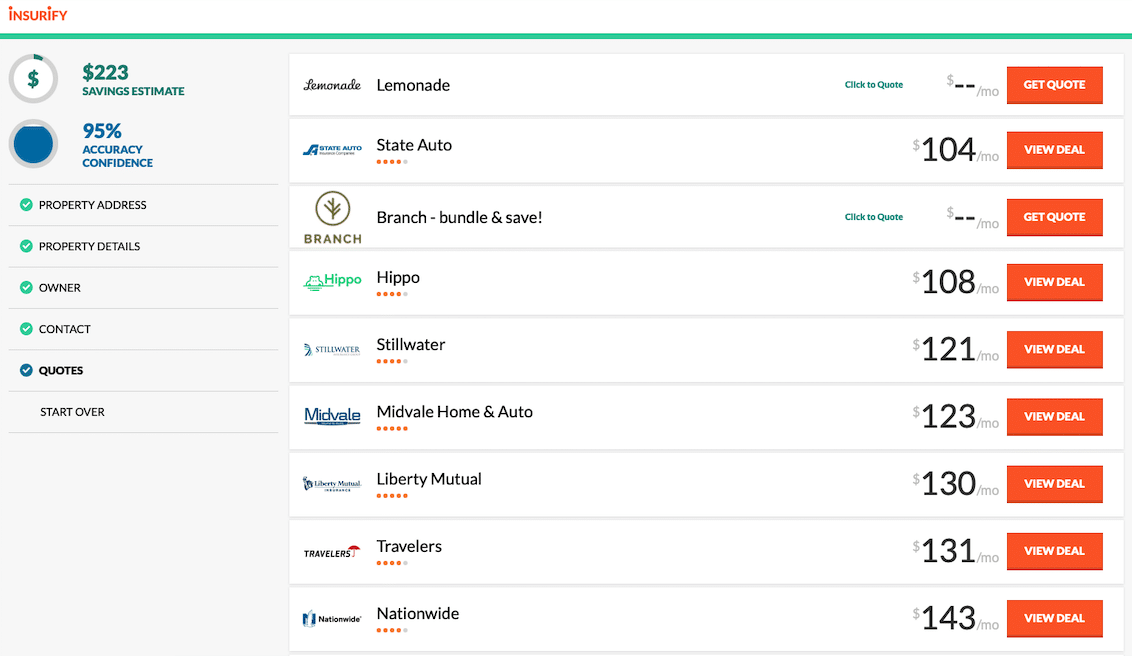 Compare Car Insurance Quotes Instantly
Personalized quotes in 5 minutes or less
No signup required
Data scientists at Insurify analyzed over 40 million auto insurance rates across the United States to compile the car insurance quotes, statistics, and data visualizations displayed on this page. The car insurance data includes coverage analysis and details on drivers' vehicles, driving records, and demographic information. With these insights, Insurify is able to offer drivers insight into how their car insurance premiums are priced by companies.