Frontline homeowners insurance could be your future home insurance company.
Every homeowner has unique needs when it comes to their insurance policy. Insurify can help you decide if this is the right insurance company for you.
Living in a coastal region means that you have specific needs when it comes to home insurance. Frontline is ready to offer several policy options at affordable rates. While Frontline's reach is rather limited, hundreds of its insurance agents are ready to help residents in states that see the peak of hurricane season: Alabama, Florida, Georgia, North Carolina, and South Carolina.
Frontline Insurance has built its reputation for over 20 years as a company that people can turn to when things are tough. Whether it's a hurricane or COVID-19, Frontline agents are there to help. However, not every customer has the same experience. While the company does have some positive reviews, many recommend seeking insurance elsewhere.
Only you can know if Frontline is the best insurance company to partner with. But, instead of spending tons of time researching pricing from a variety of companies, try visiting Insurify first. You'll learn more about the options available from Frontline and compare quotes in minutes.
Frontline Homeowners Coverage Options
The policy options that are offered by Frontline will vary based on the state you live in, and while the company provides several features for homeowners, those in need of commercial insurance may also find what they're looking for. It's best to check with your insurance agent to determine what's available in your area, but in general, policyholders have access to the following:
Robust coverage for owner-occupied, secondary, and seasonal homes that features dwelling, personal property, and loss assessment options

Protection for high-value homes that sit in specific coastal areas

Customizable policies for a rental property

Coverage for water damage not caused by weather events

Flood insurance that covers excess flooding incidents

Extensive policies for condominiums that include loss of use, personal liability, and more

Wind and hail coverage
Keep in mind that not all of these features are available in your state, so it's best to visit www.frontlineinsurance.com to find your local insurance agency and inquire about your options. Some selections, including high-value home coverage, will have unique stipulations associated with them, so it's best to speak with an agent to learn which features will be right for you.
Frontline Home Insurance Reviews: Customer Satisfaction
Every insurance company will have its fair share of positive and negative customer reviews online, but Frontline does experience a larger quantity of complaints compared to other insurance providers. Some policyholders describe their experience with Frontline as one of the best in the business, noting that the company offers excellent customer service and is prompt when resolving claims.
In the more than 200 Frontline Insurance reviews we read, we found that many customers aren't pleased. A large number of reviews describe Frontline as uncooperative and changing policy stipulations at the last minute. Many people made their first claim with Frontline after Hurricane Irma and were upset to find that claims were paid at a fraction of what repair estimates stated. Others described that communication with Frontline adjusters was absent or unprofessional. And in recent months, many negative reviews have been posted citing sudden rate increases of 30 percent or more.
Here are some of the best and worst homeowners insurance reviews we found for Frontline:
Compare Car Insurance Quotes Instantly
Personalized quotes in 5 minutes or less
No signup required
How does Frontline's claims process work?
Dealing with a covered event, no matter how small, can be stressful. Frontline aims to make the claims process as smooth as possible. Before starting the claims process, ensure everyone in your home is safe and that you've vacated the property if the damage is severe enough to be a threat to your wellbeing.
Policyholders can contact the Claims Department seven days a week between the hours of 8 AM and 6 PM ET. If you're submitting a claim as a result of a hurricane, contact 1 (866) 673-0623. All non-hurricane claims can be initiated by calling 1 (800) 675-0145. Customers who prefer to file a claim online can use Frontline's claim portal. There they can start a claim or upload documents to an existing claim.
Like any other homeowners insurance company, the time it takes Frontline to process your claim will vary based upon the specific details. It's recommended that you are proactive throughout the claims process and check in with your assigned representative regularly. Your payment will be issued after a complete review of the incident and may use repair estimates when calculating your claim amount.
Available Discounts
Oftentimes, policyholders are drawn to specific insurers due to the plethora of discounts available. After all, spending less money is always a plus, but not everyone is eligible for the same types of savings on a homeowner's policy.
Unfortunately, Frontline doesn't seem to offer much in the way of discounts, however, it does boast a stepdown program that allows for reimbursement on a hurricane deductible should you need to file a claim. Once you've been covered for five years and have a claim-free history, you may be eligible to receive 100 percent of your deductible under certain conditions.
Frontline Payment Methods and Contact Info
Frontline is a bit vague when it comes to methods of payment. Customers can likely complete this task in a number of ways including:
Using the customer portal online to make a payment using a credit card

Calling the customer service phone number 1 (877) 744-5224

Mailing a check to:

500 international Parkway
Lake Mary, FL 32746
If the above contact information won't do, contact your local insurance agent to discuss how to best meet your accessibility needs.
How to Get a Frontline Home Insurance Quote
In this day and age, finding the insurance information is as easy as a few clicks of your mouse. However, Frontline wants its customers to build personal relationships with local agents. Instead of allowing people to receive quotes online, it aims for a more personalized process.
Those who are wondering how much it costs to have their residence or commercial property covered by Frontline should use the Find An Agent tool to speak with a local representative. You'll be able to discuss all of your policy options and determine the pricing that best meets your needs.
Other Types of Home Insurance Coverage Offered by Frontline
Each state that Frontline serves has a bit of a different mix of insurance options available, so it's best for residents to contact an insurance agent to discuss all of the types of coverage offered. Whether you're in need of a basic policy or full coverage in the event of a hurricane, Frontline has policy options that can be customized for your situation.
Other Types of Insurance Products Offered by Frontline
Frontline offers more than home insurance. You can also fine policies for:
Flood insurance

High-value insurance

Condo insurance

Rental property insurance

Stepdown deductible property

Commercial property insurance
Frontline does not, as of this writing, cover renters insurance, car insurance, or life insurance. Exactly which policies are available to you will depend on the state you live in. Please speak with your Frontline insurance agent to learn more.
Frontline Home Insurance FAQ
It's common for insurance companies to evaluate your home prior to issuing new coverage or renewing your policy. If you have questions regarding Frontline's inspection process, contact customer service at 1 (877) 744-5224.

Founded in 1998, Frontline serves customers in the Southeast United States. First Protective Insurance Company underwrites all of Frontline's policies.

A variety of factors influence the rates you pay for home insurance, so Frontline may or may not be the most affordable option for you. If you're looking to save money, head over to Insurify before you make a purchase—you'll be able to compare quotes from multiple companies in a matter of minutes!
The Best Way to Save on Home Insurance
Aside from the actual purchase of your home, the money you spend on home insurance may be one of the largest regular costs in your budget. Depending on your needs, policies from Frontline Insurance may be the most affordable option in your area or you may want something that better suits your situation.
Ultimately, the best way to compare home insurance is to visit Insurify. Instead of hunting down phone numbers for insurance companies across the United States, Insurify gives you all of the information you need in one place.
Frontline Insurance Overview
For over 20 years, Frontline has provided home insurance policies to residents in a small portion of the Southeast United States. These high risk areas, prone to flooding and hurricanes, does tend to cause premiums to be higher with Frontline. By partnering with First Protective Insurance Company, Frontline has been able to pay out over $1.3 billion in claims during more than 13 severe weather events in the region.
Frontline works with insurance agents in five states to offer customizable policies that meet a range of needs. Although many companies tend to feature other types of plans including auto insurance, Frontline prefers to work within the residential and commercial property niches.
Many customers are pleased with Frontline and describe its customer service as second to none, however, there are also a fair amount of negative reviews online. Some policyholders feel that Frontline doesn't pay enough for claims and are frustrated with many aspects of the company.
Department

Contact Information

Customer Service
1 (877) 744-5224
Non-Hurricane Claims
1 (800) 675-0145
Hurricane Claims
1 (866) 673-0623
Headquarters
500 International Pkwy
Lake Mary, FL 32746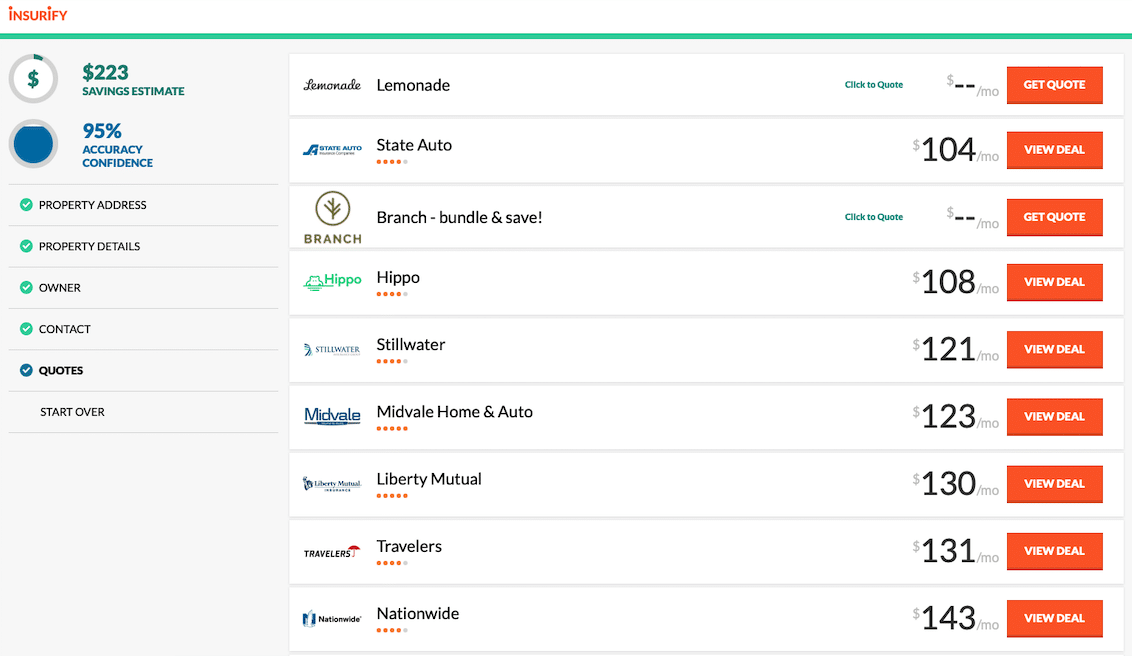 Compare Car Insurance Quotes Instantly
Personalized quotes in 5 minutes or less
No signup required
Data scientists at Insurify analyzed over 40 million auto insurance rates across the United States to compile the car insurance quotes, statistics, and data visualizations displayed on this page. The car insurance data includes coverage analysis and details on drivers' vehicles, driving records, and demographic information. With these insights, Insurify is able to offer drivers insight into how their car insurance premiums are priced by companies.