What is earthquake insurance?
Earthquake insurance protects homeowners and their belongings up to the same limit as homeowners insurance. Policyholders can select a deductible percentage of their coverage limits.
On the day this was written, the United States experienced 482 earthquakes of M1.5 or higher. Are you prepared for an earthquake near you?
Earthquake insurance is vital for people living in seismic areas. Thousands of earthquakes happen every year, with varying degrees of strength and impact. Most earthquakes are small, registering under 3.0 on the Richter scale. However, large earthquakes do happen, and when they do you'll be glad to have insurance.
If you're thinking about adding earthquake coverage to your policy, this article will help you through the process. Unsure if an earthquake insurance policy is worth it for you? This article will cover that, too. Let's go!
And if you're here for homeowners insurance, try Insurify . Our free rate home insurance comparison tool helps you search and compare coverage. Your best home insurance rate is just a few clicks away. Try it now!
Earthquake Insurance 101
As the name suggests, earthquake insurance protects your home and the stuff in it from damages caused by an earthquake or volcanic eruption. Most home insurance policies do not cover earthquakes, so this can be a vital component to add to your plan.
Earthquake policies are expensive. They typically come with high deductibles and/or lower coverage limits. This is a separate deductible from your homeowners insurance policy. Your deductible will either be an amount, like $5,000, or a percentage of your claim costs. If your deductible is a percentage, be sure to note what that means for you. For example, if you have a 10 percent deductible on a claim worth $150,000, you'll need to cover $15,000 of damages.
This means that earthquake insurance is best employed when your home is seriously damaged. Even so, these are vital for homeowners in areas with seismic activity.
Earthquake Insurance Coverage Options
There are a few coverage components when it comes to earthquake insurance:
Dwelling: the structure of your home is covered.

Personal Property: your personal belongings inside the home are covered.

Loss-of-Use: any additional living expenses created by not being able to live in your home are covered.
In addition to the basics, your policy may have additional components or special coverage attached to the policy. If your policy does not feature coverage you need, ask your insurer about adding it to your plan. Additional coverage can include:
Upgraded replacement

Repair of land, driveways, walkways

Emergency repairs for aftershock protection
Earthquake Insurance Exclusions
Earthquake protection is generally excluded from standard homeowners insurance policies. Just as important as knowing what is covered is knowing what isn't. Some perils may be covered by other parts of the policy or additional riders. Exclusions include:
Vehicle damage is covered by car insurance.

Sinkholes, while technically earth movement, require a separate rider.

Fire, even when caused by an earthquake, is covered by the dwelling component of your policy.

Floods are covered by flood insurance.

Water damage unless the direct cause of earthquake damage.

Masonry, as in the bricks of your brick house, is not covered.

Other structures may or may not be covered by earthquake insurance. Be sure to read your policy carefully.
Compare Car Insurance Quotes Instantly
Personalized quotes in 5 minutes or less
No signup required
How to Decide if Earthquake Insurance is Right For You
Should you buy earthquake insurance? Earthquake insurance is essential to anyone living near an active fault line. However, communities near hydraulic fracturing activity are experiencing more earthquakes in recent years. States with the most earthquakes include:
Alaska

California

Hawaii

Idaho

Montana

Oklahoma

Oregon

Texas

Washington
In the state of California, all home insurance companies must provide earthquake insurance. That doesn't mean that Californians have to buy it. Mortgage lenders may require borrowers to have earthquake insurance, but state law does not. Even so, earthquake insurance is very important to protect your property. The California Earthquake Authority's mission is to protect Californians from the danger of earthquakes,
No matter where you live, an earthquake can happen. If you live in an area where earthquakes are rare and the cost of coverage is high, consider dropping the coverage. If you want more information about the earthquake risk in your area, please check out this resource from FEMA.
Cost of Earthquake Insurance
How much earthquake insurance costs depend on several factors, including:
Location of your home and the seismic activity there.

The soil type that your home is built on.

How your home was constructed and the materials used.

The cost of rebuilding your home.

The type of foundation your home sits on and how it's attached to the foundation.

Your deductible amount.

Additional riders, higher coverage limits, or other special coverage.
Essentially the less likely your home will experience an earthquake and the more safety nets in place to protect your home, the less expensive your policy will be.
Finding Cheap Earthquake Insurance
Getting cheap home insurance of any kind is all about research and preparation. For earthquake insurance, the best deals are found by earthquake-proofing your home. Some newer homes are built with earthquake resistance in mind. Older homes can be retrofitted to make them more stable and less susceptible to earthquakes.
Don't forget to comparison-shop for coverage. You'll never know if you have the best price on home insurance if you don't know the range of pricing available to you. While you shop, consider adjusting coverage options to make your policy more affordable.
Lowering coverage limits or raising your deductible to lower your premium. Just don't set anything to a level you couldn't cover. For example, don't set your deductible so high that you can't afford to cover it in the event of a claim.
Beyond this, speak to your insurance provider about ways to lower your rate. There may be discounts, programs, or suggested upgrades that could lower your rate.
Renters shouldn't rule out earthquake insurance protection. Most renters insurance policies will have earthquake protection excluded, so if you live in a home you don't own, you may want to consider adding it to your policy.
Frequently Asked Questions About Earthquake Insurance
Often, earthquake insurance has lower coverage limits than the dwelling component of your home insurance policy. This doesn't mean that an earthquake will cause less damage than other disasters. In fact, earthquakes can and do cause complete destruction of homes every year.  Many insurance companies have to keep coverage limits low in order to account for the sudden onrush of insurance claims in the event of an earthquake. What that means for you is to be strategic: Get as close to complete coverage as possible, adding riders if they're not prohibitively expensive. Bear in mind that your deductible will be set much higher than that of the rest of your insurance policy. Sometimes deductibles are a flat amount, and sometimes they're a percentage of your claim. Be sure to make note of your deductibles and to save away enough money to meet that deductible should something happen.

Renters in seismic areas should consider adding earthquake insurance to their policies. As with homeowners, earthquake riders with renters insurance have lower coverage limits and have higher deductibles. Even so, it's better than paying for everything out of pocket. If you live in an area less prone to earthquakes, you may consider forgoing coverage.
Earthquake Insurance: The Bottom Line
Earthquake insurance may seem like a big expense for an unknown risk, and many homeowners have been tempted to forgo coverage. However, we caution everyone to remember the basic rule of insurance: if you can't afford the loss, buy insurance to cover you.
If you're in a high-risk area for quakes like Utah or California, standard dwelling coverage may not be enough to cover damages from a natural disaster like an earthquake. Take your emergency preparedness to the next level with a separate policy specifically for earthquakes.
And if you're looking to save big on your homeowners policy, look no further than Insurify. Compare home insurance coverage, find your best rate, and buy in just a few minutes. Shopping for home insurance has never been easier!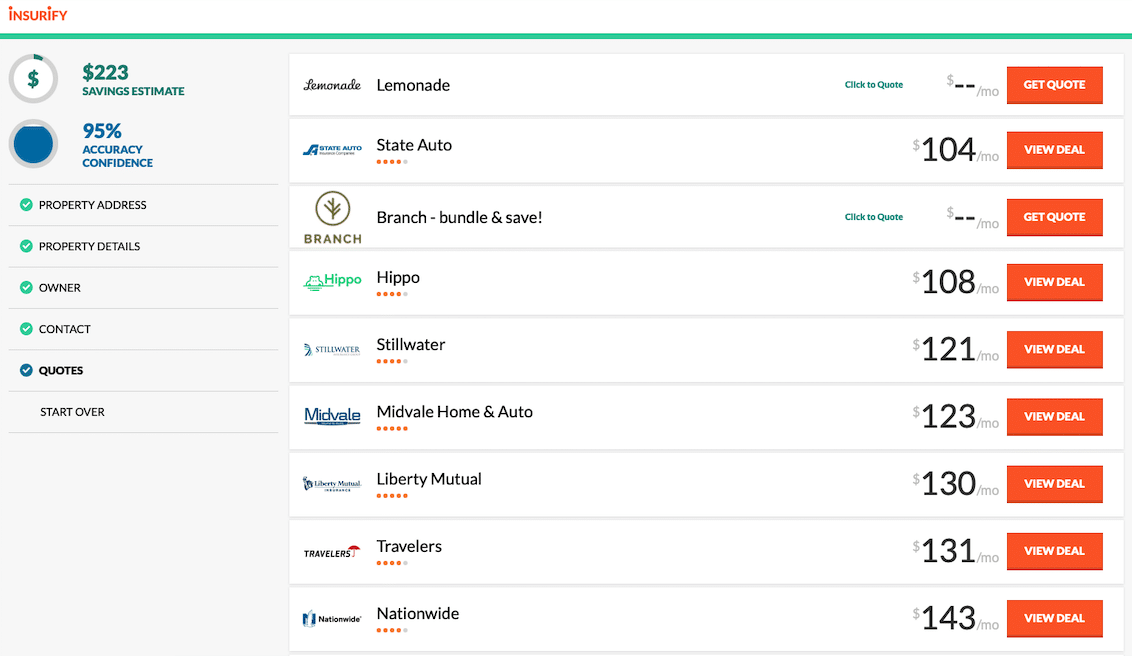 Compare Car Insurance Quotes Instantly
Personalized quotes in 5 minutes or less
No signup required
Data scientists at Insurify analyzed over 40 million auto insurance rates across the United States to compile the car insurance quotes, statistics, and data visualizations displayed on this page. The car insurance data includes coverage analysis and details on drivers' vehicles, driving records, and demographic information. With these insights, Insurify is able to offer drivers insight into how their car insurance premiums are priced by companies.