You can't buy a standard homeowners insurance policy if you live in a condo or cooperative apartment (co-op). Because you own the living space, renters insurance isn't enough, either. When you share a building structure, insurance gets more complicated.
What you need is co-op insurance. Many people buy a condo or co-op before understanding the type of insurance they need or how co-op insurance works. Even if the building has its own insurance coverage, it doesn't protect what's inside your unit. You must have an individual policy to cover your place and belongings.
Get a quote for co-op insurance with Insurify in minutes to compare prices from multiple companies and see how much you can save!
What Is Cooperative Insurance?
Cooperative (co-op) insurance is insurance for co-op apartment or condo owners. The building itself has insurance coverage for common areas such as hallways, foyer, roof, walkways, gyms, and garden spaces.
However, it does not cover any loss or damage in your individual unit. If you own a co-op, you need your own individual policy to cover the things inside your living space, such as:
Loss or theft of your belongings from a burglary

Smoke or water damage that ruins your walls, floors, or ceilings

Personal liability if someone trips or gets hurt in your apartment
How Is Co-op Insurance Different from Home Insurance?
The primary difference between co-op and homeowners policies is what the policy covers. When you own a house, you own everything inside and outside of the house. Besides your personal possessions, you're responsible for the entire real estate including the structure of your home, outbuildings, and the land it sits on.
Co-op unit owners are only responsible for the space inside the walls of the apartment or condo. The building where your co-op is located usually has its own insurance policy for walkways, hallways, the roof, and other common spaces.
Compare Car Insurance Quotes Instantly
Personalized quotes in 5 minutes or less
No signup required
What Co-op Insurance Covers
Figuring out what co-op insurance does and doesn't cover can be tricky. Because your living space is inside a building that other co-op owners also share, you need the protection of two separate insurance policies:
Co-op association master policy for the main building

Individual co-op policy to cover personal property inside the unit
Your individual coverage picks up where the master policy ends. An individual policy can cover the replacement cost if your property is lost, stolen, or damaged and personal liability inside your unit.
Understanding Master Policies
The master insurance policy insures the structure and shared areas on the property. Two types exist: "all in" and "bare walls." Understanding the difference is important and will allow you to purchase enough property insurance through your individual policy.
If the co-op association has an "all in" policy, it usually covers the original structure, walls, floors, ceilings, and fixtures that were in place when the unit was built.
However, the co-op or condo association may opt for "bare walls" coverage only. In that case, the master policy applies to bare walls, ceilings, and floors and doesn't cover bathroom fixtures, lights, ceiling fans, appliances, and other fixtures inside the unit.
Why You Need an Individual Co-op Insurance Policy
Even if the building has an "all in" policy, it doesn't extend to your personal belongings or liability coverage. To avoid surprises, co-op owners must contact an insurance company to purchase their own policy.
Read your legal agreement to learn what the master policy covers, and ask the co-op board to find out how much additional coverage you need. Generally, your own co-op insurance will cover:
Contents: Clothing, furniture, and electronics you own

Walls and floors: Improvements, additions, or alterations you made

Personal liability: Bodily injury, such as if a visitor trips over a rug, and damage from a neighbor's overflowing sink, tub, or toilet

Loss assessment: For shared spaces when the co-op is partially responsible for the cost for deductibles or damage

Additional living expenses: The cost of temporary shelter if you have a temporary loss of use of your apartment or condo
Keep in mind that it doesn't cover every loss or liability. Insurance companies commonly exclude high-value items. If you own jewelry, fine arts, or heirloom antiques, a rider or umbrella liability insurance can give you added peace of mind.
How Much Does Co-op Insurance Cost?
The price of co-op insurance is usually much less than what you might expect to pay for homeowners insurance. The average annual premium for homeowners insurance was $1,192, according to the National Association of Insurance Commissioners (NAIC). The cost is lower for co-op owners because you're not insuring the dwelling or structure of the building.
NAIC reports the average cost of co-op insurance is $471 per year. Your premium depends on the amount of coverage you purchase and where you live. The average co-op policy in Wyoming is $340. But if you live in New York City, the average premium is $515.
FAQs About Co-op Insurance
There is no one-size-fits-all co-op or condo insurance policy. Before you get quotes or purchase a policy, (1) read your legal agreement, (2) check with the co-op board, and (3) ask your mortgage lender about special insurance requirements. You must know if the building's master policy has "all-in" coverage or if protection stops at "bare walls." Banks and mortgage lenders tend to be more strict when insuring condos. However, even when you own a co-op, you must have enough liability protection to cover water damage incidents and to rebuild if you suffer a major loss.

A deductible is an amount you must pay before the insurance company will begin to reimburse you for each claim you make. Typically, higher deductibles mean lower insurance premiums. This is because your larger financial payment helps offset the amount the insurance company must pay. However, never agree to a deductible that's more than you can afford. A $1,000 deductible may mean you'll pay less for your co-op insurance, but you must have at least $1,000 in savings to cover the cost if you need to file a claim. Locate your cooperative home insurance contact number if you aren't sure what your deductible is, and your insurance agent can look it up for you.

A sublet or sublease can happen if you move out of your apartment and rent it to someone else. However, subletting policies vary from building to building, and policyholders might be surprised to find out that not all insurance policies allow it. Check with the co-op association to see what the master policy says about subletting and read the fine print or contact your insurance agent before agreeing to sublet your space.
Co-Op Insurance: The Bottom Line
Investing in your own living space is an exciting time. However, because you're buying a unit inside another structure, you need to learn about co-op and condo insurance, which can be more difficult to understand. Make sure you're familiar with the ins and outs of co-op and condo insurance before you purchase a unit. Also, because of differences in the cost of living and replacement values, prepare to spend more if you live in NYC versus Dayton, Ohio.
Examine your insurance needs to know the amount of coverage you should have, and use Insurify to compare policy options and find the best home insurance price for co-op insurance.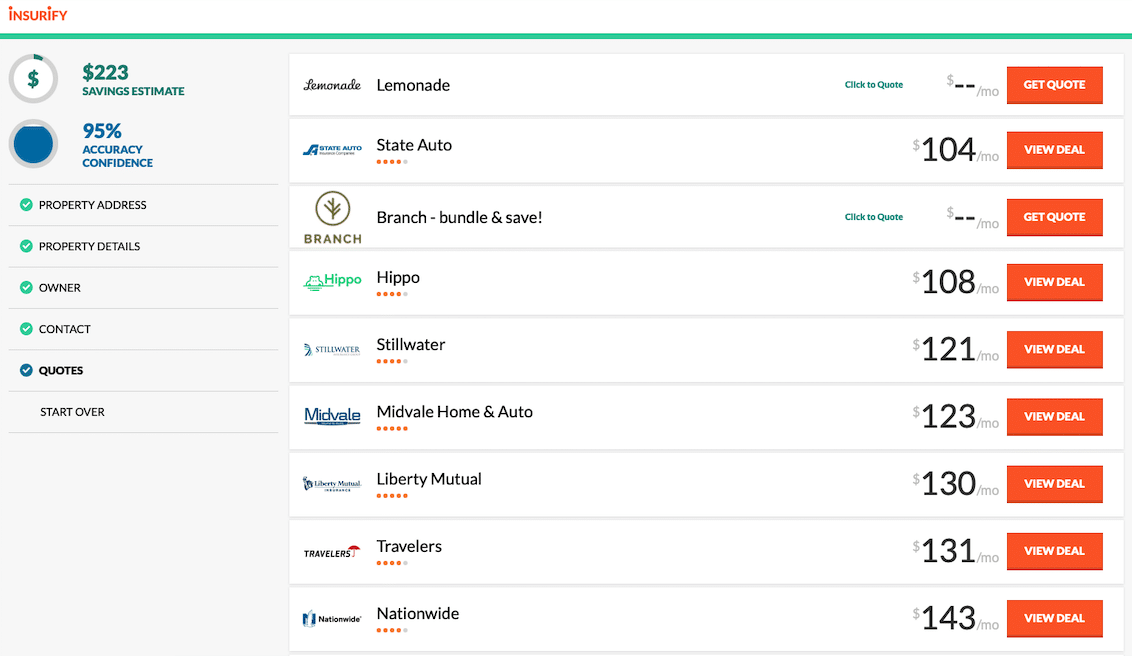 Compare Car Insurance Quotes Instantly
Personalized quotes in 5 minutes or less
No signup required
Data scientists at Insurify analyzed over 40 million auto insurance rates across the United States to compile the car insurance quotes, statistics, and data visualizations displayed on this page. The car insurance data includes coverage analysis and details on drivers' vehicles, driving records, and demographic information. With these insights, Insurify is able to offer drivers insight into how their car insurance premiums are priced by companies.