What is earthquake insurance?
Earthquake insurance is a type of catastrophe insurance. It pays to repair, rebuild, or replace your home and personal belongings if an earthquake causes damage.
Homeowners have various insurance options to protect their homes and property. One option is earthquake insurance coverage. You might think your standard homeowners policy protects against earthquakes. But that isn't the case at all.
You can purchase earthquake insurance as an add-on to your current policy. You also have the option to buy it as stand-alone coverage.
According to the Insurance Information Institute, residents in 42 states are at risk for earthquakes and related damage. Therefore, it's best to compare coverage options and get a policy in place before disaster strikes.
To save you some time, we've put together a list of the best earthquake insurance companies. We examined the type of coverage and discounts available, the company's financial strength, and the quality of customer support.
Picking the Right Earthquake Insurance Company
Depending on what you value most, whether that be a seamless claims-processing experience or the friendliest customer service, you may consider one earthquake insurance company over another. Insurify has compiled this list of the best earthquake insurance companies for you to choose from.
Allstate: Best Overall
Allstate is our top pick of the many earthquake insurance companies we considered. The company earned an A+ rating from the Better Business Bureau (BBB). It also has an A+ from A.M. Best, indicating a strong financial health and credit profile.
Allstate has a variety of coverage options, including homeowners, renters, auto, and life insurance. It offers coverage in all 50 states plus Washington, D.C. In addition, you can get earthquake insurance in select regions throughout the U.S., including California.
Keep in mind that your protection can vary depending on where you live and the policy and coverage options you choose.
Getting a policy is easy. Since Allstate already offers homeowners insurance, you can ask about adding earthquake coverage to your existing policy.
Compare Car Insurance Quotes Instantly
Personalized quotes in 5 minutes or less
No signup required
Farmers: Best for Claims Management
Farmers Insurance Group has been accredited with the BBB since 1951 and holds an A- rating. The coverage includes what you might expect: rebuilding, structural repairs, temporary housing due to loss of use, and personal property protection.
Claims management is where Farmers shines. Use online and mobile claims-reporting options to report and manage a claim easily. But that isn't all. The company deploys a fleet of vehicles in the wake of earthquakes and other major catastrophes.
The buses act as Mobile Claims Centers, with representatives who handle your claims on the spot. You can also get emergency funds for immediate needs like clothing and temporary housing.
If you already have a homeowners policy with Farmers, you can easily add earthquake coverage by contacting your agent.
Don't forget to ask about discounts. The company has multi-line and bundling discounts if you buy home and auto insurance together, allowing you to lower your overall costs. You also have the option to save money on your earthquake policy by increasing your deductible.
American Family Insurance: Best for Discounts
American Family Insurance has gotten an A (Excellent) rating from A.M. Best for 18 years in a row. With solid marks for financial strength, it's a proven company that you can trust to be around for years to come.
It's our top pick for discounts because there's a long list of money-saving opportunities available to help you lower your insurance premiums. Plus, the savings go beyond bundling discounts for your auto and home policies. For example, you could get a deal based on the age of your home, generational policies, qualifying smart home devices, safety features, loyalty savings, and more.
Besides homeowners earthquake insurance, the company also offers coverage for condo owners and renters.
The company has two downsides to consider. First, you must speak with an agent to get a quote for earthquake insurance. Although this isn't uncommon, it's an extra step to take when shopping around for coverage options.
The second is that American Family isn't accredited with the BBB, despite having excellent credit ratings elsewhere.
Amica Mutual Insurance: Best Added Coverage
Amica Mutual Insurance earns the spot as the best earthquake insurance company for added coverage. Unlike many other companies, Amica lets you add earthquake coverage as an endorsement to a standard homeowners insurance policy.
The company's Catastrophic Coverages upgrade includes flood insurance and protection for property damage caused by seismic activity. Other extended home insurance options include increasing your dwelling and personal property replacement coverage, valuable items, identity fraud, and home business insurance.
If you're looking for top-of-the-line coverage, Amica has that, too. Platinum Choice home protection adds water backup, credit card coverage, computer coverage, and business property coverage to your policy.
Besides personalized options, the insurer gets high marks for customer service. Amica has won the Highest Customer Satisfaction ranking from J.D. Power for 17 years in a row and earned the second spot in their U.S. Home Insurance Study.
Nationwide: Best Personal Property and Loss of Use Coverage
A typical Nationwide policy covers damage to your home, other structures on your property, personal belongings, and loss of use. Loss of use is an important part of earthquake coverage. It can pay for a place to stay and additional living expenses if you can't live in your home while it's being repaired.
But earthquake damage can be significant, and the cost to replace your items could exceed your policy coverage limit.
That's why Nationwide goes the extra mile to help cover the costs. The company bases your initial claim on the depreciated value of your covered items. But after you buy the replacement items, the company will pay the difference if you send in the receipt.
GeoVera Insurance: Best Online Experience
GeoVera has a streamlined online experience. You can get a free insurance quote online without having to speak to an agent. That's why we named them the best earthquake insurance company for online experience.
GeoVera specializes in catastrophe insurance, including windstorm, hurricane, and earthquake insurance. The downside is their earthquake coverage is only available in three states—California, Oregon, and Washington.
The earthquake policies have a combined limit for dwelling coverage, other structures, personal property coverage, and loss of use coverage. Rather than individual limits, a single limit gives policyholders more flexibility in how they use their coverages.
Because the company doesn't offer traditional homeowners or auto insurance, there's no option to bundle your coverage.
Although not accredited by the BBB, the company has an A+ rating. GeoVera also has a rating of A (Excellent) for financial strength from A.M. Best.
State Farm: Best for In-Person Service
State Farm is well-known for its nationwide network of insurance agents. The company has been in business since 1922 and has earned the highest rating possible from A.M. Best, an A++.
Their long-standing reputation of being "like a good neighbor" is supported by the over 19,000 agents in communities throughout the U.S. If you want the option to do business face to face, they've got you covered. That's what led to us choosing State Farm as the best quake coverage for in-person service.
Whether you own a home, condo, or mobile home, consider bundling your coverage to qualify for discounts on your insurance premium with State Farm.
Country Financial: Best Customer Service
Country Financial earned high marks in J.D. Power's 2020 U.S. Home Insurance Study. The study considered customer satisfaction levels and gave Country Financial a whopping 855 out of 1,000 possible points. That's what pushed them into our top spot for best customer service.
Like other providers that made our list, this company offers comprehensive homeowners insurance coverage, with the option to add earthquake protection if your home qualifies.
Country Financial was originally founded in 1925. The provider has grown to offer insurance for auto, homeowners, life, and health. Customers can also tap into its annuities and investment products.
Besides excellent customer service, you can enjoy discounts to keep earthquake insurance costs in check. For example, Country Financial offers a multi-policy discount, alarm credit discount, dwelling age discount, and more.
Pure: Best for High-Value Homes
If you own a high-value home, consider Pure for earthquake protection. Pure is a member-owned insurer that caters to high-net-worth individuals.
Like most homeowners policies, a standard homeowners policy from Pure doesn't include earthquake coverage. However, with an earthquake endorsement, you get earthquake coverage for your dwelling, contents, and loss of use.
The provider isn't accredited by the BBB but has a B- rating from the organization, although the insurer earns high marks in other areas. The company was named Best High Net Worth Insurance Company for the third consecutive year in 2020.
Liberty Mutual: Best for Renters
Not all providers offer earthquake insurance for renters. But Liberty Mutual stands out for providing earthquake coverage along with renters insurance. The company also makes it easy to secure and manage a policy by providing an online application and claims process.
You'll need to pay a deductible if you file a claim for earthquake damage. However, your policy will include damage from aftershocks within 360 hours after the initial earthquake in the same claim. That means you only have to pay your deductible once per earthquake.
Additional living expenses coverage is a standard part of a Liberty Mutual renters policy. If earthquake damage makes your home uninhabitable, your policy pays for a place to stay and other expenses you might incur. Compare insurance quotes on Insurify today .
Best Earthquake Insurance FAQs
The best earthquake insurance company depends on several factors. Policies vary according to cost, policy limits, and coverage limits. If you're in the market for earthquake coverage, start with your current homeowners or renters insurance company. Then, shop around to compare quotes and coverage options.

Most standard homeowners policies don't cover quake damage. If you live in an area prone to seismic activity, insurance protection from natural disasters like earthquakes is crucial to prevent financial ruin.

You'll typically pay 10 to 20 percent of the coverage limit for your deductible. Make sure you understand how your deductible works. A homeowners policy can have separate deductibles for your home, your belongings, and outside structures.
Find the Best Earthquake Insurance Company
Many providers offer earthquake coverage. You might start with your current homeowners or renters insurance company. They may offer earthquake coverage as an add-on to your existing policy.
Before you buy an earthquake insurance policy, compare options and insurance premiums among multiple insurers. Some companies offer discounts that can reduce how much you pay for earthquake insurance.
Remember that earthquake insurance isn't mandatory. But having a policy can save you a substantial amount of money if a quake damages or destroys your home and possessions. Compare quotes on Insurify today.
See more: Is Earthquake Insurance Worth It?
Methodology (or "How We Chose the Best Earthquake Insurance Companies")
Because many insurers offer earthquake insurance, it's impossible to include all providers in a complete list. To sort through the options and find the best earthquake insurance providers for our list, we considered the company's coverage and discounts, financial strength, and availability of customer support.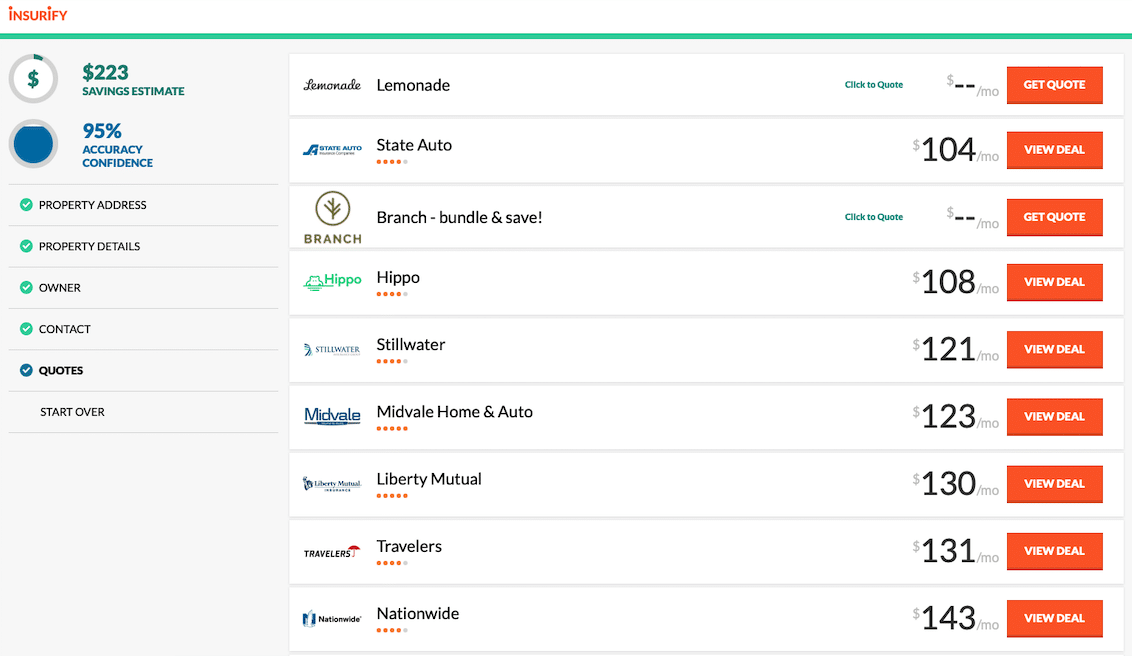 Compare Car Insurance Quotes Instantly
Personalized quotes in 5 minutes or less
No signup required
Data scientists at Insurify analyzed over 40 million auto insurance rates across the United States to compile the car insurance quotes, statistics, and data visualizations displayed on this page. The car insurance data includes coverage analysis and details on drivers' vehicles, driving records, and demographic information. With these insights, Insurify is able to offer drivers insight into how their car insurance premiums are priced by companies.