Do dogs have an effect on home insurance rates?
Owning certain breeds of dogs will result in increases in home insurance rates. The dangers some types of dogs pose to homeowners and their guests, or even their mailman, are some of the risk factors insurance providers consider when making these decisions.
It's hard not to notice the attention dogs are getting these days—from costumes and clothing to remote technology that allows you to grant them snack privileges while you're away at work, a new generation of dog owners is redefining the way we treat man's best friend.
But regardless of our feelings for them, a pit bull (Staffordshire Terrier) dressed as a bunny is still going to have a harder time getting insurance than that dachshund down the street (with or without the wiener costume).
Insurify makes comparing home insurance packages— with built-in pet coverage for your best friend —faster and easier than putting that costume on in the first place. Compare quotes and save on a home insurance policy tailored to you and your dog.
Why Some Home Insurance Companies Aren't Pet-Friendly
Fact: The Nissan GT-R costs triple the amount to insure as the Honda Odyssey. Why? Crash stats reveal that people are much more likely to test the limits of the one with the higher horsepower. Put plainly, faster cars come with a lot of risks attached.
Victims of dog-related injuries might require multiple surgeries and specialized medical care that can run as high as $1 million. For this reason, insurance companies are very calculating about the canines they cover. Even though most home insurance does cover dog bites, insurance carriers want to avoid paying out dog bite claims as often as they possibly can. As such, they often carefully define how much pet owners should pay to cover various breeds.
Some homeowners insurance companies will even refuse to write a homeowners policy that covers dog breeds that are commonly deemed too "vicious." According to dogsbite.org (a national dog bite victims' group dedicated to reducing serious dog attacks), recent studies put the following breeds and breed mixes at the top of the most dangerous dogs list:
Pitbull terrier

Rottweiler

Mastiff/Bullmastiff

Dogo Argentino

German shepherd

Wolf hybrid
Other dog breeds that are commonly understood to be potentially dangerous include:
Akita

Alaskan

Chow Chow

Doberman pinscher

Great Dane

Malamute

Presa Canario

Siberian husky

Staffordshire bull terrier

Alaskan Malamute
If you have one of these dogs, you may want to check out home insurance companies' dog breed restrictions prior to committing. Depending on the breed of dog, a policyholders' own homeowner insurance company will make the decision on pet restrictions and rate increases. A specific dogs' bite history could impact rates too. Sometimes, property underwriting companies or mortgage lenders may restrict your dog too.
Finally, dog bites isn't the only peril dogs create. Dog-related property damage is often an uncovered peril in most home insurance policies. Be sure to read your policy documents carefully. Additionally, it's a great idea to take steps to reduce the risk of dog-related property damage, such as:
Clipping your dog's nails to prevent damage to wood floors

Putting protective rugs in high-traffic areas

Installing a door protector or door shield to prevent door-scratching damage

Provide plenty of toys to prevent boredom

Crate train or create a safe backyard pen to prevent damage while you're out
Liability and "Dangerous" Dogs
According to the Inusrance Information Institute, just under 350.000 people were treated for dog bites in 2017. Most of them, children. So though dog owners swear some dogs are just a little spunkier than others by nature, you still create added liability risk by bringing a dog into the family. And for some, the risk will be higher than average.
Owners of higher-risk dog breeds will want to consider supplemental liability insurance because of the risks these dogs pose. Liability claims after an accident with a vicious dog resulting in medical bills on your property can be covered through extra liability insurance.
Renters insurance policies also has additional liability coverage offerings for tenants with potentially problematic dogs. Liability policies can offer pet owners peace of mind. Some umbrella policies may include these features. Insurance agents with a specialty in liability can answer these specific questions for you and your dog.
Compare Car Insurance Quotes Instantly
Personalized quotes in 5 minutes or less
No signup required
Top Dog-Friendly Home Insurance Companies
Though it's not the celebrity status you imagined for your pup, making this list could create some discomfort for you insurance-wise. It's essential to understand the following and take action, if necessary:
Your insurance rates could very well go up dramatically depending on the kind of dog you have in your house.

Your current insurer could even refuse homeowners coverage based solely on your dog's breed.
Does this mean you should consider Craigslisting your canine? No. But it does mean that you need to do a little more work to protect yourself and your assets should the unthinkable actually happen.
That's to say, ignoring pet coverage altogether isn't the answer. This move could get you into some financial hot water later on. Getting your pup an American Kennel Club's Canine Good Citizen Certificate can result in acceptance from home insurance companies.
Although "dangerous breed" owners may have to look a little harder, finding the best combination of home insurance coverage for your home (and pet) isn't impossible. According to mscpa.org, several insurance providers are most likely to work with you and your pet on a case by case basis—seeing past the breed and making insurance decisions based on the actual pup.
The best pet-friendly homeowners insurance policies are:
Liberty Mutual

Nationwide

Amica

Allstate

Fireman's

State Farm

Chubb

USAA

Massachusetts FAIR plan
These insurers emphasize the responsibility of the pet owner rather than the breed itself. For example, State Farm's website states that they do not even ask about the breed when writing a homeowners insurance policy that includes pet coverage.
Dog-Friendly Home Insurance FAQs
The answer to that question can vary not only by the insurance company but also by where you live. Some cities and states have breed-specific legislation that requires bully (and other "vicious" breed owners) to carry a certain amount of liability insurance. For example, Dodgeville, Wisconsin requires owners to carry $50,000 in liability coverage, while Omaha, Nebraska requires twice that limit.

Most homeowners insurance companies have provisions for pet coverage. Some are breed-specific; some are not. Begin with your current homeowners insurance to understand whether or not they cover your breed and the impact of pet coverage on your current rate. Next, compare insurance configurations (bundling home, auto, pet and life for example) with other insurance providers that are deemed dog-friendly to see how well you'll fare financially with each one.

That depends on whether you like doing things the hard way or the easy way. If you know the companies that you want to compare, you can usually go directly to their website and fiddle with their quote calculator. The easy way is to find a home insurance quotes comparison website, like Insurify, that can run the numbers all at once using up-to-the-minute data from several insurance companies in your area.
Dogs and Home Insurance: The Bottom Line
No doubt making your pooch Insta-famous is a priority. But now is the perfect moment to double-check both your homeowners/pet insurance policy and see how much you can cut from your current costs by comparing quotes with Insurify. Pet ownership is full of joys – don't let insurance troubles get in the way. You may even be able to bundle your home, pet, and car insurance policies for even more savings.
Five minutes is all it takes to hop on Insurify, the best way to compare home insurance and unlock discounts you never even knew existed. From Pennsylvania to Michigan, California to Maine, Insurify has got you covered.
Who knows? Maybe one online search will save you enough to buy Fido a friend (or to afford that raw meat diet everyone's talking about). After you're through, you can reward the pup with a trip outside for their patience. Or how about just canceling those ridiculous puppy pajamas he never asked for?
Yeah. Do that one.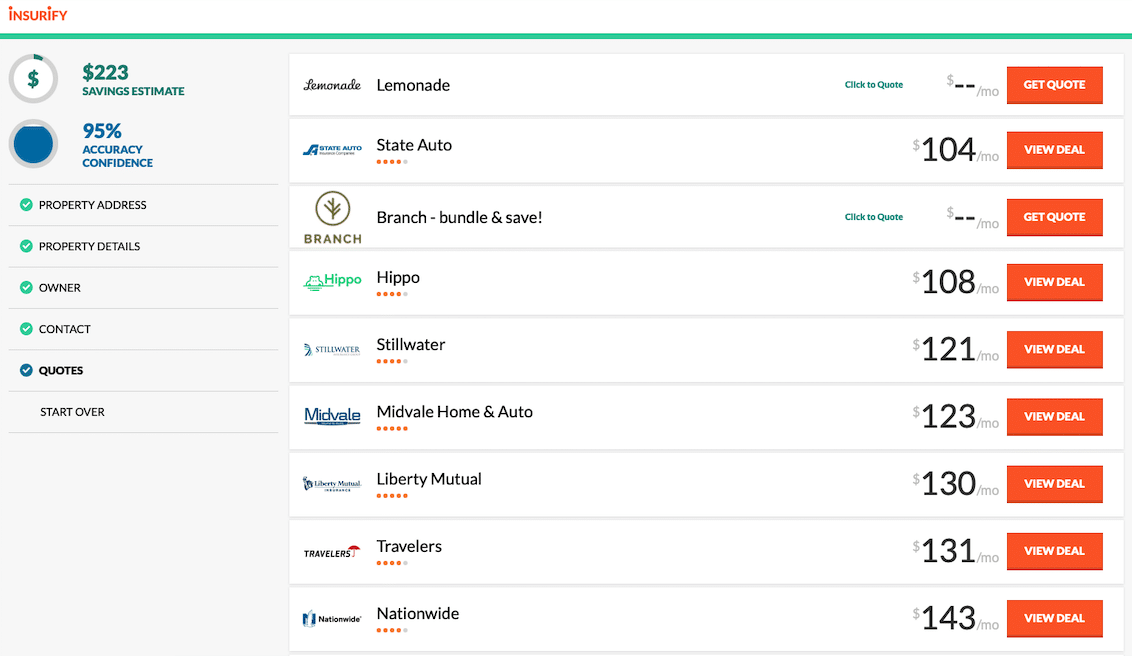 Compare Car Insurance Quotes Instantly
Personalized quotes in 5 minutes or less
No signup required
Data scientists at Insurify analyzed over 40 million auto insurance rates across the United States to compile the car insurance quotes, statistics, and data visualizations displayed on this page. The car insurance data includes coverage analysis and details on drivers' vehicles, driving records, and demographic information. With these insights, Insurify is able to offer drivers insight into how their car insurance premiums are priced by companies.