Does State Farm offer home systems protection?
Yes, but homeowners will need to speak with a State Farm agent for specific information on State Farm's home systems protection endorsement.
Home insurance is a great way to offset expensive repair costs in case your home or personal property sustains damage. Your homeowners insurance policy also likely protects your home appliances from covered losses, but some policies won't cover certain appliances, electrical systems, or types of property damage.
Even the most comprehensive homeowners policy has exclusions that can leave homeowners high and dry when it comes to perils like floods, earthquakes, and water backups, or other high risk factors.
If you're looking for full insurance protection for all of your belongings and home systems, you have options. Some insurers, including Mercury and State Farm, offer home systems protection to help cover repairs for "unexpected breakdowns" of some of your home's most pertinent electrical systems.
Whether you're in the market for a new home insurance company or are simply seeking more protection, Insurify's home insurance comparison tools can help you make sure you're getting the coverage you need at the best cost.
What Your Home Insurance Coverage Includes
Standard homeowners insurance policies come with a few basic coverage options, including dwelling coverage, other structures coverage, personal liability coverage, medical payments coverage, and loss of use (or additional living expenses ) protection. Each of these aspects of your home insurance policy includes protection for your home, belongings, and even your family members.
The combination of these coverage options protects items such as:
Roofing

Walls

Staircases

Built-in cabinets

Built-in appliances, like stoves

AC units

Water heaters

Garages

Personal belongings, like clothing

Technology, like TVs and computers
Homeowners insurance companies will pay policyholders to repair damages to these items as long as the damage was caused by a covered loss like natural disasters, theft, or vandalism.
These policies don't protect items like:
Swimming pools

Trampolines

Sump pumps

Plumbing

Expensive furs or jewelry
But just because an item isn't covered doesn't mean your policy won't pay for damages those items cause. For example, your policy may cover water damage caused by a leaky pipe but won't pay to repair plumbing since most of these damages could be prevented with regular maintenance.
On the other hand, even covered items are only protected from certain damages. So your microwave is covered if a fire leaves the appliance unusable, but if your microwave stops working due to natural wear and tear, you'll have to cover the replacement cost out of pocket.
Additionally, if a flood, ground movement, sewer backup, or unexpected electrical or mechanical breakdowns render your items unusable, you'll need add-ons like flood insurance and home systems protection in order for your insurer to cover the damages.
Home Systems Protection Coverage
Home systems protection is a type of endorsement (or add-on ) that helps fill the gaps in your homeowners coverage. Specifically, home systems protection pays for sudden and accidental breakdowns of your home's electrical and filtration systems.
Where standard home insurance will cover your home's air conditioning if a natural disaster damages it, home systems protection helps pay to replace your air conditioning if it unexpectedly stops working.
Home systems protection covers items such as:
Central air and heating systems

Hot water heaters

Sump pumps

Refrigerators

Freezers

Dishwashers

Ovens

Clothing washers and dryers

Water purification systems

Water filtration systems

Home security systems and burglar alarms

Computers

Medical equipment

Swimming pool equipment

Generators
Adding a home systems endorsement to your home insurance policy will help ensure that if any of your electronics or appliances malfunction out of the blue, you won't have to pay for the unanticipated replacements on your own.
Insurers will not issue home systems reimbursements for damages caused by natural wear and tear, rust, corrosion, or those which could have been prevented with normal maintenance. Home systems coverage also does not pay for upgrading appliances (unless they've suddenly experienced a mechanical or electrical breakdown).
Home systems insurance costs, deductibles, and coverage limits differ between insurance providers. Still, these endorsements typically include up to $50,000 in coverage with a $500 deductible.
Compare Car Insurance Quotes Instantly
Personalized quotes in 5 minutes or less
No signup required
State Farm Additional Coverage Options
State Farm 's home systems protection endorsement is only one of the additional coverage options the insurer offers. For policyholders seeking complete protection for their home and belongings, check out these State Farm homeowners insurance add-ons:
Flood insurance

Earthquake insurance

Service line coverage

Sewer backup coverage

Identity fraud protection

Energy efficiency upgrade

Umbrella insurance

Full replacement cost coverage

Personal injury liability coverage
These endorsements come at an additional cost to your standard home insurance premium. Not every homeowner will need every additional coverage option, but each of these policies can help fill the gaps in your basic homeowners coverage, depending on your insurance needs.
Home Systems Protection FAQs
Home systems protection coverage typically covers accidental electrical and mechanical breakdowns but not damage caused by natural wear and tear. A home warranty may be a better option for policyholders with older homes and appliances.

State Farm doesn't include pricing on its website, so homeowners will need to contact a State Farm home insurance agent for specific information on the company's home systems protection endorsement.

The age and condition of your appliances may affect the coverage they are eligible for. Talk to your local agent about your policy's exclusions before you need to file an insurance claim.
State Farm Home Systems Protection: The Bottom Line
Your home insurance policy helps protect your home and family, but most homeowners need more than just standard coverage to keep their property completely safe. State Farm home systems protection adds an extra layer of protection for policyholders who don't want to be left paying for expensive appliance repairs if their home systems randomly stop working. Talk to a local agent for more information on whether State Farm home systems protection coverage is right for you.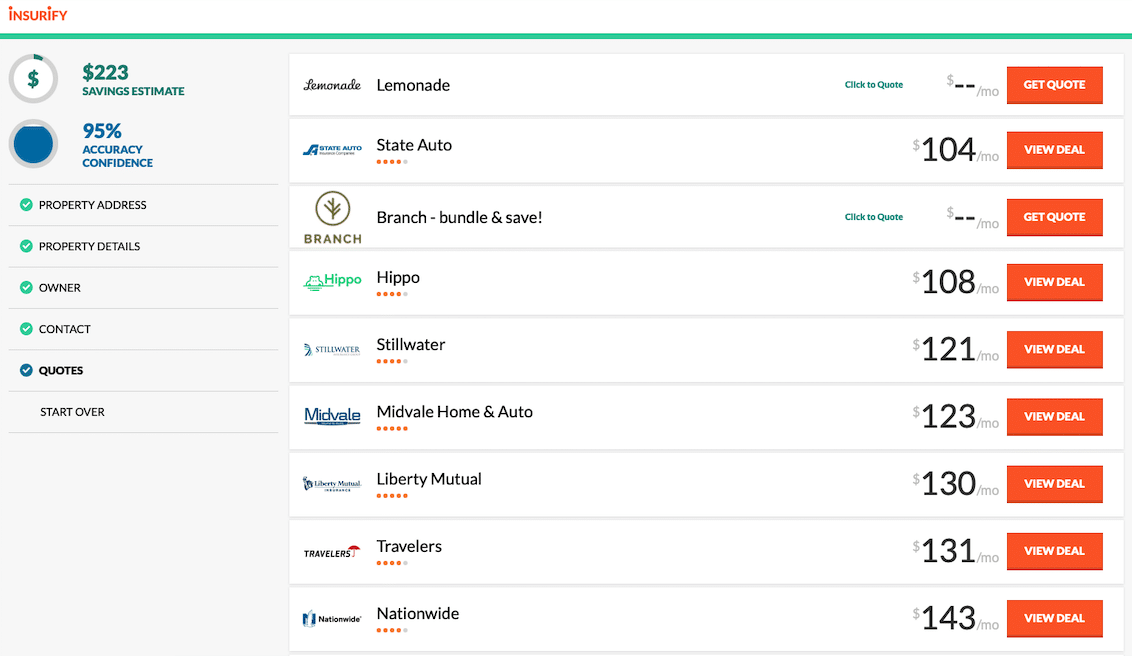 Compare Car Insurance Quotes Instantly
Personalized quotes in 5 minutes or less
No signup required
Data scientists at Insurify analyzed over 40 million auto insurance rates across the United States to compile the car insurance quotes, statistics, and data visualizations displayed on this page. The car insurance data includes coverage analysis and details on drivers' vehicles, driving records, and demographic information. With these insights, Insurify is able to offer drivers insight into how their car insurance premiums are priced by companies.