The declarations page of your home insurance policy is usually the first page. Often referred to as the "dec" or the "dec page," it contains key information about your insurance contract. But why is it important, and how do you use it? Check out our full guide to homeowners insurance declarations pages for more details.
Need to find a new home insurance provider? Try Insurify, an easy-to-use tool that makes it simple to compare quotes for home insurance. Just a few minutes of research and you'll have the quotes you need to find the best home insurance coverage for you.
What's Included in a Declarations Page
The homeowners insurance declarations page is included with your home insurance policy. It's a quick, easy-to-read summary of the coverage included in your homeowners insurance policy and contains all of the most important information about your home insurance.
Here are some of the things you can expect to find on the declarations page.
Insurance policy number: You will need this to file a claim.
Name and contact information for the policyholder: Your name and address are listed here. This field will also include the address of the covered home if it's different from your usual address.
Named insureds on the policy: Your name goes here. If you live with someone, they will also be listed here as additional insureds.
Contact information for the insurer: You will need the insurance company's contact information to file a claim.
Instructions for filing a claim: The dec page will spell out what information you need to report a claim if you have a covered loss.
Description of the insured property: This may include information about the build and utilities of the insured property, like the construction type of the home, roof materials used, and the main source of heat.
Coverages included in the policy: This section lists the coverages that your policy includes, such as dwelling coverage, dwelling extension if you have a garage, and personal property. It will not include endorsements or add-on policies, which are listed elsewhere.
Type of coverage: The declarations page will list the type of policy you have, such as an HO-5 policy.
Policy limits: The maximum amount of coverage for each coverage type will be listed, as well as overall coverage limits for the policy. The dec page will also list your policy's liability coverage limits, which are specifically for liability insurance.
Deductible: The dec page will list your deductible. The deductible is the amount you will pay out of pocket before your insurance helps pay for repairs after a covered incident.
Premium: Your insurance premium will be listed on the policy declarations page.
Endorsements: If you have any add-on endorsements or riders to your policy, they will be listed in their own section on the dec page next to their deductibles and limits.
Effective date and expiration date: These are usually found near the top. The policy effective date is when your policy begins, and the expiration date is when it ends. It may also be listed as a policy period or policy term, which refers to how long your policy is valid before you need to renew it. The typical homeowners policy is a year long.
Discounts and surcharges: If you have any discounts or surcharges applied to your policy, they will usually appear around the middle or end of the dec page. Depending on the insurance company, you can get discounts for things like not filing a claim in the last few years, using security systems, staying with the same company for a long time, or bundling your homeowners and auto insurance policy with the same company. Read through your discounts to make sure you're getting the best deal possible. In some cases, it may make financial sense to combine your home and car insurance policy, for example.
How you'll receive payouts: Some dec pages may describe how you'll receive payouts for covered losses when you submit a claim. When you sign up for your policy, you'll decide whether you'll be reimbursed for the actual cash value (the value of the item minus depreciation) or its replacement cost (the cost to fully replace the item). Insurance that provides the full replacement cost is usually more expensive but can be handy if you have a large covered loss.
How to Use the Declarations Page
There are two key ways your declarations page can be useful to you. First, it serves as a handy summary of all the most important information in your insurance policy. You don't have to wade through all the legal documents included in your policy to find your coverage limits. It's important to read the entire policy anyway just to know the details of what's covered, but the declarations page is a good way to find information fast when you need it.
The dec page also serves as proof of insurance for your mortgage company. Mortgage companies usually require this proof about once a year to make sure you're protecting your investment financially. If you don't provide proof, the lender has the right to purchase what's called "force-placed insurance"—insurance that's purchased in your name by the lender. The premiums are added to your mortgage payments. It's usually much more expensive than other home policies and doesn't cover as much.
Compare Car Insurance Quotes Instantly
Personalized quotes in 5 minutes or less
No signup required
How to Check Your Declarations Page for Mistakes
You will receive a declarations page any time you renew your existing policy or sign up for a new policy. Each time you get one, you should review the declarations page to make sure everything is right. This is important because if there's any wrong information, it can make it harder (or impossible) to file an insurance claim if you have a covered loss.
Some of the most common problems on insurance declaration pages include:
Misspelled names or mistakes in the address

The wrong type of coverage (such as listing a named perils policy instead of the open perils policy you signed up for)

Mistakes in policy details, like incorrect deductibles or coverage amounts

Missing information, like endorsements or riders

Incorrect pricing or missing discounts
If you find any mistakes, reach out to your insurance agent right away to get them fixed.
Frequently Asked Questions - Declarations Page
Each insurance policy you have has its own declarations page. It's usually listed on the first page of the policy. If you didn't receive one, contact your homeowners insurance company to get a paper or PDF copy.

There are a few things that are typically left out of the declarations page, such as the list of covered perils, property that's excluded from coverage, certain optional coverages (such as identity theft insurance), and your duties when you file a claim. Read through the rest of your policy to find these things.

The policy wording page usually follows the declarations page, and it can be very important. The policy wording page is like the terms and conditions for your policy. It defines all the terms listed on the dec page and explains how they apply to you. It can be confusing to interpret, but it's worth a look because it explains all the important phrases used in your policy. If you have questions, ask an insurance agent to go through the policy wording page with you.
Get to Know Your Declarations Page
Your declarations page can also help you compare quotes from home insurers. It's an easy way to compare coverage, so keep it handy while you're shopping for a new policy.
Tools like Insurify also simplify shopping by letting you compare quotes from lots of insurers within just a few minutes. Try it today!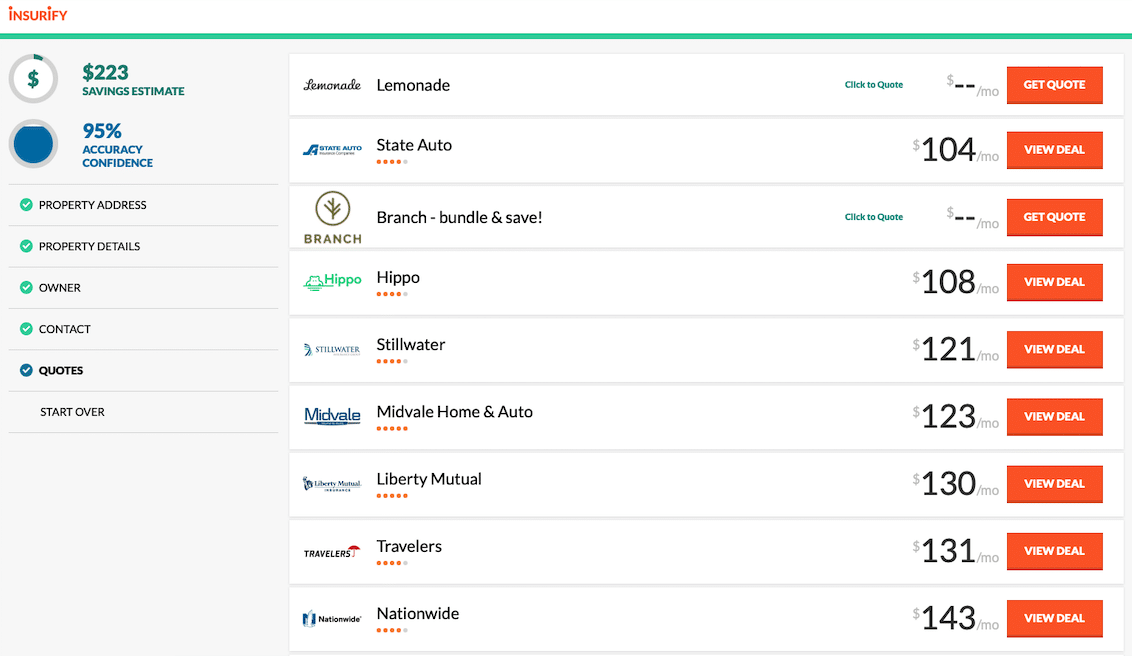 Compare Car Insurance Quotes Instantly
Personalized quotes in 5 minutes or less
No signup required
Data scientists at Insurify analyzed over 40 million auto insurance rates across the United States to compile the car insurance quotes, statistics, and data visualizations displayed on this page. The car insurance data includes coverage analysis and details on drivers' vehicles, driving records, and demographic information. With these insights, Insurify is able to offer drivers insight into how their car insurance premiums are priced by companies.