We promise: home insurance binders are less complicated than they seem.
So you've just decided on a homeowners policy. You got the coverage you need, you got a fantastic price, and now the agent is sending you the insurance binder. Which begs the question: what is an insurance binder?
Spoiler alert: it has nothing to do with three-ring office supplies. Your insurance binder is a crucial document. When you get it, you'll need to review it adequately to avoid getting the wrong insurance coverage. This article will show you exactly how to do that!
Did you get the best price on home insurance? With Insurify, you can always be confident you did. One confidential form allows you to compare quotes from top insurance companies. Try it today!
Insurance Binder Definition
An insurance binder is a temporary document representing your insurance contract. It's the representation of an agreement between you and your insurance company that you hold onto until you receive your insurance policy contract. You'll receive an insurance binder when you agree to your home insurance policy.
What's it for?
An insurance binder is, at its essence, a placeholder for your actual policy documentation. It details your coverage and the terms of your policy. You can present your insurance binder as proof of insurance when you need to and at your closing, as your mortgage lender will want evidence of insurance. You can also send it to your lender if you are switching home insurance companies.
Your insurance binder is also a valuable tool. You can use it to preliminarily review the agreement you've made with your insurance company. For example, if your agent promised you a specific type of coverage, you can verify that type of coverage is listed.
Compare Car Insurance Quotes Instantly
Personalized quotes in 5 minutes or less
No signup required
Elements Every Insurance Binder Should Include
When you get your insurance binder, you'll need to review all the information. Verifying the details of your policy means you know exactly what's covered, how it's covered, and the limitations of coverage.
Review these essential elements:
Name the Risk
The risk named in your home insurance policy is your home, often referred to as your dwelling. The way your home is identified is by listing your correct address, including the unit number, if applicable. It should also include the coverage limits of your dwelling, also known as the insured value of your home.
Name the Insured(s)
This means the owner of the property, so your name should be listed here. If your property has a co-owner like a spouse or other loved one, their name(s) should also be listed. Finally, if your home is financed, the mortgage holder (sometimes called lien holder) should also be listed.
Name the Type of Coverage
The type of coverage you purchase will have a designation that begins with "HO-":

HO-2 Broad Form
HO-3 Special Form
HO-5 Comprehensive Form
HO-6 Condo Form
HO-7 Mobile Home Form
HO-8 Older Home Form

Name the Liability Coverage
It may outline more, but at the very least, the liability coverage limits should be named along with the named insured (s) and the property.
Name the Deductibles
Your deductible is the amount you're responsible for in the event of a claim. The most common deductible limits range from no deductible to $2,000. Be sure the deductible is right for you and your emergency savings.
Name the Term of the Insurance Binder
This is the length of time the insurance binder is in effect. There should be a start date, and an end date often called an expiry date. Insurance binders tend to last one or two months. Before the expiry of the insurance binder, you should receive the rest of your insurance policy documentation.
Name the Insurance Company
The insurance company should be clearly listed. If your insurance policy is underwritten through a partner, that partner should also be listed.
Name the Insurance Agent
The insurance agent is the person authorizing the insurance binder. The person named should be the agent you're working with. If your agent is independent of the insurance company, then the insurance agency they work for should also be listed.
What's not included?
You likely won't find many specifics in the insurance binder. It's more of a general overview. That being said, if something appears to be inaccurate based on what you discussed with your agent, bring it up right away. It will be easier to sort things out sooner rather than later.
Your policy documentation will have all the specifics, including limitations and exclusions. Furthermore, if there is a discrepancy between the insurance binder and the insurance contract, the information in the contract is what the insurance company and the law will honor. Be sure to review all of your policy documents when they arrive.
Frequently Asked Questions About Home Insurance Binders
Your car insurance will come with a car insurance binder. Underwriting insurance policies, whether for home insurance or car insurance, takes time. An insurance binder provides coverage to drivers quickly while allowing the insurance company enough time to finish underwriting.  You can bring your insurance binder to the dealership and use this documentation as temporary proof of insurance for your new car. Your car insurance binder will have an expiry date, and you should receive your formal policy documentation before the expiry date.

You should receive your insurance documentation before the expiry date of your insurance binder. If you don't receive your documentation, you will have no proof of insurance and you may not be insured. If you let the binder expire, call your insurance company right away to sort things out.  Even better, be proactive. If you haven't received your documentation before two weeks to expiry, call your insurance company. Better to sort things out before losing coverage. Gaps in coverage leave you vulnerable to financial loss and often results in higher premiums later.
The Bottom Line: Always Read the Fine Print
Home insurance has a surprising amount of moving pieces. Your diligence and knowledge protect you and your home investment. Reviewing everything your insurance company sends you is vital, whether it's a binder, contract of insurance, or general notification.
And don't forget to review your home insurance quotes regularly, so you're always getting the best coverage at the best price. Save your profile with Insurify and never miss a price drop!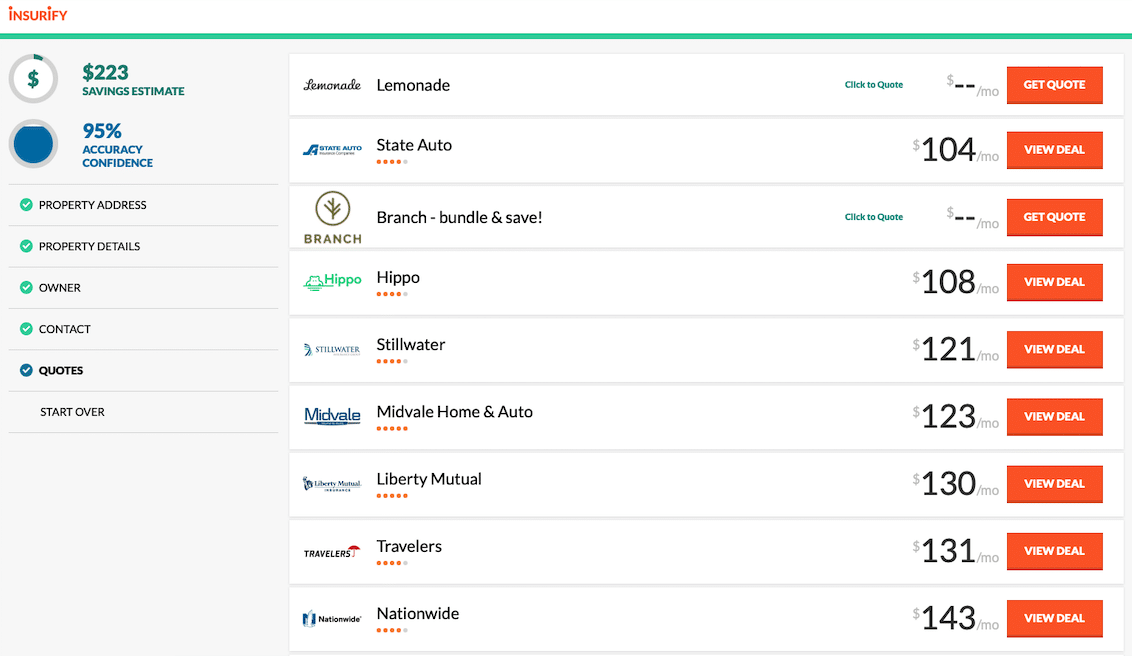 Compare Car Insurance Quotes Instantly
Personalized quotes in 5 minutes or less
No signup required
Data scientists at Insurify analyzed over 40 million auto insurance rates across the United States to compile the car insurance quotes, statistics, and data visualizations displayed on this page. The car insurance data includes coverage analysis and details on drivers' vehicles, driving records, and demographic information. With these insights, Insurify is able to offer drivers insight into how their car insurance premiums are priced by companies.