What is an HO3 type home insurance company?
An HO3 type home insurance policy, a.k.a. special form coverage, is the most popular form of standard homeowners insurance, with more coverage than the HO2-type policy.
Your homeowners insurance policy can protect your home and personal property in case of disaster. However, no homeowners policy protects you against every possible threat. That's why It's so important to understand how your particular policy works and what it covers so that you can be sure you're getting the protection you need. There are numerous types of homeowners insurance. A homeowners insurance policy may include as many as five different coverage categories. The basic coverage categories for homeowners insurance include dwelling protection, other structure protection, personal property protection, loss of use protection, and personal liability protection.
There are eight categories of homeowners insurance, HO3, or "special form" is one of them. What's so special about HO3-type homeowners insurance. Let's find out.
Special Form Homeowners Insurance
Special form policies are the most common type of homeowners insurance. While HO1 and HO2 policies are named peril policies, meaning they only cover dangers that are specifically listed in the policy, HO3 policies are open perils policies. That means they'll cover all dangers except those specifically excluded in the policy documents.
Most HO3 policies exclude the following types of damage:
Landslides or sinkholes

Nuclear accidents

Neglect or depreciation

Mold and fungus

General wear and tear
Exclusions can vary depending on whether the insurer believes your home is at high risk for certain types of damage. For example, HO3 policies on homes in areas at high risk of wildfires will often have a fire damage exclusion. HO3 policies typically include dwelling protection coverage, other structures coverage, personal property coverage, and liability coverage—many will also include loss of use coverage. However, the personal property coverage is usually limited to a narrower range of perils than the dwelling protection coverage.
HO3 Policy Protections
HO3 homeowners insurance policies protect policyholders from a myriad of risks and scenarios. It's the most all-encompassing type of coverage, protecting from a wide range of scenarios. There are a few types of coverages included in an HO3 type policy. As the most popular type of home insurance in the United States, HO3 coverage provides homeowners coverage on an open perils basis, with named peril coverage for your contents.
Coverage A, or dwelling coverage, will protect your home in the case of structural damage due to earth movement, natural disaster, or any other peril your home endures.
Coverage B, or structure coverage, will protect the other buildings on your property apart from the main house. This would include any detached shed, garage, pool house, or fence.
Coverage C, or contents coverage, will protect your personal property and belongings like your furniture, and anything else in your home. This type of coverage will also protect any kind of property damage done to those contents of your home even if damage occurs outside your house.
Coverage D, or loss of use coverage, will protect you financially if you're forced to dish out cash for a hotel room and additional living expenses in the case that you're home is uninhabitable after a disaster.
Personal liability is also included in your HO3 policy. This means that if someone is injured or, God forbid, killed due to an accident on your property, you're protected from personal liability for the accident. This coverage will provide anyone injured with medical payments and other protections. Perils coverage will cover things like malicious mischief or bodily injury due to falling objects, but always review your declarations page to get the full scope of your comprehensive and limited coverages so you're not in for any surprises.
Be careful, water damage isn't always covered on your standard HO3 insurance policy. To protect your personal belongings and get your expected reimbursement after an insurance claim, make sure you familiarize yourself with the covered perils on your insurance policy. You may choose to opt for additional coverage to protect other perils that your standard policy excludes. If your home insurance policy is
Whether your house is defaced because of vandalism, destroyed in a windstorm, or uninhabitable due to accidental damage, your HO3 homeowners insurance policy should protect you and your family from financial hardship after a disaster. In times of distress, the last thing you'll want to think about is whether or not your insurance coverage will suffice after a disaster, so make sure you're covered before you need it. To compare quotes from dozens of companies in a matter of minutes, check out Insurify.
Check with your insurance agent for the nitty-gritty details regarding every little thing about your home insurance policy.
Compare Car Insurance Quotes Instantly
Personalized quotes in 5 minutes or less
No signup required
HO3-Type Insurance Frequently Asked Questions
What is an open perils policy?
HO1 and HO2 type insurance policies are considered "named peril" policies. This means that they only protect homeowners from dangers specifically listed in the policy. That means if your home incurs water damage from a sleet storm, but that's not mentioned in your HO1 or HO2 policy, you're in trouble. HO3 type insurance is an "open perils" policy. That means that your policy doesn't need to mention any specific disaster in order to protect a homeowner from it. Open perils policies will cover any and all dangers unless specifically excluded in the documents.
I live in an area with lots of extreme weather patterns? Is my home protected against natural disasters?
HO3-type homeowners insurance are considered "open peril" policies, which means that they will cover disasters specifically excluded in other, more general policies. From volcanic eruptions to sinkholes to nuclear hazards, whatever the universe throws at your house, your HO3 special form insurance should have you covered. This broad form insurance type will still have policy limits, but they are much more inclusive of disasters and "Acts of God" than other types. An HO3 insurance policy can protect your property and personal belongings from almost anything. Check with your home insurance company to check that possible risks posed in your area are covered perils with this type of home insurance.
Choosing The Right Homeowners Insurance Policy For You
With eight possible options to choose from, picking the right type of homeowners insurance policy might seem like a daunting task. However, since most of these policies are specialized, you really only have a few options at most. If you own a manufactured home or a condominium, for example, then you'll want to stick with the type of homeowners policy that's designed for those particular sorts of homes.
Owners of traditional-style homes have the most options to choose from, but remember that it's not the type of policy that matters—it's the type of coverage it provides. Before you choose your homeowners insurance policy, decide what types of dangers you want to be covered in the policy, how much of a deductible you're comfortable with, whether you're willing to settle for actual cash value or you insist on replacement cost value, and how high you want to set your coverage limits. The amount of coverage you choose is predetermined when purchasing your insurance, so review your coverage options and policy limits carefully.
Then, use Insurify to compare home insurance rates on policies that meet your requirements. It doesn't matter if the homeowners policy you choose is an HO3 or an HO5, as long as it provides the coverage you need at a cost you can afford.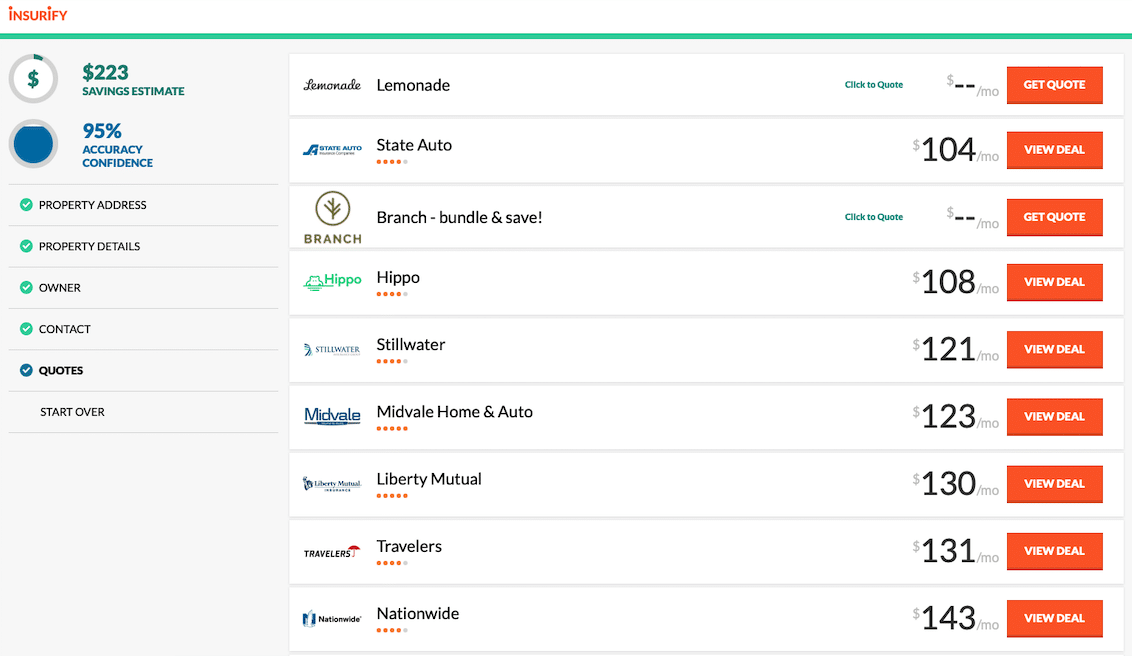 Compare Car Insurance Quotes Instantly
Personalized quotes in 5 minutes or less
No signup required
Data scientists at Insurify analyzed over 40 million auto insurance rates across the United States to compile the car insurance quotes, statistics, and data visualizations displayed on this page. The car insurance data includes coverage analysis and details on drivers' vehicles, driving records, and demographic information. With these insights, Insurify is able to offer drivers insight into how their car insurance premiums are priced by companies.