Blog
Home Insurance
Best And Worst Home Insurance Companies That Dont Require Inspection
Why you can trust Insurify
Do I need an inspection to get home insurance?
Not all home insurance companies will require an inspection. For older homes, some insurance companies will require a simple 4-point inspection to secure coverage.
Whether it's extreme weather or theft, when disaster strikes near home, it robs more than just the roof over your head, but also your sense of security.
One step to making sure your home is always protected is securing sufficient homeowners insurance. Homeowners insurance policies can't prevent a crisis from happening but can give you peace of mind if it does. Finding the best home insurance company for you could be the difference between dealing with the financial burden after a disaster on your own, or having an established support system behind you.
A thorough home inspection is not required by all homeowners insurance companies, as it is at their discretion to decide whether or not to require it before quoting your policy. So, which are the best and worst home insurance companies that let you skip inspection? Getting homeowners insurance without an inspection is not impossible. We'll tell you how to do it.
Inspections and Home Insurance
Choosing the best home insurance policy starts with choosing the right insurance company for your unique situation. The best home insurance companies offer services and features that will allow you to build a policy to meet your needs for both now and the future.
It's also essential to consider a company's reputation among its customers— can you really count on your insurance provider to address a claim quickly, with minimal hassle? Think about all those hours you've wasted on hold only to deal with a subpar customer service experience. Choose wisely before you put yourself in that position.
Finally, look for an insurance company with long-term and proven stability—if a wide-ranging crisis occurs, you want to be sure that your home insurance carrier can afford to cover all those claims, including yours. Exterior and interior inspections serve a good purpose.
With that in mind, Insurify, a home insurance quotes comparison site, set out to analyze all major homeowners insurance companies and rank them with a single, multi-point score. The result was the Insurify Composite Score—a number that gives you an easy way to see which companies are the best for you before you need to use your policy. This scoring system makes it simple for you to find the right insurer and purchase the right policy, both for you and for those who count on you for financial support.
Homeowners Insurance Companies That Don't Require Inspection
Home inspection can be a costly endeavor, especially for new homeowners who've already shelled out hundreds of thousands in upfront costs. Inspections range from $200 to $400 or more, depending on the size of your home. Luckily, a home inspection is not always mandatory in order to purchase homeowners insurance, and even though homeowners insurance isn't always required either, you know it's the smart thing to do to protect your investment.
Avoiding an Inspection
The requirement of home inspections is at the discretion of homeowners insurance agencies. Usually, for older homes ( >25 years) that haven't been inspected for some time, insurers require a low-stakes 4-point inspection in order to quote you for a standard home insurance policy. If your home falls under this category and hasn't been inspected in the past ten years, you'll probably need to undergo an inspection. For newly constructed or recently renovated homes, major insurance companies like Allstate and State Farm will likely not require an inspection. Renovations and constructions generally carry their own insurance that covers damage during these periods.
Things to Know Before You Skip the Inspection
With endless costs associated with purchasing a new home, shoppers may want to cut corners anywhere they can. However, it is highly recommended that you hire an independent home inspector to evaluate any property you're thinking of purchasing, prior to committing. There's a lot more than meets the eye when it comes to homes, and you wouldn't want to find out about any faulty systems after you've already signed the dotted line. Even though states don't mandate home inspections for prospective home buyers, many mortgage lenders do. Just like it does for you, this process protects the lenders too, ensuring their loan will be paid back safely, without fear of high-risk investment.
Inspections cover everything from your shingles to the little nooks termites like to hide in. An inspection can uncover things you wouldn't notice until it's too late.
Appraisals and Inspections
Instead of inspection, some home insurance companies will allow an appraisal to suffice when quoting your policy.
A real estate appraisal is a property valuation homeowners assess prior to listing their homes on the market. A real estate appraiser's job isn't to find flaws in construction or quality, but rather to evaluate a property's value.
On the contrary, an inspector's job is to find flaws in the construction of a home, protecting insurance providers and the potential homebuyer.
Compare Car Insurance Quotes Instantly
Personalized quotes in 5 minutes or less
No signup required
4-Point Home Inspection
A 4-point home inspection is a common type tool used by homeowners insurance companies prior to quoting a home insurance policy. This brief inspection is the most commonly executed for homes 25 years and older. The common 4-point home insurance hits four major systems in any household:
Roof

Plumbing

Electrical

HVAC
Age is often a variable taken into consideration by inspectors. A system may be old, but in perfect working order, which will impact your policy quote. Inspectors often discover flaws invisible to the naked eye, like a small leak causing water damage in another part of your home.
For example, an inspector might notice that your plumbing system is old, but in decent working order. They may factor the age of your system into their rates when they write you a policy. Alternatively, the inspector might find a plumbing leak that is causing significant water damage elsewhere in the home. If something like this is discovered during your 4-point inspection, the home insurance company may require you to obtain repairs prior to your approval for an insurance company.
What Inspectors Look For
For a more comprehensive look at the inner workings of a home, some insurance companies may require a more substantial, or "whole" home inspection. These in-depth evaluations inspect each and every part of a home, ensuring they are in good working order and up to the latest code requirements. In addition to all the elements of a 4-point inspection, a whole home inspection includes many more areas including electrical systems, plumbing systems, HVAC systems, chimney, roof, water and mold damage, pests, and lead-based paint and asbestos.
How to Pick a Home Insurance Company
There are many variables to consider when choosing the right home insurance company. Maybe you want to bundle with your auto insurance, or maybe you want to make sure your backyard swimming pool is covered. Whatever your circumstance, it's important that you thoroughly think through this decision instead of picking out of the insurance industry hat. There are a few main considerations all homeowners should think through before picking a property insurance company:
Affordable Rates
Finding cheap rates for your home insurance policy isn't impossible, but can be challenging when you have your insurance agent in one ear and dozens of industry advertisements in the other. Press mute on all those outside sources and use an unbiased comparison site to ensure you're finding the cheapest rates possible. You'll notice some companies' rates are consistently higher than the rest, and vice versa. Getting an affordable rate is a #1 priority for many homeowners when shopping for home insurance. Use an insurance quote comparison tool to see dozens of quotes in seconds.
Policy Options
Determining the right policy options for your unique situation should be an important consideration on your homeowners policy shopping list. You'll want to think this through before committing to one home insurance company. This can be as simple as choosing a realistic deductible to as complex as determining the replacement cost of your belongings. Policyholders should check that their unique arrangement with a home insurance company matches their needs and expectations prior to committing. Policyholders will also have the option to lower their insurance premiums by bundling their home policy with their car insurance pol
Customer Service
It's vitally important for homeowners to consider an insurance company's customer service reputation when shopping around for home insurance. When something goes wrong, you want to be able to count on your homeowners insurance provider to have your back with prompt service and minimal hassle. The last thing you'll want to do after disaster strikes is sitting on hold with a subpar customer service agent, only to be told more bad news.
Financial Stability and Brand Reputation
Let's consider a hypothetical situation that hopefully never comes true. Your small town is hit by a natural disaster, everyone's insured by the same local insurance company. With a whole town destroyed and thousands of insurance claims being filed, that insurance company will be drowning. When selecting a home insurance agency, you want to be positive that they could withstand such a disaster, in order for you to successfully receive your insurance assistance.
Brand reputation and recognition are also important to many homeowners. For instance, Hippo and Lemonade are millennial-focused home insurance providers marketed towards young, first-time homebuyers and renters with high expectations. More standard companies, like State Farm and Allstate are more well-established, traditional home insurance providers.
Whatever your preference, always compare quotes before settling down with one insurance company. You can easily compare quotes from multiple providers at once using Insurify.
What Home Insurance Covers
Not all home insurance policies include the same things, but most will cover the following types of home-related issues. However, it's a good idea to check your policy and confirm what it includes before you sign up. Dwelling coverage protects you from losses related to damage to the house itself. It usually also covers property damage to parts of your home's infrastructure, such as wiring and plumbing systems.
Liability coverage protects you If someone is injured on your property, they may decide to sue you for damages. For example, if the mailman trips on your front porch, falls, and breaks his leg, you might end up in an expensive legal situation. Personal liability coverage can help cover the costs of defending yourself from such a lawsuit; often, such coverage will also kick in if you damage someone else's property. Home insurance policies will generally let you decide how much liability coverage you need (the higher the coverage limit, the more expensive it will be, of course). Pick your coverage limit based on the value of your home and other assets. If your house is damaged in a fire or flood, your possessions will probably also be damaged or destroyed. Personal property coverage covers the cost of furniture, clothing, and that big screen TV you're still making payments on if they are damaged in an event that's covered by your home insurance policy. However, to make the most of such coverage, it's a good idea to prepare lists of your most valuable possessions in advance. Many insurance companies have tools and checklists on their websites to help with this process.
Home Insurance Inspection FAQs
If your house fails a home inspection, you may not be able to secure a homeowners insurance policy until you fix the problem. Some home insurance companies will grant you a short-term policy on the stipulation that you fix any relevant problems within a predetermined time frame.

As helpful as the best homeowners insurance policies can be, they don't cover everything. You may be surprised by some of the most common gaps in the typical home insurance policy. The good news is that many providers allow you to buy extra policies as add-ons to cover these gaps. Many "Acts of God" aren't covered by standard home insurance policies. Home insurance policies don't cover water damage related to flooding from heavy rains and overflowing rivers. Earthquakes, landslides, and sinkholes can all cause severe damage to your home, but this damage is not included in home insurance policies. If you live in a part of the U.S. that's frequently subject to hurricanes or other windstorms, it's a safe bet that your basic home insurance policy will not cover wind damage. Damage to your home that's caused by typical wear and tear or maintenance-related issues is generally not going to be covered by a home insurance policy.

Certain factors may raise or lower the premiums you'll pay on your home insurance policy. Older homes are more likely to have issues related to their infrastructure, such as problems with electrical wiring. As a result, your home's age may affect the cost of your home insurance policy. Similarly, your home's structure can affect your risk of certain disasters. For example, using premium roofing materials can better protect your home and get you a discount on your premiums. Houses in areas prone to natural disasters or located far from the nearest fire department may be more expensive to insure than the average home.
How to Save On Home Insurance: The Bottom Line
You now know everything that goes into making smart decisions about your homeowners insurance. The TL;DR—not every company requires a home inspection, especially for newer homes. Skipping on the home insurance inspection won't necessarily lower your insurance premiums, so if you think your home is in good shape, your rates may even drop after an inspection. You don't have to sacrifice the quality of your insurance coverage to get cheap home insurance.
What's next? Compare home insurance quotes today on Insurify, and don't forget all the considerations touched upon in this guide.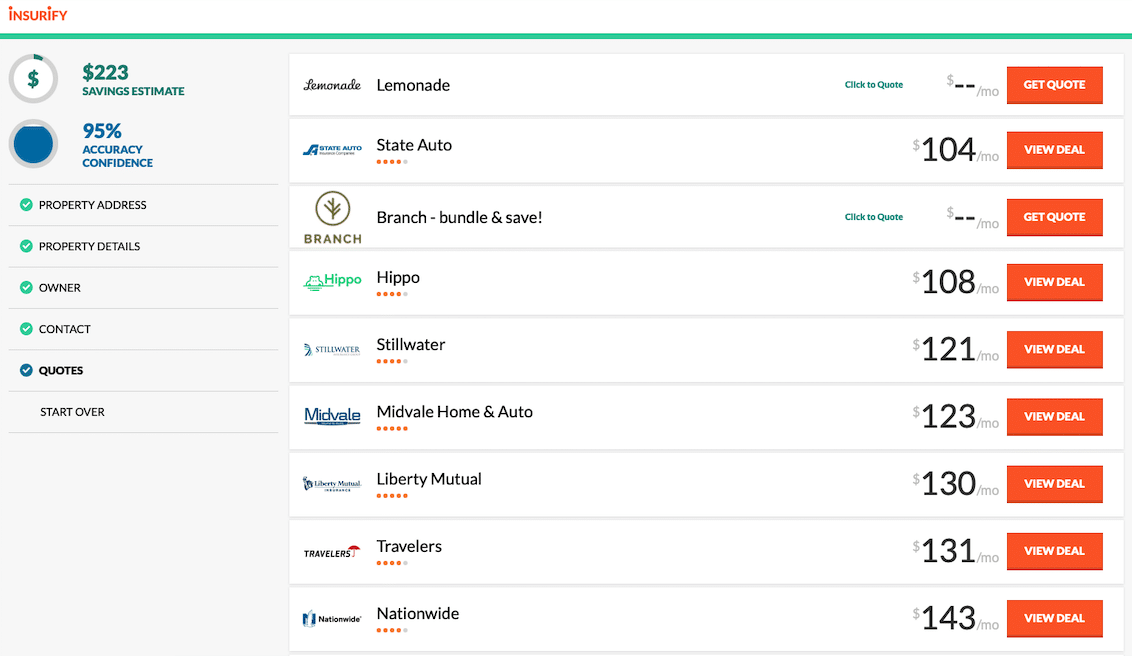 Compare Car Insurance Quotes Instantly
Personalized quotes in 5 minutes or less
No signup required
Data scientists at Insurify analyzed over 40 million auto insurance rates across the United States to compile the car insurance quotes, statistics, and data visualizations displayed on this page. The car insurance data includes coverage analysis and details on drivers' vehicles, driving records, and demographic information. With these insights, Insurify is able to offer drivers insight into how their car insurance premiums are priced by companies.