American Family homeowners insurance could be your future home insurance company.
Every homeowner has unique needs when it comes to their insurance policy. Insurify can help you decide if this is the right insurance company for you.
Being a homeowner is a dream come true for many Americans. American Family Home Insurance understands that, which is why its purpose is to inspire, protect, and restore your dreams.
Launched by a single insurance agent in 1927, the company has become the seventh-largest homeowners insurance company in the U.S.
Is American Family Home Insurance the right choice for you and your family? Find out with this in-depth guide.
But before you purchase a policy, use Insurify to compare quotes to get the best rate on homeowners insurance. It gives you quotes from up to a dozen or more insurance companies so you can get the best policy for your home and budget.
American Family Home Insurance Coverages
According to its website, American Family offers property insurance across these dwelling situations and insurance needs:
Homeowners Insurance
AmFam has personalized options for homeowners insurance. The company will walk you through how to calculate how much home insurance you need. Many factors help determine the amount you need to protect your home:
Your home's location

The value of your home

The value of your belongings

Your coverage options and limits

The deductible you choose

Home details, including age, style, and construction
Get coverage from American Family to protect your home from fire, hurricane storms, vandalism, and other disasters.
Renters Insurance
Similar to a homeowners policy, renters insurance offers a personal property policy. It covers damage to your belongings by a covered loss, such as theft, fire, or a windstorm.
American Family policies also cover medical bills and lawsuits if someone injures themselves in your apartment or home.
Condo Insurance
If you own a condo, your condo association's insurance won't cover your belongings. That's where condo insurance comes in.
While the condo association's coverage can include the structure of your condo, building, and common areas, your condo insurance policy protects your valuables, like furniture, electronics, and clothing.
Manufactured Home Insurance
Mobile and manufactured home insurance offers similar protections to what you get with homeowners insurance. However, mobile homeowners often have different needs than those who own a regular house. American Family's manufactured home insurance is there to give you peace of mind.
Your policy can include dwelling, other structures, personal property, and liability coverage. If a storm, fire, or another covered event damages your home or belongings, your policy has got your back.
Farm and Ranch Insurance
Farm and ranch insurance is more than a homeowners policy. It's a blend of homeowners and business insurance that protects your home and your operation.
Because the needs of farm and ranch owners can be very different, American Family offers custom coverage that you can personalize. The additional options can fit your operation's unique needs.
Flood Insurance
Standard homeowners, condo, and renters policies generally don't cover flood damage. That's why flood insurance is a must-have for some homeowners.
American Family offers flood insurance from the National Flood Insurance Program (NFIP). Even if you're not in a high-risk flood area, you may want to consider purchasing a policy to protect your home.
Components of an American Family Home Insurance Policy
Your policy from American Family includes several components to protect your home and belongings:
Dwelling coverage: This protects the structure of your home by paying to repair or rebuild if fire, hurricane storms, lightning, or another peril causes damage or destruction.

Other structures: This covers detached garages, fences, sheds, or other structures that aren't connected to your home.

Personal possessions: This protects your furniture, clothes, electronics, and other belongings. Most policies include off-premises coverage, insuring your items anywhere in the world.

Loss of use: This pays for hotel costs or other accommodations and additional living expenses if you can't live in your home due to damage.

Personal liability: This is protection against a lawsuit if a guest injures themselves in your home or on your property.
Most policies include enough homeowners coverage to rebuild, replace, or repair your property. However, coverage limits can vary. Check with your insurance agent to make sure you have enough coverage if the unexpected happens.
Compare Car Insurance Quotes Instantly
Personalized quotes in 5 minutes or less
No signup required
Optional Coverages for Your American Family Home Insurance Policy
Because AmFam recognizes that households are different, the company provides optional coverages to fit your unique needs.
Equipment Breakdown
AmFam's equipment breakdown coverage protects your appliances, home systems, and smart home devices. It pays to repair or replace your home equipment, helping you avoid large out-of-pocket expenses.
The policy extends beyond refrigerators and computers to swimming pool equipment and garden tractors.
Water Backup
If your sump pump fails and water backs up into your basement, the damage and repairs could be costly. American Family offers optional sump pump failure and water backup coverage.
The cost of the add-on is less than you might think. It's a fraction of what it would cost out of pocket to repair and replace items that have water damage.
Service Line Coverage
Service lines, like water lines, sewer pipes, and power lines, keep your home connected to the rest of the world. Optional service lines coverage helps cover the cost of repairs if the lines break down.
Identity Theft and Credit Monitoring
American Family Insurance partners with Cyberscout to offer identity theft insurance and credit theft protection and monitoring.
With this add-on coverage, the web-based services will monitor your credit to spot fraud and alert you to changes with your credit, personal or financial information.
Matching Siding Insurance
Although it might seem trivial now, matching siding insurance can protect you financially if disaster strikes. Homeowners insurance only pays to replace siding that was damaged. But what if the manufacturer discontinued your original siding and you can't find a good match?
Matching siding insurance from AmFam can reimburse you for the cost to replace the undamaged siding.
Additional Coverages from AmFam
While almost everyone can benefit from the options above, American Family lets you further customize coverage based on your needs:
Home business coverage

Home daycare insurance

Short term rental, such as Airbnb or VRBO

Assisted living and nursing homes

Vacation and second home insurance
Available Discounts
Shopping around for insurance is a great way to lower the cost of homeownership. American Family also offers discounts to help you save on your premiums:
Bundling: Buy your home and auto insurance with AmFam, and you could save up to 20 percent on your home coverage and 29 percent on auto coverage.

Age of home: Statistically, newer homes have fewer claims. American Family offers discounts for homes under 15 years old.

Renovated home: Upgrades to your plumbing, electrical, and heating systems within the last 15 years can save you money with the renovated home discount.

Insurance payment: Lower your premiums by signing up for autopay and paperless billing. You could also save by paying your policy in full.

Loyalty: After being an American Family customer for at least a year, you could qualify for a loyalty discount on homeowners insurance.

Generational: Save with a generational discount if your parents have a home or auto policy with AmFam and you're between the ages of 18 and 30.

Smart home: Home security systems or a Nest device can get you a better rate on homeowners insurance.

Diminishing deductible: Earn a deductible credit each year you don't file an insurance claim.
The discounts available can vary by state. Check with your local American Family Insurance agent to find out what's available where you live.
American Family Home Insurance Reviews: Customer Satisfaction
Reviews of the company are favorable. On Yelp, only one person left a review:
American Family has earned an A rating from the Better Business Bureau (BBB) but is not accredited.
Consumers Advocate gave the company an overall rating of 4.7 out of 5, which is considered "Excellent."
According to J.D. Power, American Family is one of the highest-ranking insurance brands in the Southwest region.
J.D. Power Customer Satisfaction Rating: Below average

A.M. Best Rating: Excellent

Better Business Bureau Rating: A
Frequently Asked Question - American Family Homeowners Insurance
American Family Home Insurance has earned an A rating from the Better Business Bureau. The company has several options to customize your policy. With standard homeowners insurance and the ability to add on coverages that fit your needs, you can get the financial protection you need for your home. Managing your policy is easy. AmFam lets you access your policy information through an online portal and from the MyAmFam app for your smartphone.

Yes. American Family offers multiple-policy discounts when you combine your home and personal property coverage with an auto policy. The company's website says policyholders can save up to 20 percent on home coverage and 29 percent on auto coverage by bundling policies.

Your deductible is the amount you must pay before your insurance company kicks in to pick up the rest of the tab. Standard homeowners insurance policies have different deductible options. Depending on your situation, you might choose a deductible of $500, $1,000, or $2,000. Many homeowners opt for a higher deductible because it lowers the cost of the insurance premium.
The Best Way to Save on Home Insurance
Want to know how low your policy can go? Get a real quote or two, or several, with Insurify today.
American Family Insurance Overview
Homeowners insurance from American Family can protect what matters most: you and your family. The customizable policy options let you get more or less coverage according to your needs as a homeowner.
To determine whether it's right for you, consider the type of coverages and discounts available. Compare your options and rates with other home insurance companies to get the best coverage at the best price.
American Family Home Insurance Contact Information
| Department | Contact |
| --- | --- |
| Customer service phone number | 1 (800) 692-6326 |
| Claims service phone number | 1 (800) 692-6326 |
| Website | www.amfam.com |
Use Insurify to compare homeowners insurance premiums for your property in your area.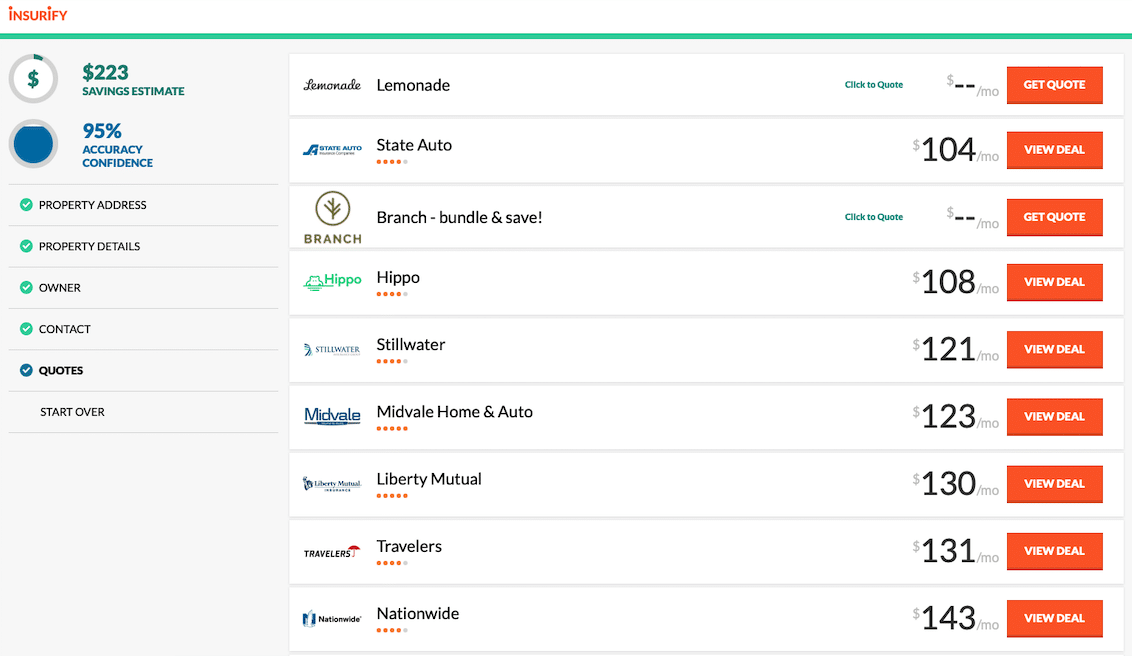 Compare Car Insurance Quotes Instantly
Personalized quotes in 5 minutes or less
No signup required
Data scientists at Insurify analyzed over 40 million auto insurance rates across the United States to compile the car insurance quotes, statistics, and data visualizations displayed on this page. The car insurance data includes coverage analysis and details on drivers' vehicles, driving records, and demographic information. With these insights, Insurify is able to offer drivers insight into how their car insurance premiums are priced by companies.