What is Matic?
Matic is a digital insurance agency that aims to enhance the insurance experience for consumers, originators, servicers, loan officers, and more.
Shopping for homeowners insurance can be a pain, but online comparison platforms like Insurify and Matic.com can make the process easier. Matic Insurance Services Inc. is a digital insurance agency that partners with more than 30 A-rated home and auto insurance companies, working to match you with the best policy and saving customers an average of $478 a year.
Matic isn't the only option out there. Insurify puts insurance quotes side by side so you can compare easily and find the best insurance policy for you.
How Does Matic Work for Home Insurance?
Matic works quickly and has a user-friendly website. Simply decide whether you need a quote on home or auto insurance to begin.
Get your quote by entering some basic information about your property, including the address, whether you currently own the property and the property type. Then, enter information about yourself, such as your birth date, legal name, and contact information.
You'll receive quotes right away. You can buy online or work with Matic's team of licensed insurance agents to find the best insurance carriers for you. You may also be contacted by representatives of Matic, according to the company. Matic will also obtain a consumer report on you, including your claims history and your credit-based insurance score, to make sure your quote is accurate.
The co-founders of this insurtech startup view the company as a trusted insurance advisor or insurance advocate rather than a comparison tool, according to the company's website. It can help you navigate challenges with their various partner carriers. Their Ohio -based insurance agents aren't paid by the total premium, which means they have an incentive to help you find the best policy for you, not simply the most expensive.
What Insurance Does Matic Offer?
Need other types of insurance? Aside from home and auto, the company can also help you find these types of coverage.
Umbrella policies: These policies give you extra liability coverage beyond the limits that come with your existing auto, homeowners, or other policies.

Flood insurance: Homeowners insurance never covers flood damage. A separate flood insurance policy would cover you in case a flood damages your home.

Earthquake insurance: Like flood damage, earthquakes are never covered by standard homeowners policies. You need separate insurance to protect you from earthquake damage if you're in an area prone to earthquakes.

RV/toy insurance: Explore Matic's options for RVs and toy haulers.
Matic Reviews: What Are Customers Saying?
Matic asks for your email address and phone number before it delivers your home insurance quotes, so you're likely to get follow-up calls from a Matic agent.
Despite this, people seem generally happy with Matic's customer service, favoring the insurance agents ' professional and low-pressure approach.
Paul V. gave Matic a 5-star review on Google. "Found out about this company as they partnered with my mortgage lender. They offer to shop home and auto insurance providers for a more competitive rate. Love how they do this quickly and easily over the phone. Service was professional, friendly, and hassle-free. I would recommend giving them a try!"
Susan S. gave Matic a 5-Star review on Google. "I had not realized how much my homeowners insurance had gone up in yearly price and I was amazed how much I was paying. Mr. Cooper Mortgage Co. recommended I check with Matic insurance. I couldn't believe how much I could save ($1,200 a year!). More importantly, they helped me understand exactly what I was getting without any pressure to change. It was the best phone call I have ever made. I suggest every homeowner make that call for a quote and suggestions. You will not regret it!"
Matic has 523 reviews on Google and currently ranks 4.9 out of 5, with many five-star reviews.
Matic has been accredited with the Better Business Bureau since 2018. It has an A+ rating with the BBB and zero complaints. Customers reviewing Matic on the BBB's website rate it as a 3.67 out of 5, though this rating is based on only three reviews, so take the number with a grain of salt.
Kevin S. gave Matic a 5-Star review on BBB. "What a great experience! My mortgage servicer sent me an email saying I could save money if I switched ins urance. Got a call quickly after clicking the button. The agent was super knowledgeable and helped answer all of my questions. She even made sure the new policy was apples to apples to my old one. I saved over $300 per year! They helped me cancel my old policy and send the new one to my mortgage servicer. Overall working with matic was fast, easy, and helped me save a lot of money! Thank you, Matic!
Katie O. gave Matic a 1-Star review on BBB. "Absolutely disappointing! Horrible customer service! My mortgage broker recommended Matic so I felt confident to get a quote from them. At first touch, it sounded like they could save me money while supplying even better coverage, so I gave them all the personal information they needed for underwriting. As soon as I did, I never heard from them again! I emailed and left voicemails without a response.
More About Matic
Matic is licensed in all 50 states and partners with many industries, including mortgage origination, banking, lenders, and servicing, to make the insurance-shopping process easy and fast. As of 2021, the company was run by co-founders Aaron Schiff and Ben Madick. Matic has expanded steadily since its founding in 2014 and raised $7 million in Series A funding in November 2017.
Frequently Asked Questions
Matic is a digital insurance agency that aims to simplify the process of buying home and auto insurance. You simply enter information about yourself and your property into their comparison tool and receive customized quotes.

Getting a quote from Matic is free. You pay the carrier for your policy, not Matic.

Both sites offer home and auto insurance rates with just a few minutes of research. However, Insurify's home insurance tool is much more detailed and asks about things like square footage and materials used to build the home, which can help carriers furnish a more accurate quote.
Is Matic Home Insurance Right For You?
Buying home insurance is one of the most important decisions you'll make as a homeowner. You don't want to make a claim only to find out you've partnered with the wrong company. Find a company you trust by doing your due diligence and researching your options.
It pays to shop around if you're looking to compare homeowners insurance. Companies like Matic can help you find the best possible insurance for a new home or to replace your old policy.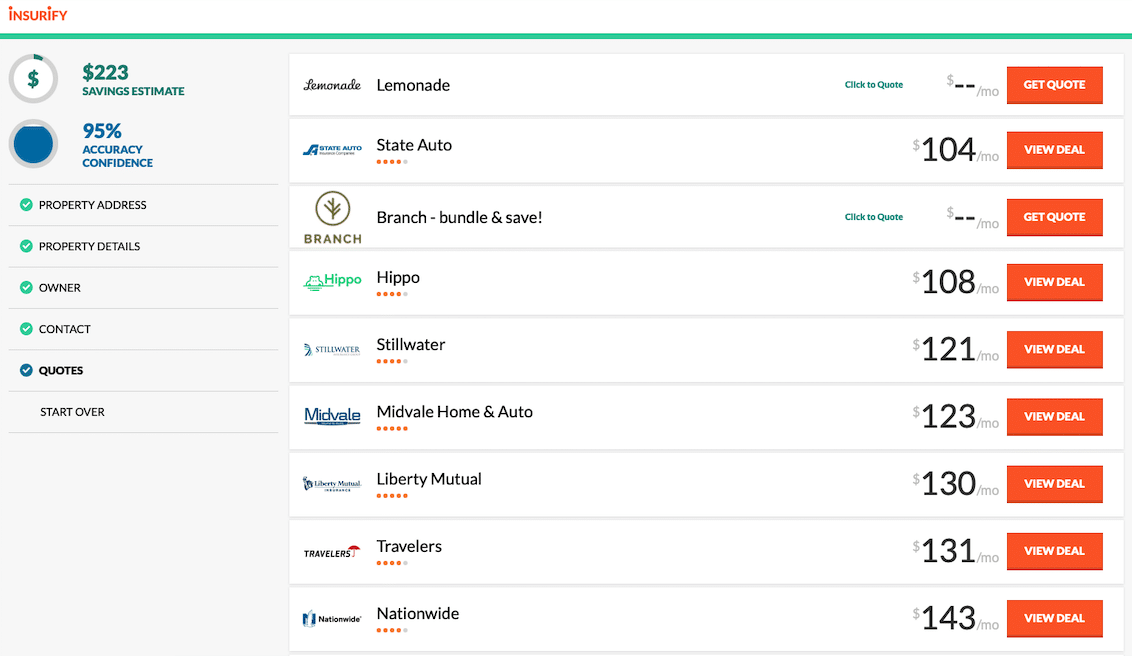 Compare Home Insurance Quotes Instantly
Personalized quotes in 5 minutes or less
No signup required