Blog
Home Insurance
What Does Homeowners Insurance Cover
Why you can trust Insurify
Edited by John Leach
Updated September 13, 2022
Reading time: 10 minutes
What does a homeowners insurance policy cover?
A standard homeowners insurance policy provides coverage for your home's structure, detached structures, and personal property, as well as liability coverage and medical payments.
Whether you're a homeowner or renting an apartment or house, homeowners insurance is a necessity. And for good reason—insurance companies take on risks that most people couldn't afford out of pocket.
When you have solid insurance coverage on your home and a hail storm damages the roof and causes water damage, you simply pay your deductible and have the inconvenience of resolving the issue. You don't have to pay the $12,000 cost from your checking account or the $4,000 in damages caused by the water damage.
For anyone who's started the mortgage process, you know home insurance is also a lender 's requirement. Only once the home is yours, free and clear, can you drop your insurance policy. Most people don't do this, since paying $1,300 a year in premiums seems negligible when a $15,000 claimable event occurs.
Landlords have homeowners insurance, but the difference for renters is that it doesn't include your possessions. Even if your landlord doesn't require you to have a renters insurance policy, you should have one just in case a worst-case scenario happens.
To help you understand exactly what homeowners insurance covers, we've put together this guide. We explain the main policy types and the coverage that's included. There are tips on how to lower your premiums and what to do when you need to file a claim.
And if you're ready to look for better rates on your homeowners insurance, check out the Insurify comparison tool. Within a few minutes, you'll be exploring policies from top insurers. Try it now!
Types of Coverage
Once you realize that there's no one-size-fits-all homeowners insurance policy and that they aren't relatively as straightforward as auto and life insurance, understanding coverage types and options is easy. Here's an in-depth look at your plan options and the coverage you'll get.
Main Types of Home Insurance
There are four main types of homeowners insurance, and within each of those, there are several specific coverage areas. Let's take a look at the first decision you'll need to make: what type of policy do you want?
Actual Cash Value
This is the cheapest kind of insurance because it takes depreciation into account. When repairs are made, your insurance will only pay out up to the amount that the items were worth at the time of loss. This means that you won't get as much money for lost possessions and possibly less money than you need to make a repair.
Replacement Cost
The next type of homeowners insurance is replacement cost. Repairs and rebuilds will be done with similar materials to ensure your home is redone to its current state. This is fine as long as prices for materials and construction don't exceed your coverage limits.
Extended or Guaranteed Replacement Cost Value
These two types are the most expensive because the insurance company promises to either go a certain percentage above the limits or cover it entirely, no matter the cost. This is a good hedge against the ever-rising cost of materials. It's not unrealistic for a house that was insured for $200,000 five years ago to cost $250,000 to rebuild today.
If your house is a total loss and your coverage is $200,000 but it costs $260,000 to rebuild, guaranteed replacement cost mean that the insurance company will pay all the costs. An extended replacement cost policy covers a fixed percentage. Using the same scenario, if the coverage is 20 percent, then your insurance provider would pay up to $240,000.
What Does Homeowners Insurance Cover?
Although the nitty-gritty details and policy limits vary between policies, they all have similar components. Here's a look at the types of coverage you'll find in your policy.
Dwelling Coverage
This covers the foundations, walls, windows, and roof that make up your home, along with attached structures like a deck or garage. Items built into the house are also protected, like cabinets and built-in bookcases. You want enough coverage for a complete rebuild if your home is destroyed.
Other Structures Coverage
This coverage is for stand-alone structures like a detached garage, tool shed, gazebo, or guest house. Since these are typically smaller, simpler structures, your policy will normally have coverage that equals about 10 percent of your home's coverage.
Personal Property Coverage
Dwelling coverage protects the four walls of your home, but personal property coverage is necessary for the things inside the four walls: your kitchen table, dining room set, clothes, workout equipment, computer, television, etc. Items will be replaced or repaired if stolen or damaged due to an event that you can claim.
Your possessions are covered while at home and away. Even if you're traveling abroad and your hotel room is broken into or your luggage is lost en route, you can claim compensation.
It's a good idea to keep an updated home inventory of everything in your house, especially when it comes to higher-value items. The claims process will be easier and faster if you have proof of your belongings. Set a reminder on your calendar to update the inventory at least once a year, and add or delete higher-value items as you buy or get rid of them.
If your possessions include extensive and valuable collections of art, jewelry, firearms, or other collectibles, you need a rider to give you coverage specifically for these items. This is because basic homeowners insurance policies don't include coverage for rare paintings or $30,000 worth of jewelry.
Most policies pay up to 50 percent of the dwelling coverage limit for personal property, so if your dwelling coverage is $300,000, you can expect personal property coverage to pay between $100,000 and $150,000.
Additional Living Expenses Coverage
In many instances, you can remain in your home while you wait for repairs to be made after a claim, but it may not be safe or even possible in the event of a fire or significant storm damage. Your insurance pays for living expenses if you have to stay in a hotel or rental.
Generally, it will cover meals and utilities, though criteria can be strict and there are limits to how long the insurance will pay these expenses. It's essential to have your plans approved by your insurance provider before signing long-term agreements with a hotel or property management company. Typically, the amount paid out is 20 percent of your dwelling limit.
Personal Liability Coverage
We live in a litigious society, but luckily, your homeowners insurance protects you from lawsuits resulting from an injury on your property or caused by you or a family member away from home. Even dog bites are covered, though your insurer may exclude some breeds like pit bulls.
So if your neighbor Mabel slips on the icy steps coming over with a plate of cookies or the kids' baseball goes through her window, your homeowners insurance will cover the costs. Even if she cuts her foot on glass from that broken window, you're still protected. Or if your pup escapes from his dog run and destroys Mabel's prize petunias, you don't have to drain your savings account.
Your liability insurance covers you away from home, too. When you're playing rec league softball and mess up on your swing and the ball goes into a windshield rather than left field, your homeowner's insurance policy covers you. Or if your dog scratches another dog owner at the dog park. As long as the harm caused is unintentional, you're covered.
Most policies come with $100,000 to $500,000 in liability coverage. You can buy more coverage with an umbrella policy if you feel you need more coverage. Doctors, lawyers, and high-profile individuals have an increased risk for lawsuits because they're seen as wealthy. Even if you have professional liability insurance, you need extra personal liability insurance if your child's friend gets hurt at your home.
Medical Payments Coverage
This covers the cost of medical care if someone is injured on your property or accidentally hurt by you, a family member, or your pet. Payments are made, regardless of who is at fault. This coverage is typically set at $1,000 or $5,000, and medical expenses that exceed the limit will need to be paid out of pocket.
Compare Home Insurance Quotes Instantly
Personalized quotes in 5 minutes or less
No signup required
What Homeowners Insurance Doesn't Cover
Your homeowners insurance policy is pretty comprehensive, but there are limitations to what is covered. Some events not covered by the average homeowners insurance policy include:
Sewage backup

Fungus or mold

Nuclear hazard

War
You can get coverage for some of the above perils, namely the ones caused by Mother Nature. You'll need to get an endorsement (also called an insurance rider) to add each specific type of coverage to your policy. There's an extra charge, plus separate deductibles, for each particular endorsement, but you can create a customized policy that protects you from the risks in your area.
Also, damage caused by neglect of your home or property, pest damage, and regular wear and tear are not reasons to make a claim. Follow a regular maintenance schedule, and repair things as soon as possible to avoid additional damage to your home.
Determining the Cost of Homeowners Insurance
Insurance companies are for-profit businesses and need to ensure they take in more than enough to pay out the claims they pay out in a given year. It's no surprise that a lot goes into calculating your homeowners insurance cost. That said, your premiums will seem like a drop in the bucket if you have to make a claim.
You do have some control over the costs of your home insurance policy, especially when it comes to where you buy and the upgrades you make. Here's a look at some of the things that factor into your insurance premium.
Past claim history of the home, including frequency and severity of the claims

Claims you've made in the past five to 10 years across previous residences

The age of the home and the roof

The condition of the home

The age of the wiring, plumbing, and HVAC

Your credit score

The neighborhood and risk of crime and vandalism

Having attractive nuisances, including pools, trampolines, and swing sets

The breed of dog you own

Your home's proximity to fire hydrants and fire stations

Your geographic location

Whether the home is occupied full-time
Ways to Save Money on Homeowners Insurance
Even if your home is on the Oklahoma prairie or near the California coast, there are ways to reduce your insurance costs. Each of these could reduce your overall bill by a couple of percentage points. On their own, that may not be too impressive, but try them all and ask for discounts, and you may be surprised.
Add a security system, preferably one that's connected to a central monitoring station or the police.

Raise your deductible. Increasing it from $500 to $1,000 or $2,000 can save up to 10 percent. Make sure you have that amount in cash in case you do need to make a claim.

Install smoke detectors and carbon monoxide detectors.

Put dead bolts on doors leading out of your home.

Install a sprinkler system.

Pay off your mortgage. Insurance companies think that if you own your home free and clear, you'll take better care of it.

Take steps to raise your credit score. This isn't a fast fix but something you do gradually. Pay bills on time, pay off old debts, and lower your debt-to-income ratio.

Bundle your home insurance with your car insurance and life insurance.
It never hurts to ask your insurance company what discounts they offer. Some factors that qualify for discounts from insurance companies include:
Paying annually rather than monthly

Having a particular career, like being a first responder, military service member, or teacher

Being a non-smoker

Being in a homeowners association

Living in a gated community

Being 55 or older

Being a loyal customer of theirs with your home or auto insurance
Filing a Homeowners Insurance Claim
Hopefully, you won't need this information anytime soon. Still, it's good to have a basic understanding of the claims process for a covered loss so that you get reimbursed for property damage and your personal belongings. When you make a claim, you are responsible for paying your deductible, which ranges between $500 and $2,000.
Say a terrible wind and hail storm damages your roof and siding. The cost for the new roof and siding is expected to be $25,000. If your deductible is $2,000, this means the insurance company will send you a check for $23,000 to put with your $2,000 so you can pay the contractor who does the work. Always keep the amount of your deductible set aside in a savings account so that you're prepared.
Let's say that after the storm, you saw the damage. You need to call your insurance company or insurance agent to let them know that you need to file a claim and ask for their requirements for reporting the damage. You'll likely need to have photo and video evidence, plus an itemized list of the damage done.
Once you submit the documents to the insurance company, you'll be contacted by an insurance adjuster, who will come out to inspect the damage. They may require one to three estimates by contractors, which they may or may not arrange. Once an amount is decided, they will send you a check for the amount minus your deductible. All that's left is to have the work completed.
In the case of vandalism or theft, the first step is to file a police report. They will need to investigate the issue and get all the details you can provide. After that, follow the rest of the steps. Don't forget to call your credit card issuers and banks if wallets or sensitive information was stolen since you're at risk for identity theft.
FAQ: Homeowners Insurance Coverage
Homeowners insurance coverage includes damage done to the structure of your home and other structures on your property, liability protection, plus medical bills for people injured at your home or by you or a family member. It will also cover damage done to personal items or replace them.

This depends on the reason behind it. Water damage caused by a hole in the roof from a covered incident or a broken water line is covered. However, you will need additional coverage via a separate policy like flood insurance if you are in a flood zone or hurricane insurance if you live in a coastal area.

The average cost of homeowners insurance in the U.S. is just over $1,000 per year. This varies with areas that are at risk for natural disasters paying upwards of $2,000 or more.
Conclusion: Find Affordable Coverage by Shopping Homeowners Insurance Rates Online
The financial protection that insurance provides is too big to ignore, but it can prove fiscally challenging if you get high quotes. The best way to find affordable coverage options, regardless of whether you've tried the tips mentioned above on lowering premiums, is to compare home insurance quotes.
Start your search by filling in some information like your ZIP code, the amount of coverage you want, and essential details about your home. You'll get quotes from reputable home insurance companies in just minutes. Compare the options, and you'll be on your way to cheaper home insurance today.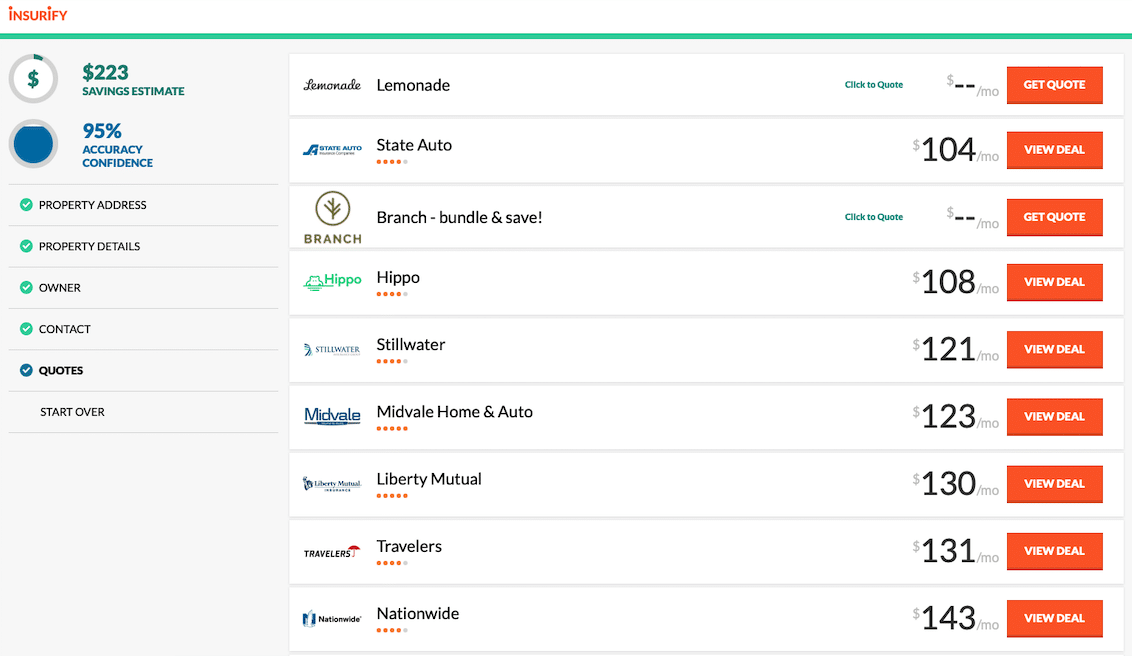 Compare Home Insurance Quotes Instantly
Personalized quotes in 5 minutes or less
No signup required
Data scientists at Insurify analyzed over 40 million auto insurance rates across the United States to compile the car insurance quotes, statistics, and data visualizations displayed on this page. The car insurance data includes coverage analysis and details on drivers' vehicles, driving records, and demographic information. With these insights, Insurify is able to offer drivers insight into how their car insurance premiums are priced by companies.