If you live in an older house or are considering purchasing one, you might expose yourself to lead without knowing it. Lead used to be a common ingredient in paint, and it can also be found in some household plumbing materials. If you suspect lead in the home, a firm with lead certification can help.
A lead-certified risk assessor can determine the level of lead in your home and recommend a course of action to protect you and your family. However, some homeowners insurance policies exclude claims for lead testing and removal or personal liability claims from lead poisoning.
If you need homeowners insurance, Insurify allows you to compare home insurance quotes online. If your home contains lead paint or pipes, ask if the policy includes lead monitoring, cleanup, or liability claims.
Lead Certification 101
Lead poisoning can have serious consequences. To remove lead paint, dust, pipes, or other debris, workers must use careful measures to protect themselves and the surrounding air. Lead certification is the process by which firms and individuals receive the necessary training class to work in and around lead pollutants.
A federal law, known as the Lead Renovation, Repair, and Painting (RRP) Rule, establishes the certification requirements, and the Environmental Protection Agency (EPA) processes the applications. It also ensures continued compliance by requiring a recertification every five years.
Getting an EPA Lead Certification
Before you apply, you must attend lead program certification classes. Visit epa.gov for more information about the training course or to find a training provider.
Keep in mind that EPA firm certification doesn't apply in all states. As of 2021, 14 states and one tribe administer their own RRP programs. If you're in one of the following areas, contractors must apply to that area's training program for firm certification:
Alabama

Delaware

Georgia

Iowa

Kansas

Massachusetts

Mississippi

North Carolina

Oklahoma

Oregon

Rhode Island

Utah

Washington

Wisconsin

Bois Forte Tribe
Compare Car Insurance Quotes Instantly
Personalized quotes in 5 minutes or less
No signup required
Your Home: When to Inspect for Lead Hazards
Coming into contact with lead is more common than you might think. Homes built before 1978 can contain lead-based paint hazards, including paint chips and lead dust that you or your family could unknowingly ingest. Additional sources of lead include:
Some water pipes

Toys and jewelry

Candy

Hobbies like stained glass work
The effects of lead poisoning can be severe, especially for children. The Centers for Disease Control and Prevention report there is no safe level of lead exposure. Even low levels of lead can affect the ability to reason, pay attention, and advance academically.
How to Know if Your Home Needs a Lead Risk Assessment
If you're thinking of purchasing a home built after 1978 or already living in one, you generally don't have to worry about lead hazards. But homes built before that? They're likely to have lead paint, and possibly lead pipes.
According to the EPA, 24 percent of homes built between 1960 and 1977 contain lead-based paint. If your home was built between 1940 and 1959 or before 1940, the risk goes up to 69 percent and 87 percent, respectively.
Reach out to a certified lead abatement worker for an assessment on whether your home is lead free if you think your walls may have lead-based paint and notice peeling, chipping, or cracking.
Lead Certification When You're Buying a House
If you're in the market to buy a house, your purchase contract must include information about lead if the home was built before 1978. Federal law requires the seller to provide you with a Lead Warning Statement and to allow you to have a risk assessment by a certified lead inspector.
You can also waive the inspection. However, ask your real estate agent or an attorney before you do, because you could give up some of your legal rights.
If you have a lead risk assessment during the COVID-19 pandemic, the process might take longer than usual. Many businesses, including lead certification firms, shut down or restricted close contact with the public, which could delay the inspection or assessment of your home.
Home Insurance and Lead Abatement
Homeowners insurance policies offer excellent protection against risk or loss. They can provide financial protection for your home and personal property in case of natural disasters, theft, and accidents.
However, even the best home insurance companies rarely cover the cost of lead abatement. Many insurance companies have a "lead poisoning exclusion" built into their homeowners policies. The provisions exclude the policy from covering the cost of removal, abatement, or treatment of lead. It also does not include personal liability for lead poisoning.
The cost of lead abatement can be high, ranging from $100 to more than $20,000. When purchasing a house, you must be diligent about assessing the risk of lead in the home. Otherwise, you could be on the hook for an expensive removal fee.
When You Need a Lead-Certified Contractor
The EPA RRP rule requires firm certification before someone can advertise or perform renovation activities in homes or child-occupied facilities built before 1978.
The firms and sole proprietors that must attend a training program to learn lead-safe work practices include:
Residential property owners

Property managers

General contractors

Electricians

Plumbers

Carpenters

Painters
That means if you're hiring a firm for painting, electrical work, window replacement, or other remodeling or building projects, you must make sure they're certified renovators whose authorization isn't past the expiration date.
Lead hazards and lead certification programs can be confusing. If you're concerned about lead exposure, how to find a certified firm, or how much it might cost, keep reading.
Lead Certification: Frequently Asked Questions
How can I reduce the risk of lead exposure?
Sources of lead, especially lead paint, are still in millions of homes and facilities throughout the US. Keep up on paint in your home to prevent peeling and chipping, and dust frequently to pick up any lead dust. Renovation, repair, and paint activities can disturb lead paint and dust, but you can lower the risk by using a contractor with EPA lead certification.
How can I find an EPA-certified firm?
Use the Environmental Protection Agency's search feature to help you locate the nearest certified firm, abatement supervisor, or lead renovator. You can search using your complete address, ZIP code, or city and state.
How much does a lead risk assessment cost?
The cost of hiring a lead risk assessor can vary, and some companies charge a flat fee based on square feet of the area. Generally, you can expect to pay between $225 and $413 to have a lead inspector investigate and recommend abatement activities.
Lead Certification: The Bottom Line
The effects of lead exposure can be significant. If you suspect lead in your home, take action right away. The EPA can help you find a certified firm to conduct an inspection or risk assessment and guide you toward a lead-certified company.
Contact your insurance agent to ask if your policy covers claims for lead abatement if lead is found in your house. If you're looking for homeowners insurance, Insurify can help you compare premiums to get the coverage you need.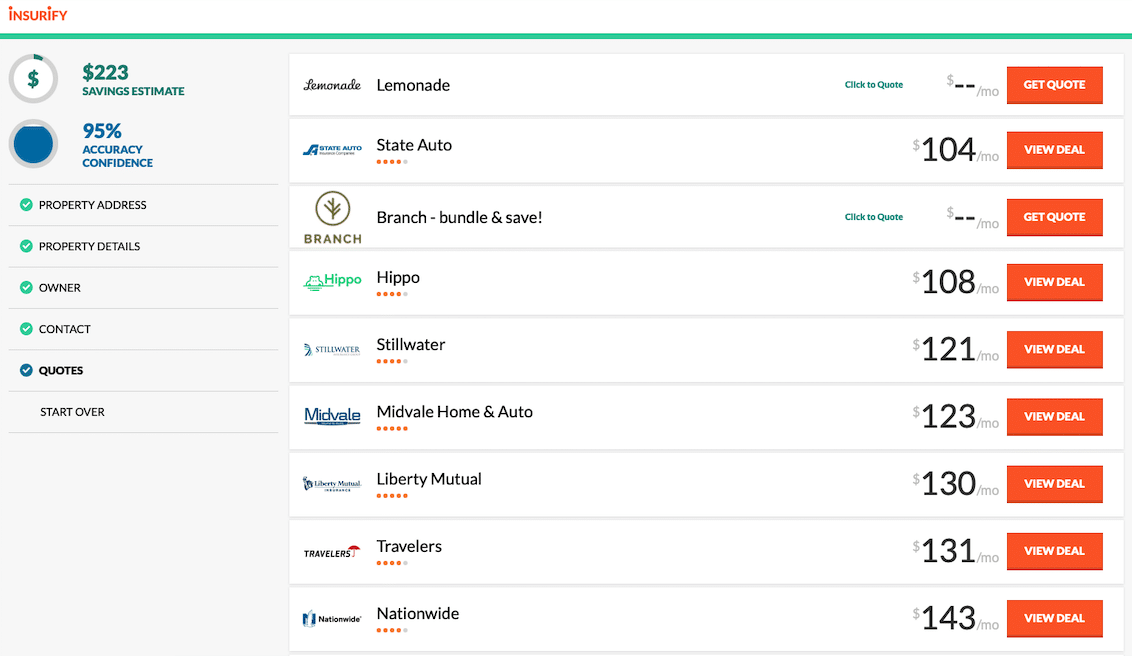 Compare Car Insurance Quotes Instantly
Personalized quotes in 5 minutes or less
No signup required
Data scientists at Insurify analyzed over 40 million auto insurance rates across the United States to compile the car insurance quotes, statistics, and data visualizations displayed on this page. The car insurance data includes coverage analysis and details on drivers' vehicles, driving records, and demographic information. With these insights, Insurify is able to offer drivers insight into how their car insurance premiums are priced by companies.