Is earthquake insurance worth the cost?
If you live in an area prone to seismic movement, yes, earthquake insurance is worth the cost. The price of supplemental earthquake insurance will vary based on your home's unique characteristics and the risk level in your area.
Earthquakes shake the ground and can cause substantial damage. Will you be covered if a quake damages your home or property? If you're relying on a standard homeowners insurance policy, you could be in for an unfortunate surprise. Standard home insurance doesn't cover earthquakes. You need coverage that includes seismic activity to have the proper protection.
Is earthquake insurance worth it? While 90 percent of U.S. earthquakes happen in California, millions of residents across 42 states are at risk of seismic damage, according to the Insurance Information Institute. You could be at risk even if you don't live near a fault line. Luckily, you can buy a stand-alone policy or ask your current insurer about adding earthquake insurance to your standard homeowners or renters insurance policy.
When's the last time you evaluated your home insurance? Insurify can help you find the right coverage at the right price. Compare home insurance quotes and discover the best policy options in minutes using the online comparison tool.
Earthquake Insurance 101
Earthquake insurance is pretty much what it sounds like: insurance that covers damage and destruction caused by earthquakes. It can pay to rebuild, repair, or replace your home, belongings, and other structures on your property.
Insurers often have an earthquake endorsement you can add to your standard homeowners or renters insurance policy. You can also buy it as separate coverage if your insurer doesn't provide it as an add-on.
Lenders can require you to purchase homeowners insurance to get a mortgage. But earthquake coverage isn't required by law. You don't typically have to buy insurance for seismic tremors unless your home is in a high-risk area for earthquakes.
Isn't Homeowners Insurance Enough?
Homeowners insurance is an excellent option to protect your home and belongings. It covers many mishaps that can happen, such as fires, lightning strikes, windstorms, and hail. Even theft and vandalism are covered by home insurance.
But standard homeowners insurance doesn't typically cover natural disasters, seismic activity, or quake damage. If you rent your home, earthquakes aren't covered under renters insurance, either.
Like flood insurance, you may be able to add a coverage endorsement to your existing policy. Otherwise, stand-alone earthquake insurance is available for homeowners and renters.
Compare Car Insurance Quotes Instantly
Personalized quotes in 5 minutes or less
No signup required
What Earthquake Insurance Covers
Whether you're a renter or a homeowner, your home and the things inside it can be costly to replace. It would probably be one of your biggest expenses when recovering from an earthquake.
Will you be covered when disaster strikes? Knowing what your policy will cover can give you the peace of mind that you have the protection you need. A typical earthquake policy covers your home, personal belongings, and additional living expenses if the damage makes your home uninhabitable.
Rebuilding Your Home
According to the U.S. Geological Survey, ground shaking causes the most damage to your home and structures, such as a garage, shed, or fence.
One of the primary reasons to purchase earthquake insurance is to get coverage for your home. Seismic coverage includes dwelling coverage that pays to rebuild and repair your home and other buildings.
Personal Property Coverage
The replacement cost of items inside your home can add up fast. A policy can pay to replace damaged furniture, TVs, and other personal items.
Keep in mind that coverage may have restrictions on certain types of valuables. The policy may have coverage limits on the amount it will pay to replace expensive jewelry, electronics, furs, and collectibles.
Additional Living Expenses
Ground shaking can cause substantial damage, and your home may be uninhabitable after a quake. You may have additional living expenses from not being able to live in your home while repairs are being made.
While coverage can vary, earthquake policies generally include reimbursement of additional living expenses for the loss of use of your home.
More Coverage Benefits
Sometimes, building codes and regulations change after a home is built. Earthquake insurance can help with those costs, too. If the original structure doesn't meet updated building codes, a policy could also cover the extra expenses to become compliant with code upgrades.
Does It Cover All Earthquake Damage?
You might think earthquake insurance includes all the damage from an earthquake. But earthquakes can cause fires, burst pipes, vehicle damage, flash floods, and tsunamis. This coverage is limited to seismic damage and does not typically include:
Fires

Vehicle damage

Floods

Sinkholes

Masonry veneer
But standard homeowners, renters, and auto insurance can cover those things.
For instance, if an earthquake causes your gas line to rupture and a fire breaks out, you'd file a claim for fire damage with your homeowners insurance company. And for earthquake damage to your car, you need comprehensive insurance added to your auto policy. Contact your auto insurance company to ask questions or file a claim.
How Much Does Earthquake Insurance Cost?
Many standard home, condo, and renters insurance policies let you purchase additional coverage to protect against seismic activity. For an additional premium, you can add an earthquake endorsement to your policy.
Generally, you can expect to pay between $100 and $300 per year. States with a high risk of earthquakes typically have costs of $800 to $2,000 per policy.
How much you pay in insurance premiums depends on several factors. Costs vary from state to state, and statistical and risk factors play a significant role in determining rates.
For instance, the cost is higher in earthquake-prone areas like Alaska, Arkansas, California, Hawaii, Idaho, Illinois, Kentucky, Missouri, Montana, Nevada, Oregon, South Carolina, Tennessee, Utah, Washington, and Wyoming.
In addition to your home's location, other factors that impact your rate are:
Your home's age

Your home's size and foundation

Your home's construction type

Your policy deductible
The materials used to build your home, such as wood or masonry, can raise or lower your premiums. Also, choosing a higher deductible can usually lower your earthquake insurance premium.
Who Should Have an Earthquake Insurance Policy
When asking whether earthquake insurance worth it, remember that earthquake insurance coverage isn't right for everyone.
Many factors can influence whether you should get earthquake insurance. It can primarily depend on whether you live in an earthquake-prone area and whether you can afford to rebuild or replace your home and belongings without the help of insurance reimbursement. You should also consider:
The location of the home compared to active fault lines

The seismic history of the area

How long it's been since the last earthquake

Type of building materials used in the home

Value of the house and things inside

The cost of the policy, deductible, and coverage restrictions
The answer isn't always cut-and-dried. Your homeowners insurance agent can provide information about your risk. They can also make a recommendation to help you decide whether earthquake insurance is worth it.
When Earthquake Insurance Isn't Worth It
Earthquake insurance is a specific type of catastrophe insurance. Policies limit coverage to seismic activity from earthquakes and volcanoes. If you don't live in an earthquake-prone area, the cost of the premiums might not be worth it for you.
Another drawback to earthquake insurance is the deductible. Your standard homeowners policy deductible is typically a fixed amount. But earthquake insurance deductibles set the amount based on a percentage of the policy's coverage limits.
On average, the percent deductible can range from 2 to 20 percent, according to the Insurance Information Institute (III).
When you compare your risk of earthquake damage to the cost of the policy and deductible, it might not be worth the expense.
How to Get Earthquake Coverage
The first place you should look for earthquake insurance is with your current insurance provider. You can often add on coverage to your standard homeowners or renters insurance policy.
By adding an endorsement, you may be able to file one claim for earthquake damage. The convenience of submitting a single claim for earthquake and fire damage is valuable.
Not all insurers offer earthquake coverage endorsements. You can get a list of carriers and companies that provide earthquake policies from your home insurance agent or state insurance department website.
For Californians, the process to get earthquake insurance is slightly different. The California Earthquake Authority ( CEA ) is a non-profit that offers residential policies. The CEA works with 25 home insurance companies to sell earthquake insurance for homeowners, renters, condo owners, and mobile homeowners.
But, before buying earthquake insurance, it helps to determine how much coverage you might need. A home inventory is useful to record your most valuable assets. Keeping an accurate list can also help facilitate the claims process if you need to file a claim.
FAQ: Is Earthquake Insurance Worth it?
Home, condo, and renters insurance don't cover losses from quakes. If you don't have earthquake coverage, you may not have many options to help cover the costs of rebuilding or replacing your home or belongings. State financial assistance may be available.

The Federal Emergency Management Agency (FEMA) can offer assistance through grants if your neighborhood is declared a disaster area. However, help is limited and only available to those who qualify.

Standard renters insurance policies don't cover losses caused by earthquakes, and your landlord's policy doesn't cover your personal belongings. Earthquake insurance can help protect you financially if you live in an earthquake-prone area.

You may be able to add it to your existing renters insurance or purchase a separate renters earthquake insurance policy.

If you're looking for earthquake insurance, start with your current insurance company. Many insurers let you purchase earthquake coverage as an add-on to your standard homeowners or renters insurance policy. It's also available as stand-alone coverage. California residents should look to the CEA for earthquake insurance.

An earthquake insurance policy for your home and personal property doesn't cover earthquake damage to your car. The optional comprehensive part of an auto insurance policy covers losses caused by earthquakes. To make sure your vehicles are covered, ask your auto insurance agent about adding comprehensive coverage to your policy.
Is Earthquake Insurance Worth It for You?
Not sure which coverage you need? Homeowners insurance is a good baseline type of insurance to have. When you add an endorsement to cover earthquake damage, you end up with customized coverage to get the most protection.
Consider the cost of earthquake insurance vs. the benefit you get from the policy. If you live near a fault line or in an area with increasing seismic activity, buying earthquake insurance might be worth it. Talk to your insurance agent, and weigh the pros and cons to decide whether earthquake insurance is right for you.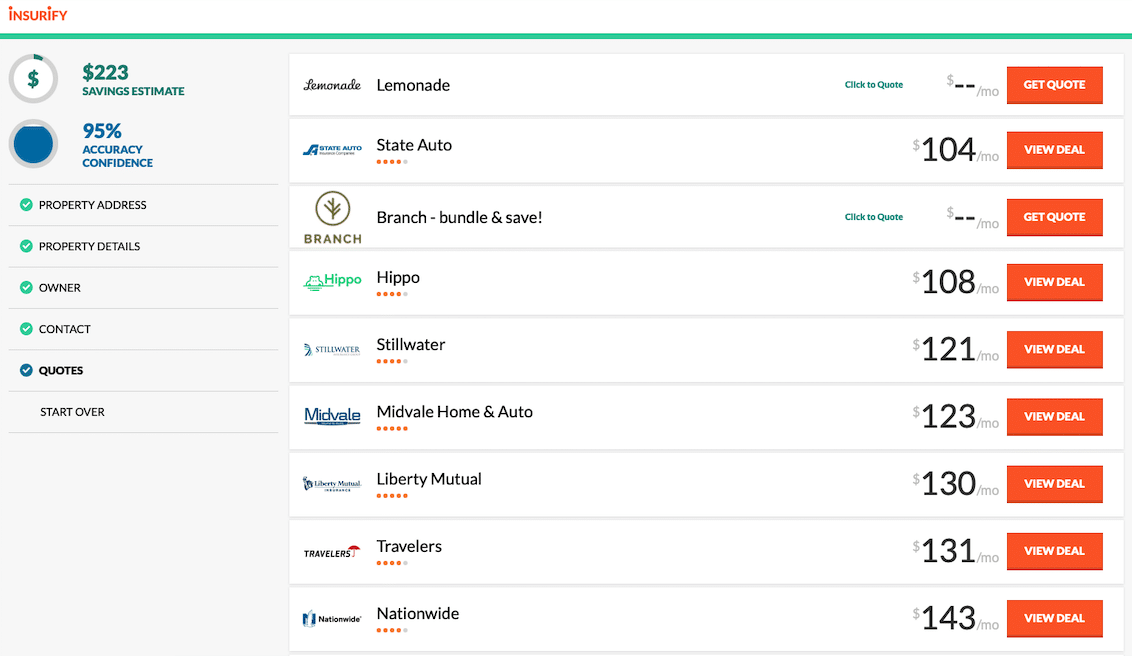 Compare Car Insurance Quotes Instantly
Personalized quotes in 5 minutes or less
No signup required
Data scientists at Insurify analyzed over 40 million auto insurance rates across the United States to compile the car insurance quotes, statistics, and data visualizations displayed on this page. The car insurance data includes coverage analysis and details on drivers' vehicles, driving records, and demographic information. With these insights, Insurify is able to offer drivers insight into how their car insurance premiums are priced by companies.