Do you rent out your home or another investment property you own? If so, you need to know about insurance for rental properties.
There are two ways to cover a rental dwelling. A home that you rent out for short periods of time can be covered by your regular homeowners insurance with a short-term rental endorsement. However, if you rent out your home for long-term rentals that last months or years at a time, you need rental property insurance, also known as landlord insurance.
In both cases, the insurance covers the building and your personal property. Tenants' belongings aren't covered by either type of policy, so they need renters insurance to cover their property.
Try Insurify to compare homeowners insurance quotes from multiple insurance agents. This easy-to-use tool takes just a few minutes and can help you find the right insurance agency with the right insurance products.
Homeowners Insurance vs. Landlord Insurance
The key to understanding what kind of insurance you need is whether the property is your primary residence. If you live there most of the time and simply rent out all or part of it on an intermittent basis, your homeowners insurance policy probably covers your guests, as long as you let your insurance company know beforehand. They may require an endorsement for short-term rentals or home-sharing to be added to your insurance to ensure liability is covered while someone rents your home.
Landlord insurance or rental property insurance is insurance for people who rent out properties as a source of income. It covers a lot of the same things homeowners insurance covers, including rebuilding value and your belongings, but it also provides some additional protection. What does landlord insurance cover that homeowners insurance doesn't? These three important things:
Loss of rental income: Your rental is like your business, so you need protection that will reimburse you for loss of rent if you suffer property damage and can't rent out your property for a while.

Housing for tenants during repair or rebuilding: You won't have to pay for a hotel room or another lodging while you recover from property damage.

General liability insurance: This protects you if a tenant or their guest gets hurt on your property and sues you for medical expenses. Standard homeowners insurance also includes personal liability protection, but it doesn't apply to businesses such as rentals.
What a Landlord Insurance Policy Includes
There are three kinds of landlord coverage you can choose: DP-1, DP-2, and DP-3.
DP-1 coverage is the bare minimum and protects you against a list of named perils.

DP-2 insurance is more comprehensive and grants you additional coverage against a named list of special hazards.

DP-3 covers replacement cost against any perils not specifically listed as exclusions.
All three types cover basic elemental damage caused by fires and other commonly named perils, though flood insurance and earthquake coverage usually have to be purchased separately. All of them include some amount of dwelling coverage, which covers reconstruction or repairs to the structure of the property if it's damaged by a covered peril.
They typically also include some amount for personal property coverage for the landlord's belongings, including appliances that you've purchased for the tenants to use and maintenance items like shovels or lawnmowers. It's important to understand that this doesn't extend to furnishings or possessions that belong to your tenants, though, so it's smart to require them to carry renters insurance.
Landlord insurance also doesn't cover damages caused by an issue you knew about before the loss. For example, a fire caused by a broken oven that your tenant filed multiple maintenance requests about probably won't be covered because your insurer will consider you negligent.
Rental property insurance also doesn't cover buildings that have been vacant for a certain amount of time. If your property is going to be vacant, talk to your insurer about it to make sure you have the right coverage in case of a break-in or another disaster.
Compare Car Insurance Quotes Instantly
Personalized quotes in 5 minutes or less
No signup required
Know Your Options for Landlord Insurance Coverage
Different properties have different needs. Make sure your landlord insurance is protecting you against risks by talking to your insurance agent about these add-ons.
Emergency assistance coverage: This helps pay for immediate maintenance needs.
Replacement cost or extended replacement cost: This lets you repair or rebuild a structure that's been damaged or destroyed without deducting the value of the structure's depreciation. Extended replacement cost provides extra coverage above the dwelling policy limits if the cost of construction is more than the original coverage amount.
Water damage coverage: This type of coverage pays for damage to the building or its contents from water-related natural disasters, plus incidents like sewer backups, which usually aren't a covered loss in a basic policy.
Short-term home-sharing endorsement: Property owners who list their properties on Airbnb or VRBO need this add-on. Otherwise, their base policy may limit coverage for short-term rental issues.
Service lines and critical home systems: This type of coverage pays for repairs to service lines on the rental property and also covers home systems like appliances and electronics. These can be big-ticket items to replace, so affordable coverage for them can come in handy.
Eviction expense reimbursement: Eviction expense reimbursement provides limited coverage for expenses related to evicting a tenant. Some of the covered reasons that would trigger this type of coverage include not paying rent, breaching the rental/lease agreement, or causing damage to the home.
Umbrella policy: Landlords with multiple properties or a high net worth might be interested in an umbrella policy, which lets you purchase a high amount of protection for a relatively low price. Umbrella policy coverage kicks in after you hit the limit of your landlord policy.
Renter default protection: This pays you for the rental value you'd lose if your tenant doesn't pay rent, has to be evicted, suffers a hardship that makes it hard for them to pay rent regularly, or dies unexpectedly.
Frequently Asked Questions - Landlord Insurance
No. Tenants need their own renters insurance policy to cover their personal belongings. Rental property insurance covers your financial interest in the property, not a tenant's.

A basic landlord policy can cost up to 20 percent more than a standard homeowners policy. This is because you're not occupying the property regularly and there's a higher chance of damage when a home is unoccupied. You may be able to negotiate a lower premium if you can prove that the rental property will be occupied for the majority of the year.

You may be able to deduct the cost of your landlord insurance from your overall property taxes. If you combine your insurance costs and your monthly mortgage payment, the bank will issue you a Form 1098, which includes insurance costs and interest paid. This may be deductible.
Get the Right Insurance for Your Rental Property
No matter what kind of rental property you have, you need to protect it carefully. Understand the different types of coverage, and work with your insurance provider to customize a policy that fits your situation.
Need to find a new insurer? Check out Insurify's comparison tools. It's easy to use, and you need just a few minutes of research to discover multiple quotes for home, life, and car insurance.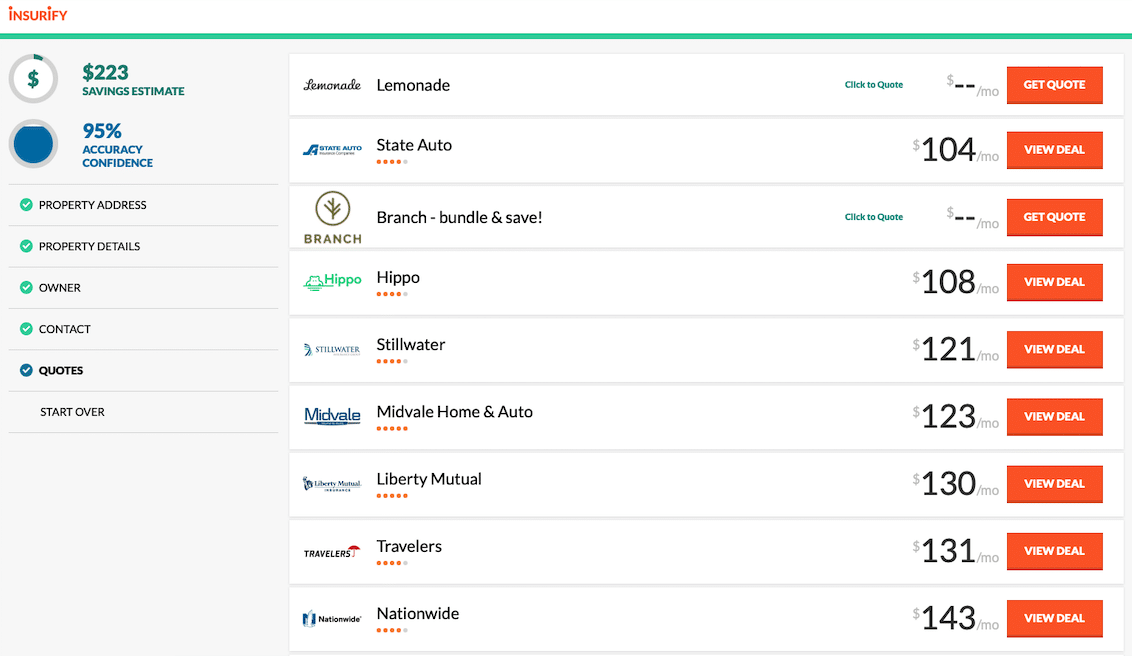 Compare Car Insurance Quotes Instantly
Personalized quotes in 5 minutes or less
No signup required
Data scientists at Insurify analyzed over 40 million auto insurance rates across the United States to compile the car insurance quotes, statistics, and data visualizations displayed on this page. The car insurance data includes coverage analysis and details on drivers' vehicles, driving records, and demographic information. With these insights, Insurify is able to offer drivers insight into how their car insurance premiums are priced by companies.