You purchase homeowners insurance to protect your home from accidents and unexpected damage. Often, the specifics of your policy might not be clear, and you may ask yourself if homeowners insurance covers your HVAC system.
Generally, the answer is yes: homeowners insurance covers damage to HVAC systems and other appliances caused by a covered peril, such as fire, lightning, windstorms, vandalism, and water damage.
However, your insurer won't pay for a repair or replacement in all situations. Keep reading to find out when homeowners insurance will cover HVAC systems and when it might be wise to purchase an alternative coverage option to bridge the gap in protection.
If it's been a while since you looked at your insurance policy or if you're a new homeowner, discover how easy it is to compare insurance costs with Insurify.
Homeowners Insurance and HVAC
A standard homeowners policy has sections that can include coverage for your HVAC system. It could fall under your policy's dwelling coverage or personal property coverage:
Dwelling coverage may help repair or replace a built-in unit that's considered part of your home's structure.

Personal property coverage could include a window-based unit or a portable heater or air conditioner that plugs into an electrical outlet.
Whether your homeowners insurance kicks in to cover HVAC units depends on what event or hazard causes the damage. If a covered peril results in damage, your policy will pay to repair or replace HVAC components such as a furnace, ventilation system, or air conditioning unit.
What perils does home insurance cover?
According to the Insurance Information Institute, most insurance policies protect against 16 named perils, which include, but are not limited to:
Fire

Lightning

Wind

Hail

Fallen trees

Vandalism or theft

Weight of ice, snow, or sleet

Water overflow from an appliance or a plumbing or heating system
While a standard home insurance policy protects against these specific perils, check with your policy or ask your insurance agent for a complete list of your policy's perils, exclusions, and omissions.
When HVAC Isn't Covered
Perhaps the worst time to find out whether your policy covers HVAC is when the furnace quits working in the middle of a cold night or your AC starts blowing hot air during a heatwave.
Your homeowners policy protects against many causes but doesn't cover HVAC damage from:
Flooding

Earthquakes

Poor maintenance
Even if you're not in a flood-prone area, standard homeowners insurance does not include flood coverage. You may consider purchasing flood insurance through the National Flood Insurance Program (NFIP) or from a private insurer to protect your HVAC system from flood damage.
Your policy typically doesn't include earthquake damage, either. If you're in a seismic area, ask your insurance company about a separate policy or endorsement that could cover HVAC and other property damage from earthquakes.
According to Consumer Reports, inadequate maintenance is one of the most common reasons for furnace service calls. Homeowners insurance doesn't cover HVAC damage due to poor maintenance. For the best performance and longevity, regular upkeep of your major appliances, including your HVAC system, is crucial.
Compare Car Insurance Quotes Instantly
Personalized quotes in 5 minutes or less
No signup required
Alternate Coverage Options
Depending on the types of insurance you have, you may consider purchasing alternative coverage for your HVAC system. Home repair insurance or a home warranty can give you peace of mind by bridging the gap between what your property insurance covers and what it doesn't.
Home Repair Insurance
Home repair insurance is optional coverage your insurer may offer as an add-on to an existing homeowners insurance policy. The supplemental policy can include equipment breakdown coverage that your home insurance doesn't cover, such as HVAC failure from normal wear and tear.
Home Warranty
A home warranty is not part of your homeowners policy. Instead, home warranty companies provide repairs, maintenance, and replacements for your HVAC and other major home appliances according to a separate home services contract.
Sacramento Homeowners Insurance - Frequently Asked Questions
It's often in your best interest to file a claim for repairs and leave the job to a trusted HVAC business. You could risk further damage to the unit or bodily injury if you're not familiar with the inner workings of your furnace or air conditioning unit. The process for filing a claim depends on your insurance agency. Some may prefer you fill out a form online, while others allow you to file a claim with a phone call to your insurance agent. Before you file a claim, consider whether it makes sense. Your deductible may be higher than the cost to repair your HVAC system, making it less costly to pay for repairs out of pocket.

Regulations vary by state, but an HVAC technician can have different licensing requirements than a general contractor. The best way to find an HVAC contractor is to ask your family or friends for a referral. Word of mouth is a reliable option because you get feedback from someone who has used their services. Make sure the company has business insurance coverage, such as general liability insurance or a business owner's policy (BOP), in case of a mistake or accident while working on your equipment.

Your deductible is what you pay toward an insured loss before your home insurance kicks in to cover the cost of a claim. Larger deductibles generally mean lower policy premiums, but that requires you to pay more out of pocket when filing an insurance claim. If you file an HVAC claim, your deductible will apply. However, you may want to get a free quote from an HVAC technician before filing a claim. If the repair estimate is less than your deductible, you might want to skip filing an insurance claim and payout of pocket.
HVAC Coverage: The Bottom Line
Your home is a significant financial investment. Purchasing home insurance can protect that investment by shielding you and your family from financial loss. However, even the best homeowners insurance companies don't always provide coverage for your HVAC system.
To have peace of mind, check with your insurance provider to discover when your homeowners policy will cover HVAC repairs or replacement. And if you're purchasing a home or have an existing homeowners policy, use Insurify to get a free insurance quote and find the best rate with the best home insurance comparison sites.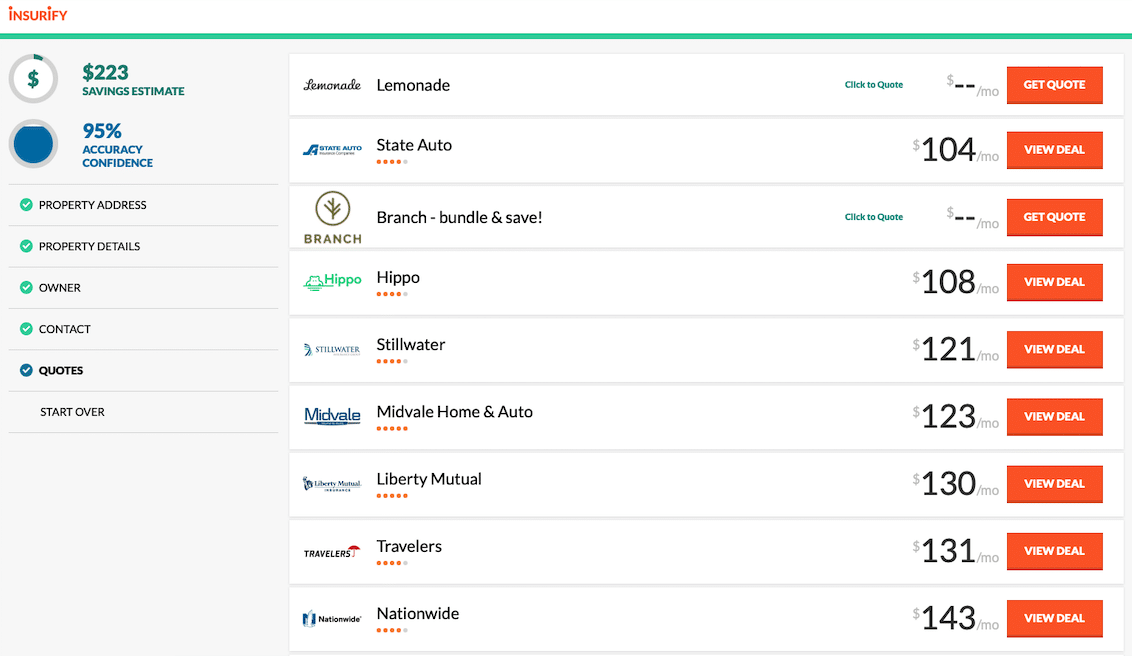 Compare Car Insurance Quotes Instantly
Personalized quotes in 5 minutes or less
No signup required
Data scientists at Insurify analyzed over 40 million auto insurance rates across the United States to compile the car insurance quotes, statistics, and data visualizations displayed on this page. The car insurance data includes coverage analysis and details on drivers' vehicles, driving records, and demographic information. With these insights, Insurify is able to offer drivers insight into how their car insurance premiums are priced by companies.