You may have savings set aside for home maintenance, but are you prepared for unexpected repairs and replacements?
Home repair insurance can help when repairs and breakdowns take you by surprise. Also known as a home warranty or home protection plan, home repair insurance covers major systems and appliances when they break down from general wear and tear.
It might also be time to shop for a new home insurance provider to go with your home repair insurance plan. Search for a basic plan and compare home insurance rates with Insurify, the easy-to-use tool that only requires a few minutes of research.
Read on to find out more about home repair insurance benefits and how to find the right plan to give you peace of mind.
What Is Home Repair Insurance?
Home repair insurance, a home warranty, and maintenance insurance all mean the same thing. It's an optional policy that protects homeowners against normal wear and tear on major appliances and home systems. Home repair insurance fills a gap in the standard homeowners policy by covering things typically listed as exclusions. For instance, imagine your air conditioner stops working because of a mechanical failure. Your homeowners insurance wouldn't cover the cost to fix or replace it, but if you had home maintenance insurance, it would.
Home repair insurance is usually offered by smaller companies rather than the large national ones you might be familiar with from shopping for homeowners insurance. All policies are different depending on the insurer, but some of the most commonly covered items include:
Mechanical items like ceiling fans

Indoor plumbing systems, like drains, sinks, faucets, and pipes

Most appliances, including washing machines, water heaters, refrigerators and ice makers, dryers, and dishwashers

Wiring systems, including your electrical and cable wiring

Heating and cooling units and HVAC systems, including air conditioning and furnaces
Home warranty providers also typically have a network of service providers who have been screened ahead of time and are trained to provide the repairs you need. This means you usually won't have to call multiple contractors on your own, trying to find the best one to fix your covered appliances.
One important thing to know about home repair insurance policies is that they usually have limits on replacing certain items, even if your appliance repair costs more than that limit. There may be a $1,500 limit on washing machines, for example. This would mean that your coverage for replacing or repairing your washing machine won't be higher than $1,500, even if the machine is worth more. You'll have to pay for the difference between what your policy covers and the actual cost of the repair or replacement. A home warranty plan typically has different policy limits for different appliances and systems, so read the fine print before you buy and make sure the limits are close to the value of your appliances.
How Home Repair Insurance Plans Work
There are three kinds of home warranty plans that a home repair insurance company might offer. An appliances plan covers basic home appliances, like your refrigerator, oven, garage door openers, and clothes washer and dryer. A systems plan covers major systems in your home, like the electrical system and the heating system. A combo plan is a comprehensive coverage plan that protects both systems and appliances. In addition, some home warranty companies also offer additional coverage for things like swimming pools, septic systems, well pumps, and roof leaks.
Do you need home repair insurance? To figure it out, take an inventory of all your major appliances and systems and how old they are. Then, compare the ages of the most expensive items and systems to their average life expectancies. If a lot of your appliances and systems are getting close to the end of their expected life, signing up for a home warranty could save you a lot of money—as long as you've kept maintenance records for all those systems and appliances.
Maintenance records are important because most companies require customers to perform routine maintenance to keep systems eligible for repairs and replacement. Otherwise, your coverage for those systems will be void. That might be an easy task for new homeowners who have just purchased these appliances, but if you've just bought an older home, you may not have adequate records or proof that the previous homeowners did the routine maintenance they were supposed to do.
Buying a home? Homebuyers should ask the previous homeowners to provide a record of maintenance and home improvements and the manuals for all the major appliances. If they can't do that, don't buy home repair insurance, because you likely won't qualify for repairs or replacements. If they can provide records, review them to make sure routine maintenance was done on the most expensive appliances and systems.
Compare Car Insurance Quotes Instantly
Personalized quotes in 5 minutes or less
No signup required
Home Repair Insurance Cost
The cost of home repair insurance varies a lot depending on the level of coverage, just like a homeowners insurance policy. Most policies cost around $300 per year for basic coverage, up to about $600 per year for additional coverage options on items like pools and hot tubs. Many companies also allow homeowners to build custom policies that cover specific items and exclude others to save money.
Most policies last for 12 months and can be renewed when they expire. You can usually pay for coverage all at once or in monthly installments. There will also be other fees associated with using the policy. Here's what you can expect to pay:
A monthly or annual fee that may increase if you choose any optional add-ons

A service fee any time you request a repair or replacement—this typically ranges from $50 to $125

Coverage caps on specific systems and appliances
Plan pricing often varies depending on the size of your home, the type of plan you choose, and where you live, just like homeowners insurance. And, just like homeowners insurance, you can often lower your monthly premiums by choosing a higher deductible. Try getting multiple quotes from different providers, then asking the company you like most to match the best offer you received. This can save you up to one or two months off your overall payment.
Home Repair Insurance - Frequently Asked Questions
Home repair policies don't cover pre-existing conditions or breakdowns caused by a lack of maintenance or poor workmanship during installation. They usually also don't cover rust, corrosion, unusual wear and tear, damage from natural disasters or other environmental factors, code violations, or commercial-grade appliances.

Assuming your coverage has already kicked in, you'd start by filing a claim online or over the phone. Many companies, like American Home Shield and Choice Home Warranty, have people to handle service requests all day, every day. The company will process the claim and send a certified technician to your home to look at the problem and determine whether a repair or replacement is necessary. You'll pay the service call fee you agreed to every time a technician comes to your home to look at a problem.

Before you buy a home warranty, think about coverage options, the price, and how the claims process works. Ask for a sample contract before you sign up for coverage. That way, you'll know exactly what is and isn't covered. The sample agreement should list all covered items, coverage caps, total costs, and how to file a claim.
The Best Home Repair Insurance
The best home warranty companies are the ones that provide the home services you need at a price you can afford. Shop around today for a home repair policy that fits your lifestyle and provides the protection you need at a good price point.
Need to upgrade your home insurance while you're at it? Try Insurify's home insurance comparison tool to compare multiple quotes for home insurance, car insurance, and life insurance in just a few minutes.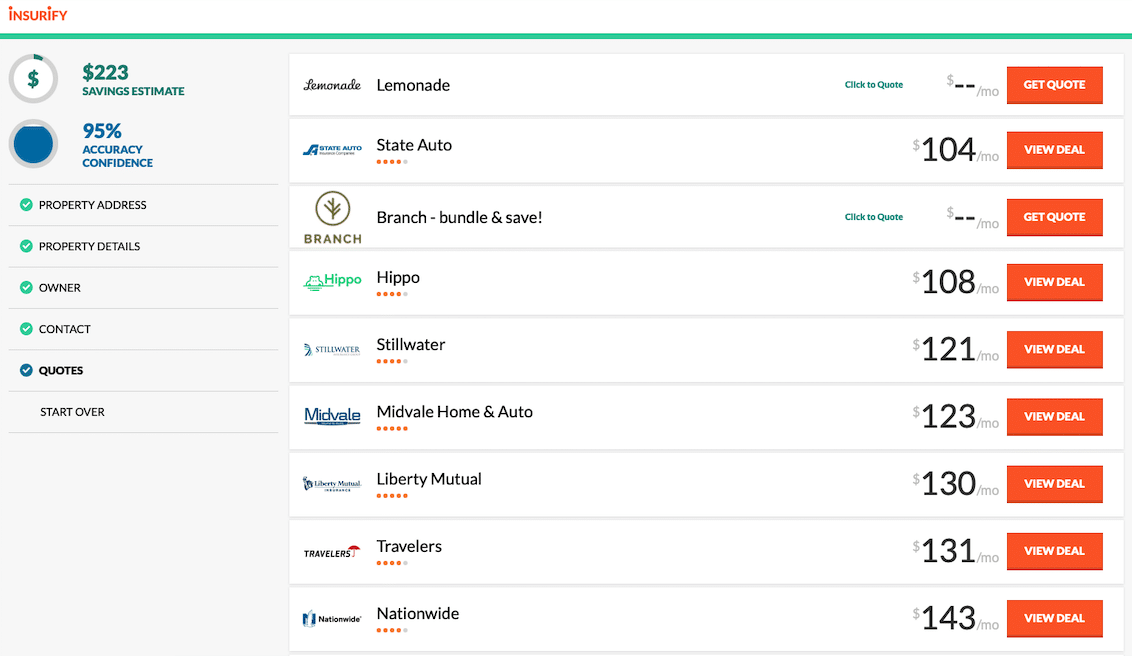 Compare Car Insurance Quotes Instantly
Personalized quotes in 5 minutes or less
No signup required
Data scientists at Insurify analyzed over 40 million auto insurance rates across the United States to compile the car insurance quotes, statistics, and data visualizations displayed on this page. The car insurance data includes coverage analysis and details on drivers' vehicles, driving records, and demographic information. With these insights, Insurify is able to offer drivers insight into how their car insurance premiums are priced by companies.