If you've recently purchased a new home, the logical next step is to shop for homeowners insurance. It's not all straightforward, though. In order to sufficiently insure your home, you must determine how much to insure your home for, which will determine your deductible, coverage limits, and unique add-ons.
If you're having trouble crunching the numbers yourself, home insurance companies often offer policyholders home inspections to help them determine the value of your property to properly insure.
Once you've secured a new home, it will be time to protect it with homeowners insurance. Use Insurify to compare dozens of quotes in minutes to score the cheapest, best home insurance to protect your new property investment.
A home insurance inspection is often executed after you purchase an insurance policy to verify replacement costs and help you select deductibles. Here's Insurify 's guide to preparing for a home insurance inspection.
Home Insurance Inspection 101
Most h ome insurance companies will require a home inspection prior to insuring your home. It's a way the home insurance company can protect themselves from unexpected surprises in terms of losses and liabilities in the future.
In an initial home insurance application, a homeowner may omit (consciously or not) important details and faults about their property that may have affected the outcome of their application if disclosed earlier. To avoid this, home insurance companies will require homeowners to get a home inspection to uncover these potential risks.
Typical home insurance inspections will check the house's systems and structures to make sure they're fully functioning and up-to-date.
Why They're Required by Insurance Companies
Homeowners insurance companies require home inspections to ensure they're familiar with any potential risks associated with a particular homeowners insurance policy. By inspecting themselves, the home insurance company can be sure they're aware of any red flags that may be a liability or risk to insure, for example, water damage, an aging roof, asbestos in the walls, etc.
Home inspections will generally check the condition of a home's gutters, roof, fencing, siding, HVAC system, plumbing system, fire alarms, chimney, windows, doors, fire extinguishers, anti-theft and security devices, and surrounding property.
As a new customer to a home insurance company, or if you've recently moved, a home inspection can assist in determining a home's replacement cost. It is customary to execute a home inspection between one and three months after a home insurance policy 's start date. Insurance providers may require an interior inspection, exterior inspection, or full property inspection. After a home inspection, be prepared that your premiums may increase or decrease depending on the outcome of the home inspection.
Compare Car Insurance Quotes Instantly
Personalized quotes in 5 minutes or less
No signup required
How to Prepare for a Home Insurance Inspection
Preparing for a home inspection may seem daunting, but it shouldn't keep you up at night. Though the outcome of an inspection may determine the cost of your monthly insurance premiums, there are a few steps you can take to prepare for a home insurance inspection to avoid any surprises. Depending on the type of inspection your homeowners insurance company requires will determine how you should prepare.
Preparing for Outdoor Inspections
Exterior inspections are commonly required for policyholders with new homes. Outdoor inspections confirm the replacement cost of your new home and other structures on your property. Insurance companies may contract third-party inspectors to communicate with underwriters at your insurance company. They will cross-reference the inspection to determine any necessary changes that must be made to your policy. Expect any physical structures on your property, including your house, fence, garage, pools, gazebos, and sheds to be inspections
You can prepare for an exterior inspection by vigilantly checking the following systems to ensure they're in good shape before your inspection.
| | |
| --- | --- |
| ROOF | Check for loose shingles; remove organic materials like leaves and twigs; check for decay and mold. |
| GUTTERS | Clear debris and blockages. Ensure all connections are secure and gutters are attached to the building. |
| WINDOWS & DOORS | Check that frames and thresholds are intact and sealed, and no major drafts are present through cracks or gaps. |
| CHIMNEY | Make sure all bricks are fully intact, working flue, recently cleaned. |
| EXTERIOR SURFACES & FINISHES | Check siding for damage such as cracks, mold, mildew, holes, or rot. This may reveal water damage. |
| FOUNDATION | Inspect for cracks or uneven surfaces. A faulty foundation may get your home rejected from insurance. |
| GROUNDS & PROPERTY | Remove dangerous branches or dead trees that may pose a risk to your home. Inspect other buildings on the property for similar warning signs. |
Preparing for Interior Inspections
Indoor home inspections are most commonly required for older homes with less reliable systems but may be required for new homes as well. HVAC, plumbing, and electrical systems will be checked to ensure they're not outdated, which could pose a high risk for your insurance company. An inspector will also carefully examine other parts of your home, including walls, ceilings, water connections, security systems, flooring, basements, and attics for water damage, warping, and other warning signs.
Discoveries made during interior inspections may have a positive or negative effect on your home insurance rates, depending on the risks discovered by an inspector. If you're facing increased homeowners insurance rates due to a discovery from a home inspection, use Insurify to find a new, lower rate on your home insurance.
An interior inspection will usually accompany an exterior inspection, requiring additional work. Set aside time before the inspection to complete the below steps.
| | |
| --- | --- |
| FIRE SAFETY | Check batteries and expiration dates of all fire extinguishers, smoke detectors, and carbon monoxide detectors. |
| FIREPLACE | Ensure the flue is functional, the area is clean, and proper accessories are nearby. |
| CEILINGS & WALLS | Assess for water damage, mold, decay, warping, and evenness. |
| SYSTEMS | Ensure correct installation of all plumbing, electrical, and HVAC systems. Check for loose wires, leaks, mold, and last inspection dates. |
| ATTIC & BASEMENT | Look for water damage, ventilation systems, and signs of rodent or pest infestation. |
| LIVING SPACES | Check for proper ventilation, working locks, and signs of water damage. |
Avoiding a Home Insurance Inspection
In some rare instances, homeowners may be able to avoid a homeowners insurance inspection. Do not ask your insurance company if you can opt-out of an inspection. This may earn you some unwanted attention, as avoiding an insurance inspection will often be a red flag to insurers. For some very new homes free of any previous claims, inspections may be waived and you will be exempt from this part of the process. Something to consider, though, is the fact that home insurance inspections can help guide your choice in deductible levels and replacement costs. If your home is undervalued in your home insurance policy and you have to file a claim in the future, all damage may not be covered.
Home Insurance Inspection: FAQs
Most home insurance companies will contract their own home inspectors to come to your house to inspect. If for some reason your insurance coverage is not reliant on an inspection, but you're still curious about the condition of your home, you can hire an independent inspector to do an inspection anyway. Knowing the accurate value of your home is hugely important when it comes to purchasing sufficient homeowners insurance, so even if your insurance company doesn't require one, you may want to opt into an inspection anyway.

DIY home inspections are possible to stay up-to-date on the condition of your home's structure and systems, but may not suffice when it comes to home insurance company requirements. You can inquire with your insurance company to see if a DIY 4-point inspection will be enough to continue your home insurance coverage, but be prepared to have a third party professional inspector come in.

If you've been kicked off your home insurance policy after a failed home inspection or are just looking for a lower rate, Insurify can help you compare dozens of companies with the click of a button. With a simple side-by-side comparison, you'll be able to select your top choice for home insurance, by price, coverage, reputation, or all of the above!
Saving Time and Stress During Your Home Insurance Inspection
After a home insurance inspection, your home insurance premiums may increase or decrease based on the inspector's findings. This may make you want to avoid the inspection altogether, but insurance experts will be the first to tell you home inspections are worth the trouble. By accurately determining the value of your home, you can be sure that you're fully protected if disaster strikes.
Insurify is one of the best ways to compare home insurance and can help you find the right home insurance policy to protect your property investment.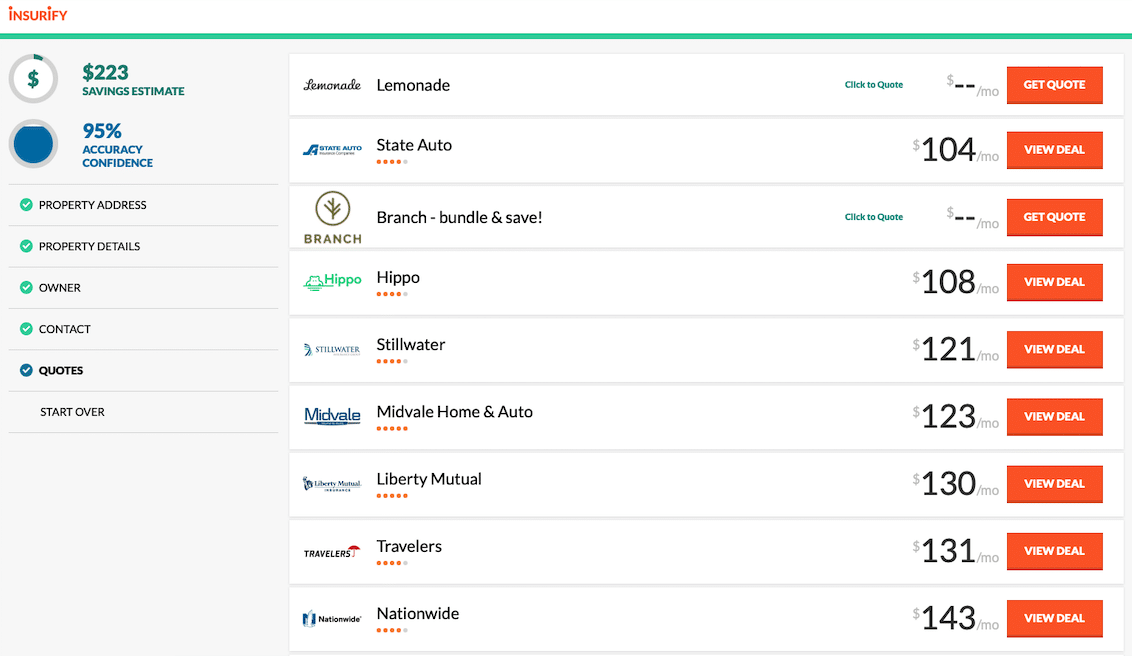 Compare Car Insurance Quotes Instantly
Personalized quotes in 5 minutes or less
No signup required
Data scientists at Insurify analyzed over 40 million auto insurance rates across the United States to compile the car insurance quotes, statistics, and data visualizations displayed on this page. The car insurance data includes coverage analysis and details on drivers' vehicles, driving records, and demographic information. With these insights, Insurify is able to offer drivers insight into how their car insurance premiums are priced by companies.