Can I get my home insured with a bad credit score?
Yes. Though bad credit will likely increase your home insurance policy rates, it's not impossible to get insured in the first place.
Your credit history is a useful risk assessor for home insurance companies to take into account before setting your home insurance policy rates.
By analyzing your financial decisions and behavior—taking into account how frequently you've missed payments, overdraft accounts, or accrued debt—homeowners insurance companies are able to generate a unique credit-based insurance score (CBI). Like a FICO credit score, CBI scores are calculated differently from one company to another.
Luckily for those with bad credit, CBI scores are just one of many factors that insurance providers use when calculating the rates of your homeowners insurance policy. So, if you have a bad credit score, there are still other steps you can take to secure sufficient insurance coverage.
No matter your credit status, Insurify can help you find multiple homeowners insurance quotes from policyholders around the nation.
Credit-Based Insurance (CBI) Score
Your credit-based insurance score, also known simply as an insurance score, is a number that represents your general financial stability. These assist insurers in determining the risk they would incur if they took you on as a customer. Before determining your policy rates, insurers carefully examine this score, along with other variables, to set your costs.
Similar to your traditional credit score, factors like long credit history, on-time payments, low credit usage, and a solid number of accounts and inquiries will only help your CBI.
On the other hand, factors that may negatively affect your CBI may include accounts in collection, a high number of late payments, high credit utilization, or an inordinate amount of applications for credit or higher credit limits.
Most of the time, CBI is heavily determined by on-time payments and the types of outstanding debt you have. For example, credit card debt weighs heavier against you than mortgage debt. By calculating this score, homeowners insurance companies can tag you for being a higher risk, and therefore penalizing you with higher rates. You can check your credit score for free online through services like Equifax, who take many rating factors into account to give you an accurate credit score.
Why Insurance Companies Use CBI Scores
There is an undeniable correlation between an applicant's credit-based insurance score and their likeliness to file a homeowners insurance claim. F ICO reports that 85% of home insurers take CBI scores into account when determining your premiums. For this reason, home insurance companies pay careful attention to your CBI, because of the accurate portrait it paints of you as a risk indicator. A homeowner with a high credit score, on-time mortgage payments, and low credit card debt will be much more attractive to an insurer, which may result in lower insurance rates for that customer. For homeowners with a poor credit score, insurance premiums will likely be quoted at higher premiums by providers for obvious reasons.
Compare Car Insurance Quotes Instantly
Personalized quotes in 5 minutes or less
No signup required
Getting Cheap Homeowners Insurance With Bad Credit
It's nearly impossible to sidestep a credit score check during the home insurance buying process, as all major home insurance companies take CBI into account when determining your rate. Since credit reporting is almost mandatory, having poor credit will likely negatively impact the home insurance rates that providers offer you.
That being said, there are some information homeowners with bad credit should take into account to try to lessen the impact their poor score will have on their home insurance rates.
Firstly, it's very rare that a home insurance company would outright reject your application due to a bad credit score, so thankfully, you'll still be able to protect your property investment with home insurance no matter what.
Secondly, a credit score is never the only variable an insurance company would take into account when considering your insurance application and setting your rates. In some states, insurance companies are legally barred from even using poor credit history and CBI as a risk factor when determining your rates; this is the case in California, Maryland, and Massachusetts. (The same goes for car insurance in these states.)
If you've been shopping around for homeowners insurance and have been quoted high premiums or outright rejected due to poor credit, there are still steps you can take to proceed. Using a home insurance comparison platform like Insurify will allow you to shop around and compare easily to find an insurer who will offer you a better rate, even in your situation. By comparing quotes from several insurers simultaneously, Insurify can help you effortlessly determine your cheapest option.
Since insurers weigh different aspects of your CBI differently, doing a side-by-side comparison will allow you to see which provider is the most forgiving. For example, Insurance Company A may weigh late payments more than Insurance Company B, which prioritizes the number of credit inquiries. Depending on your unique situation, you can easily determine which is the better option. Get quotes from multiple companies before choosing the first rate you're quoted.
Boosting Your CBI Score
The obvious long-term solution to lessening your CBI Score's impact on your homeowners insurance premiums is to improve your CBI. Sure, easier said than done, but there are some small life changes that can greatly affect your credit score, for the better.
Bills, bills, bills—we've all got 'em. Paying them on time, whether it's your utilities or credit card payments, is a vital step in improving your overall credit (arguably the most important). If you treat credit like cash, you'll be better able to understand that these accounts will have to be paid off sooner rather than later.

Similar to paying your bills on time, paying off your credit card balance, in full, every month, will help you stay below credit limits and maintain a healthy credit score.

Think through credit applications carefully, and don't apply to every new credit card you see.

Check your credit score frequently (don't worry about those myths that claim this will lower your score) to make sure you're on the right track. Many websites allow you to check your free credit report.
Lifestyle changes, prioritization, and a dash of strategy can help turn your bad credit score around in no time. A good CBI, FICO, and credit score can have you saving major cash in the long run. Check those credit accounts, make on-time payments, and compare homeowners insurance rates, to get those low credit scores back up to par. Mortgage lenders and insurance agents will check your credit information and run a credit check before signing you.
Home Insurance with Bad Credit - Frequently Asked Questions
Even with a poor credit score, homeowners can still secure an insurance policy. Their rates may be higher than average, but its not impossible to find an affordable quote if you know where to look. If you have a poor credit score, compare quotes on Insurify.com and we will help you find the best rate.

Most major homeowners insurance companies will take an applicant's credit score into account before signing their insurance policy. Insurers consider a bad credit score a risk factor they must take into account before quoting you. Because of this, rates for people with bad credit are generally higher than those with good or excellent credit.

Rumors! Checking your credit report or credit score will not negatively impact your score. In fact, checking it frequently is a smart way to ensure your information is up to date and accurate. A hard inquiry, however, one from a credit card company or mortgage lender after an application, may temporarily lower your score. This decrease will only last a short amount of time and is normal.
Getting Homeowners insurance with Bad Credit: The Bottom Line
Life's all about goals, both short-term and long-term. If you're a homeowner with bad credit, obviously you'll want to address that credit score as soon as possible. But in the meantime, everyone should have sufficient homeowners insurance to protect their property investment from extreme weather, theft, and everything else that may go wrong. So, in the meantime, while you're working on that credit score, check out Insurify to find out which homeowners insurance company will offer you the best coverage and rates, regardless of your bad credit. Having good credit is an excellent financial goal, but until that day, all homeowners still deserve sufficient coverage.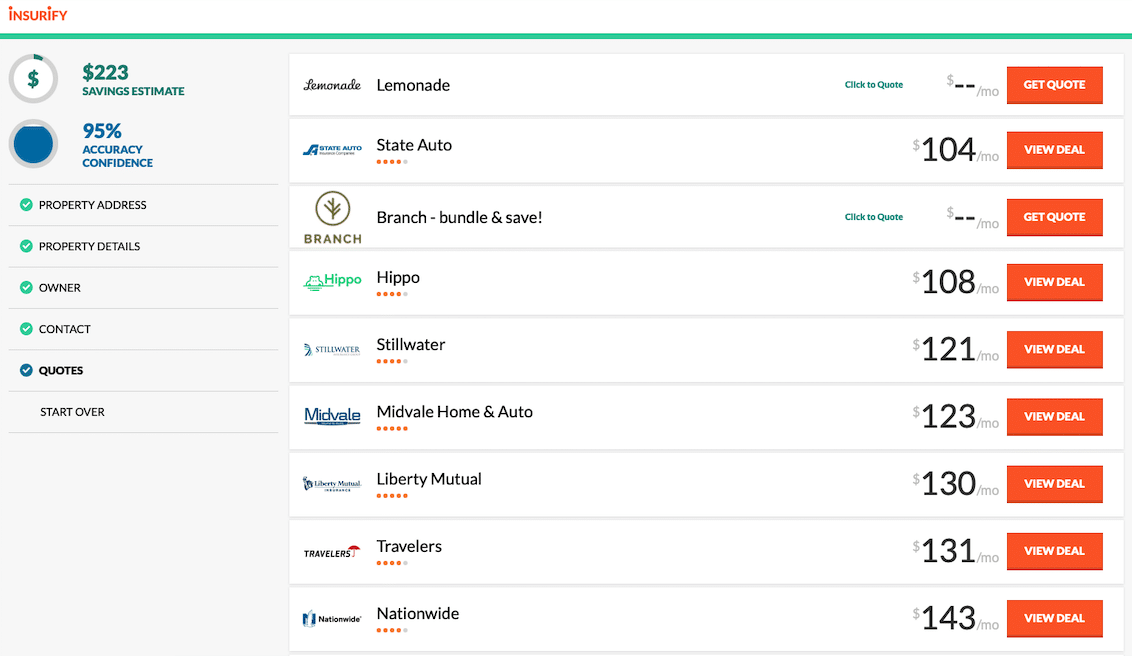 Compare Car Insurance Quotes Instantly
Personalized quotes in 5 minutes or less
No signup required
Data scientists at Insurify analyzed over 40 million auto insurance rates across the United States to compile the car insurance quotes, statistics, and data visualizations displayed on this page. The car insurance data includes coverage analysis and details on drivers' vehicles, driving records, and demographic information. With these insights, Insurify is able to offer drivers insight into how their car insurance premiums are priced by companies.