Certain events cause lots of damage. An HO-5 form, also known as an HO-5 policy, covers your home and personal property damage and loss. There are many types of home insurance coverage out there. How do you know what dwelling coverage you are getting? This type of policy isn't as complicated as it sounds, but there are specific exclusions to an HO-5 policy that you should know. Home insurance is necessary, and it's always good to see what you're getting into when purchasing coverage.
Thankfully, you can use Insurify to get the right type of home insurance to fit your needs. See how fast and easy comparing home insurance can be!
What's Covered by HO-5
If you're signing up for homeowners insurance, you need to get the most out of protecting your home. That's because damage and theft happen all the time. Natural disasters, vandalism, and accidents are everywhere. The only way to avoid shelling out your life savings is by buying the right type of home insurance. Plus, most home mortgage lenders require you to purchase home insurance coverage for the full or fair value of your property. An HO-5 policy is the most comprehensive form of home insurance. It's also the second most common policy, next to the HO-3 policy.
An HO-5 policy will give you premium, broader protection. And you'll have higher coverage limits than a conventional homeowners insurance policy. Think of the HO-5 policy like a Ritz-Carlton to the standard home insurance policy. Some benefits of purchasing an HO-5 policy include:
Replacement cost coverage: Anything lost or damaged under the policy will be repaid by replacement cost. Replacement cost is the cost to replace the lost or damaged item at the same pre-loss value. For instance, if your computer is ruined or stolen, you will get a new computer of similar value at the actual cost of replacing the item.

Broader coverage limits: With this specific policy, personal property coverage is extended. Valuable personal belongings, like jewelry and electronics, may need larger coverage limits. A standard home insurance policy may not cover the total price.

Open-peril policy: Open perils include damage or loss of anything that isn't specifically excluded in your HO-5 policy. Open peril is the better alternative to a named-peril policy. A named-peril policy only covers specific damages or losses named in your policy.
What's Not Covered
Like all insurance policies, there are exclusions. An HO-5 is a comprehensive policy, yet most insurance companies exclude the following perils from this policy:
Earth movement or earthquake (requires separate earthquake insurance)

Water damage as a result of flooding, water seepage, or sewage backup

Costs associated with the enforcement of ordinance or law

Government actions

Nuclear hazards

Vandalism or malicious mischief (if vacant over 60 days)

Theft to a property while under construction

Insured party's own animals

Bird, rodent, vermin, or insect infestations

Pollutant discharge, seepage, or dispersal

Fungus, mold, or wet rot

Structural collapse

Deterioration, neglect, or normal wear and tear

Smog, corrosion, and rust

Mechanical issues or breakdowns

Smoke as the result of agricultural smudging or industrial activity

Foundation issues including settling, bulging, shrinking, or expanding

War

Intentional loss
Most insurance companies offer HO-5 and HO-3 policies. But purchasing from a top insurance company at the most affordable price makes a difference. See for yourself by comparing using Insurify today!
Compare Car Insurance Quotes Instantly
Personalized quotes in 5 minutes or less
No signup required
HO-3 vs. HO-5 Coverage
An HO-3 policy form is a basic homeowners insurance policy that covers several perils. The HO-3 coverage will be listed in your policy documents under dwelling coverage (Coverage A). Much like HO-5, HO-3 also covers personal property (known as Coverage C). Your HO-3 policy will help if your property becomes uninhabitable by covered perils. And any out-of-pocket expenses are covered under loss of use (Coverage D).
Like HO-5, HO-3 insurance covers you if someone is injured on your property by your fault. This type of policy also covers you if anyone listed on your policy damages someone else's property or belongings by accident. It's coverage that travels with you and others listed on your property. You never know when this kind of coverage will come in handy.
Like an HO-5 policy, the HO-3 includes an open-perils policy for dwelling coverage. So, unless explicitly excluded, it's covered. Personal property is often included under named perils policies. Note that issues due to negligence won't fall under covered perils. If your pipes burst after already knowing they were in bad shape, you probably won't be covered. Unless it's outlined in your open-perils policy, you'll be shelling out money.
What's Covered in an HO-3 Home Insurance Policy
Accidental discharge or overflow of water from plumbing or air conditioning

Theft

Smoke, fire, and lightning

Explosions

Freezing

Automobiles

Falling objects

Volcanic eruptions

Riots or civil commotion

Hail storms or windstorms

Vandalism

Damage due to an aircraft

Damage from the weight of ice, sleet, or snow

Accidental tearing apart, cracking, bulging, or burning

Accidental damage from an artificially generated electric current
What's Not Covered in an HO-3 Home Insurance Policy
Earthquakes (you will need separate earthquake insurance)

War

Government actions

Damage or loss due to neglect

Intentional damages or loss

Power failure

Specific types of water damage like flooding

Bird, rodent, vermin, or insect infestations or damage

Pollutant discharge, seepage, or dispersal

Fungus, mold, or wet rot

Nuclear hazard

Smoke damage due to agricultural smudging or industrial activity

Foundation issues including settling, bulging, shrinking, or expanding

Vandalism if your property is vacant

Pet damage due to your own pets

Normal wear and tear

Theft to your property if under construction

Structural collapse

Mechanical breakdowns or damage

Smog or rust damage

Pollutant discharge
Excluded Perils in Both HO-3 and HO-5 Policies
Power failure

Smoke or industrial pollution

Earth movement (earthquake)

Water damage from flooding (you will need to purchase flood insurance if in a high-risk flood zone)

Intentional damage or loss

War

Nuclear accidents

Bird, rodent, vermin, or insect infestations or damage

Pets

Settling or normal wear and tear on your foundation and property

Acts of negligence

Government actions

Legal action taken upon improper permits, defective construction, design, or maintenance

Deterioration from weather conditions and other aggravations

Theft or damage on vacant property or property under construction
When You Need an HO-5 policy
An HO-5 policy is perfect if your home is new, relatively high in value, and in a low-risk area. You may get a quote for both an HO-5 policy and an HO-3 policy similar in pricing. In this case, you should pick an HO-5 policy. The main difference is that an HO-3 has limited coverage when compared to an HO-5. If the price difference is more significant, it's worth sticking with your basic HO-3 home insurance policy.
Either way, always check your limits for personal liability and specific coverage. You can purchase additional coverage for personal property and replacement cost coverage. You can buy these through floaters or endorsements. Talk to your insurance agent to discuss coverage limits and if you have enough.
Are you looking to compare best home insurance providers? Insurify has you covered with a free home insurance quote. It's fast, simple, and easy!
Frequently Asked Questions - HO-5 Insurance Policies
An HO-5 home insurance policy is typically better than an HO-3 policy because of the amount of coverage. With an HO-5 policy, you get broader coverage for both the structure and personal belongings.

Yes, an HO-5 policy is worthwhile if your home is new or worth a considerable amount, and you live in a low-risk area.

Actual cash value (ACV) refers to the actual value for an item minus depreciation. To calculate actual cash value, take the replacement cost minus the depreciation of your damaged or stolen property at the time of the loss. It's always wise to pick a home insurance plan with replacement cost coverage.

It's also very wise to have renters insurance. Many landlords require their tenants to purchase a renter's policy. Even if not required, you will save a lot of money if your personal property is damaged or stolen. If you don't have renters insurance, you would have to replace all your damaged or lost items out of pocket.
HO-5 Policies: The Bottom Line
There are a few benefits to buying an HO-5 policy. An open-perils policy, broader coverage limits, and replacement cost coverage are a few perks. If your home is higher in value and new, it may be worth purchasing an HO-5. Either way, finding coverage the right way is possible.
Use Insurify to compare home insurance premiums for your property. Our comparison tools make homeowners insurance shopping (and saving) simple so you can be on your way to enjoying your newly insured home in no time.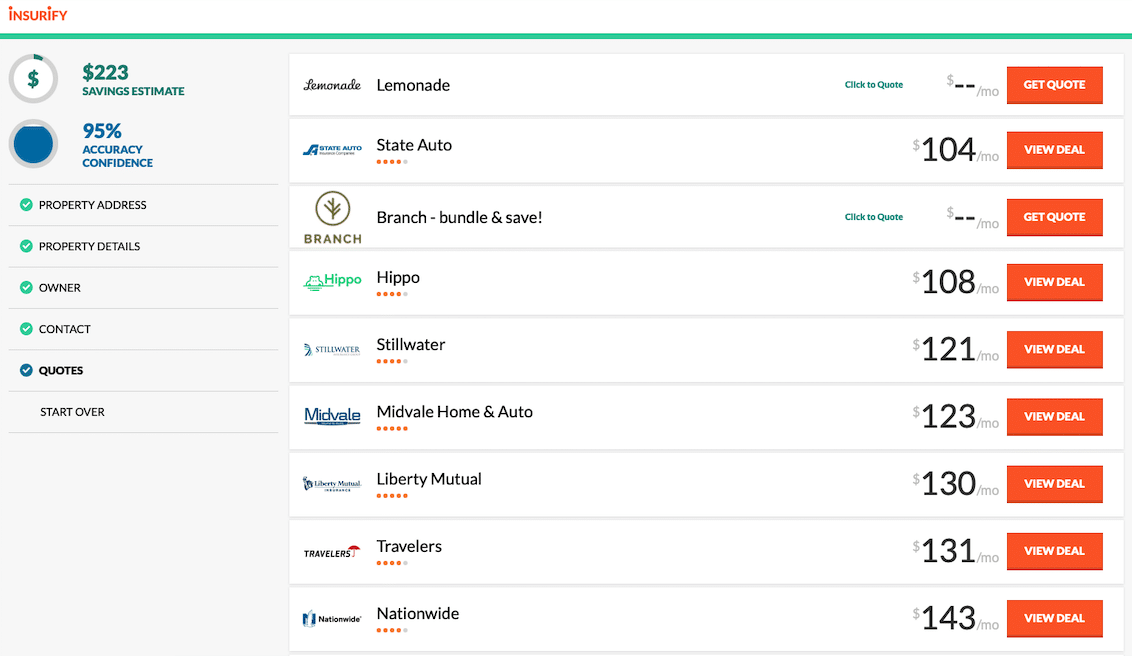 Compare Car Insurance Quotes Instantly
Personalized quotes in 5 minutes or less
No signup required
Data scientists at Insurify analyzed over 40 million auto insurance rates across the United States to compile the car insurance quotes, statistics, and data visualizations displayed on this page. The car insurance data includes coverage analysis and details on drivers' vehicles, driving records, and demographic information. With these insights, Insurify is able to offer drivers insight into how their car insurance premiums are priced by companies.