How can I inspect my home myself?
Looks can be deceiving. You should carefully examine all aspects of your home regularly using a detailed checklist. Your checklist should include an inspection of every aspect of your home from the foundation and floor joists to the walls, windows, and doors.
Purchasing a home may be one of the largest investments you make in a lifetime. That being said, home buying comes with its fair share of pressure. A home inspection can help you be sure you're making the right decision.
By ensuring your home purchase is a wise investment with the approval of a sufficient home inspection, you can avoid costly hidden issues in the long run. A full home inspection does just that by identifying major and minor issues prior to signing on the dotted line. And though most lenders don't require a professional inspection, it's still a great idea. But it's not feasible for everyone.
If you're faced with the challenge of performing a home inspection without a professional inspector, or would like to do your own supplemental inspection, use this checklist to carefully review a home before purchasing to help identify any issues, large or small.
Once you've secured a new home, it will be time to protect it with homeowners insurance. Use Insurify to compare dozens of quotes in minutes to score the cheapest, best home insurance to protect your new property investment.
Outside the Home
The curb appeal of a home may seem like the only thing that matters on the exterior of your next home. But shoppers should keep a keen eye on more than just the landscaping and paint color— these could simply be bandages on larger issues.
Get out your magnifying glass and prepare to take a closer look at the exterior of a home. Here's what to look out for before you even enter the front door.
Chimney and Roof
When performing your DIY home inspection, think from top to bottom. First things first, if there's a fireplace in this home, be sure to take a critical look at the home's chimney. Ensure there are no missing bricks or mortar, and all are rightfully intact. Make sure the chimney flue is in good working order—tight and easily pulled—to make sure there's no risk of leaks.
Roofing is one of the most expensive parts of a home to replace. Because of this, it's vital you know the condition of a home's roof before buying it to avoid any unexpected surprises soon after purchase. Ensure the shingles lie flush to the home, without missing pieces, and that no curling or sinking has occurred. There may be more than one layer of roofing, but not more than two.
Vents should not be painted over and should be completely uncovered, and soffits (exposed siding underneath a roof's overhang) and fascia (the point where the roof meets outer walls of the home) should be free of decay.
Gutters and Draining
Gutters should be reasonably clean, free of rust, and fully secured to the exterior of the home. Make sure that no bending or sagging has occurred in the middle of the gutters, that there is an attached downspout away from the structure, and that there are no obvious holes that may cause clogging.
Surfaces and Foundation
Ensure that the exterior of the home is not cracking or flaking. Inspect any stains to ensure the surfaces are free of rot. Any wood on the house should be at least six inches away from the ground. Vines and vegetation that are attached to the home should be checked for mold and moisture.
Check that the home is upright, free of leaning and sagging. Framing should be straight, and corners should be right angles. Use a T-square to ensure angles are correct.
Windows and Doorways
Door frames should be fully intact, with joints caulked and hinges in good working order. Open and close every door to ensure they work correctly.
Window frames should seal completely, with well-fitted screens and glass panes. Again, you should open and close every window to inspect frames and functionality. Keep in mind that older homes may use leaded glass, which you may need to restore or replace.
Property and Grounds
Carefully inspect all front, back, and side yards. Look for:
Standing water

Sinkholes

Downed trees

Landscaping issues

Cracked pavement in the driveway and walkways

Mold or bug damage in fencing and sheds
If there is a pool, inground or above, consider a separate inspection.
Interior of The Home
Your interior inspection is the next step. Once you enter the front door of what might be your next home, there are many things you should give a close look. Here are some things to include on your DIY home inspection checklist for the interior of the home.
Attic and Basement
Attics and basements are fantastic bonuses in any home, especially when it comes to home storage and organization. However, these damper spaces are prone to damage that could result in larger problems throughout the rest of a home. In the attic, check the underside of the roof for obvious signs of decay or water damage. Be wary of open electrical splices and appliance vents.
In the basement, be sure to look out for signs of water damage. Signals that you could have an issue down here are odors of mildew and mold. Those odors are your first red flag. In unfinished basements, inspect exposed foundations, making sure there are no cracks or holes.
Ensure there are no signs of termite damage to wooden foundations. When identifying termite damage, look out for blisters in wood flooring, large cracks, hollowed-out wood, and insect droppings.
Bedrooms and Bathrooms
Make sure all bedrooms and bathrooms have a heating and/or cooling source in the form of proper ventilation. Walls should be flat and level, and there should be a sufficient amount of electric outlets.
Flush toilets, test all faucets and try showerheads to check for leaks, adequate water pressure, water flow, and temperature. Fixtures should be securely attached, and inspect the condition and cleanliness of the caulking and tiles in the shower/bathtub. Look for indicators of leaks —past and present—by checking underneath the vanity and toilet for stains.
Ideally, bathrooms will have a ventilation system in the form of a fan or dehumidifying system. Make sure it's in good working order. Lack of proper ventilation increases the chances of mold and mildew.
Kitchen
The kitchen is the heart of any home, a place to make memories, share stories, and break bread together. Before committing to any new home, make sure the kitchen is in good enough condition to make these dreams a reality. Run the water to make sure there are no leaks, that the water pressure is adequate, and the water supply is reliable.
Test built-in appliances, like dishwashers, refrigerators, and exhaust fans, to ensure they operate smoothly. Test drawers and cabinets to make sure doors are securely attached.
In-Home Systems
Identifying problems in systems that make homes run smoothly, like septic tanks, breaker boxes, HVAC systems, and air conditioning units might be harder with an untrained eye. Find out when the systems were last replaced, serviced, and professionally inspected. Make sure there are no exposed wires, rusty pipes, or odors of any kind.
Carbon monoxide detectors should be in working order, the garage door should go up and down like a breeze, and water heaters should be recently inspected and in working order. Think of your home in layers, and carefully examine each one.
Compare Car Insurance Quotes Instantly
Personalized quotes in 5 minutes or less
No signup required
Everything Else
Think about how complex a home is. Flip every light switch on and off, peek into crawl spaces, question real estate agents—go above and beyond. The home buying process is frustrating enough, your own home inspection doesn't have to be.
Ask a Professional
While DIY home inspections are a fantastic supplemental resource for home buyers, if you're about to sign on the dotted line, you want a professional home inspector to do one final sweep of the place if possible. A professional can help you identify any issues you may have missed during your self-inspection, and, if looked at as an investment, can save you lots of money in the long run.
To hire a qualified inspector, utilize the American Society of Home Inspectors as a resource to hire the best in your area. A professional home inspection can ensure every part of your new home is in good condition.
Protecting a New Home
It might be at the bottom of your DIY Home Inspection Checklist, but the first thing you should check off once you've bought a new home is buying sufficient homeowners insurance. Remember that your new home insurance policy may come with an additional home insurance inspection —all the more reason to be diligent when it comes to your own inspection.
This inspection will be different than your standard home inspection. Inspections will also vary depending on the insurance provider, but you should expect the insurance inspector to note:
Building materials, like luxury countertops and weather-resistant materials.

Age of and updates to plumbing systems, security systems, electrical systems, and more.

Age and condition of roofing, siding, and concrete or asphalt.

Presence of mold, water damage, infestation, and other damage.
In your new house, your homeowners insurance needs may be different than your last home. Your new home insurance rate may change based on new risks associated with geographic location, adjusted replacement cost, and attractive nuisances like swimming pools and trampolines.
Insurify allows you to compare dozens of quotes in minutes, with simple demographic information, and best of all, it's free.
DIY Home Inspection Checklist - Frequently Asked Questions
Depending on if you opt for a DIY home inspection or a professional one, you should be able to analyze an inspection report based on the results. This report should allow you to assess any improvements you wish to make prior to moving into a new home.

Hiring a professional home inspector may very well be worth the cost. Though a DIY home inspection is great for an additional layer of protection against unexpected surprises, a professional will be able to recognize incognito problems lying under the surface of a home.

Even if you opt for a more specific inspection, like one for ductwork, a septic tank, or a specific in-home system you're not familiar with, you could be saving yourself cash in the long run if something goes awry.

If you choose to outsource a home inspection to a professional, it's important the expertise you seek is from a third party. Though realtors are trusted, licensed resources, they have a conflict of interest when it comes to your purchase.

Real estate agents are fantastic resources for much of the home buying process, but you should turn to the American Society for Home Inspectors when looking to hire a professional.
Conclusion: DIY Home Inspection Checklist
Whether you're following a DIY home inspection checklist on your own, or as a supplemental tool in addition to a professional inspection, it can help you know what you're getting yourself into. Home inspections are vital resources that help you unearth issues in a home you may not have otherwise realized. Investing in a proper home inspection report to help identify potential problems could save you lots of money in the long run. Not to mention, a professional inspection comes with additional peace of mind.
Whatever you decide, getting an affordable homeowners insurance policy is key to protecting your investment. Compare homeowner insurance quotes to find the best one for your new home with Insurify.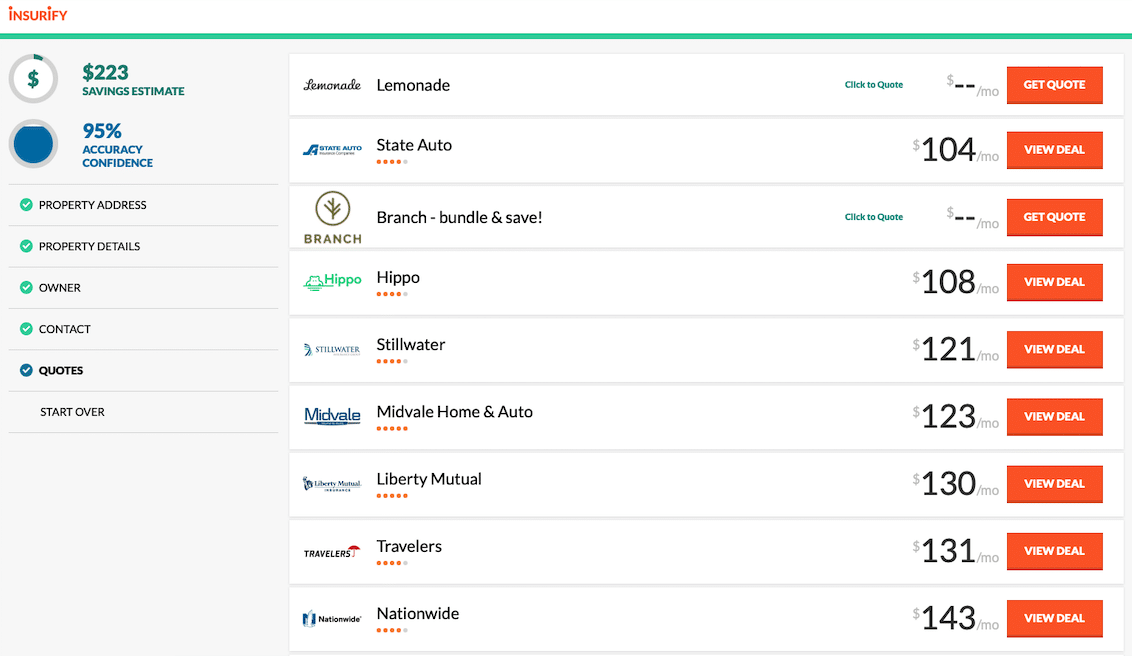 Compare Car Insurance Quotes Instantly
Personalized quotes in 5 minutes or less
No signup required
Data scientists at Insurify analyzed over 40 million auto insurance rates across the United States to compile the car insurance quotes, statistics, and data visualizations displayed on this page. The car insurance data includes coverage analysis and details on drivers' vehicles, driving records, and demographic information. With these insights, Insurify is able to offer drivers insight into how their car insurance premiums are priced by companies.