What is hazard insurance for a condo?
Condo hazard insurance covers property within the home—your personal belongings, cabinetry, flooring, and more. Your property is protected against perils as outlined in your policy.
Even though condominiums are not usually as large as stand-alone homes, protecting yourself and your property should still be a high priority if you're a condo owner. So what can you do to make sure you're covered for some of the more common perils that can befall your condo unit?
Your condo owners association fees (or homeowners association ) can no doubt cover some things, but with condo hazard insurance, you can get the right insurance coverage for you and your condo.
Ready to find the best deal on condo insurance? Use Insurify to compare prices from the best insurance companies in your area. No sign up required, and your information remains private. Try it now!
What Is the Difference Between Condo Insurance Policies and COA Master Policies?
A condo insurance policy, also known as an HO-6 policy, is generally designed to cover things that your COA's master property insurance won't. COA/ HOA master policies typically cover the COA/ HOA property as a whole. More specifically, a COA's master insurance policy does not cover anything within the individual condo units but instead covers things like:
Common Areas /Amenities: These include elevators, lobbies, hallways, stairwells, gyms, tennis courts, or the land directly outside of the building owned by the association.

Building Damage: This includes damages sustained to the exterior of the association's building (such as water damage to the roof or siding caused by an intense storm).

Guest Injury Liability Coverage: This includes incidents where a guest is injured in one of the association's shared spaces and the association is held liable.
In addition, condo association master policies may sometimes cover certain aspects of individual units. These come in a few different forms that you should consider:
All-inclusive/All-in Coverage: These policies cover all items built into your unit, such as cabinets, appliances, and light fixtures. It also includes any improvements that you make to the unit.

Bare Walls Coverage: These policies cover the interior walls, floors, and ceilings of a unit. They do not, however, cover anything attached to the walls, floors, or ceilings (such as light fixtures, carpeting, or sinks). This type of coverage is the reason why condo insurance is often referred to as " walls-in insurance."

Single Entity Coverage: This type of coverage is very similar to all-inclusive coverage. The only real difference is that it does not include any improvements you have made to the unit.
While there are a number of different types of policies that apply to different types of property ownership (for example, homeowners insurance policies are classed as HO-3), HO-6 policies are specific to condominium and co-op owners and are fairly standard between the two ownership types. The bottom line, however, is that an HO-6 policy will help cover a broad range of things related to your individual unit and the property it contains.
What Does Condo Insurance Cover for Unit Owners?
Condo insurance essentially seeks to provide coverage for everything that the COA master policy will not cover. The most basic condo insurance policy covers things like negligence liability, expenses incurred from relocating after a natural disaster, and your personal belongings.
However, many plans provide a varying amount of coverage across different areas:
Living Expenses/Loss of Use: This area of coverage insures you against any costs incurred as a result of damage that has forced you out of your condo unit (such as extensive fire damage ). These costs would include hotel bills or any additional living expenses that you would not have otherwise had if your unit was still inhabitable.

Personal Property Coverage: This type of policy covers things that you personally own, such as clothing and furniture, if they are damaged in the event of vandalism or a disaster (such as a flood, fire, or storm). It's important to note that each policy may have a different list of covered perils. If you live in an area at higher risk for certain perils, you should look for a policy that includes that peril. Or you can add supplemental coverage.

Personal Liability Insurance: This area of coverage insures you against any costs incurred as a result of guest injuries that occur in your unit. If a guest in your unit happens to fall and break their arm, and you are sued and found liable, then this coverage will help cover the liability costs, as well as the guest's medical payments. Some policies can also provide liability protection against dog bites if your dog happens to bite and injure a guest, though insurers typically have a list of dog breeds that they will not cover.

Building Property/Dwelling Coverage: This area focuses primarily on property damage of the unit itself. As mentioned earlier, COA master policies might provide some coverage of individual units. If your COA has an all-inclusive policy, it might not make sense to get this type of coverage, but if not, you should consult your insurance company and enroll in additional coverage.
Compare Car Insurance Quotes Instantly
Personalized quotes in 5 minutes or less
No signup required
How Much Condo Insurance Is Necessary?
The answer to this question is ultimately up to what your COA's master policy covers, what risks come with the area, and how much coverage you can afford.
Each COA is different and, with that, has different bylaws and master policy terms. It would help you immensely to familiarize yourself with your COA's bylaws, as well as what their master policy will cover (as it relates to your individual unit ). As mentioned previously, if your COA's master policy is all-inclusive, it wouldn't make sense to purchase coverage for the appliances, fixtures, and flooring of your unit. On the other hand, if you know your COA will not cover those things, you should consider purchasing the appropriate coverage.
Also, if you own a unit in an area known to have certain inherent risks (such as a high rate of burglary, frequent floods, or high risk of wildfire), it would be to your benefit to purchase coverage relevant to those risks. Of course, it is possible that you own a unit in an area where there are no known environmental risks to your property. However, if this is the case, it might still make sense to expand your coverage in the event that lightning does strike.
Finally, spending a lot of money to get the most expansive coverage may not be possible for all unit owners. With this in mind, it would be helpful to search for policies that both provide the coverage you need and come with affordable insurance rates. As mentioned previously, try to make reasonable evaluations of what coverage your property actually needs. It wouldn't make sense to pay for a policy that covers earthquakes if your unit is in an area that doesn't experience them.
FAQ: Condo Hazard Insurance
While your COA dues go toward many of the COA's needs, those dues may not be the end of extra costs that the COA may require you to pay. If, for example, a common area suffers fire damage, you and all other COA members may be required to collectively cover the cost of the COA master policy's deductible or any costs that exceed the master policy's coverage limits.

With these types of costs, it might make sense to enroll in loss assessment coverage, which generally covers you for many of the extra costs that an association can pass on to its members. Of course, each COA or HOA is different, so be sure to read your association's bylaws to get a clear picture of how much additional coverage you will need.

The short answer is yes, even standard condo insurance policies provide some level of coverage for more expensive belongings, such as highly valued jewelry or artwork. The catch, however, is that standard plans will have policy limits on how much of the item's value they will cover.

If you have such items that are worth a lot of money, it may be a good idea to get a clear sense of their monetary value by having those items appraised. Once you have a better understanding of their value, you can purchase additional coverage for those items accordingly.

While renters' rights can vary from state to state and city to city, it's typically the norm that your landlord's property/home insurance will not extend to tenants. Luckily, renters insurance can help insure you and your property against damage, theft, and some accidents. In many cases, renters insurance can help cover replacement costs if your rented space is burglarized.

Many companies out there offer renters insurance, so if you think it could help protect your stuff, contact insurance agents to get some more information and insurance quotes.
Condo Insurance Can Protect Your Property and Your Wallet
Of course, if you've gone through the trouble of buying a condominium, why wouldn't you protect that investment by purchasing condo insurance? With the knowledge of what your COA covers and what risks come with the unit/area, you'll have everything you need to make the right choices when it comes to coverage expansion!
Insurify makes making the right choice even easier. Just enter your home details and comparison shop from top providers in your area. Buy a new policy easily or verify you're still getting the best rate. Peace of mind is just a few clicks away.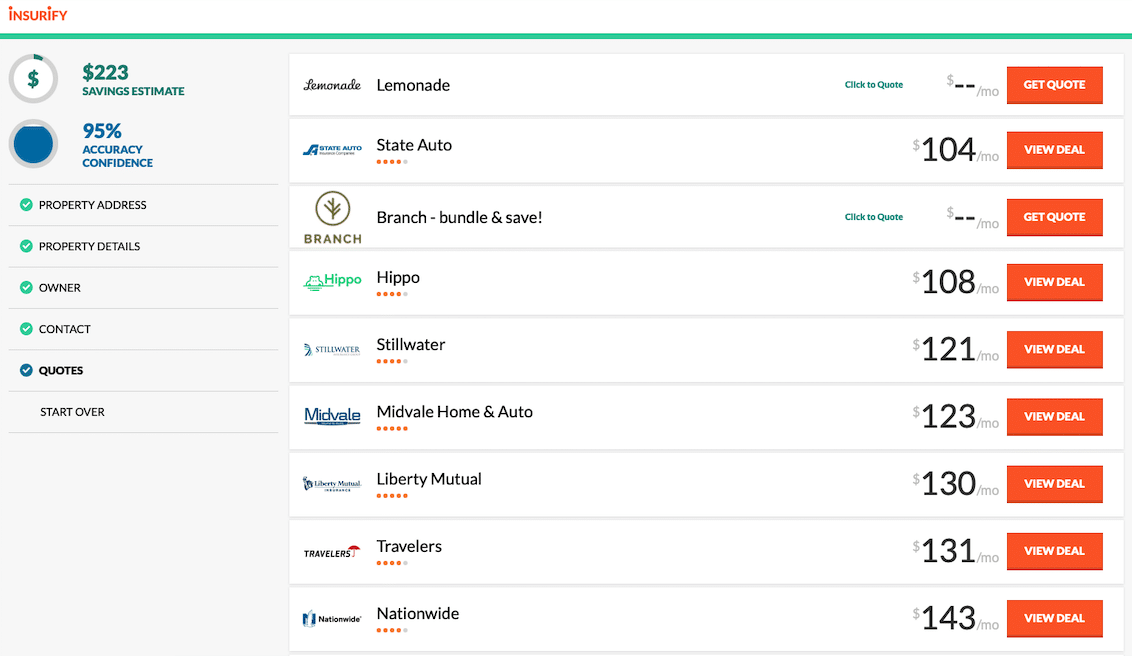 Compare Car Insurance Quotes Instantly
Personalized quotes in 5 minutes or less
No signup required
Data scientists at Insurify analyzed over 40 million auto insurance rates across the United States to compile the car insurance quotes, statistics, and data visualizations displayed on this page. The car insurance data includes coverage analysis and details on drivers' vehicles, driving records, and demographic information. With these insights, Insurify is able to offer drivers insight into how their car insurance premiums are priced by companies.