Does the age of house affect insurance?
Yes. As homes age so do the systems and materials that make up your home, making your home more prone to property damage. The best way to keep rates low is to stay up-to-date on home maintenance and improvements.
There's nothing like the vintage charm of an older home. You may be considering or have already bought an older home. And you may be dreaming about all the possibilities. While others may see a relic, you see potential in older homes. They may see decades of old paint, dust, and trend flops. But you see how to highlight the most lovable characteristics and make a more aged home shine.
Your ability to breathe new life into an old home is admirable. But the fact is that your love of old homes may come with a high price tag. The truth is that the age of your home affects insurance rates. Older homes have more problems than newer homes. And you could get yourself in over your head if you aren't up to speed on insurance costs. You may be surprised at some of the reasons why the age of your house affects insurance costs.
It doesn't matter if your home is old or new— Insurify is here to help you get more out of your home insurance. We'll help you with free quotes to get the best and cheapest home insurance policy to fit your needs. Let us give you a hand now!
Why Do Older Homes Need More Homeowners Insurance?
Your home may be more than 50 years old, which means more problems that come with age. There are bound to be problems that pop up left and right, especially if you're attempting renovations on your older home. You may need more home insurance or a policy that fits the age and condition of your home. That's why it pays to have the proper home insurance. You have a few options for covering your vintage home with home insurance.
You could purchase the most basic form of dwelling coverage, known as an HO-1. An HO-1 is simple and the least comprehensive form of home insurance. An HO-1 may be the perfect option for you if your home isn't too old and doesn't have any problems. However, this policy will only protect your dwelling's structure. An HO-1 will not protect your personal property. You would have to buy supplemental insurance to protect your valuable belongings. Sadly, figuring out coverage on the most basic form can lead to more headaches for you later on.
Your mortgage lender may find the HO-1 coverage below their expectations if your home is out of shape. As a result, you may not get the financing you need. In this case, it would be time to reevaluate. You would have to choose another homeowners insurance policy.
Additionally, many insurance companies will deny coverage if there are too many issues. Why? Insurers foresee more claims in the future, based on previous claims from the past. Insurance companies won't insure your older property until you make repairs or replacements.
Are you still considering purchasing a home? Are you in the position to negotiate with the seller? You could write concessions into the purchase contract of your home. The mortgage lender and the insurer will reevaluate and determine your eligibility. Otherwise, it would make sense to make any improvements or replacements your insurer finds necessary.
Types of Old Home Insurance
Thankfully, insurance companies have a specialized type of home insurance for older homes called an HO-8. The insurance coverage on an HO-8 only includes basic perils, like an HO-1 policy. But if your home is classified as a historic home or landmark, an HO-8 policy is the best option with the most protection.
A unique form, known as an HO-3 policy, is another standard option with the best coverage. An HO-1 policy only covers risks listed on the insurance policy, known as "named perils." But an HO-3 policy will protect your home on an "open peril" basis. Open perils cover any danger you can think of unless otherwise listed or excluded in the policy.
Your Older Home Affects Homeowners Insurance Premiums
Home insurance premiums are based on recommendations by the National Association of Insurance Commissioners (NAIC). Here are some critical considerations for home insurance rates:
Home Characteristics That Affect Home Insurance Rates
The way an insurance company prices home policies is to evaluate risk. Higher-risk homes or homeowners receive higher premiums. And lower-risk homes and homeowners receive lower premiums. Here are some common characteristics your insurance company will review when determining risk:
- What is the cost of rebuilding your home? This cost is different from the purchase price. Talk to an insurance agent to estimate the replacement cost value of your home. The agent will use the information on hand, including the contents inside, to develop the replacement cost.

- Is your home built with brick or wood? Houses made of brick or masonry result in lower premiums than homes made of wood.

What is the distance from your home to a water source (such as a fire hydrant) or fire department? What is the quality of your community's fire protection services? The further away, the more risk, resulting in higher rates.

How old is your home and what condition is it in? This is the most significant aspect when considering your home insurance rates. Your premium will be higher the older your home is and if it's in poorer condition.

What is the condition of the plumbing, electrical, and heating systems? Their poor condition represents a higher risk of water and fire damage, significantly raising rates according to the Insurance Information Institute.

What are your claims history and the frequency of claims in your area? Older homes tend to have more claims, which directly impacts how much you pay for premiums.
Ultimately, your home's age, location, and condition determine the amount of home insurance you need. Your mortgage lender and insurance provider want to minimize risks. It also keeps the cost of maintaining your home down. Keep these considerations in mind when picking out a good home insurance policy.
Have you just started looking for homeowners insurance? You're probably looking for the best prices at different coverage levels. The best way to find the best prices and coverage for your older home is through Insurify. Explore the best way to compare home insurance and save today!
Compare Car Insurance Quotes Instantly
Personalized quotes in 5 minutes or less
No signup required
Why Does the Age of a House Affect Home Insurance Costs?
The difference between old and new homes is that older homes pose a more significant risk. Your older home is more susceptible to events like fires and problems with HVAC and roofing. If approved for your home insurance policy, expect to pay higher insurance rates than those with a new home.
If you're unsure about the age of your home's contents, such as plumbing and wiring, you can have your insurer perform an inspection. The inspection will help determine if your home is deemed insurable. This inspection is also helpful for calculating replacement cost value. A higher replacement cost may result in a more thorough inspection.
Why Should I Get an Inspection Done?
An inspection makes sense if you have a significantly older home. You may require a specialty craftsman and materials for major repairs or replacements on your home. You may have plaster walls and ceilings. Or you may have ornate trim and non-standard doors and windows. In cases like these, repair or replacement of these items would be more expensive for insurers and result in higher premiums.
You may wonder why the risk is higher with older homes than new homes. In the past, building materials were less resistant to fire and weather. Your home may also have an original electrical system that is outdated and could pose a fire risk. The wiring could be worn out and tear insulation. There could be original pipes with corrosion damage. The insulation could be made of asbestos, or there could be lead paint.
There's a significant risk to the insurer if your home has one or even all of these issues. The level of risk gives the insurer the ability to deny you or charge a higher premium.
Consider These Coverages
Earlier, we touched on the types of dwelling coverages for your older home. Now, it's time to consider coverage options that could lead to savings in the long run. If you don't have enough coverage with a higher premium, you will be stuck paying up-front costs and eventually losses.
Did you know there are more options available depending on your varying needs? The amount of coverage will vary, too. Here are the types of coverage options to give you peace of mind:
Guaranteed Replacement Cost Coverage
Replacement cost coverage is the best bet for owners of older homes. Guaranteed replacement cost coverage goes beyond replacement cost coverage. This coverage type will pay the full cost of repairing or rebuilding your home when it exceeds coverage limits.
The structure of your home and interior contents like flooring and appliances will be covered under guaranteed replacement cost coverage. There may be some special features in your home. Guaranteed replacement cost coverage helps after most perils unless noted.
Coverage for Water Backup and Service Line
Water backup coverage comes in handy when you need to repair or replace pipes connected from the water main to your plumbing system. Service line coverage helps repair or replace the home's infrastructure, like gas and sewer pipes. The standard policy does not cover water backup and service line issues. These property coverage options could save you thousands in out-of-pocket expenses in the long run.
Scheduled Personal Property Coverage
You may own some antique and highly valuable personal property. It's essential to consider an endorsement to cover expensive jewelry, instruments, art, firearms, and more. Scheduled personal property coverage provides a critical additional coverage policy. Having coverage comes in handy when you need help paying for these expensive items.
Roof Replacement Coverage
By now, you may have figured out that older homes get limited coverage. The standard home insurance policy will help pay for replacing a roof when damaged by covered perils. But your insurance policy could be different. Your roof may be destroyed by a windstorm or similar peril. Roof replacement coverage guarantees that your insurer will help pay for a replacement.
Flood Insurance
Do you live in a state prone to hurricanes, like Florida? You may live in a high-risk flood zone. A natural disaster could cause extensive damage to your home. But the standard home insurance policy does not cover water damage from flooding. You must purchase separate flood insurance. Insuring your home in case of the unknown will help save you thousands in the wake of a natural disaster.
Discounts on Home Insurance for Older Homes
The goal of insurance companies is to keep insurance claims down while offering as many insurance products as possible. Low claims save the insurer money and save you money in the long run with discounts. You need to save where you can, too, especially with your older home. Here are some simple ways to snag deals on your home insurance rates:
Start by bundling your home insurance and auto insurance. Most insurance companies will offer discounts if you purchase more than one policy by bundling.

Having fire extinguishers and smoke detectors on the floor of every level of your home lowers the risk of a fire.

Sprinkler systems can reduce the risk of fire-related death by up to 80 percent. Sprinkler systems also reduce the risk of property loss by 70 percent. Many insurers offer sprinkler discount options to save you money.

Home security systems and deadbolts lower your risk of theft and vandalism. Having these systems helps stop intruders on your property, resulting in fewer claims, especially in high-crime areas.

Policyholders with good credit scores may get a discount because it's one way for your insurer to know you make payments on time. If you don't have good credit now, check your credit history and look for areas of improvement. As it improves, check for lower insurance rates and better discounts.
Don't forget that you can also lower your insurance rate by raising your deductible. Policies with higher deductibles pay less in monthly premiums. Just be sure that you don't raise your deductible so high that you can't afford it when the time comes.
Finally, a very easy way to lower your rate is by regularly comparison shopping for home insurance.
How To Get Home Insurance Quotes for Your Older Home
Not every insurance company is the same. So you must find the right coverage from the best insurance company based on your needs. Insurify is here to help you find the best insurance companies for what you need. Don't forget to check us out today and get your free quote.
Frequently Asked Questions - Age of Home
Yes, home insurance rates are generally higher for older homes. Rates are high because of the risks associated with them. Before you buy an older home, consider the amount of work you need to replace most of the house.

Your insurance premium could have gone up for several reasons. However, if you lower your deductible, your premium will go up—a higher deductible results in a lower premium. But if your deductible is too high, you may not be able to afford a claim.

Consider whether you lowered your deductible before calling your insurance agent. If you have filed many claims on your older home, your insurer may raise your premium. So consider both aspects.

Homeowners insurance costs vary but do consider the age and condition of your home. If your home is 50 years or older, your home could pose a potential risk. It's always wise to get an inspection before the purchase of your home. An inspection will help determine any issues that could be costly in the future.

Actual cash value is the amount equal to the replacement cost minus depreciation of an item. Replacement cost is the full cost of replacing your items without any depreciation. When insuring an older home, it's always wise to go with a policy that provides replacement cost coverage. You wouldn't want to lose out on the value of replacing older items.
Conclusion: Does the Age of Your House Affect Insurance Costs?
It's no surprise that a vintage home may come at the cost of high insurance rates. Insurance companies want to make sure you aren't getting yourself into a money pit. Your home's age and condition could end up costing you a pretty penny. But with the right home insurance coverage, you don't have to struggle with buyer's remorse.
No matter the age of your home, you have Insurify here to help you. Why not find the best prices by searching for free quotes on home insurance? Try our comparison tool now!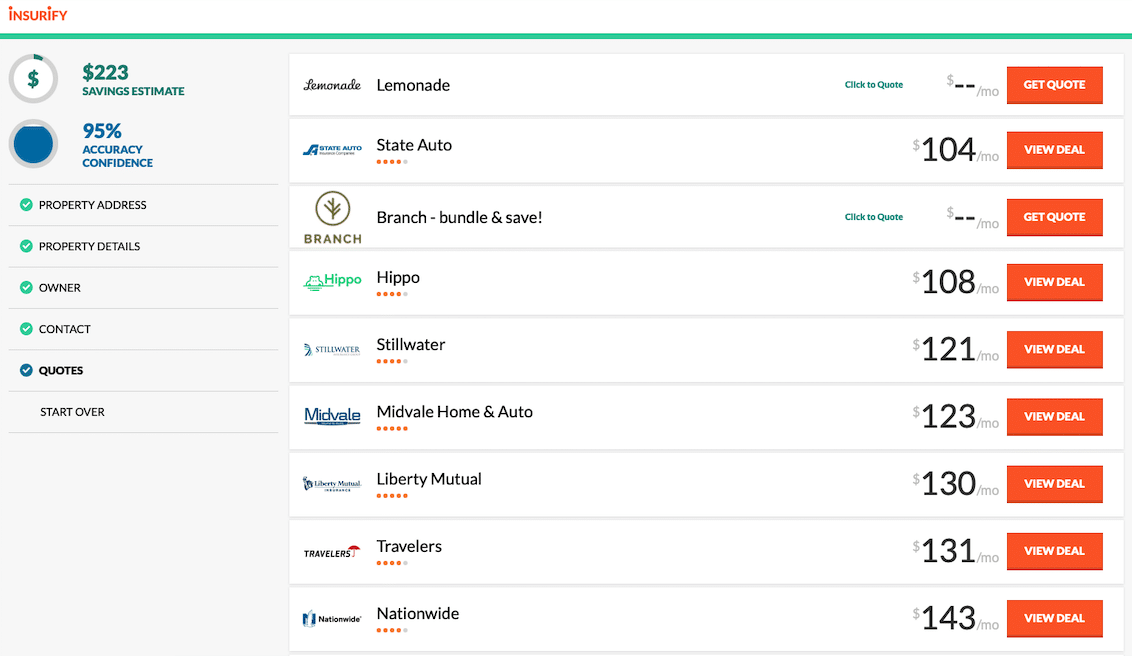 Compare Car Insurance Quotes Instantly
Personalized quotes in 5 minutes or less
No signup required
Data scientists at Insurify analyzed over 40 million auto insurance rates across the United States to compile the car insurance quotes, statistics, and data visualizations displayed on this page. The car insurance data includes coverage analysis and details on drivers' vehicles, driving records, and demographic information. With these insights, Insurify is able to offer drivers insight into how their car insurance premiums are priced by companies.