What is condo insurance?
Condo insurance is a type of property insurance designed to pick up where your condo's master policy stops.
There's a lot to love about condo living. One of the biggest pluses of buying a condo over a single-family home is that the condo association takes care of your lawn care and seasonal maintenance. There are often amenities nearby, like a clubhouse or swimming pool. It's a great way to have a lifestyle you enjoy at an affordable price. The homeowners association in charge of your condo development will even carry a master insurance policy that covers certain parts of your property in case of natural disasters and other types of covered losses.
What you may not realize is that the condo's master policy only applies to the exterior and common areas —the things that are under the condo association 's purview. Condo owners need their own homeowners insurance policies —specifically, an HO-6 policy—to pick up where the master policy leaves off. HO-6 insurance products are designed specifically for condos and will protect you against personal property damage and more.
Not sure how to find the best homeowners and condo insurance companies for condos? Insurify can help. This easy-to-use tool delivers online quotes from lots of home insurance companies. Get the condo insurance quote you need in just a few minutes.
What Your Condo Association's Master Policy Covers
Start by understanding what type of master insurance policy your condo association has. Your condo master policy will fall into one of three categories.
Original Specifications Policy: This means the condo association carries coverage for the exterior of the condo, common elements, and the interior of the units up to the cost of the original specification when the condo was built. You would need to cover any permanent improvements made in the unit, as well as your personal belongings and liability coverage.
All-In Policy: The condo association 's insurance covers the exterior, common elements, and interiors of individual units, including improvements that they made over time. You need some amount of dwelling coverage for whatever isn't covered by the master policy, plus your personal belongings and liability coverage.
Bare-Walls Policy: The master policy only covers the exterior walls outward, plus common areas. You need to cover everything inside your unit.
Understanding the master policy is the first step in determining what you need from your condo insurance and how much you need the policy to cover.
What Your Condo Insurance Covers
Condo insurance is very similar to the traditional homeowners insurance you might already be familiar with, but it only covers the inside of your unit. The master policy is supposed to cover the exterior. It should include condo coverage for damage from things like:
Windstorms

Hail

Theft

Fire or lightning

Smoke damage

Water damage from plumbing problems

Vandalism
A condo insurance policy covers four major categories of risk: dwelling, personal property, loss of use, and personal liability / medical payments.
Dwelling coverage insures the interior of the condo, including floors, walls, appliances, and cabinets. This is where it becomes critical to understand what type of policy the condo association or HOA carries. Some policies cover the interior to some extent. For example, the master policy might cover damage to the washing machine that your unit came with. If that's the case, you might be able to lower your insurance costs by carrying less dwelling coverage.
Personal property protects your belongings, and it's where you really need coverage. The master policy never covers your private property, so you should always buy full personal property coverage if you own a condo.
Loss of use coverage pays for additional living expenses that you might incur if your condo is damaged and you can't live there for a while. Living expenses might include food, transportation, hotel rooms, or storage units for your belongings.
Personal liability and medical payments to others come into play if you're found liable for someone else's injuries or damage to someone's property. It applies outside your home as well as inside, so if you accidentally hurt someone while you're off your property, your condo insurance can help cover you. It includes legal fees and medical bills that might crop up after an accident.
How Much Condo Insurance Do You Need?
Figuring out what you need to insure and how much insurance you need are two of the biggest challenges when it comes to buying condo insurance. The amount of insurance you need depends greatly on the type of policy your condo association carries. For example, if your condo association has a bare-walls policy, it can be hard to figure out a replacement value for the interior because the value of an individual condo is partially based on the common features that the master policy covers.
The amount of coverage you need also depends on factors like the cost of construction materials and labor in your area, the type of materials used in your condo, and what it would cost to replace your valuable items.
If you're having a hard time figuring out how much insurance you need, it's probably time to talk to an insurance agent. As a rule of thumb, it's better to have too much insurance than not enough. As you shop around for policies, you should also take these factors into consideration.
Deductibles: Accepting a larger deductible can help keep your insurance rates lower. The deductible is a dollar amount that you're responsible for paying whenever you start the claims process. Your insurance agent will probably have a range of deductible amounts that you can choose from.
Actual cash value vs. replacement value: Condo owners often make the mistake of buying coverage that pays out actual cash value for damaged belongings instead of a more expensive policy that would cover the full replacement costs. Actual cash value is the value of your belongings minus depreciation, while replacement value means your insurance will pay to replace your personal property at the amount it actually takes to replace them.
Loss assessments: This reimburses you if the condo association charges a special assessment fee to cover costs that exceed the master policy 's coverage limits. It's part of most condo policies but may not come with a high enough limit. Make sure it covers at least a few thousand dollars by purchasing additional coverage if necessary.
Customer experience: Read reviews to gain more information about things like customer satisfaction and the claims process. Reviews can be an invaluable way to evaluate the different players in the insurance industry. J.D. Power 's customer satisfaction survey is another way to evaluate the typical experience for insurance customers.
Condo Insurance Companies FAQs
The best home insurance for a condo depends on many factors, such as cost, ease of filing an insurance claim, and availability in your area. Some of the most popular companies for condo insurance coverage include Allstate, Liberty Mutual, Amica, Nationwide, USAA, and State Farm. The right one for you is the one that can give you the coverage you need at a price point that works for you.

Bundling your condo insurance with another type of coverage, such as auto insurance, is a great way to save money on both policies. Many insurers offer discounts if you buy multiple types of insurance coverage through the same company. Ask prospective insurers about the best rate for coverage options with a condo and auto policy together.

In some cases, you might be required to buy your own condominium insurance. The condo association might require you to buy personal coverage. Your mortgage lender might also require proof of insurance before they will issue you a mortgage.
Conclusion: Cover What Your Condo Association Doesn't
No matter how comprehensive your condo association 's master policy is, you still need to carry condo insurance. The master policy will never cover your personal property or guests who are injured in your home, so do the smart thing and invest in a condo policy that covers what the master policy doesn't cover.
Finding a new condo policy starts with Insurify. Find the home insurance, life insurance, and car insurance you need to protect the things that are important to you.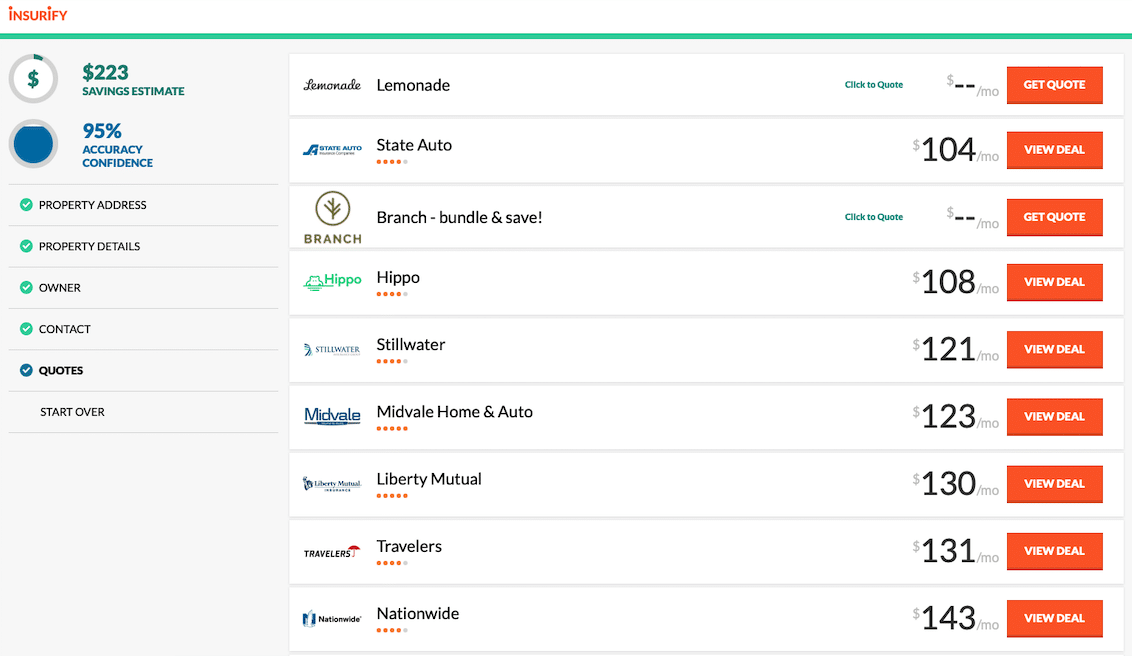 Compare Home Insurance Quotes Instantly
Personalized quotes in 5 minutes or less
No signup required