Why did my homeowners insurance premium go up from last year?
The most common reasons home insurance rates go up are due to filing claims, having an attractive nuisance like a pool, and inflation.
It's common for homeowners insurance premiums to go up each year. Most prices steadily rise over time. You don't notice the $5 and $10 increases when the annual premium is in the ballpark of $1,000. But when your monthly premiums go from $80 to $120, that requires reworking your budget.
Sometimes, these increases are easy to understand: you had water damage, and the insurance company paid out $2,000 after the deductible. Maybe a hurricane caused massive damage in your community, and the company is raising rates on all policyholders in your city to account for their losses. Insurance companies are businesses, after all.
Fortunately, you do have options when sticker shock hits. You can take specific steps to raise your insurance score and make your home safer. And you can compare rates with dozens of insurers to see if you can't find a better rate by switching insurance providers. Read on to learn how to do this.
Home Insurance Rate Increases Are Normal
Increases in premiums are expected due to good ol' inflation. Think back to what a burger and fries cost when you were in middle school. The price has gone up a bit, hasn't it? A few dollars more per year is to be expected, especially if, in exchange for that, you're getting hundreds of thousands of dollars in coverage.
Also, insurance companies are businesses, not nonprofits. This thought may be upsetting, especially if you've only ever filed small claims or none at all. But there are lots of expenses behind the scenes. Then, they have investors who expect a good return on their investment. When catastrophes hit, profits shrink or get wiped out altogether. Small increases over time keep them in business.
It may not seem worth it to call your insurance agent to ask for applicable discounts for increases of less than five percent. Likewise, switching to a new insurance provider is an option, though handling paperwork takes some time. But it's always good to see how much you can save by switching.
You can use a tool like Insurify to get six or more customized home quotes in a few minutes. That makes it easy to see if and when switching is worth it.
Reasons Why Your Homeowners Insurance Rates Go Up
Sometimes, the increase in your homeowners insurance premiums results from something you did, and other times it's because of what you didn't do. Here are some things that can trigger an increase in your rate.
You filed home insurance claims. With your first claim, especially if it's small, you might not see much of an increase. But a second and third claim within five years will surely be noticeable. Any more than that, and they may cancel your policy.
Your insurance score decreases. This is not the same as your credit score, but in many states, your credit rating factors into it. Most insurers use this multi-factor score to assess your risk level. Additional factors in your score include how many claims you've had and the safety features of your house.
You get a dog. Fifi might be a great addition to your family, but she might also cause an increase in your insurance. Getting the Canine Good Citizen certificate from the American Kennel Club might net you a discount. Having a fence and keeping them leashed may also help.
You add an attractive nuisance to your property. Yes, that pool and swing set that you added in an attempt to reduce the kids' screen time will result in higher rates. Hot tubs, trampolines, tree houses, and fountains also fall within this category. The in-ground pool may add to your home's value, but it's not without increased danger.
You're not keeping up with repairs as your home ages. Houses need TLC to keep them standing strong for decades. You need to do routine maintenance and minor plumbing and fixture repairs and clean out the gutters. Those are relatively easy and inexpensive. It's the significant things like not replacing an electrical or HVAC system that's older than you that add higher risk and thus higher premiums.
Compare Car Insurance Quotes Instantly
Personalized quotes in 5 minutes or less
No signup required
How to Reduce Insurance Costs
There are ways to lower your homeowners insurance costs as they inch up over time. Here's a list of things you can try. Start with the first ones, as you can make those changes today!
Raise your deductible. The more risk you take on, by way of the deductible, the lower your premiums will be. Call your insurance company to see how raising your deductible by $500 or $1,000 will lower your costs.

Bundle your insurance policies. Bundling your home and auto insurance policy can save you some cash overall.

- Switch from paying monthly to annually. Paying annually, or even semi-annually, means you lower your bill by a percent or two of the overall cost.

- Shop for a new insurance policy. In two minutes, you can have home insurance quotes from a dozen or more insurance companies.

- Add safety features. Installing a security system or adding storm shutters can go a long way in reducing potential claims. Ask your insurance company about things you can do to lower your bill.

- Take steps to raise your credit score. There's no quick fix for this, but it's never too late to work at improving your credit history. Paying your bills on time, eliminating debt, and keeping your debt-to-income ratio low are crucial to having a good to excellent credit score.

- Complete home improvements. In the case of older homes and fixer-uppers, your initial insurance coverage is probably pretty sparse. Replace the roof or electrical so that you not only have full coverage on those but also potentially reduce your premiums.
FAQ: Rising Home Insurance Costs
Yes, there are ways to get discounts. Also, shopping for a new home insurance policy may end with you finding one with a lower price tag. You can raise your deductible or bundle your home, auto, and life insurance policies.

The average cost of home insurance in America is $144 per month. Your premiums are dependent on many factors, including the age of your home and replacement construction costs. Your location weighs heavily into the price. Residents of Florida and Kansas have natural disasters that are uncommon in Oregon and Maine.

Yes, your claims history will affect your home insurance rates. If it's your first claim in five years, the increase will be minimal. The more insurance claims you have, especially within a short time frame, the more you'll see your rates rise.
Conclusion: Combat Rising Costs by Comparing Home Insurance Plans Online
Homeowners and renters need to have a home insurance policy to alleviate the financial burden that suffering a break-in or fire costs. Not only do your home insurance premiums pay for repairs or rebuilding the structure, but they will also help pay the replacement cost for the contents of your home. Additionally, your homeowners insurance policy protects you away from home with liability coverage.
Over time, a premium increase is natural. But you have some control over it. You can decide not to install a swimming pool, or you may opt for a higher deductible. Taking steps to protect your home from severe weather events like hurricanes and wildfires will also help keep costs down.
One way to save money is to use Insurify to get quotes for home insurance companies covering your neighborhood. Just type in your address and some personal info, and you'll get personalized quotes from top providers in the insurance industry. Try it today!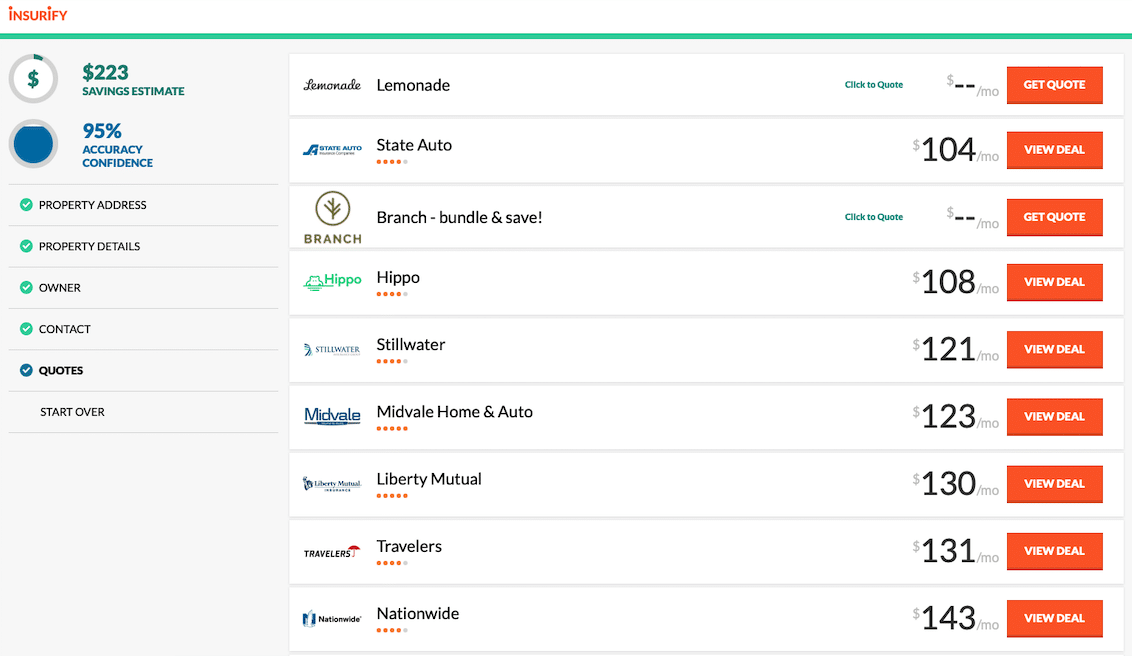 Compare Car Insurance Quotes Instantly
Personalized quotes in 5 minutes or less
No signup required
Data scientists at Insurify analyzed over 40 million auto insurance rates across the United States to compile the car insurance quotes, statistics, and data visualizations displayed on this page. The car insurance data includes coverage analysis and details on drivers' vehicles, driving records, and demographic information. With these insights, Insurify is able to offer drivers insight into how their car insurance premiums are priced by companies.