Noblr homeowners insurance could be your future home insurance company.
Every homeowner has unique needs when it comes to their insurance policy. Insurify can help you decide if this is the right insurance company for you.
Homeowners are thrilled with Noblr 's homeowners insurance option. The company offers home, condo, renters, and umbrella insurance policies in 33 states. The website says the company is growing. If coverage isn't available where you live, it may soon be.
Noblr partners with Hippo to bring modernized coverage to homes and personal belongings. Together, the companies make it easy and fast to purchase the coverage you need. You could secure your policy online in just a few minutes.
Start by comparing home insurance with Insurify. You'll get a free quote to compare multiple policy options and premiums, saving you money in the long run!
Noblr Home Insurance Coverages
According to its website, Noblr offers property insurance across these dwelling situations and insurance needs:
Home Insurance
Noblr homeowners insurance is one of the first smart home insurance products that cater to the technology-driven lifestyle of today's homeowners. You could get up to four times the coverage for electronics and home office equipment when you choose home insurance from Noblr.
The company analyzes your coverage each year to get you the right amount of protection. It can help make sure you're not paying too much for home insurance while also ensuring you have the coverage you need.
Renters Insurance
You can purchase renters insurance from Noblr through Toggle, a Farmers Company with over 90 years of experience. Coverage is inexpensive, with basic premiums starting around $5 per month.
The landlord or building owner's insurance policy doesn't include your personal belongings. A renters policy from Noblr can pay to repair or replace your possessions if a fire, a hurricane, lightning, or a storm damages them.
Condo Insurance
Like homeowners insurance, your condo insurance policy provides financial protection from damage to your living space. Noblr 's condo insurance covers damage to your personal property and the internal structure of your condo, as well as liability protection and additional living expenses.
Umbrella Insurance
Although not specifically a type of home insurance, an umbrella policy gives you an extra layer of liability protection. With a single call, you can get a Noblr umbrella policy to increase your coverage.
Components of a Noblr Home Insurance Policy
Once you purchase a policy, your declarations page, or "dec page," provides a quick overview of what your policy includes.
Homeowners insurance from Noblr has many coverages you might expect from a standard policy.
Dwelling Coverage
Your dwelling is the physical structure of your home. It can cover installed fixtures and permanently attached appliances but does not include your personal belongings or property the house sits on.
Other Structures
You may have a fence, detached garage, gazebo, or shed on your property. These types of items fall under the other structures component of your policy.
If a tree falls on your fence or detached garage, Noblr 's other structures coverage may help pay for repairs.
Personal Possessions
Your belongings aren't covered with dwelling coverage. Instead, the personal possessions section of your policy is what protects the contents of your home. It's a standard feature of most home insurance policies and protects your items from damage or needed repairs.
Loss of Use
Damage and destruction sometimes mean you temporarily can't live in your home. Loss of use protects you and your family if you aren't able to stay in your home. Noblr 's coverage can reimburse you for extra money you spend for accommodations, food, and other living expenses.
Personal Liability
Personal liability coverage can protect you financially. Claims could consist of medical bills, legal fees, and more if a guest injures themselves in your home or on your property. It also can include accidental damage you cause someone else.
Medical Payment
For small medical claims, medical payment coverage can cover bills from a guest injury on your property. Standard policy limits are generally $1,000 to $5,000. It may not sound like much, but it can help prevent minor physical injuries from escalating into a lawsuit.
Additional Coverages Included in Your Noblr Policy
Noblr wants to make sure you're protected as a homeowner. That's why policyholders can count on these extra coverages:
Equipment breakdown protection

Service line enhancement endorsement

Ordinance or law

Limited fungi, other microbes, or rot
Compare Car Insurance Quotes Instantly
Personalized quotes in 5 minutes or less
No signup required
Optional Coverages for Your Noblr Home Insurance Policy
Insurance needs are as individual as you are. When you get a policy with Noblr, you can customize coverage to suit your situation by selecting from these optional add-ons.
Additional Replacement Cost Protection
Despite best intentions, sometimes insurance limits aren't enough to cover the cost to repair or rebuild after a covered loss. Opting for additional replacement cost protection can bridge the gap by making an additional amount available.
Mortgage Payment Protection
Life can be full of unexpected twists and turns. If the worst should happen, mortgage payment protection from Noblr covers your mortgage payment if you die before paying off your balance.
Personal Injury
Personal injury coverage is a "personal offense" insurance. It covers things like libel, slander, false arrest, detention, imprisonment, malicious prosecution, wrongful eviction or entry, and associated legal costs. One situation this can apply to is if someone sues you for posting a malicious or damaging statement on social media.
Personal Property Replacement Cost
The value of your personal property depends on the type of coverage. Many homeowners policies typically pay according to actual cash value (ACV). It's the least expensive because it considers depreciation when valuing your belongings. Adding Noblr 's personal property replacement cost can pay the amount it would take to replace your items rather than their actual value at the time of loss.
Water Backup
Repairs for water damage from a sewer, drain, or sump pump can be costly. According to the Insurance Information Institute, nearly half of insured homes have a water damage claim every year. Water backup protection from Noblr can help cover the cost.
Available Discounts
Noblr offers a variety of discounts on homeowners insurance policies. To save money on your premium, see if you qualify for one of the available discounts:
Smart home discount

Loss-free discount

Homebuyer discount

Theft protection devices

Affinity discount

Hail-resistant roof discount

Homeowners association discount

Companion policy discount
To verify eligibility for a discount on Noblr home insurance, contact the company by email or phone. A representative is available 24 hours a day, seven days a week.
Noblr Home Insurance Reviews: Customer Satisfaction
Noblr has been accredited by the Better Business Bureau (BBB) since 2019. The BBB customer review rating is 1.67 out of 5 stars. However, the reviews only mention auto insurance coverage. This is likely because Noblr home insurance is a newer product from the company.
Consumers Advocate doesn't provide a rating for Noblr home insurance. But the organization gives Noblr auto insurance an "excellent" rating of 4.3 out of 5.
J.D. Power Customer Satisfaction Rating: N/A

A.M. Best Rating: A- (Excellent)

Moody's Financial Strength Rating: N/A

Better Business Bureau Rating: B+
Frequently Asked Questions - Noblr Homeowners Insurance
Yes, Noblr, Inc is a legit insurance company formed by co-founders Gary Tolman and Jason Foucher. It's a relatively new company, and reviews are sparse. Positive reviews primarily focus on the car insurance company and the easy-to-use app that helps lower your auto insurance costs. The company also offers home, condo, renters, and umbrella insurance.

Visit Noblr.com to start your quote for homeowners insurance. Enter your property address, and answer a few questions about the home and property. In less than 60 seconds, you'll get a home insurance quote to review. You'll also answer questions to qualify for eligible discounts and get a final quote. You could secure your policy online in four minutes or less.

Yes, you can get car insurance from Noblr. The company offers comprehensive and collision coverage, along with rental car coverage and roadside assistance. Prices are based in part on your driving behavior, so you are in control of your costs. Policies are available in Arizona, Colorado, Louisiana, Maryland, New Mexico, Ohio, Pennsylvania, and Texas.
The Best Way to Save on Home Insurance
Want to know how low your policy can go? Get a real quote or two, or several, with Insurify today.
Noblr Insurance Overview
Noblr offers homeowners, condo, renters, and umbrella insurance to protect you and your family if disaster strikes. The optional coverages and available discounts can lower your premiums while making sure you get the coverage you need.
However, relying on one company to give you the best homeowners insurance rate is like skating on thin ice. You think you're getting the best protection, but you can't be sure.
That's why it's essential to compare your quote with other insurers. Insurify helps you compare home insurance quotes in a matter of minutes.
Noblr Home Insurance Contact Information
| Department | Contact |
| --- | --- |
| Customer service phone number | 1 (877) 236-6257 |
| Claims service phone number | 1 (877) 236-6257 |
| Website | www.noblr.com |
Use Insurify to compare homeowners insurance premiums for your property in your area.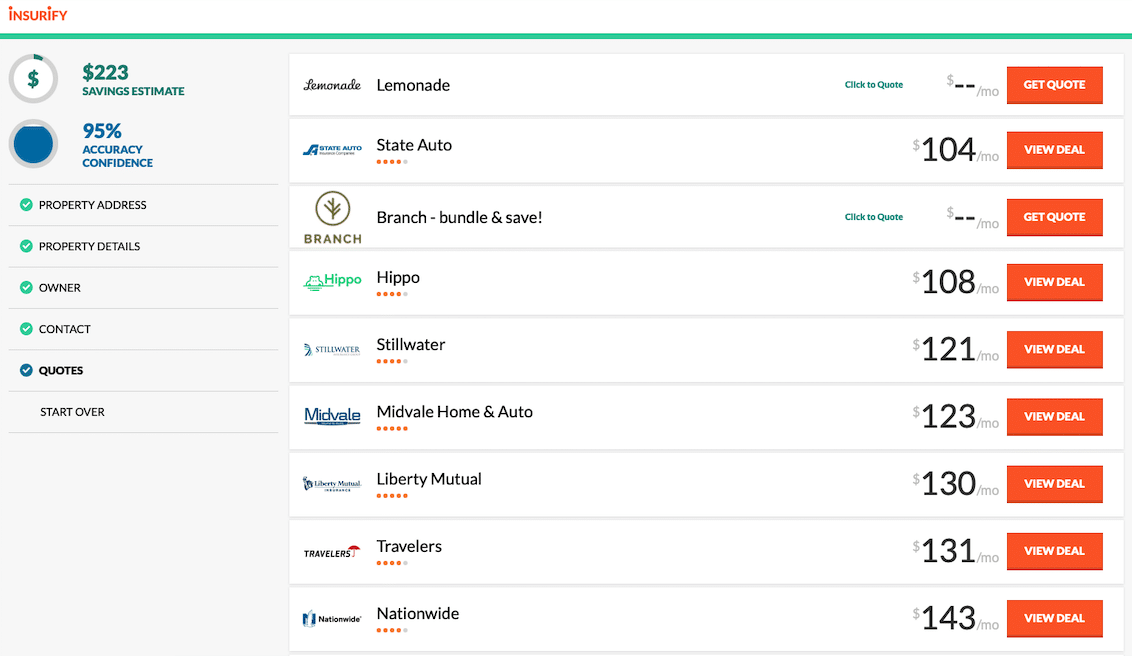 Compare Car Insurance Quotes Instantly
Personalized quotes in 5 minutes or less
No signup required
Data scientists at Insurify analyzed over 40 million auto insurance rates across the United States to compile the car insurance quotes, statistics, and data visualizations displayed on this page. The car insurance data includes coverage analysis and details on drivers' vehicles, driving records, and demographic information. With these insights, Insurify is able to offer drivers insight into how their car insurance premiums are priced by companies.