Do I need mortgage insurance as a homeowner?
Depending on your home loan type, you may be required to purchase mortgage insurance that covers the lender.
With the availability of first-time homebuyer programs and home loans that allow for smaller down payments, homebuyers don't always need to save up for a 20 percent down payment. In some cases, homebuyers can qualify for a loan with a down payment as low as 3.5 percent. This is made possible by mortgage insurance, which is an insurance policy that protects the mortgage lender in case the homeowner stops making mortgage payments.
Mortgage insurance is a protection that lowers the risk to the lender. This has allowed many Americans the opportunity to secure a home loan they might not otherwise be able to qualify for—as hitting the 20 percent down payment target can be a daunting goal.
If you're first learning about mortgage insurance, you probably have a lot of questions. Are mortgage insurance and homeowners insurance the same? Is there any way to avoid paying mortgage insurance? How long are you required to have mortgage insurance? Here, we explain everything you need to know about mortgage insurance and what to be prepared for.
What's the Difference Between Home Insurance and Mortgage Insurance?
The path to homeownership can be tricky to navigate, especially when in the process of securing a loan. Most lenders require homebuyers to purchase a homeowners insurance policy to receive a loan. If your down payment is less than 20 percent of the home purchase price, then you'll also be required to get mortgage insurance.
Although home insurance and mortgage insurance sound similar, these are two unique types of insurance that have unique purposes and protect different entities. Home insurance insures the homeowner or loan borrower by protecting your home and possessions from damage or theft. Many home insurance policies will also cover additional structures on your personal property, such as fences or sheds. This will protect you, the homeowner, from financial loss if something happens to your home or your personal belongings.
On the other hand, mortgage insurance does not insure the homeowner. Instead, it insures the mortgage lender in the event that the loan borrower stops making mortgage payments.
Mortgage insurance helps minimize risk for mortgage lenders. When lenders issue loans, they assess the borrower 's credit score and history, income history, down payment, and other factors. Even if you have perfect credit and great income, a down payment of less than 20 percent can be perceived by the lender as higher-risk. This is why lenders often require homebuyers to purchase mortgage insurance when they owe more than 80 percent of the home's value—to minimize the potential risks of non-payment.
Is Mortgage Insurance Required for All Home Loans?
Not all homebuyers can afford a large down payment up front. In fact, the average down payment by first-time homeowners was seven percent in 2020. For all homebuyers in 2020, the average down payment was 12 percent. So, in the very common scenario where your down payment is less than the "golden standard" of 20 percent, purchasing mortgage insurance is required to provide financial protection for the lender.
Purchasing some form of mortgage insurance, whether it's private mortgage insurance ( PMI ) or paying an additional mortgage insurance premium ( MIP), is typically required when you finance more than 80 percent of your home. The type of mortgage insurance may vary, depending on the type of loan you get.
Conventional Loans
First, there's the conventional loan that allows you the greatest amount of flexibility on your home purchase. Many lenders offer conventional loans with low down payment requirements with the requirement of paying for PMI. In most cases, the monthly PMI premium is included in your mortgage payment.
Once you have over 20 percent equity in your home, you can request PMI cancellation. Home equity is calculated by taking the current market value of your home and subtracting any liens (debts) attached to that home. Some homeowners may choose to make early payments on their mortgage to reach 20 percent home equity sooner to stop paying PMI and save money on the entirety of their mortgage.
FHA Loans
These loans are insured by the Federal Housing Administration. Homebuyers who get an FHA loan may see benefits such as lower down payments (as low as 3.5 percent in some cases), lower closing costs, and easier credit qualifications. Instead of a PMI, FHA loans require you to pay an up-front and monthly MIP.
With most FHA loans, you will pay an up-front MIP that is equal to 1.75 percent of the total loan amount. You will also be required to pay an annual MIP that ranges between 0.45 and 1.05 percent of the average outstanding balance of your loan for that year. The annual MIP can be paid in monthly installments.
Although FHA loans are easier to qualify for and come with nice benefits, you will have to pay an MIP for the entire life of the loan if your down payment was less than 10 percent. If your down payment was greater than 10 percent, then you can ask to cancel MIP after making mortgage payments for 11 years.
Compare Car Insurance Quotes Instantly
Personalized quotes in 5 minutes or less
No signup required
How Can I Avoid Paying Mortgage Insurance?
Although paying mortgage insurance can make homeownership more attainable, the additional monthly cost adds up over time. If you'd like to avoid paying mortgage insurance, here are some things you can do.
- Save more. If the thought of paying mortgage insurance bothers you, it may be better to delay your home purchase and save for a larger down payment. This is the easiest way to avoid paying a PMI. In a competitive market, having a larger down payment can also make your offer more attractive to home sellers.

- Ask the lender to pay mortgage insurance. Although rare, there are some lenders that will cover the cost of mortgage insurance. This is called lender -paid mortgage insurance (LPMI). There is a downside, though. You may end up paying a higher interest rate on your mortgage. If you consider this option, make sure to carefully analyze your options. If you think you can make advance payments on your mortgage and cancel PMI early, you might end up saving more by paying PMI on your own and having a lower mortgage interest rate.

- Find a special program. From time to time, lenders offer down payment options without requiring a PMI. These programs may be for first-time homebuyers, low-income buyers, teachers, or doctors. If you're working with a mortgage broker, they may be able to find a special loan program that best suits your needs.

- Apply for a USDA or VA loan. If you qualify for a Veterans Affairs (VA) loan or a U.S. Department of Agriculture (USDA) loan, you might be able to get a mortgage loan without a down payment and no PMI. Instead, you may need to pay a "guarantee fee" or "funding fee," which is a one-time fee that ranges from one to four percent of the loan amount.

- Refinance your home. If you already purchased a home and make PMI payments, you may consider refinancing your mortgage if interest rates are low. Not only could this help you save on interest or reduce your monthly payments, but if your new mortgage balance is below 80 percent of your home's value, you may be able to take PMI out of the equation.
How Do You Make Mortgage Insurance Payments?
The process of making mortgage insurance payments is simple. Your monthly mortgage payments involve more than just your mortgage principal and interest. It includes additional line items that are added to an escrow account managed by your mortgage servicer. These funds added to your escrow account are issued to the correct creditor, usually at the end of the year. This simplifies the process for the borrower and the lender.
Below are typical line items you'll see in a monthly mortgage payment:
Mortgage principal: the amount you borrowed from a lender to buy your home

Mortgage interest: the amount of interest you owe on your home loan

Mortgage insurance: either PMI or MIP you owe to the lender

Home insurance: premiums for your homeowner's insurance policy; does not include your deductible or any claims made with your insurer

Property taxes: Estimated property taxes for the year. If this is overestimated, you may receive a check for the excess amount charged. If this is underestimated, you may owe money at the end of the year, or the mortgage servicer may increase your monthly mortgage payments for a certain period of time to make up for the underestimation.
It's important to understand how much you're paying for each line item. You might realize that you're paying too much in home insurance, for instance. By finding a more affordable policy and saving in that bucket, you can lower your overall monthly mortgage payment —and paying a monthly PMI won't feel as tough on the wallet.
Mortgage Insurance Frequently Asked Questions
Most likely. Smaller down payments of less than 20 percent typically require mortgage insurance paid by the borrower.

PMI is calculated by a few factors, including your credit score. Lenders will typically charge lower PMI fees for borrowers with higher credit scores.

This is an acronym for "mortgage insurance premium" and is essentially a type of mortgage insurance. Although PMI and mortgage insurance seem synonymous, FHA loans require MIP.
Is Mortgage Insurance Right for You?
The thought of an extra monthly payment can seem daunting at first, but paying mortgage insurance shouldn't be perceived as a waste of money. Depending on your situation, paying a monthly mortgage, even with the cost of mortgage insurance, may be more affordable than paying rent. Or you may value having a stable monthly payment instead of worrying about unpredictable jumps in rent. There are many instances where paying a small monthly mortgage insurance fee may make the most sense for your personal finances.
Bottom line: If you're seriously considering buying a home but don't have a 20 percent down payment saved up just yet, you shouldn't let the thought of paying mortgage insurance automatically deter you. You can always make extra mortgage payments early to cancel mortgage insurance early, or you can find savings in other areas of your monthly mortgage payments to feel more comfortable with the expense of mortgage insurance.
With the Insurify comparison tool, you can find a great, affordable home insurance policy in mere minutes—without the need to contact an insurance agent. You might even be able to lower your monthly mortgage payments by shopping for a new policy.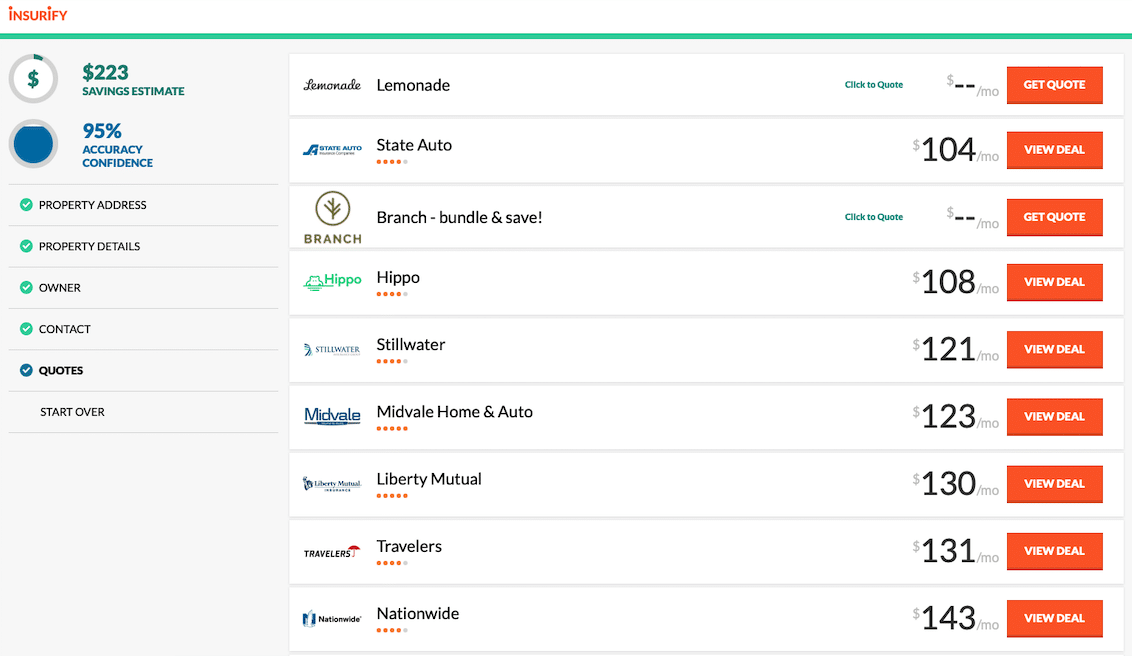 Compare Car Insurance Quotes Instantly
Personalized quotes in 5 minutes or less
No signup required
Data scientists at Insurify analyzed over 40 million auto insurance rates across the United States to compile the car insurance quotes, statistics, and data visualizations displayed on this page. The car insurance data includes coverage analysis and details on drivers' vehicles, driving records, and demographic information. With these insights, Insurify is able to offer drivers insight into how their car insurance premiums are priced by companies.