The world of real estate ownership is vast, complicated, and expensive. But getting the right insurance for your property can be a different experience…with the right company on your side.
Overview: Kin Insurance
According to Zillow, the typical homeowners insurance annual premium costs $420 per $100,000 of home value. But, if you live in areas with prone to natural disasters or property crime, you'll likely be paying more. A lot more.
That's why dozens of game-changing companies in the financial services and insurance industry have been cropping up over the last decade. Kin Insurance is relatively new to the game of homeowner's insurance. Founded in 2016, the startup's motto is "homeowners deserve better." And the plan for delivering on this promise includes:
Technology that simplifies the entire experience from quotes to claims

Selling directly to keep costs low

Friendly insurance agents ready to help
Though new, Kin Insurance has some of the lowest rates in the business due to minimal carrying costs and strategic partnerships. However, there are two significant drawbacks: it is only available in a few states, and agents are not available in person. Customers can contact agents over the phone, email, or through a chat service on the site.
How Does Kin Insurance Work?
Kin Insurance is an insurance provider. It currently offers coverage options in California, Florida, Georgia, Alabama, and Texas.
Though the location may be limited, the home insurance coverage options by structure type are not. Customers can insure:
Traditional homes

Mobile homes

Condos

Seasonal or vacation homes

Homes used as a rental property
Home insurance coverage options are broken into six categories. Most policies will cover most, if not all, of these categories. These include:
Dwelling coverage for your home's physical structure

Other structures for your fence, shed, or detached garage

Personal property for the valuables inside your home

Loss of use for living expenses if a covered claim makes your home inhabitable

Personal liability if you're held responsible for injuries of another person

Medical payments to pay for immediate medical expenses of anyone injured at your home
Most homeowners in the states Kin serves can complete the entire quote process online. The exception would be if their home has some unique underwriting considerations, like a much older roof or pending repairs. Kin doesn't offer renters insurance just yet. They ask policyholders to complete 4-point inspections, which is typical for insurance companies in Florida and California. That can be completed via self-inspection or with an in-person licensed inspector.
The (very nice) agents will walk you through policy options and help you make a decision. They generally break down your options into two categories:
Lowest cost

Most responsible coverage
This does make it easy to know your options and make a choice. However, compared to more established insurers like Allstate or State Farm or a company that offers home insurance comparison, like Insurify, Kin is quite limited. And the process does take longer as a homeowner must first speak with an agent before receiving a quote.
Once customers agree on a policy with their agent, they will receive electronic documents to sign and return. That's followed by a home inspection by an underwriter. Overall, this is a typical process in purchasing a policy.
On a final note, Kin Insurance has made some great partnerships with companies that monitor and protect your property. This includes water detection and home security systems. Additionally, if you are a Florida resident, you'll be offered information about wind mitigation credits to lower your premium even more.
Pro: Responsive customer service and easy-to-use technology

Con: You may need to speak with an agent before receiving a quote and limited options are available
Compare Home Insurance Quotes Instantly
Personalized quotes in 5 minutes or less
No signup required
Kin Insurance Discounts
Homeowners insurance policies are expensive across the country. To make things more affordable for customers, most insurance carrieroffer discounts for things that keep costs low for customers and the company's bottom line. Kin offers several options to help you lower costs and protect your home, while helping Kin save money as well.
Discounts include:
Fire and security alarm discount

Water leak detection and mitigation device discount

Wind mitigation credits

Fire mitigation discount

Claims-free discount

Responsible repair discount

Accredited builder discount

Electronic policy discount

Community-based discounts

Mature homeowner discount

New homeowner discount

LEED-Certified Home Discount

Pay in full discount

Bundled policy discount (coming soon)

Loyalty discount
Exactly which discounts are available to you will depend on your home's structure and where you live.
Lastly, you can also save on your monthly premium by raising your deductible. That's the amount you agree to pay out of pocket in the event of a claim. Just don't raise it so high you can't cover the cost if the time comes.
See more: Florida Homeowners Insurance Quotes
Kin Insurance Reviews: Here's What Customers Are Saying…
Kin has more than 1,300 reviews on TrustPilot, 89 percent of which are 5 stars! Here are some recent customer reviews:
But not all customers have offered such glowing remarks:
Know that there are always options out there if you're looking for the cheapest home or renters insurance. Insurify lets you compare insurance quotes and unlock discounts from multiple insurance providers, so you're empowered to secure the best homeowners insurance deal for you…and so you don't have to scramble to get homeowners quotes on multiple sites!
Kin Homeowners Insurance Reviews by Rating Agencies
As a new home insurance company, reviews are limited for Kin Insurance. Here's what we could find as of this update:
Better Business Burea: A+ Rating

Demotech Financial Strength Rating: A (Exceptional)

J.D. Power Customer Satisfaction Rating: Not Yet Rated

A.M. Best: Not Yet Rated

NAIC Complaint Index: 0
The National Association of Insurance Commissioners (NAIC) methodology for calculating the complaint index is to divide the market share of complaints by the market share of premiums written. The lower the number, the better. The NAIC has reported that no complaints have yet been received from Kin Insurance.
More about Kin Insurance
Kin Insurance is headquartered in Chicago, Illinois, by CEO Sean Harper, CTO Lucas Ward, and Senior Software Engineer Stephen Wooten. These co-founders come from a background with tech companies, including Groupon (an investor) and Fundspire.
Articles about Kin Insurance Inc. can be found in TechCrunch, Economic Times, and Insurance Journal.
What Types of Insurance Products Does Kin Offer?
In addition to home insurance policies, Kin offers affordable coverage for:
Landlord insurance

Flood insurance

Earthquake insurance

Hurrican insurance

Wildfire insurance
Kin does not at this time offer policies for car insurance, life insurance, or umbrella insurance.
Contact Kin Insurance
Contact information
For Policy Support
855.216.7674
support@kin.com
For Quotes
855.717.0022
sales@kin.com
For Claims
866.204.2219
claims@kin.com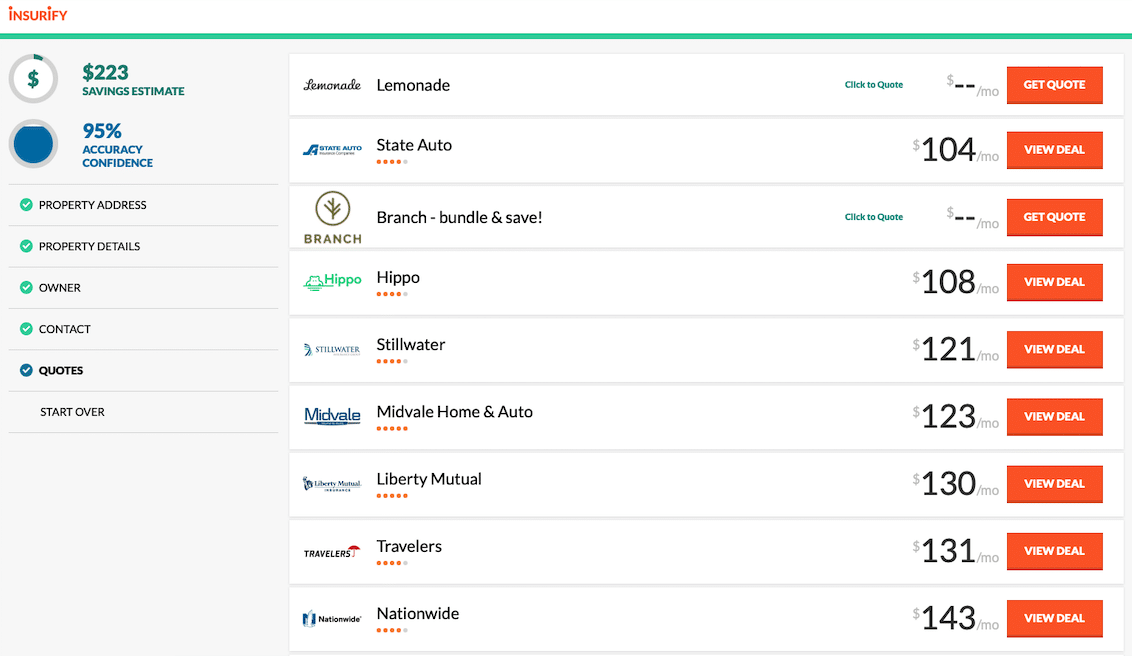 Compare Home Insurance Quotes Instantly
Personalized quotes in 5 minutes or less
No signup required
Data scientists at Insurify analyzed over 40 million auto insurance rates across the United States to compile the car insurance quotes, statistics, and data visualizations displayed on this page. The car insurance data includes coverage analysis and details on drivers' vehicles, driving records, and demographic information. With these insights, Insurify is able to offer drivers insight into how their car insurance premiums are priced by companies.