What is a homeowners insurance declaration page?
Declarations pages are part of every homeowners insurance policy. It will summarize the coverages provided by your unique policy.
Homeowners insurance covers many different types of problems that can afflict homeowners. While every detail of how your insurance coverage works are spelled out in your homeowners insurance policy, you'll also find a homeowners insurance declaration page, or dec page, at the beginning of your policy. Your insurance declaration page will also inform policyholders of their policy terms like effective dates and expiration dates, policy limits, and any add-on products purchased from their insurer, and many other details pertaining to your home insurance policy.
The declaration page can be very useful in certain circumstances, such as when you need proof of insurance, and it can also save you from having to dig through the entire policy to unearth some detail.  Your homeowners policy's insurance declarations page is basically your own personalized FAQs. You may be familiar with a dec page from your car insurance, renters, or life insurance policies. If you've just secured a new policy, it's not a bad idea to review your dec page to ensure that you've successfully secured the coverages you were looking for.
Insurify lets you compare homeowners insurance quotes in a matter of minutes. No commitment, no hassle. See how much you could save on home insurance today!
What is a homeowners insurance declaration page?
The declaration page is a sort of summary of your home insurance policy. It generally shows up as the first page of your policy documents and serves as an invoice as well. In fact, most insurance companies include the declaration page every time you renew your homeowners insurance policy, though some only include it with the initial policy documents.
A declaration page usually starts with your policy number somewhere near the top. This is important information if you ever need to file a claim on your homeowners insurance. You'll also see the insurance company's name and contact information, your name, the property address, and the policy period (the dates when the policy both begins and ends). If you bought your policy through an insurance agency, their information will likely show up on the declaration page as well.
Some declaration pages go into a bit more detail about your home, including factors such as the type of home construction (i.e. manufactured, masonry, or stick-built), the roof material, and anything else that might have an impact on your policy or premiums.
A bit further down on the page you'll see details on your homeowners policy coverage and limits. This includes your deductible, the types and amounts of coverage included in the policy, and possibly other details. Use your declarations page for informational purposes and also as a contract between you and your insurance company.
Most homeowners insurance policies break down their basic coverage amounts into six different types:
Dwelling: The amount of coverage that applies to the structure of your house

Other structures: Coverage related to structures on your property that aren't attached to the house itself, such as fences and outbuildings

Contents: Personal property coverage

Loss of use: If you have to live elsewhere for a while because of damage to your home, this coverage helps pay for those living expenses

Personal liability: This coverage helps pay for nonmedical expenses that come up when you're found liable for someone else's loss; for example, if your dog bites the mailman and he sues you, liability coverage will help pay the legal bills

Medical payments: If someone else is injured on your property, this coverage will help pay those medical bills
If you have any other types of coverage on your homeowners policy, these supplemental coverage limits may also be listed on the declaration page.
Since the declarations page is also an invoice, you'll find information on your premium, insurance down payment, billing period, and possibly any discounts you qualified for. Premiums for supplemental coverage are sometimes listed separately from your main homeowners insurance premium.
See more: Texas Homeowners Insurance Quotes
See more: Georgia Homeowners Insurance Quotes
See more: Florida Homeowners Insurance Quotes
What's NOT in a homeowners insurance declaration page?
The declaration page is a summary, and not every important detail will show up here. For example, if your homeowners policy doesn't cover additional coverage like earthquake damage, the declaration page may not include this detail (although it will certainly show up somewhere in the body of your policy documents).
In some cases, the home insurance declaration page won't include certain added types of coverage, such as identity theft coverage. In that case, you'll need to peruse the policy itself to confirm that you got all the coverage you paid for.
Compare Car Insurance Quotes Instantly
Personalized quotes in 5 minutes or less
No signup required
Declaration Page - Frequently Asked Questions
Every home insurance policyholder has a declaration page. Also known as a dec page, this document lists, sometimes in painstaking detail, the coverages and protections your insurance policy covers.

If you need to show proof of insurance to a mortgage lender or anyone else, your declarations page may suffice. Evidence of insurance is generally a separate document within the policy, but the dec page could do the trick if all you need is proof of insurance.

Yes. The dec page will provide you piece by piece information about what your home insurance policy covers and what it does not. If you ever have a question about whether or not something is covered, you can refer to your declaration page to avoid needing to call your insurance company. This can also help you avoid filing a claim for something that is explicitly excluded on your policy, as this would be detailed on your dec page.
How to Use Your Homeowners Insurance Declaration Page
The declaration page is the quickest and easiest way to prove that you have an active homeowners insurance policy. For example, you'll likely need to send a copy of your declaration page to your mortgage provider to prove that you've met their minimum coverage requirements.
You can also use the declaration page to verify that your policy was set up as you intended. At the very least, compare your deductible, premium, and coverage limits with the amounts you agreed to when you signed up for the policy. You'll also want to check for discounts to confirm that you saved every possible bit of money on the policy. If you're missing a discount that you think you should have gotten, contact your insurance agent or carrier immediately to get it added to your policy.
Assuming that your insurance company sends the declaration page every time you renew your policy, you can use it as a quick and dirty way to verify these important details every year. If not, you'll need to review the policy itself to check coverage limits and so on. If you've recently found a better home insurance rate and switched companies, your mortgage lenders may request a copy of your new declaration page.
The declarations page can be very useful when you're shopping around for lower rates at renewal time. The declaration page is a sort of homeowners insurance cheat sheet to show you just what you're getting from your policy and how much you're paying for those benefits. By comparing your declaration page to the quotes you get from other insurance providers, you can be sure that the coverage they offer is identical to your existing coverage.
Finally, the declaration page is a good place to start looking when you're considering changing your coverage. For example, if you've bought a number of expensive items over the last year, you may want to raise your content coverage a bit so that you'll be able to replace those items should a disaster occur. The declaration page makes it easy for you to see how much your coverage is right now, and compare that to how much coverage you think you'll need.
If you haven't compared rates on your homeowners insurance recently, grab your declaration page and plug the details into Insurify. You may just get a homeowners insurance quote that will save you a bundle on your homeowners insurance without reducing coverage! Your policy declarations will inform you of everything you need to know about your policy and insurance claims – Insurify can help you with the rest!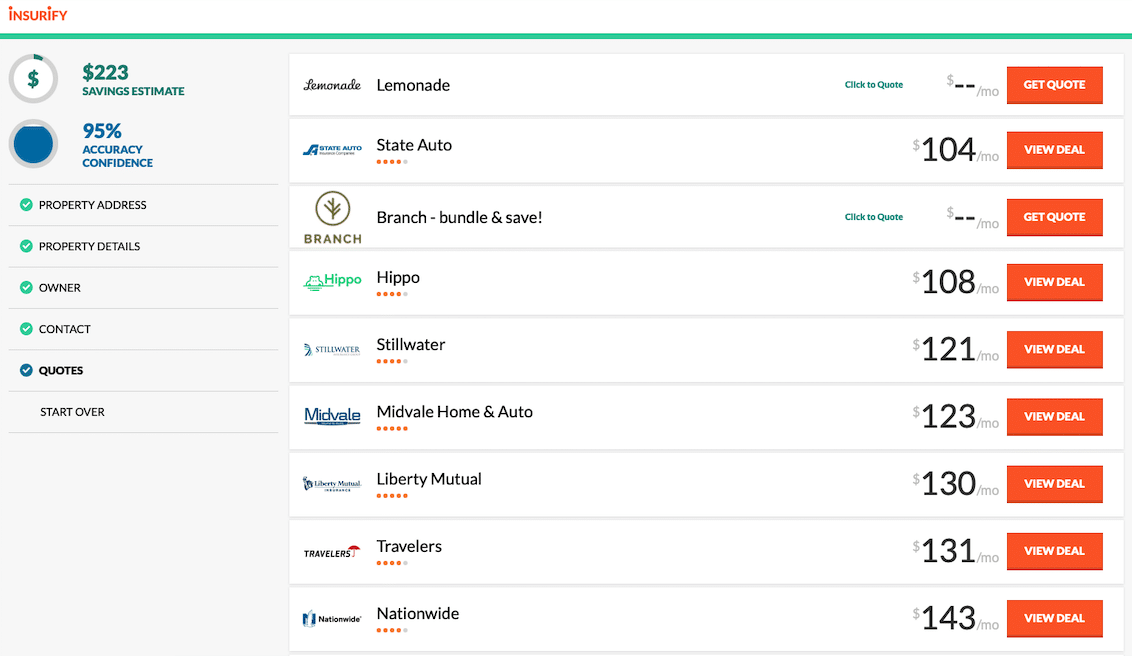 Compare Car Insurance Quotes Instantly
Personalized quotes in 5 minutes or less
No signup required
Data scientists at Insurify analyzed over 40 million auto insurance rates across the United States to compile the car insurance quotes, statistics, and data visualizations displayed on this page. The car insurance data includes coverage analysis and details on drivers' vehicles, driving records, and demographic information. With these insights, Insurify is able to offer drivers insight into how their car insurance premiums are priced by companies.