Your existing home insurance may not protect you if you're starting a renovation project.
Home improvements that increase the value of your property can also affect how much insurance you need and how much it will cost. Review your existing policy today and make sure it covers everything you need. Not all policies include home renovation insurance.
Get free home insurance quotes in minutes with Insurify, an easy-to-use tool that lets you compare quotes for home, auto, and life insurance from multiple insurers!
Does Homeowners Insurance Cover Renovations?
The short answer is: maybe. Your existing homeowners policy may cover renovations, remodels, or home improvements. It would do so under the dwelling coverage and personal liability coverage offered in your property. This is most likely the case for small DIY home renovation projects.
However, if you are doing a major renovation, you probably don't have enough coverage. You'll likely need to add coverage, including builders risk insurance. Builders risk insurance covers renovation-specific risks like vandalism and theft of materials or tools. Before we get into the nitty-gritty, we should note that it's important to speak with your insurance agent about your coverage terms. They can help you decide if you have enough coverage to protect you and your home.
How Renovations Affect Home Insurance Coverage
Any time you start renovating, remodeling, or doing home improvement projects, you need to talk to your insurance agent about it. There are two reasons why.
- First, you might not be living in the home during that time. If it's a major renovation, you may have to live elsewhere. That's a problem for your insurance policy because homeowners policies are specifically designed for owner-occupied homes. The contract you signed with your home insurance company most likely excludes losses during major renovations.

Second, you're adding value to your home. Insurance policies cover a specific replacement cost—the cost to fix damage to your home or rebuild it at equal quality. The premiums you pay are established by this cost, as well as your home's square footage. The coverage amount should match the value of your home. If the coverage amount is too low, you'll be underinsured, which could be catastrophic if you have to file a claim. At the very least, it could mean that your improvements wouldn't be covered for replacement during a disaster.
If you're adding on a new room or otherwise increasing the square footage, the American Institute of CPAs recommends specifically listing the addition on your home insurance policy.
Compare Car Insurance Quotes Instantly
Personalized quotes in 5 minutes or less
No signup required
How Certain Improvements Can Affect Coverage
Some types of remodeling or renovation can affect your homeowners insurance, for better or for worse. Here's how some of the most popular renovation strategies can affect insurance rates.
Upgraded materials: Those new granite countertops or that unique flooring can be expensive to replace, even if you don't make the space larger. Expensive materials may raise your homeowners insurance premium.

Installing a pool: This can increase your home's value but also increases the risk to you. The typical homeowners insurance coverage usually comes with $100,000 in liability insurance, which is designed to cover medical bills for someone who gets hurt on your property as well as legal expenses if they sue you. If you have a pool, though, your insurance provider might recommend $500,000 or more in liability coverage. It's common for insurers to also require a fence with a lock surrounding the pool.

Replacing the roof: Roofs aren't the most Pinterest-worthy home improvements, but they can actually make your premiums go down if you choose the right roof. This is especially true if you live in a state that's prone to hurricanes, high winds, or hail and you pick roofing materials that are designed to resist those disasters, such as hail-resistant shingles.
Types of Extra Coverage
In addition to increasing the coverage limits of your basic homeowners insurance, there are also some types of add-on insurance that are needed specifically for remodeling projects. Consider adding on these types of coverage.
Builder's risk: This is the most common type of homeowners insurance for new construction or renovation projects. This type of policy starts with low costs and rises as you complete the project because the home is more valuable. If you have a timely plan to finish the reconstruction, you'll probably qualify for a builder's risk policy.

Dwelling under renovation coverage: This type of insurance should cover two aspects of a renovation. Construction material coverage protects the building materials for your renovation while they're on your property, as well as while they're in storage or on their way to your home. If they're damaged or stolen, you can recover the cost and replace them easily. Foundation collapse coverage protects you if your basement walls collapse during renovation or construction.

Vacant home insurance: Do you need to live somewhere else for more than 60 days while your home is being renovated? Invest in vacant home insurance to protect your empty home while it's being worked on. This protects your investment in your home in case something happens while you're away, like storm damage that you didn't notice until you moved back in.

Contractor's insurance: The contractor working on your home should have liability coverage, property coverage, and workers' compensation insurance. These types of insurance protect both of you while the contractor is working on your home. Ask your contractor to provide a certificate of insurance and make a copy for your records just in case. If they use subcontractors to help finish the job, make sure the subcontractors have the right coverages too.
What insurance do I need if I'm doing the renovation myself?
Consider raising the amount of no-fault medical protection on your homeowners policy if anyone who doesn't live with you is helping with the renovation. If someone gets hurt during your DIY renovation project, they can submit their medical bills to your insurance directly. This will make it less likely that you will be sued.
What if my repairs are taking too long?
Some renovations take an unusually long time, like if you're doing the renovation yourself or paying to repair as you go. These situations are hard to insure. If this describes you, look into your state's Fair Access to Insurance Requirements (FAIR) plan. Most states have them and they're specifically for these types of situations. They offer a very basic level of insurance, but it's better than not being insured at all.
Make Sure Your Home Renovation Is Covered
If you have any questions about whether your home insurance covers your renovation project, call your insurer. They're there to answer your questions and make sure you have the insurance products you really need.
Make sure you have the insurance policy you need by comparing insurers periodically. Use Insurify to compare homeowners insurance quotes from multiple insurers in just a few minutes and find the policy that fits your home best.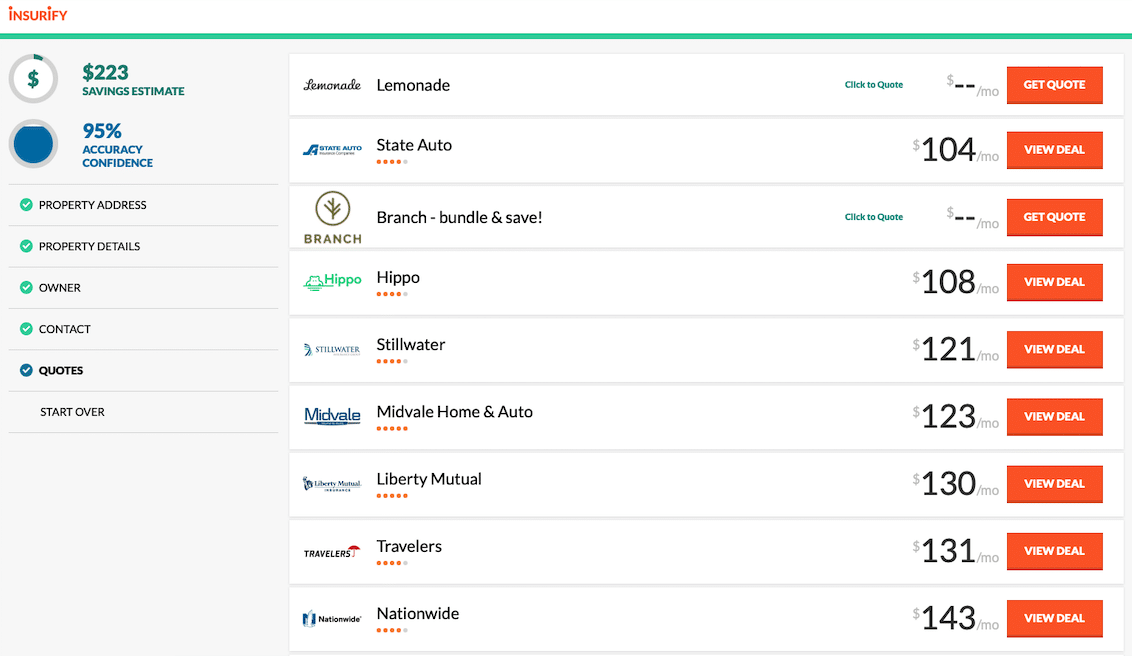 Compare Car Insurance Quotes Instantly
Personalized quotes in 5 minutes or less
No signup required
Data scientists at Insurify analyzed over 40 million auto insurance rates across the United States to compile the car insurance quotes, statistics, and data visualizations displayed on this page. The car insurance data includes coverage analysis and details on drivers' vehicles, driving records, and demographic information. With these insights, Insurify is able to offer drivers insight into how their car insurance premiums are priced by companies.