Who needs condo insurance?
Any owner of a condo, townhouse, or another co-operative home should purchase an HO-6 homeowners insurance, AKA condo insurance. This policy will offer protection for your unit and personal belongings, things not usually covered by HOA insurance.
What is HO6 Insurance?
Someone who owns their own home can purchase homeowners insurance to protect them, while someone renting an apartment can pick up renter's insurance. But what about condo owners? Where can they get coverage to protect them from disasters?
HO6 insurance, or condominium insurance, is designed specifically for condo unit owners. For homeowners in New York, HO6 insurance covers your co-op. If you own a condo or co-op, getting an HO6 policy is a smart move and often a requirement from your homeowners association.
Insurify can help you compare home insurance quotes almost instantly if you are a homeowner, or even a condo owner curious about what homeowners insurance might cost for you down the line. Just take a few minutes to enter your information, and you'll be able to compare insurance coverage limits for a homeowners policy that works for you…at no cost, no commitment.
Condo owners, read on! Find out why HO6 insurance is necessary for you, how to decide the amount of coverage you want for your place, and just what condo insurance covers.
Why Condo Owners Need HO6 Insurance
Condo owners are in a very different situation from renters or from those who own houses. Whether you have bare walls or fine art covering your condo, a solid condo insurance policy is important for all residents.
If you own a house, you own the whole building plus (usually) the land it sits on. If you rent, you're not responsible for the structure, just your possessions. But if you own a condo unit, you own a small portion of the entire building. If disaster strikes, you need some kind of additional coverage to account for any damage to the parts of the building you personally own, plus property damage for your possessions. That's precisely what HO6 insurance is designed to do.
Compare Car Insurance Quotes Instantly
Personalized quotes in 5 minutes or less
No signup required
What an HO6 Insurance Policy Covers
An HO6 insurance policy protects you against covered losses occurring in the interior structure of the unit you own. That includes the possessions you have inside your unit. For this reason, it's also known as "walls-in" insurance. In addition to property insurance, most HO6 policies also give you personal liability coverage. Liability insurance protects you in case someone decides to sue you based on something that happened inside your condo unit.
For example, if the UPS delivery driver carried a package into your unit, slipped on a toy, and broke his or her leg, the liability insurance as part of your HO6 policy would help pay the costs of the resulting lawsuit or covers damages and medical bills.
HO6 policies generally also include loss of use coverage. If damage to your condo unit prevents your living there for a time, loss of use coverage will pay for related expenses such as hotel fees and meals. Check your policy to see what types of and how much loss of use coverage it includes.
What a Condo Master Insurance Policy Covers
If you examine your list of recurring condo living expenses, you'll likely see a charge for insurance. This isn't for HO6 coverage; rather, it's for your share of the condo master policy.
Condo master insurance covers all the building's common areas, including the roof, any walls that aren't part of an individual unit, and external features like swimming pools and landscaping areas. The damage that occurs in one of these areas is the responsibility of the condo association or HOA. However, if the damage affects both a common area and one or more individual units, things can get complicated.
For example, let's say a fire starts in your unit and spreads to both the hallway (which is a common area) and your neighbor's unit. In that case, the damage might fall under your condo policy alone or some combination of your policy, the master policy, and your neighbor's HO6 policy.
How to Choose an HO6 Insurance Policy
If you got a mortgage to buy your condo unit, you're most likely required to carry HO6 coverage. Even if you don't have a mortgage, an HO6 insurance policy is just as important as a homeowners insurance policy would be to someone who owned a house.
HO6 policies come with a number of different coverage options. It's important to understand what your choices are before you pick a policy.
Your Choice of Perils
HO6 policies come in one of two forms: named perils or open peril. Named perils policies only cover specific types of problems – fire, theft, and the like. The policy will include a list of potential problems and anything not listed is not covered. Open peril policies, on the other hand, cover all types of damage except for those specifically listed as not covered in the policy.
An open peril policy will be more expensive than a comparable named perils policy, but if you're worried about damage from an unexpected source, the extra expense might be worth it.
Extra Coverage Options
The basic HO6 insurance policy is helpful, but may not be comprehensive enough to meet your needs. Policy limits may prevent you from securing the protection you desire for insurance on your personal belonging or protect against vandalism. Additional riders providing protection for covered perils not included in an HO-6 policy isn't just a good idea. It's necessary.
Consider adding one or more of these other types of coverage.
Certain types of damage are almost never covered by HO6 insurance, including flood and earthquake damage. If you're concerned about either of these types of damage, you'll likely want to get a separate policy of that type. For example, if your condo is in Southern California, earthquake insurance might be a wise investment. Similarly, flood insurance will cover the cost of any water damage to your property if you live close to a coast or in a rainy area.

Loss assessment coverage covers any damage expenses to common areas of the building that unit owners would be expected to pay, at least in part. This typically happens if the damage is significant enough that it exceeds the master insurance policy's coverage cap. Find out what the coverage limits are for your building's master insurance policy, and that will tell you if a loss assessment coverage policy would be a smart move.

If you leave your condo vacant for 30 days or more, your HO6 insurance policy may not cover any damages that occur during this time period. Vacant condominium insurance, on the other hand, is designed for just such situations. You can purchase vacant condo insurance before you leave for an extended trip to ensure that your unit will be covered if the worst happens.

Condo owners with high-value units or lots of expensive possessions may not be able to obtain HO6 coverage that's high enough to replace or repair everything. In that case, an umbrella insurance policy can be a smart purchase. Umbrella insurance takes over after you hit another policy's coverage cap. For example, if your HO6 coverage cap is $500,000, an umbrella insurance policy might offer coverage between $500,001 and $1 million.
Before deciding on extra coverage, be sure to understand what your building's master insurance policy covers. Your condo association's master policy covers what's outside of your unit, such as the roof. You pay for the premiums as part of your association dues. If the master policy will cover something, there's no need to buy duplicate coverage.
Common HO-6 Policy Discounts
While typically lower than other home insurance policies, condo insurance costs can still be high. Luckily, saving on condo insurance coverage is easy. The most common discount you'll find is for bundling condo insurance with another type of insurance policy at the same company. Often called the multi-policy discount, many homeowners bundle their home and auto insurance.
But that's not all you can bundle. Life insurance, umbrella insurance, boat insurance — any insurance policy your provider offers usually come with an additional discount.
Beyond bundling, you can find discounts for:
Setting Your HO6 Limits
Mortgage lenders, condo boards, and HOAs may all set minimum required coverage limits for your HO6 insurance policy. However, the minimum required coverage may not be enough to protect you and your possessions. HO6 policies generally have several different types of coverage caps.
Dwelling coverage protects you if the permanent fixtures in your unit (including floors, walls, ceilings, and cabinetry) suffer damage. You'll likely want to get enough coverage to completely replace the entire unit if necessary. That way, even if a fire guts your entire condo unit, you'll be able to rebuild the whole thing.

Personal property coverage protects all your possessions – basically, anything inside the unit that's not affixed to it permanently. As with dwelling coverage, the smart move is to get a coverage limit that's high enough to cover the replacement cost all of your personal property, if necessary. It's also a good idea to reevaluate your coverage at least once a year, since buying one or two big-ticket items could require a higher coverage cap in the future.

Liability coverage protects you from legal problems caused by something that happens inside your condo unit. Get coverage that's enough to protect your assets in a worst-case scenario. HO6 insurance policies usually include $100,000 in liability protection; however, if someone is seriously hurt in your condo unit and you're found to be at fault, their medical payments would become your responsibility and could be significantly higher than $100,000.

Additional living expenses may help you cover the costs of hotels or meals if you're forced out of your condo due to damage.
HO6 Insurance - Frequently Asked Questions
Yes, you still need your own separate insurance. Condominium owners still need to protect their belongings and cover liability. Homeowners need a full homeowners insurance policy, just like they would if they didn't belong to an HOA.

Like homeowners insurance, condominium master policies don't cover everything. There may be exclusions for things like earthquakes, hurricanes, and flooding. Check to see if the condo's board members have bought extra coverage for these kinds of incidents.

Because your fees are paying for the master policy, you have the right to ask whether the condo's board has purchased the right kind of insurance in the right amount (some states or communities have a required minimum limit). You can also check to see if they bought the best value for the best price—sometimes, boards just automatically renew the policy rather than shopping around for quotes.
Getting HO6 Insurance at a Good Price
Before you sign up for any condo insurance policy, make sure that you compare rates from at least a few different insurance companies. All HO6 insurance companies look at roughly the same factors when setting their prices (including the age of the building, your location, and your deductible and coverage limits), but different insurance companies weigh these factors differently.
As a result, identical policies may be priced very differently by different insurance companies. If you wish for an in-person consultation, a licensed insurance agent can help you with your comparison shopping journey.
Whether you're a snowbird who jets south to Florida to your beachside wintertime condo, or your condominium association or homeowners association requires HO6 special form, Insurify can help you lower your insurance costs.
It's also wise to comparison shop every time your HO6 insurance policy comes up for renewal. You may find that a different insurer is now much cheaper than your existing one. Even if you don't want to change insurance companies, this can be valuable information to have – you can then call your existing condo insurance company and tell them that their competitor is offering you attractive condo insurance quotes, then ask if they can match that rate. There's an excellent chance that your existing company will at least offer you a discount to keep you as a customer.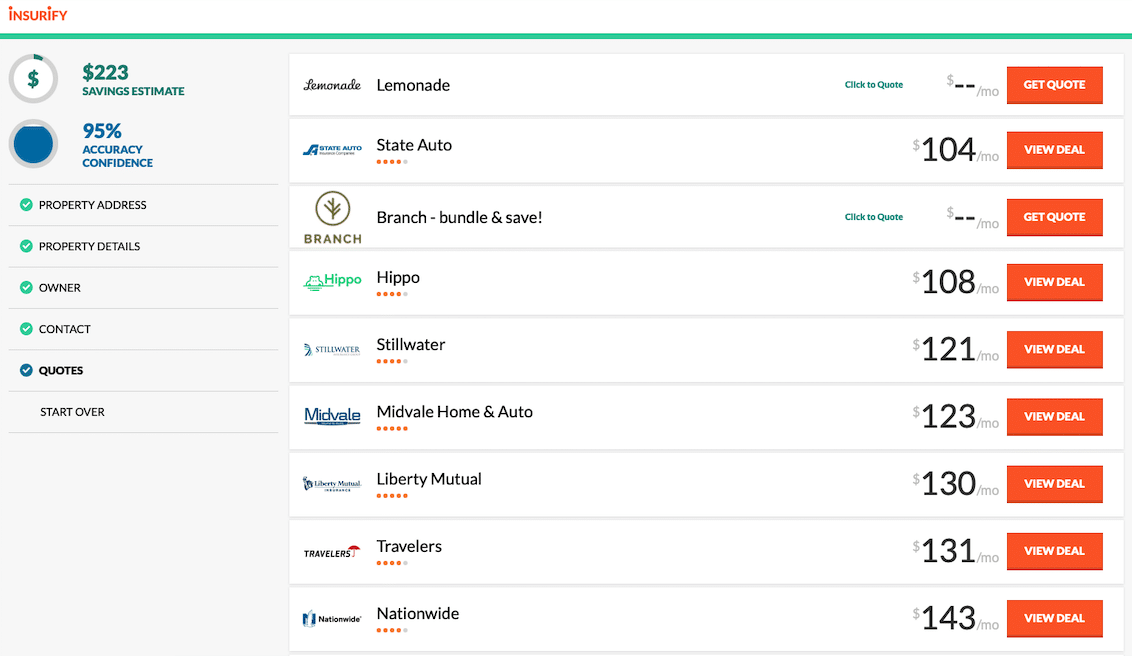 Compare Car Insurance Quotes Instantly
Personalized quotes in 5 minutes or less
No signup required
Data scientists at Insurify analyzed over 40 million auto insurance rates across the United States to compile the car insurance quotes, statistics, and data visualizations displayed on this page. The car insurance data includes coverage analysis and details on drivers' vehicles, driving records, and demographic information. With these insights, Insurify is able to offer drivers insight into how their car insurance premiums are priced by companies.