To ensure you're fully compensated for damages after disaster strikes there are a few tips to follow so that damages don't fall on you, the homeowner. If your home falls victim to damage from fire, wind, theft, or another disaster, the last thing you want to deal with is the logistics behind home insurance claims. Unfortunately, even in times of hardship, the burden of filing insurance claims fall on the policyholder. Fret not,, there are steps you can take to ease the process of filing and get the most out of a home insurance claim. Filing an insurance claim is a complex process, which inevitably occurs during a stressful time of life, let's minimize the headaches. Here's Insurify 's guide to how to get the most out of your home insurance claim. Insurify lets homeowners compare half a dozen or more quotes from top insurance companies in a matter of minutes — for free.
The Insurance Claims Process
Depending on the depth of damage that occurred after an incident, whether that's a natural disaster or theft, it will determine the complexity of an insurance claim. That being said, the more damage that's occurred, the more work will have to go into the insurance claim. Check out Insuri f y 's full guide to filing a home insurance claim .
Step One: Finding the Right Homeowners Insurance Policy
Before you file a home insurance claim though, and ideally before any accidents happen, ensuring you have sufficient homeowners insurance is a vital step in responsible homeownership. The last thing you'll want to deal with after a disaster is realizing your insurance coverage is subpar or non-existent. To compare multiple quotes side by side, including special coverage options, add-ons, and policy options use Insurify.
Step Two: Document, Document, Document!
If damage has occurred from a weather-related or another disaster, the very first thing you'll want to do, even before cleaning up any messes, is document the damage. Photographing and tracking any and all damage is absolutely vital to getting the most out of your home insurance claim. Insurance adjusters will not be able to cover you for damages on your personal property if they don't fully understand the scope of the damage at the time of the accident.
Step Three: Time to File
Once you've assessed the aftermath of a storm or other disaster yourself and photographed the damage, it's time to file. Before contacting your insurance company, familiarize yourself with your policy and its coverage levels and limitations. By knowing what your policy does and does not cover prior to your conversation with a claims adjuster, you'll be demonstrating your familiarity with the policy, showing the insurance company that you're not to be taken advantage of. Make sure you're aware of your insurance company 's unique claims process that should be outlined in your policy- it's vital that you meet all deadlines and other contractual obligations to avoid any unnecessary hurdles during the claims process. If you have a reasonable understanding of your policy limits and coverages, you'll be better prepared to defend the parts of your policy that may be up to the interpretation of an insurance adjuster. By the way, the documentation should continue through this process. Be sure to keep records of every phone call you have with insurance agents, including their name, title, the date, and the topics discussed. This could assist you if there are any discrepancies in the latter part of your claims process. Once you've presented documentation of all damages to your insurance claims adjuster, there may be some back and forth on negotiation for a proper settlement. If you feel the coverage your insurance company is offering you is not sufficient or does not adequately meet the limits of your policy, don't hesitate to negotiate for the settlement you feel you deserve. Oftentimes, insurance companies will return with a counteroffer that better meets your expectations- remember, it never hurts to ask! It's welcome and expected to n egotiate your total property insurance settlement offer.
Tips for a Headache-Free Insurance Claims Process
The process of filing a home insurance claim can be time-consuming, complex, and stressful, but it doesn't have to be. Here are a few tips to keep in mind while dealing with this process– from policy choice to payout.
Get in a Good Headspace
If disaster strikes at home, whether it's a natural disaster like a wildfire or petty theft, it can leave homeowners upset, stressed, and at a loss– and rightfully so. But prior to getting on the phone, and inevitably waiting on hold with an insurance industry representative, it's important to be mentally prepared. Be diligent and firm while on the phone with your insurance company, and remember, they are there to assist you during this time, but you're still your own biggest advocate, so stay on the ball.
Let The Experts Do The Work
You may hesitate if your insurance company requests access to have their professionals investigate damages in your home. By allowing the insurance company to survey damage themselves, you may end up with a better outcome in terms of payout. During this process, you and the insurance company will work together to physically remove debris to accurately document the value of the damages inside and around your home. Once you've decided which repairs need to be done, compare bids from contractors. If you're forced to temporarily relocate during reconstruction, be sure to keep any receipts for additional living expenses, which may be covered by your policy. You may want to consider hiring a third-party public adjuster to advocate on your behalf. These for-hire licensed professionals can represent you during the homeowners insurance claim process and be in charge of communicating on your behalf with your insurance company.
Compare Car Insurance Quotes Instantly
Personalized quotes in 5 minutes or less
No signup required
Getting the Most Out of Your Home Insurance Claim
There are a few steps homeowners can take to get the largest payout possible from their home insurance policy. After disaster strikes, the most important thing you should do is document everything, even before cleaning up. Photograph any structural problems or water damage that may have occurred from an accident.  If you have to do any temporary repairs to wait out the time it takes before your insurance claim is taken care of and your home can be repaired, be sure to keep all receipts and take note of any further damage that may occur. Take notes on any phone calls you have with your insurance company and be sure to familiarize yourself with the details of your policy before getting on the phone with an adjuster.

If your home is a total loss after an accident, your home insurance company will refer to the replacement cost listed on your policy to determine your payout after a home insurance claim has been filed. If the replacement cost was inaccurate on your insurance policy, you may be in big trouble. That's why it's so important to maintain an accurate insurance policy, to ensure that policy covers any damage that may occur during an accident.

The last thing you want to be worrying about after a home break-in or weather disaster damages your home is, "Is this going to be covered?". To properly protect your property investment, sufficient homeowners insurance is vitally important. If you think your home insurance may not accurately represent the value of your home, or your coverage options are too low, consider shopping for a new homeowners insurance policy. On Insurify, you can compare numerous home insurance quotes in a matter of minutes- all for free.
Getting the Most Out of Your Home Insurance Claim
Dealing with the recovery process after your home has suffered a disaster is a challenging job, but your homeowners insurance company should be there for you every step of the way, including the claim filing process. Maximize your home insurance payout by consulting with a company-issued adjuster and your own hired public adjuster. Document every conversation you have with insurance company representatives, contractors, and mortgage companies, and don't forget to photograph all damage, even before cleaning up. Filing a home insurance claim can be a stressful process, but you can maximize your settlement offer by following this guide. And if you think you may be underinsured, shop for a new home insurance policy with Insurify.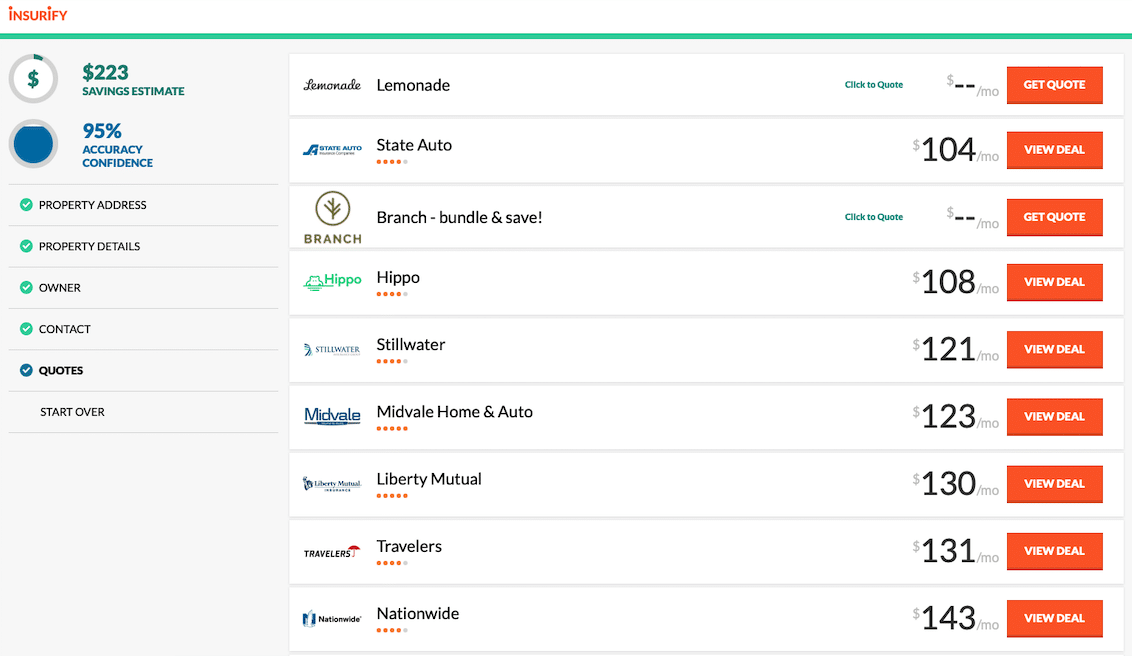 Compare Car Insurance Quotes Instantly
Personalized quotes in 5 minutes or less
No signup required
Data scientists at Insurify analyzed over 40 million auto insurance rates across the United States to compile the car insurance quotes, statistics, and data visualizations displayed on this page. The car insurance data includes coverage analysis and details on drivers' vehicles, driving records, and demographic information. With these insights, Insurify is able to offer drivers insight into how their car insurance premiums are priced by companies.