How much is earthquake insurance?
Earthquake insurance policies generally cost homeowners around $2,000 annually, but may vary based on the unique characteristics of your home and the risk of seismic activity in your area.
Earthquakes can cause catastrophic destruction. The potential for widespread loss is greater than other natural disasters because they aren't easily predicted. Earthquake insurance can help protect you financially. But how much does earthquake insurance cost?
Earthquake insurance rates can vary by city. Typically, you pay more the closer you live to a fault line.
If you think you aren't at risk, you may want to think again. About 55 earthquakes occur every day around the globe, according to the National Earthquake Information Center. In the U.S., major ones make the news, while smaller quakes go unreported. But those unpublicized earthquakes can cause problems for homeowners and renters.
Keep reading to discover what earthquake insurance covers, how much you might pay in premiums and deductibles, and whether the cost is worth it.
And remember: one of the best ways to protect your home is with homeowners insurance. Check out Insurify 's easy-to-use insurance cost comparison tool. It helps you compare home insurance quotes and coverage options in minutes.
What is earthquake insurance?
Earthquake insurance is a type of catastrophe insurance that covers the damage and destruction a quake can cause to your home and personal property. It can also pay for temporary living arrangements if you can't live in your home while repairs are being made.
These are important considerations because most standard homeowners insurance policies don't cover earthquake damage.
You may be able to add earthquake coverage as an endorsement to your existing homeowners or renters policy. But it's also available as a separate policy from most private insurers.
California residents can get coverage from member insurance companies of the California Earthquake Authority (CEA).
According to the Insurance Information Institute (III), millions of people across 42 states in the U.S. are at risk of earthquake damage. The impacts extend far beyond the active fault lines of western states. Oil drilling and mining are increasing seismic activity, most notably in parts of Oklahoma.
The risk of earthquakes is growing, even in areas not near a fault line, increasing the potential cost of loss.
Cost of Earthquake Insurance
Earthquake insurance rates can vary by location and insurance company. The average cost of earthquake insurance premiums depends on many factors:
The proximity of the home to a fault line

The costs to rebuild the home

The construction materials used to build the home

The terms of the policy
Areas with increased seismic activity tend to have higher premiums. For instance, most states have an average policy cost between $100 and $300 per year. States with increased earthquake risk cost $800 on average per policy.
Some areas have higher premiums because they're considered high-risk areas. In San Francisco, earthquake insurance costs in California could be around $2,000 annually.
If you're a California resident, use the CEA's insurance premium calculator to discover your earthquake insurance rate.
No matter where you live, an older home is generally more expensive to insure than a new one. What your home is made of also makes a difference. Wood-frame houses can have cheaper earthquake insurance rates because they can generally withstand quake stress better than brick buildings.
Compare Car Insurance Quotes Instantly
Personalized quotes in 5 minutes or less
No signup required
Earthquake Insurance Deductibles
How much you pay for earthquake coverage doesn't end with your premiums. The policy's deductible can also result in a considerable expense.
The standard policy deductible for home insurance is typically a fixed amount. You might pay $500 or $1,000 when filing a claim. But the deductible for earthquake insurance is a percentage, not a set dollar amount. That means the amount you pay will depend on the coverage limits of your policy, which are determined by the replacement cost of your home.
According to the III, earthquake claim deductibles can range from 2 to 20 percent. States with higher risk tend to have higher percentages.
If it cost $200,000 to rebuild your home and your policy has a 2 percent deductible, you'd be responsible for the first $4,000 when filing a claim. Higher-than-average risk areas can have minimum deductibles of 10 percent or more.
Earthquake insurance for renters also has a percentage deductible. It's calculated as a percentage of your personal property coverage limit. For instance, a 2 percent deductible on a $30,000 coverage limit would be $600 that you'd be responsible for.
Homeowners and Renters Insurance vs. Earthquake Insurance
Quakes are unpredictable. They come suddenly, causing the ground to shake rapidly. They can trigger landslides, avalanches, flash floods, fires, and tsunamis. Will your insurance cover you when disaster strikes?
Homeowners and renters insurance cover several types of perils—fire, smoke, windstorms, and theft—but they typically exclude earthquakes.
It wasn't always that way. Most insurance companies covered earthquakes until the 1990s. Now, policies don't cover damage caused by land movement or landslides. That means standard home or renters insurance typically won't pay for earthquake damage.
Earthquake insurance can pick up where your standard homeowners or renters policy leaves off.
What It Covers
What your earthquake policy covers depends on your specific policy. The details can vary from one insurer to the next. Ask questions about what it might include before you purchase coverage.
In general, a typical earthquake insurance policy for homeowners covers:
Dwelling coverage: Repairs to the home and attached structures

Personal property coverage: Personal belongings, such as clothing and furniture

Loss of use: Additional living expenses if your home is uninhabitable after an earthquake hits
Your insurer may offer optional add-ons, such as building code upgrade coverage. If building codes changed after your home was built, this add-on will cover the increased costs to bring it up to code.
Earthquake coverage for renters covers your personal property. If a quake damages your computer, clothing, or furniture, your renters insurance policy will cover the replacement costs up to the policy's limit.
What It Doesn't Cover
Earthquake insurance only covers damage caused by earthquakes. That means it doesn't cover:
Fires

Vehicle damage

Floods

Sinkholes

Masonry veneer
However, other insurance policy options can cover some of the resulting damage not covered under the earthquake policy.
If an earthquake ruptures a gas line and causes a fire to break out in your home, your homeowners insurance will likely cover the fire loss. A small shift in the earth could result in a sinkhole, so consider adding sinkhole coverage to your home insurance policy. And you would need a separate flood insurance policy to cover flood damage, even if the earthquake caused a tsunami that resulted in the flood.
Ask your auto insurance company about earthquake insurance for your car. Adding comprehensive auto insurance to your policy usually covers quake damage.
Who needs earthquake insurance?
Earthquake insurance isn't mandatory. Is it right for you? It can be a smart move if your home is at risk of irreparable damage. Remember: standard homeowners insurance and renters insurance typically don't cover earthquake damage.
The decision can depend on where you live. According to the Federal Emergency Management Agency (FEMA), California tops the list for residents who need earthquake insurance. The Golden State experiences 90 percent of the country's earthquakes.
But the potential for destruction goes beyond the West Coast. According to the U.S. Geological Survey, all 50 states are at risk of damaging earthquake shaking. The states with the highest possibility of earthquake hazards are Alaska, Arkansas, California, Hawaii, Idaho, Illinois, Kentucky, Missouri, Montana, Nevada, Oregon, South Carolina, Tennessee, Utah, Washington, and Wyoming.
Even if you don't live near a fault line, earthquake insurance can protect you from financial devastation if your home is destroyed. It can help cover the cost to repair or rebuild your home after quake damage.
How to Get Earthquake Insurance
The best place to look for quake coverage is your current homeowners or renters insurance company. Ask about adding an earthquake endorsement to your existing policy. If that isn't an option, the insurer may offer it as a stand-alone policy.
You can look to other companies if your current insurer doesn't have the option of buying earthquake insurance. According to FEMA, American Family, State Farm, and GeoVera Insurance have earthquake policies available.
Californians won't have to look further than their current insurance company. California law requires home insurance companies to offer earthquake coverage. A policy is also available from insurance companies that are members of the CEA.
Your state's department of insurance can also help you find an insurance agent that offers earthquake policies. Visit the National Association of Insurance Commissioners to locate your local department of insurance office.
Cost of Earthquake Insurance – FAQs
No, standard homeowners insurance does not cover damage from quakes. Many insurers offer earthquake insurance as an endorsement to your existing policy for an additional fee. You may also purchase earthquake coverage as a stand-alone policy from a private insurance company. California residents have the option to pursue coverage through the CEA.

Standard renters insurance doesn't cover earthquake damage. If the shaking destroys your personal belongings, earthquake insurance can pay to repair or replace those items. Check with your current insurance company to get coverage. Many times, you can add an earthquake endorsement to your renters policy.

The cost of earthquake insurance varies considerably. In many states, you might pay an average annual premium of $100 to $300. But states with a higher risk for earthquakes can charge $800 on average. How much you pay can depend on how close your home is to a fault line, the risk of earthquakes in the area, the home's age, the materials used to build the home, and other factors.

Earthquake deductibles are a percentage of the policy limit. The amount can range from 2 to 20 percent. If your coverage was capped at $200,000 and you had a 2 percent deductible, you'd be responsible for the first $4,000 of your claim.
The Cost of Earthquake Insurance: The Bottom Line
Earthquake insurance coverage isn't mandatory. But it can be a valuable purchase. If you're wondering if it's right for you, there are a number of factors to consider. There isn't a one-size-fits-all answer to whether it's worth the expense to buy earthquake insurance.
Keep in mind that standard homeowners and renters insurance policies do not cover earthquake damage. Evaluate your risk level, and get a quote to find out how much coverage might cost. Then, you can make an informed decision about whether buying earthquake insurance makes financial sense for you.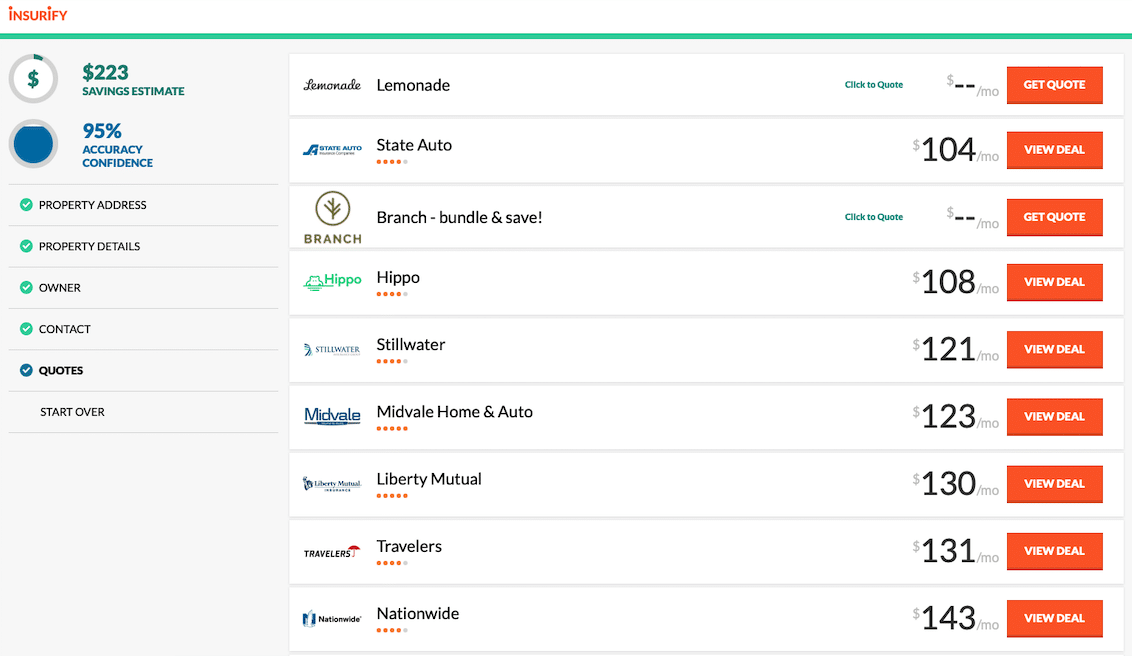 Compare Car Insurance Quotes Instantly
Personalized quotes in 5 minutes or less
No signup required
Data scientists at Insurify analyzed over 40 million auto insurance rates across the United States to compile the car insurance quotes, statistics, and data visualizations displayed on this page. The car insurance data includes coverage analysis and details on drivers' vehicles, driving records, and demographic information. With these insights, Insurify is able to offer drivers insight into how their car insurance premiums are priced by companies.