Can home insurance companies deny you coverage?
If your home is in a high-risk area with frequent extreme weather or high crime rates, they may deny you coverage.
Homeowners need insurance, but what happens when an insurer denies you coverage?
If you own a home, you're going to want to insure it. It's not just to comply with your mortgage lender if you have one—homeowners insurance is a safeguard against catastrophic financial ruin. It protects you from loss due to factors outside your control, like property damage from a windstorm.
But what happens when a primary insurance provider denies you coverage? Getting home insurance is a little more tricky when you can't use traditional routes, but it can still be done! This article will shed light on why some homeowners are denied insurance and what they can do to get insurance.
Looking for the lowdown on home and property insurance right now? Searching for home insurance on Insurify will allow you to customize your home insurance policy and is the best way to compare home insurance quotes side by side. Finding the right coverage for your home policy has never been easier.
Why was I denied home insurance?
Homeowners insurance companies may deny you a policy for many reasons. But whatever the specific reason, it's likely something indicating you or your property are high risk.
What does high risk mean? High risk means a high probability of you making an insurance claim. For example, if you own an older home, you're more likely to file a homeowners insurance claim to cover repairs and require high payouts. The risk for the insurance company is that it will pay more for your damages than it gets in return via insurance premium payments. The higher the likelihood you'll make a home insurance claim, the higher risk you pose to the insurance company.
What to Do if You Were Denied Home Insurance Coverage
Follow these steps to understand why your home insurance application may have been rejected.
Find Out Why You Were Denied
The first step is to understand why you were denied coverage. As we said, there are so many reasons you could be denied coverage. Most insurance agents will give you at least some information as to why you were denied.
Here are some common reasons:
Roof is older than 20 years

Old electrical system

Water damage

Low-quality building materials

Mold damage

Aggressive dog breed

Poor credit score

Two or more claims in the last three to five years

Home is in a high-risk area for natural disaster

Home is vacant for part of the year

You run a business from your home
Take Corrective Action
Although it is common for people to be denied coverage for reasons beyond their control, it's just as often something within their control. If you're denied coverage because of the condition of your home, there is a high probability you can fix the issue. Be sure to ask the agent about corrective action that would help you get an insurance policy, as you may find that your eligibility for home insurance is legitimate.
It may cost some money upfront to correct the problem, but once you do, you'll find a policy more quickly. You'll likely get a better rate, too. Not to mention, you'll be protecting and investing in your property.
Go Local
If the reason you were denied has to do with your location, be sure to speak with your neighbors about the home insurance companies they use. You can also ask the previous homeowners which company they used. Your real estate agent may also have ideas for you.
If the reason you were denied has to do with the property or how you use it, speak with a local insurance company. Smaller, local companies are usually able to service higher-risk homes and complicated policies more quickly than a larger company.
Go International
You can also look into surplus line insurance, which specializes in insuring high-risk situations. Most surplus line insurance companies operating in the U.S. are based in Great Britain. These companies do not need a license to work in your state and are not subject to the same risk regulations that standard insurance companies must abide by.
The main drawback of surplus line insurance is the expense: these policies will cost more than your standard homeowners policy. However, these policies are incredibly agile. They're able to incorporate non-standard risk and special underwriting.
As a final note, surplus line insurance can be used for flood insurance in addition to your standard homeowners insurance policy. For some policyholders, a surplus line policy is more advantageous than the Federal Emergency Management Agency (FEMA) flood insurance program.
Look for a FAIR Plan
If all else fails, there are Fair Access to Insurance Requirements (FAIR) Plans. Created in the 1960s, these plans allow people in high-risk areas access home insurance. This option works best for people living in areas at high risk for floods, earthquakes, wildfires, and hurricanes.
FAIR Plans are by your state insurance department but are part of the National Flood Disaster Program. Some states do not offer a FAIR Plan, while some states have more than one FAIR Plan. Because of this, each plan differs significantly when it comes to fine print.
Though the fine print may differ, there are some general similarities:
Windstorm damage coverage

Riot or civil unrest damage

Vandalism and theft coverage

Higher premiums or deductibles than typical plans
Lastly, FAIR Plan coverage is not guaranteed. Homeowners may be required to invest in home improvements to repair and protect their homes. If they do not comply, they may be denied coverage. Your state's local Department of Insurance may be able to help.
Frequently Asked Questions
If you've made two or more homeowners insurance claims in the last few years, you're going to have some difficulty finding insurance coverage. But all is not lost! While many large companies have strict thresholds for too many claims, not every company has such stringent requirements. Spending some time reviewing different companies will give you a clearer picture of what's available to you.

There isn't an appeals process to being denied home insurance coverage. However, you can ask about the reasons why you were denied and see if there are options available for remediation. Shopping around for a policy elsewhere may solve the problem (see above). If all else fails, speak with your state's department of insurance about your options.

Private Mortgage Insurance, or PMI, is different from property insurance. You pay PMI when the downpayment on your home is less than 20 percent. It's meant to protect your lender. You're ensuring your mortgage payment gets paid, even if you default on your loan.  However, your loan requirements will include carrying adequate insurance to protect the value of your property. If you cannot find an insurance company willing to offer you a policy, you may be able to walk away from the purchase. Otherwise your options remain the same: Fix the problems causing denial of your policy Go to a local insurance company Try surplus line insurance Use your state's insurance program  Chances are very high that you'll be able to find a policy and move into your new home.
Getting In Touch with Your FAIR Plan Administrator
| State | Phone Number |
| --- | --- |
| Alabama | (334) 943-4029 |
| California | (213) 487-0111 |
| Connecticut | (860) 528-9546 |
| Delaware | (215) 629-8800 |
| District of Columbia | (202) 393-4640 |
| Florida JUA | (850) 513-3700 |
| Florida Windstorm Und. Assoc. | (904) 296-6105 |
| Georgia | (770) 923-7431 |
| Hawaii | (808) 531-1311 |
| Illinois | (312) 861-0385 |
| Indiana | (317) 264-2310 |
| Iowa | (515) 255-9531 |
| Kansas | (785) 271-2300 |
| Kentucky | (502) 425-9998 |
| Louisiana FAIR Plan | (504) 831-6930 |
| Louisiana Beach Plan | (504) 831-6930 |
| Maryland | (410) 539-6808 |
| Massachusetts | (617) 723-3800 |
| Michigan | (313) 877-7400 |
| Minnesota | (612) 338-7584 |
| Mississippi | (601) 981-2915 |
| Missouri | (314) 421-0170 |
| New Jersey | (973) 622-3838 |
| New Mexico | (505) 878-9563 |
| New York | (212) 208-9700 |
| Ohio | (614) 839-6446 |
| Oregon | (503) 643-5448 |
| Pennsylvania | (215) 629-8800 |
| Rhode Island | (617) 723-3800 |
| South Carolina | (803) 737-6180 |
| Texas | (512) 899-4900 |
| Virginia | (804) 358-0416 |
| Washington | (425) 745-9808 |
| West Virginia | (215) 629-8800 |
| Wisconsin | (414) 291-5353 |
Denied Home Insurance: The Bottom Line
It's scary when you're denied homeowners insurance, but there's no need to panic. Many options are available to you, even when a major provider can't help. It may take a little more time, but you'll also come out with better insurance coverage in the end.
And don't forget to use Insurify to compare homeowners insurance quotes and explore your policy options. The perfect plan for you has never been easier to find!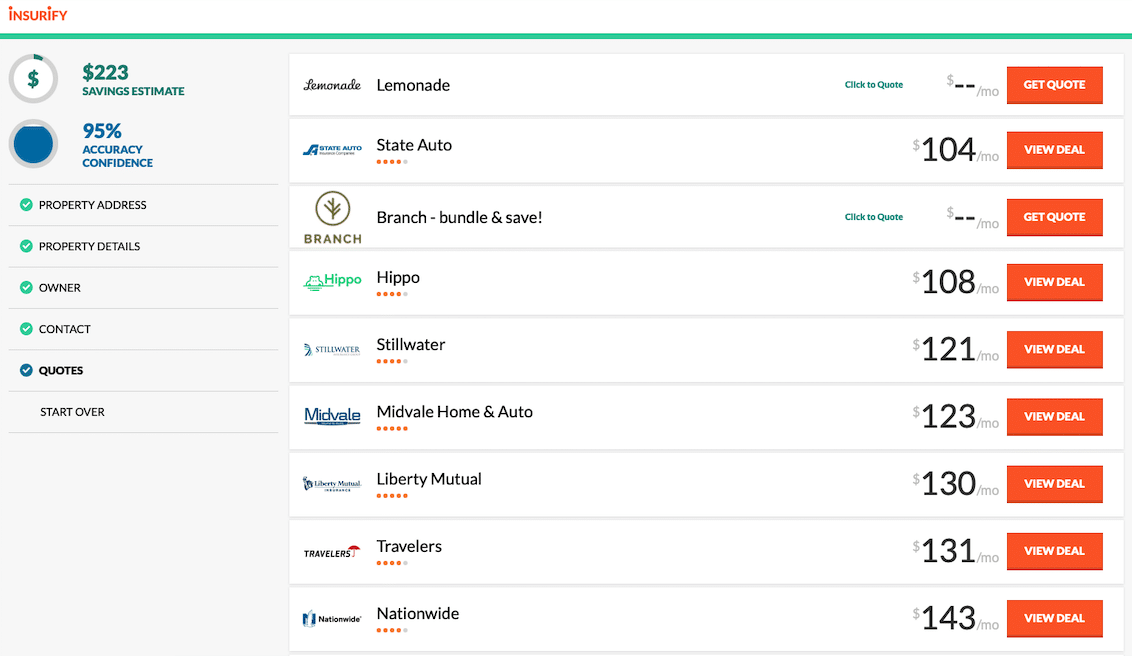 Compare Home Insurance Quotes Instantly
Personalized quotes in 5 minutes or less
No signup required