Does condo insurance cover earthquake damage?
Most standard condo home insurance policies don't cover earthquake damage to your condo unit or personal belongings.
If you don't live on the West Coast, do you need condo earthquake insurance? The answer isn't as straightforward as you might have hoped.
Seismic activity isn't a concern just for Californians. Even though the state experiences 90 percent of the country's earthquakes, according to the Federal Emergency Management Agency ( FEMA ), they can happen anywhere in the U.S.
According to the Insurance Information Institute (III), millions of people across 42 states are at risk for earthquake damage.
Finding the right condo insurance coverage is all about asking the right questions. We put together this guide to help you shop for the best protection. Here are the top questions (and answers!) you need to ask if you're thinking about buying condo earthquake insurance.
1. Is Condo Home Insurance Enough?
Condo home insurance also called an HO-6 policy, has various coverage levels. The most comprehensive options can protect your condo unit and your belongings. Coverage can vary, but a typical policy covers:
Fire and smoke damage

Limited water damage

Lightning and bad storms

Vandalism and theft

Improvements made to the unit

Personal liability coverage

Living expenses if your unit is uninhabitable after a covered loss
A policy can pay to replace your furniture, dishes, clothing, power tools, and other things. And if a guest injures themselves and sues you for medical bills? It can cover that, too.
But a policy doesn't cover everything, and even the best condo insurance doesn't include earthquake damage.
Without a separate condo earthquake insurance policy, you could be stuck footing the bill to repair damage to walls, flooring, appliances, electronics, furniture, sporting equipment, and more.
2. Will HOAs Cover Earthquake Insurance?
As a condominium owner, you have coverage under two different insurance policies: a master policy and your individual condo insurance.
Your homeowners association ( HOA ) or condo association has a master insurance policy. It protects against infrastructure losses. For example, if a fire burns through the building or a tornado rips off the roof, it can pay to repair or rebuild:
Condo building structure

Indoor and outdoor common areas

Landscaping and the land around the building
But there's one thing the policy won't cover: your belongings.
And depending on the type of policy, it may not include flooring, cabinets, appliances, or light fixtures in your unit.
Compare Car Insurance Quotes Instantly
Personalized quotes in 5 minutes or less
No signup required
3. What Does Condo Earthquake Insurance Cover?
Condo earthquake insurance can be a smart move because standard condo insurance will not cover the damage an earthquake causes.
However, an earthquake endorsement or separate earthquake policy can give you the protection you need.
To put it simply, earthquake insurance can pay to repair and replace homes and belongings after a quake hits. Coverage generally includes:
Condo unit

Personal property coverage

Upgrades to meet current building codes

Debris removal

Additional living expenses if the unit is uninhabitable after a quake
Coverage can vary based on your insurance provider and policy options. If you aren't sure how your policy protects you, contact your insurance agent.
4. What Isn't Covered by Condo Earthquake Insurance?
Condo earthquake insurance only covers direct damage caused by an earthquake. It won't cover indirect damage.
For example, if the ground shaking causes a gas pipe to burst and start a fire, an earthquake policy won't cover it. But that kind of damage is covered by your condo home insurance.
According to the National Association of Insurance Commissioners (NAIC), earthquake policies typically exclude:
Fire: An earthquake insurance policy won't cover anything your condo insurance policy already covers.

Sinkholes: The condo master policy may cover sinkholes and other land damage.

Vehicles: Even if an earthquake caused the damage, coverage doesn't include vehicles.

Pre-existing damage: Policies don't cover damage that was there before the earthquake.

Flooding: External water damage from flooding or sewer/drain backup isn't covered.

Masonry veneer: Brick, rock, or stone that covers the outside of your condo isn't covered, although the master policy may cover this.
There are some exceptions. For example, California homeowners insurance companies are required by law to cover fire damage caused by an earthquake.
5. Do Condo Owners Need Earthquake Insurance?
Condo earthquake insurance isn't usually a required coverage. Even in Southern California, where the U.S. Geological Survey (USGS) reports about 10,000 earthquakes every year, coverage isn't required.
So, if the law doesn't mandate coverage, do you need it? Because earthquakes can cause a great deal of damage, your need depends on how much risk you're willing to take.
According to the USGS, the states with the highest earthquake hazard are Alaska, Arkansas, California, Hawaii, Idaho, Illinois, Kentucky, Missouri, Montana, Nevada, Oregon, South Carolina, Tennessee, Utah, Washington, and Wyoming.
However, over a 20-year period, the only states that didn't report any earthquakes were Florida, Iowa, North Dakota, and Wisconsin.
The NAIC suggests you need earthquake insurance if you:
Live near an active fault

Live in a quake -prone area

Can't pay to repair or rebuild your home

Couldn't afford to replace your personal items

Would struggle to pay to live somewhere else while your condo is being repaired or rebuilt
Earthquake insurance can provide financial protection after a quake. A policy is worth the investment if you can't afford to rebuild or replace your condo or belongings without the help of insurance.
6. How to Get Earthquake Insurance for Your Condo?
The best way to get earthquake insurance is to start with your existing condo insurance company.
Ask your representative if an add-on policy is available. If so, you should be able to easily add earthquake protection as an endorsement to your standard HO-6 policy.
If your insurer doesn't offer it as an add-on, ask if they provide stand-alone coverage. You can also check with your state insurance department.
Keep in mind that California law requires homeowners insurance companies to provide earthquake coverage. If you're a California condo unit owner, you can purchase a policy through the California Earthquake Authority ( CEA ) that covers:
Building property damage

Personal property insurance

Additional living expenses for loss of use

Loss assessment

Building code upgrade

Emergency repairs
A typical earthquake policy should offer similar types of coverage that you'll find with a CEA policy. Make sure to read your policy and the policy declarations page to understand your coverages and how they work.
7. What Should Your Deductible Be?
When shopping for a policy, don't forget about the deductible. The policy deductible is the amount you pay out of pocket for each claim before your insurance policy starts to pay.
Many insurance providers allow you to choose the deductible amount. Because higher deductibles transfer more financial risk to you as the policyholder, increasing your deductible could lower your premiums.
According to the NAIC, typical earthquake insurance deductibles are 10 to 20 percent of the coverage limit. So, if you have $200,000 worth of coverage for your condo, a 10 percent deductible would be $20,000.
It sounds like a significant amount of money. However, it pales in comparison to the financial losses you could have after an earthquake.
Depending on the policy, you may have separate deductibles for different claim categories. For example, you may have one deductible for your unit and a separate amount for your belongings.
It's essential to understand what your policy covers and what the insurance company expects of you. So read your policy carefully, and don't hesitate to ask questions.
8. How Much Does Condo Earthquake Insurance Cost?
The cost of earthquake insurance can be a significant factor in deciding if earthquake insurance is worth it. Unfortunately, there isn't a one-size-fits-all cost for coverage.
According to the NAIC, your earthquake premium depends on:
Your condo's location and earthquake risk

The age of your condo

The construction materials used

The cost to rebuild your unit

The cost of your personal possessions

The deductible
In most states, you could pay $100 to $300 per year for earthquake insurance. You can expect premiums to be more expensive in high-risk areas like California.
The CEA premium calculator can estimate earthquake insurance costs for California residents. However, the CEA also has earthquake insurance discounts available to help you save money on your policy.
Frequently Asked Questions
No. A standard condo insurance policy does not cover the damage an earthquake causes. Many insurers offer earthquake endorsements to add coverage to your current policy. Otherwise, you may need a stand-alone policy to get the protection you need.

No. The HOA master policy covers the structure of the building and common areas only. It will not pay to repair or replace your unit or personal property.

It depends. The risk of earthquakes is based on where you live. However, the aftermath of an earthquake can be significant. Without insurance, you may not have the funds to rebuild or repair your condo or replace your things. Earthquake insurance can protect you from financial ruin.

The average earthquake insurance premium is between $100 and $300 per year. If you live in California, Washington, Alaska, or another earthquake-prone area, you could pay more. Check with your current insurer to ask about the cost. Then, shop around to compare your options.
Condo Earthquake Insurance: Is It Worth It?
The law doesn't require you to buy earthquake insurance. In fact, most lenders won't mandate you purchase coverage, either.
So, is it worth it?
It depends. Standard condo insurance doesn't cover damage caused by an earthquake. So an earthquake policy can be a wise investment—especially if you live in an area prone to seismic activity.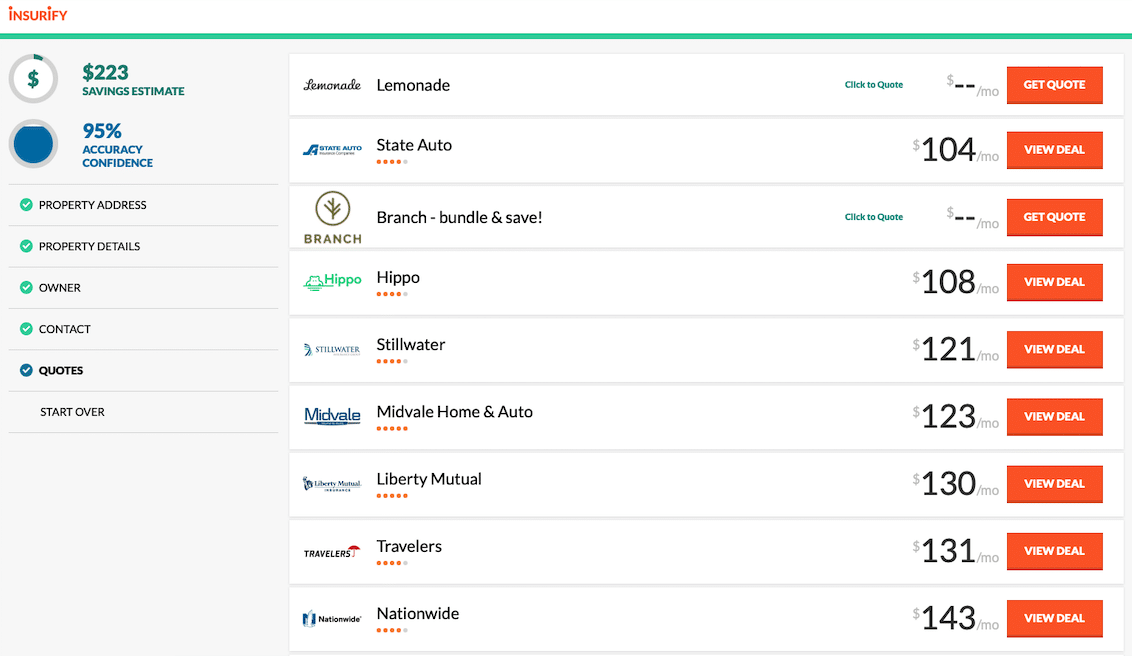 Compare Car Insurance Quotes Instantly
Personalized quotes in 5 minutes or less
No signup required
Data scientists at Insurify analyzed over 40 million auto insurance rates across the United States to compile the car insurance quotes, statistics, and data visualizations displayed on this page. The car insurance data includes coverage analysis and details on drivers' vehicles, driving records, and demographic information. With these insights, Insurify is able to offer drivers insight into how their car insurance premiums are priced by companies.