Commonwealth Casualty could be your future home insurance company.
Every homeowner has unique needs when it comes to their insurance policy. Insurify can help you decide if this is the right insurance company for you.
Protecting your home protects both you and your family members. And Commonwealth Casualty is a comprehensive option for homeowners insurance. The company primarily serves customers in Arizona. Based in Phoenix, Commonwealth was founded in 2010 with a goal to make insurance affordable to everyone in their community.
It offers renters and car insurance in addition to homeowners insurance policies. The company goes beyond the typical one-size-fits-all insurance policy. Instead, Commonwealth insurance agents create an insurance package custom-built for you.
Because all homeowners have different needs, shopping for homeowners insurance comes with several options. Use Insurify to easily compare quotes and policy options in seconds to find the best policy for you.
Commonwealth Home Insurance Coverages
Your home is more than a roof over your head. It's where your best memories are made and your prized possessions are kept. Insuring it with the right homeowners insurance policy can protect you, your family, and your home if disaster strikes.
According to its website, Commonwealth offers property insurance across these dwelling situations and insurance needs:
Homeowners Insurance
Homeowners insurance provides liability coverage for property damage and lawsuits. Although it isn't required by law, many lenders require you to purchase a policy as part of the home loan approval process.
It provides financial protection to repair or completely rebuild your home if there's a fire, hurricane, vandalism, or another disaster. Homeowners insurance from Commonwealth includes coverage for your home and other structures.
It can protect you against lawsuits if someone gets injured and cover damaged or stolen personal property, such as furniture, electronics, tools, and other belongings.
Keep in mind that a standard policy may not cover computers, fine jewelry, and art. Your Commonwealth insurance agent can offer coverage for more expensive items for an additional premium.
Renters Insurance
If you rent your living space, you should consider purchasing renters insurance from Commonwealth. The landlord's or property holder's insurance policy limits coverage to the structure of the home. It will not pay to repair or replace your personal belongings.
But a Commonwealth renters insurance policy will repair or replace your furniture, electronics, appliances, tools, and other personal items.
Cost is often the biggest deterrent to purchasing a policy. However, the average monthly price of renters insurance from Commonwealth is an affordable $15.
Components of a Commonwealth Home Insurance Policy
A home insurance policy is made up of several parts. While coverage limits, premiums, and other factors can vary from one homeowner to the next, all homeowners policies typically include the same basic components.
Dwelling Coverage: The dwelling includes the structure of the home. Dwelling coverage pays to repair or rebuild part or all of your home if it's damaged or destroyed by fire, hurricane, hail, lightning, or other perils listed in the policy.

Other Structures: A structure that isn't attached to your home is covered under the other structures portion of your policy. It can include an unattached garage, carport, fence, shed, or another structure with distinguishable space between it and the house.

Personal Possessions: Although not part of your home's structure, homeowners insurance covers your furniture, clothes, sports equipment, and other personal belongings. Most policies also include off-premises coverage, which insures your personal property if it's damaged or stolen anywhere in the world.

Loss of Use: If disaster strikes and you're unable to live in your home, loss of use pays for alternative living arrangements. It can include housing and living expenses, such as the cost of a hotel and additional food expenses.

Personal Liability: Someone could injure themselves in your home or on your property. If that person files a lawsuit, the personal liability component of homeowners insurance can protect you.

Medical Payments: For minor physical injuries, medical payments coverage can pay for a house guest's medical bills.
The policy limit is different for each component of your policy, and the amounts aren't necessarily set in stone. You may need more or less protection than the average homeowner. Talk with your insurance agent to determine how much coverage is right for you.
Compare Car Insurance Quotes Instantly
Personalized quotes in 5 minutes or less
No signup required
Optional Coverages for Your Commonwealth Home Insurance Policy
Because your insurance needs depend on your house, location, and personal preferences, Commonwealth has optional coverages available. Policyholders can add additional protection for even more peace of mind.
Service Line Coverage
You might think the utility company is responsible for footing the bill for pipes, wiring, and other service lines going into your home, but that isn't always the case.
For instance, homeowners are responsible for repairs on a portion of the electrical wires and the meter base. As you might imagine, repairs can be costly.
Commonwealth 's service line coverage can pay for piping and wiring for home services like water, electrical, or internet connections.
Water Backup
According to the Insurance Information Institute, nearly half of insured homes have a water damage claim every year. Repairs for water damage can add up fast.
But water backup protection can cover the cost of damage or repairs if water backs up through sewers, drains, sump pumps, or similar equipment.
It's important to note that standard homeowners insurance does not include flood damage. A separate flood insurance policy is required to protect against floodwater damage. Even with Commonwealth 's water backup coverage, your policy won't cover the damage if a flood is the cause of the water backup.
Special Computer Coverage
Your standard homeowners policy may not cover all the computer devices in your home. More expensive equipment can require additional coverage.
Making sure your computer and gaming equipment are protected is what special computer coverage is for.
You should consider adding this to your Commonwealth home insurance if you own a pricey laptop, desktop, tablet, gaming console, or related equipment.
Golf Cart Liability Protection
Some states, including Arizona, require golf cart insurance. Most standard homeowners insurance policies won't cover golf carts.
Even if your state doesn't require it, a policy can cover the costs if your golf cart is stolen or damaged. It can also provide liability protection if the golf cart causes serious damage or injury.
Available Discounts
Commonwealth can provide affordable insurance to the communities they serve. The company offers several discounts to lower your premium.
Available discounts can vary by insurer, but Commonwealth Casualty Company has several options to help you get a great rate on your home insurance.
Multi-Policy Discount: Combine two or more insurance policies with Commonwealth to qualify for a multi-policy discount.

New Home Discount: New homes can be less expensive to insure with a new home discount because structures and home systems have less wear and tear.

Secured Community Discount: If you live in a secured community or building, you could pay less for your homeowners insurance with Commonwealth.

Protective Device Discount: Adding devices like a fire alarm, home sprinkler system, or local burglar alarm can qualify you for a protective device discount.

Claims-Free Discount: If you go a specified amount of time without filing a claim, the claims-free discount could reduce your premium.

Paid-in-Full Discount: Opt to pay your premium in full rather than making monthly payments to save on the total policy cost.

Water Leak Detection Discount: Water damage can lead to expensive repairs. A water leak detection device can make you eligible for a discount on your policy.
Another way to lower your premium costs without a discount is to adjust the deductible. Your deductible is what you pay out of pocket in the event of an insurance claim. If you have a low deductible, you can raise it, which should lower your premium. Just don't raise it so high that you couldn't reasonably afford it when the time comes.
Combing Home and Auto Policies
The most common bundling practice is to combine your home and car insurance. With Commonwealth, this is done easily. A car insurance policy with Commonwealth offers:
Liability coverage

Bodily injury liability

Property damage liability

Uninsured and under-insured motorist coverage

Medical payments coverage

Uninsured motorist property damage
You also have the option of adding comprehensive and collision coverage.
How To Pay Your Commonwealth Premium
You have several options for paying your bill. The easiest way is to log into your account on the company website. You can also set up autopay to make things easier.
You can also make a payment over the phone. The customer service phone number is (877) 603-1310.
Commonwealth Home Insurance Reviews: Customer Satisfaction
Reviewers rate Commonwealth two out of five stars on Yelp. Customers report difficulty during the claims process. However, the vast majority of complaints are from auto insurance customers.
The company is accredited by the Better Business Bureau (BBB) and has a solid A+ rating on the site.
BBB customer reviews are also very positive, coming in at 4.51 stars out of 5.
As a smaller regional insurance company, Commonwealth doesn't get the attention of some of the top insurance-rating companies:
J.D. Power Customer Satisfaction Rating: Not rated

A.M. Best Rating: Not rated

Moody's Financial Strength Rating: Not rated

Better Business Bureau Rating: A+
Frequently Asked Questions
Getting the best home insurance can be tricky. Have you ever wondered why so many insurance companies exist? It's because home insurance carriers aren't one-size-fits-all. The best home insurance depends on your home's location and type, as well as your lifestyle and needs.

Commonwealth strives to make insurance affordable for homeowners. The company offers many discounts to help lower your premium. Installing a fire alarm, purchasing multiple policies, paying your bill in full, and increasing your insurance deductible are a few ways to save on your Commonwealth policy.

Yes, auto coverage is one of the insurance products available from Commonwealth. Motorists can enjoy towing coverage, roadside assistance, and rental car reimbursement from their auto policy. You can even get coverage if your vehicle is used for rideshare services, such as Uber or Lyft. Commonwealth also offers a vanishing deductible to help lower your out-of-pocket expenses.

Your home insurance needs depend on your home's location and type. A standard homeowners insurance policy won't offer the protection you need if you live in a condo or mobile home. For that, you need condo insurance or mobile home insurance. Keep in mind that homeowners insurance doesn't cover flood damage. You may also need flood insurance for additional protection against flooding for your home.

Commonwealth Casualty is a full service insurance carrier. You can purchase policies for:

- Home insurance

Car insurance
Renters insurance
Rideshare insurance
Roadside assistance

Commonwealth Casualty does not, as of this writing, offer life insurance.

Want to know how low your policy can go? Get a real quote or two, or several, with Insurify today.
Insurance Overview
Commonwealth Casualty is a community-focused insurance agency. The company offers comprehensive homeowners insurance policies with multiple add-ons to customize your coverage.
It's also an auto insurance provider, allowing you to get your car insurance and home insurance policies in one convenient place.
From available discounts to additional coverage options, Commonwealth helps make homeowners insurance affordable.
Commonwealth Home Insurance Contact Information
| Department | Contact |
| --- | --- |
| Customer service phone number | 1 (877) 603-1310 |
| Claims service phone number | 1 (877) 603-1310 |
| Website: | www.commonwealthcasualty.com |
Use Insurify to compare homeowners insurance premiums for your property in your area.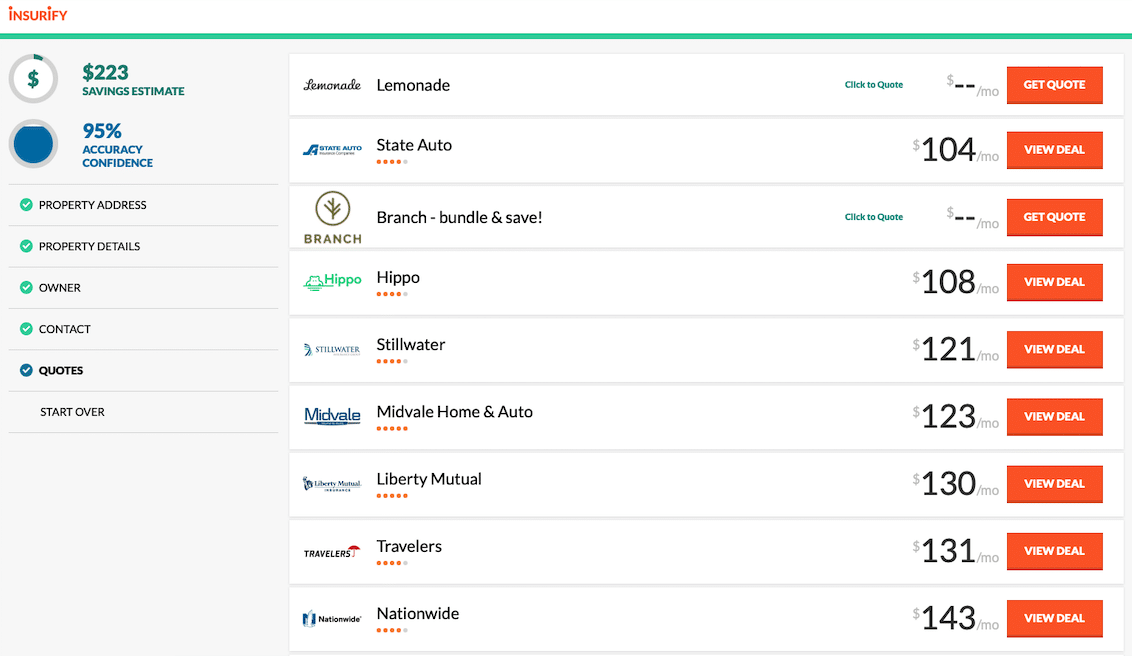 Compare Car Insurance Quotes Instantly
Personalized quotes in 5 minutes or less
No signup required
Data scientists at Insurify analyzed over 40 million auto insurance rates across the United States to compile the car insurance quotes, statistics, and data visualizations displayed on this page. The car insurance data includes coverage analysis and details on drivers' vehicles, driving records, and demographic information. With these insights, Insurify is able to offer drivers insight into how their car insurance premiums are priced by companies.