What is condo insurance?
Condo insurance, also known as an HO-6 policy, covers your personal belongings and the interior of your condo—the things your condo association's master policy doesn't cover.
If you live in a condominium, you probably know that your condo association or homeowners' association has a master insurance policy that covers the building and common areas. But did you know it doesn't cover the inside of your condo unit? You need HO-6 insurance, commonly referred to as condo insurance, to protect your belongings in case of natural disasters, theft, and other catastrophes.
Online comparison sites are an easy way to look at condo insurance quotes from lots of insurers. Try Insurify, a simple research tool that helps you compare home insurance providers with just a few minutes of research.
Why You Need Condo Insurance
To understand why you need condo insurance, it's important to first understand what the condo association 's master insurance policy covers.
Your condo fees help pay for the master insurance policy, which covers three things:
Damage to the exterior of the building: This includes things like storm damage to the roof or siding.

Common areas: The master policy covers damage to things like elevators, hallways, the landscaping outside the building, and the swimming pool.

Injuries that occur in common areas: If a visitor slips and falls on an ice-covered walkway outside the front door to your building, the HOA 's insurance will cover the liability costs from the lawsuit. You won't be responsible.
What doesn't appear on this list? Your personal belongings and the interior of your condo. Anything from the walls in is your responsibility. That usually includes countertops, cabinets, and flooring, plus personal liability coverage in case someone gets hurt in your condo. Life is unpredictable—someone could slip on a spill on your kitchen floor and sue you, or a pipe could burst and cause water damage to your walls and fixtures. Condo insurance is designed to cover the things condo owners need to have covered against unexpected occurrences like fire, lightning, theft, and vandalism.
What Does Condo Insurance Cover?
Most of the major condo insurance carriers, such as Nationwide, State Farm, Allstate, and USAA, include these standard features in their condominium insurance policies.
Personal property coverage: This covers personal property damage, as long as the damage is caused by a covered peril, like fire or vandalism. Personal property insurance is important because your condo's master policy will never cover your personal belongings.
Building property coverage: Building property coverage covers damage to fixtures in your condo if the master association policy doesn't cover them.
Personal liability coverage: This protects you in case someone gets hurt in your unit and sues you. Liability insurance covers the victim's medical payments and your liability costs if you're sued. This is crucial because medical bills and lawsuits can both cost thousands of dollars.
Loss of use coverage: Where will you live if your condo becomes uninhabitable during a disaster? Loss of use coverage covers costs that go beyond your normal expenses if you have to live elsewhere. Additional living expenses can include things like food and the cost of staying at a hotel while your condo is being repaired.
Loss assessment coverage: This kicks in when the condo association charges a one-time fee to condo owners for damages that affect the entire condo association —for example, a window in a common area that's damaged by wind. Sometimes, this is included in the standard policy, and sometimes it's only available as add-on coverage. The coverage limits are typically fairly low, so it may make sense for you to buy additional loss assessment coverage in case your condo association levies a large fee to cover major damage.
Many condo insurance companies also let you add extra features for an additional fee. This can include coverage options like identity theft coverage and protection against damage from water backing up, which typically isn't covered by a standard condo insurance policy.
Add-ons can also be a great place to save money. Many insurers allow you to bundle things like auto insurance or life insurance with your condo insurance for a discount. If you need car insurance, explore your bundling options, and see whether the available insurance rates make sense for you to bundle two policies.
Compare Car Insurance Quotes Instantly
Personalized quotes in 5 minutes or less
No signup required
How to Find Cheap Condo Insurance Coverage
Insuring a condo can be more complicated than insuring a home, but you can handle it. The first thing to do is to understand what kind of master insurance policy your condo has. This will help you compare policies that actually cover what needs to be covered.
There are three kinds of agreements that might apply to your condo.
A bare-walls agreement means individual unit owners are responsible for insuring everything from the drywall or wall studs inward. That means you're responsible for the walls, sinks, cabinets, and so on. You also have to insure any renovations or improvements you make to the condo.
A single entity plan means the master policy covers almost everything in your complex, including your unit and the fixtures inside. You're responsible for insuring your own personal possessions, plus any upgrades you make.
All-inclusive agreements are similar to single entity plans except that the master policy also covers the improvements or upgrades you make. It's the most comprehensive coverage unit owners can have.
Check with your condo association to see which type of arrangement applies to your community. If it's a bare-walls agreement, you need documentation that explains everything you're responsible for insuring. These documents should define what counts as common property and what counts as your unit. If the condo association can't answer the question, ask their insurance carrier.
After you know what you're responsible for insuring, you need to figure out the replacement cost of everything you're expected to insure. This can be tough with condos because the value of the condo is partially based on the common features, like pools or other amenities. It also depends on factors that are out of your control, like the typical construction costs in your area, what materials were used to build your condo, and the value of your personal possessions. Talk to an insurance agent if you're struggling—they can make recommendations based on other claims in the area. After all, a claim in New York may have a cost that's vastly different from a claim in another state—construction costs and material costs can vary a lot based on location.
You'll also want to determine how much coverage you'll need in other areas, like liability and dwelling coverage (assuming the master policy isn't all-in). Decide whether you want additional coverage, such as flood, earthquake, or sewer backup coverage, based on your risks for those things. Once you know what you need, you'll be better positioned to negotiate insurance costs with competing providers. Remember to ask about discounts!
Frequently Asked Questions
Some homeowners associations don't mandate individual condo insurance. They may require you to pay dues to cover the association's master insurance policy. However, note that if you're financing your condo, lenders typically do require you to carry insurance.

They both insure your belongings and cover liability protection and temporary living expenses. The main difference is that a standard homeowners policy covers damage to the outside of your home, while condo insurance doesn't cover that because the HOA's master policy takes care of it.

It's a bad idea to cut corners on coverage—you'll come to regret it if you suffer damages and don't have enough money to cover the repairs. Instead, think about choosing a bigger deductible. This can lower your monthly premium costs without reducing your coverage amounts.
Cover Your Condo Right
There's a lot to love about condo living, and with a little preparation, you can find coverage that works well for you. Look at your policy today, and make sure it covers what you need. If it's lacking, shop for a new policy using comparison tools like Insurify, which will let you compare quotes from top insurers in just a few minutes.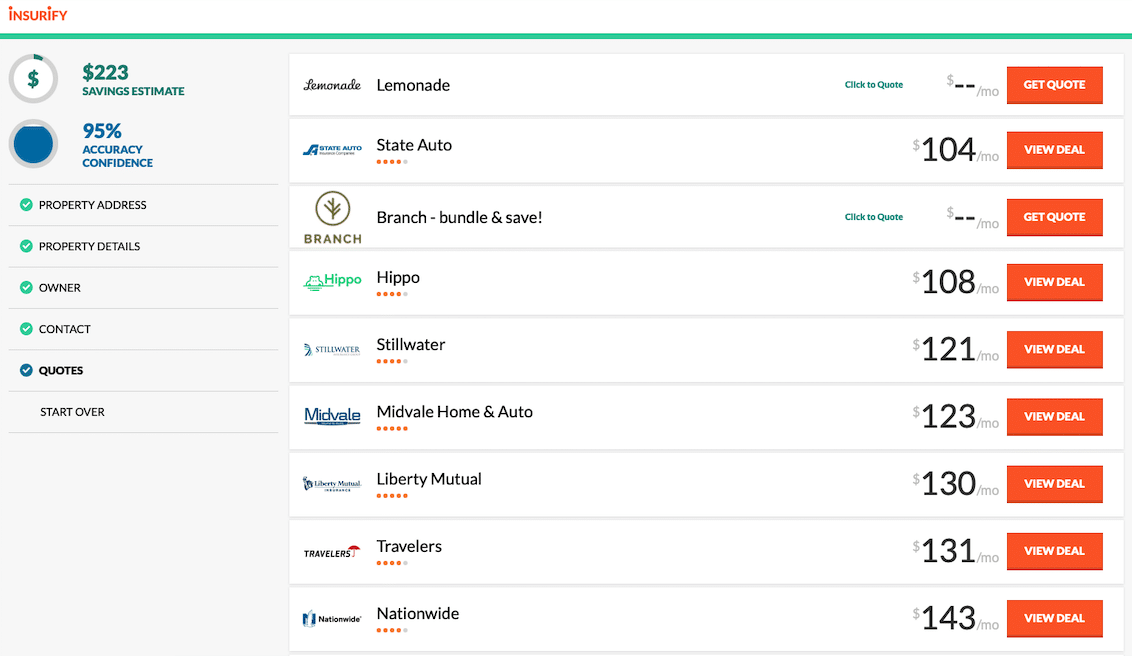 Compare Car Insurance Quotes Instantly
Personalized quotes in 5 minutes or less
No signup required
Data scientists at Insurify analyzed over 40 million auto insurance rates across the United States to compile the car insurance quotes, statistics, and data visualizations displayed on this page. The car insurance data includes coverage analysis and details on drivers' vehicles, driving records, and demographic information. With these insights, Insurify is able to offer drivers insight into how their car insurance premiums are priced by companies.