How do I get flood insurance in Alabama?
Your flood insurance options include the National Flood Insurance Program (NFIP) and private insurance agents.
Floods can happen anywhere—and Alabama is no exception. In fact, three of the 10 costliest hurricanes in U.S. history have affected Alabama, including Hurricane Katrina, Hurricane Rita, and Hurricane Ivan. All three resulted in flooding. Hurricane Ivan resulted in $1.6 billion in total flood insurance losses paid for by the federal government 's National Flood Insurance Program ( NFIP ) across the affected states. And Hurricane Katrina dealt the affected states a staggering $16 billion in flood insurance claims paid for by the NFIP.
Alabama receives about 56 inches of rainfall every year, which creates a high risk of riverine and flash flooding. Coastal counties, like Mobile and Baldwin, are susceptible to storm surge from tropical storms and hurricanes. But despite this, less than a third of Alabama residents have flood insurance in place.
Why buy flood insurance? Because your homeowners insurance policy won't payout if you have flood damage. Standard homeowners insurance specifically excludes damage from flooding. To cover that, you'll need to purchase flood insurance. Just imagine a few inches of floodwater in your home and how much it would cost to rip out the walls and flooring and replace your belongings. You can avoid this if you buy flood insurance. From Huntsville to Mobile and everywhere in between, flood insurance is a smart bet to protect you against flood losses.
Need a new homeowners policy to go with your flood insurance? Get a quote online from top insurers instantly with Insurify.
Do I Need Flood Insurance in Alabama?
Yes! If you live in a traditional floodplain as defined by the Federal Emergency Management Agency ( FEMA )'s flood maps, your mortgage lender may require you to have flood insurance coverage. This is typical for people in high- risk areas. However, people who don't live in the traditional flood zones may still need flood insurance even if it's not required. Here's why.
River floodplains and coastal areas are the most susceptible to flooding, but it's possible for flooding to happen in areas that simply have unusually long periods of heavy rains. Low- and moderate-risk flood zones can flood during a slow-moving rainstorm, or a broken sewer line could flood your house. Neither of these circumstances will be covered by your home insurance policy. And with severe storms ranking as the most common natural disaster in Alabama, it's important for you to be prepared.
Alabama Flood Zones
Between the tropical storms on the Gulf Coast and the numerous rivers and streams in Alabama, the potential for flooding is high. The coastline is battered by rains on an almost yearly basis, and the majority of homes along the coastal and river areas are located in floodplains, which means they're at a high risk for flooding.
What's Covered with Alabama Flood Insurance?
Flood insurance typically comes in two parts: building/property coverage and contents coverage.
The building coverage portion of the policy covers physical damage to the building, including:
The insured building and its foundation

Electrical and plumbing systems

Central AC equipment, furnaces, and water heaters

Refrigerators

Cooking stoves

Built-in appliances, like dishwashers

Permanently installed carpeting over unfinished flooring

Permanent paneling, wallboard, bookcases, and cabinets

Detached garages

Debris removal
The contents portion of the policy is for your personal belongings. This could include:
Clothes

Furniture

Electronic equipment

Curtains

Portable and window air conditioners

Microwaves and portable dishwashers

Carpets that aren't included in the building coverage

Washers and dryers

Food freezers and the food in them
Compare Car Insurance Quotes Instantly
Personalized quotes in 5 minutes or less
No signup required
What's Not Covered with Alabama Flood Insurance?
Alabama flood coverage only covers losses that are directly caused by flooding, defined as an excess of water on land that is normally dry. That means if your sewer backs up because there was a flood, the damage will be covered, but if the sewer backup isn't caused by flooding, it won't be covered.
These items also typically aren't included in either building coverage or contents coverage:
Damage caused by moisture, mildew, or mold that you could have avoided

Property outside the insured building, like your hot tub, swimming pool, or landscaping

Temporary housing or additional living expenses that you incur while your home is being repaired

Financial losses from business interruption

Currency, stock certificates, and other valuable papers

Cars

Personal property kept in the basement
What's the Cost of Flood Insurance in Alabama?
The cost of flood insurance for property owners varies by location, but as an example, a $100,000 policy for a house in a high-risk flood zone in Birmingham costs about $800 annually.
However, recent flood insurance reform may change the average flood insurance costs in your area. Your premiums may be higher or lower than the average based on information like:
Your area's specific flood risk

The type of coverage you're buying

The deductible you select

The amount of building and/or contents coverage you choose

The construction and age of your home
When you gather flood insurance quotes, be sure you know how much coverage you need. This could include doing a home inventory where you go from room to room in your home to figure out the value of your belongings.
In addition, it's a good idea to figure out whether you live in a low- or moderate-risk flood zone. If you do, you may be eligible for a Preferred Risk Policy from NFIP —a lower flood insurance rate that's available for people at lower risk.
How to Get a Flood Insurance Policy in Alabama
Would-be policyholders in Alabama have two options for buying flood insurance. You can go with a private insurer, or you can seek public insurance through NFIP, which is sold by regular insurance agents but is backed by the federal government. If you have a mortgage, your lender may have certain restrictions on the kind of coverage you're required to have, so make sure to ask your mortgage lender for details.
National Flood Insurance Program ( NFIP )
The National Flood Insurance Program is administered by FEMA. It has been around for more than five decades. The NFIP sells two kinds of homeowners policies—one covers the building and the other covers contents. NFIP policies have a maximum of $250,000 of building coverage and $100,000 for personal belongings.
It's important to know that NFIP coverage has a waiting period of 30 days. You can't buy it right before a storm hits and expect your house to be covered. Learn more about NFIP policies at floodsmart.gov.
Private Flood Insurance
Private insurers can be a great option if they're available in your area. They tend to have extra coverage options that aren't part of NFIP insurance. For example, private insurers often have higher coverage limits—up to $1 million in some cases. Also, the cost is usually lower than NFIP insurance, although this is partially because private insurers can choose not to insure homes in high- risk areas. In these places, the NFIP may be the only option available.
With a private insurer, you may also be able to get coverage for things like temporary living expenses and coverage of basement contents. The waiting period is usually shorter than the NFIP and should kick in around 10–14 days after you buy it.
Frequently Asked Questions
Yes, nearly everyone is eligible for some type of flood insurance. What type of flood insurance you can get depends on whether your community participates in the National Flood Insurance Program. If your area doesn't participate in the NFIP, you could still be eligible through a private carrier.

Only if the president declares a disaster in your area, which doesn't always happen. Also, it's important to know that federal assistance isn't insurance—it's a low-interest loan that you have to pay back over time. Flood insurance pays out even if there is no disaster declaration, and you don't have to pay it back.

Explore your options with private insurance companies. Many private insurers have enhanced flood protection that provides additional coverage above what the NFIP can offer you.
Buy Alabama Flood Insurance Now
There's never been a better time to buy flood insurance in Alabama. Get moving now so your flood insurance can take effect before the next storm.
Complement your flood policy with a cheaper, more comprehensive homeowners insurance policy. Insurify partners with top insurers to get you the quotes you need fast.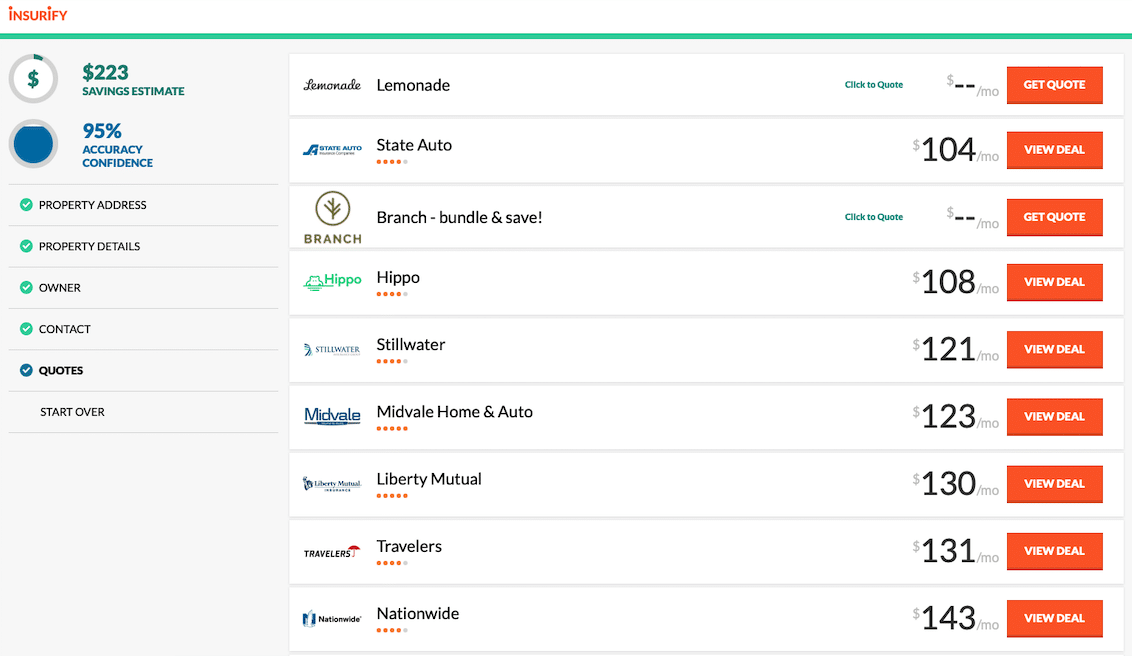 Compare Car Insurance Quotes Instantly
Personalized quotes in 5 minutes or less
No signup required
Data scientists at Insurify analyzed over 40 million auto insurance rates across the United States to compile the car insurance quotes, statistics, and data visualizations displayed on this page. The car insurance data includes coverage analysis and details on drivers' vehicles, driving records, and demographic information. With these insights, Insurify is able to offer drivers insight into how their car insurance premiums are priced by companies.