Is flood insurance required in Ohio?
Depending on where you live, your mortgage lender may require you to buy flood insurance.
Ohio isn't a coastal area, but that doesn't mean it's not susceptible to flooding. Ohio floods have led to 10 federally declared disasters over the years, yet fewer than 1 percent of the households in the state are covered by flood insurance. This is shortsighted. The increased rainfall that the state has seen over the past two decades has led to water damage and flooding in people's homes, destroying their property and causing structural damage and mold growth. In 2012 alone, Ohioans filed 1,543 flood insurance claims totaling $29.6 million, or an average of $19,207 per claim.
The main reason people in Ohio don't usually buy flood insurance is that they don't live in a high-risk flood zone. But your property can flood no matter where it is— flood zones are simply areas where there is more risk.
Another common reason is that people believe their homeowners insurance will pay out after a flood incident. It won't. A standard homeowners policy specifically excludes flood damage, so your personal property won't be covered if it floods. You need special flood insurance coverage for that. Flood insurance covers damages caused when normally dry land floods from overflowing waters, quick accumulation or runoff of surface waters, and mudslides or mudflows that are caused by flooding. It's designed to get you back on your feet faster with less stress and less money out of pocket.
While you're shopping for flood insurance, it might make sense to explore your options for home insurance. Try Insurify. This online tool is easy to use and takes just a few minutes.
Do I Need Flood Insurance in Ohio?
Hurricanes aren't a threat in Ohio, but that doesn't mean you don't need flood insurance. Properties can flood for all sorts of reasons, like poor drainage systems or rapid accumulation of rainfall or snowmelt. Broken water mains can also flood your property. All of these causes will wreak significant (and expensive) damage to your home. Even a home at the top of a hill can get hit by a mudslide, which is covered by standard flood insurance. Flood damage can happen anywhere that experiences rain.
Depending on where you live, your mortgage lender may require you to carry flood insurance. Most inland homeowners aren't in high-risk areas where they would be required to have it, but people in low-risk areas may still benefit from flood insurance.
Ohio Flood Zones
Ohio has several problematic bodies of water, especially the Ohio and Miami rivers, that tend to overflow and cause flood damage, especially when winter snow is melting and heavy spring rains hit the region. Heavy rains can also saturate the ground and overwhelm local sewage and drainage systems, which can cause flooding anywhere in the state, not just in floodplains. Hamilton and Cuyahoga Counties are at a particularly high risk, according to new data from the First Street Foundation, even though they don't fall within federal flood maps. Cincinnati and Columbus are at high risk among Ohio cities.
Think of it this way: Everyone lives in a flood zone. It's just a question of whether your area is low-risk or high-risk. People in Special Flood Hazard Areas (SFHA) are at the highest risk and are required to have flood insurance, but policyholders outside of these high-risk areas file more than 20 percent of flood claims.
Not sure about your level of risk? Check out the flood maps from the Federal Emergency Management Agency ( FEMA ), located at fema. gov.
What's Covered with Ohio Flood Insurance?
Flood insurance typically comes in two parts. One is building/property coverage that covers your house, and the other is contents coverage, which is for your personal belongings.
The building coverage portion of the policy includes things like:
The insured building and its foundation

Electrical and plumbing systems

Central AC equipment, furnaces, and water heaters

Refrigerators

Cooking stoves

Built-in appliances, like dishwashers

Permanently installed carpeting over unfinished flooring

Permanent paneling, wallboard, bookcases, and cabinets

Detached garages

Debris removal
The contents portion of the policy protects personal property that isn't part of the structure, such as:
Clothes

Furniture

Electronic equipment

Curtains

Portable and window air conditioners

Microwaves and portable dishwashers

Carpets that aren't included in the building coverage

Washers and dryers

Food freezers and the food in them
What's Not Covered with Ohio Flood Insurance?
Ohio flood insurance doesn't cover everything. These items typically aren't covered by any flood insurance policy:
Damage caused by moisture, mildew, or mold that you could have avoided

Property outside the insured building, like your hot tub or swimming pool

Temporary housing or additional living expenses that were necessary while your home was being repaired

Financial losses from business interruption

Currency, stock certificates, and other valuable papers

Cars

Personal property that you kept in the basement
What's the Cost of Flood Insurance in Ohio?
The average flood insurance premium in Ohio is $1,116 per year as of February 2021. This is significantly higher than the national average of $697. It's also slightly higher than the $1,025 average flood insurance premium for states within FEMA Region V, which includes Illinois, Indiana, Michigan, Minnesota, Ohio, and Wisconsin.
However, that doesn't mean everyone in Ohio will pay the $1,116 annual average. Your flood insurance cost might be higher or lower than the average based on several factors, such as:
Your area's flood risk

The type of coverage you're buying

The deductible you select

The amount of building and/or contents coverage you choose

The construction and age of your home
When you reach out to insurance companies to gather flood insurance quotes, you should know how much coverage you will need. This might include doing a home inventory where you figure out the total value of your most important belongings.
How to Get a Flood Insurance Policy in Ohio
Property owners in Ohio have two options for flood insurance policies. You can purchase private insurance, or you can get public insurance through the National Flood Insurance Program ( NFIP ). NFIP policies are sold through a private insurance agency, like private insurance, but are backed by the federal government.
Note that if you have a mortgage, your lender might require a specific kind of flood insurance, so check with your mortgage lender before you buy.
National Flood Insurance Program ( NFIP )
Many counties in Ohio participate in the National Flood Insurance Program ( NFIP ). This program is administered by FEMA and has been around for more than 50 years. It sells two kinds of flood insurance policies —one for the building and one for contents. NFIP policies come with up to $250,000 of building coverage and up to $100,000 of contents coverage.
NFIP policies have a waiting period of 30 days, so you can't get an NFIP policy right before a big storm and be covered. You have to be proactive about buying flood insurance. Learn more about NFIP policies at floodsmart.gov.
Private Flood Insurance
Low- and moderate- risk areas will have private insurance options available. A private insurer can be a great option if you can find one because they tend to have coverage options above what NFIP offers.
For example, private insurers often have higher coverage limits—in some cases, you may be able to get up to $1 million in coverage. The cost is usually lower than NFIP insurance, although part of the reason for this is because private insurers can choose not to insure high-risk homes, whereas NFIP insures anyone in a participating area. In some places, the NFIP is the only option.
With a private insurer, you also might be able to get coverage for things NFIP doesn't cover, like basement contents. Ask private insurance agents what their policies cover since this can vary between policies.
Frequently Asked Questions
Even if a flood hasn't occurred recently, that doesn't mean it never happened in the past or won't happen in the future. Anywhere that receives rain can flood.

Renters and business owners also qualify for flood insurance. Talk to a flood insurance carrier for more details.

FEMA only provides disaster relief to places where the president has declared an emergency, and many floods don't qualify for emergency declarations. Flood insurance will pay you for damage even if the area isn't an official disaster zone.
How to Save on Flood Insurance
Winter will be here before you know it, and after winter come snowmelt and spring rain. If you buy flood insurance now, your policy will become active in plenty of time to protect you during peak flood season.
Want a new homeowners policy with your flood insurance? Insurify can help you compare affordable quotes from top providers.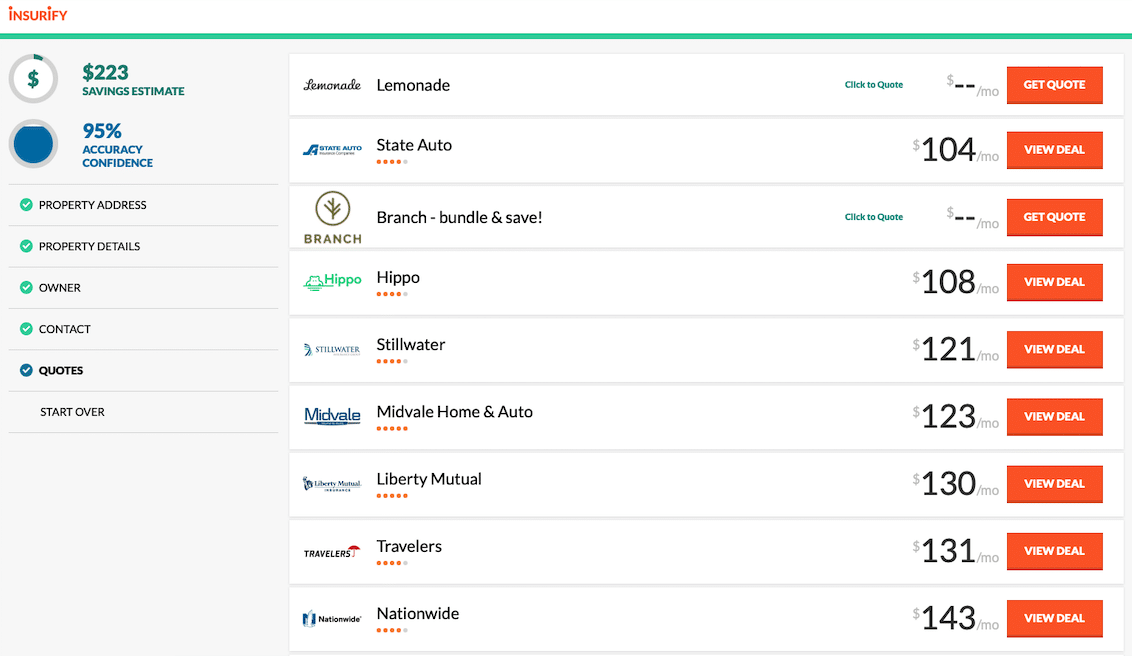 Compare Home Insurance Quotes Instantly
Personalized quotes in 5 minutes or less
No signup required