How much does hazard insurance cost?
Hazard insurance is coverage for your home that protects against fire, theft, and other perils. Not all policies offer the same protections. The cost of hazard insurance varies and can depend on your home, its location, and the coverage you choose.
As a homeowner, you want to make sure to protect your investment. One key factor in safeguarding your property is having the right insurance. You have several types to choose from, and each can protect you in different ways.
Consider hazard insurance. Hazard insurance is a part of your homeowners policy. It protects your home against "hazards" like fire, hail, lightening, theft, vandalism, and fallen trees. The cost of hazard insurance can vary based on coverage limits, protections, and factors specific to your home and location.
Here's what you need to know about hazard insurance, how much it costs, and how to get the coverage you need.
What is hazard insurance?
If your mortgage lender asks you to get hazard insurance, they're asking you to get a homeowners insurance policy. Hazard insurance refers to the language in your homeowners policy that protects against perils. It typically covers damage or destruction from fire, theft, vandalism, and destructive storms.
Hazard coverage generally refers to dwelling coverage, which is for the structure of your home only. It can include other structures such as a detached garage. A separate section of the policy covers the contents of the home. This is sometimes referred to as "content insurance."
Hazard insurance is an important policy to have as a homeowner. If a fire destroys your home, it can pay to rebuild it. Without it, you could end up paying out of pocket to replace your home.
How much does hazard Insurance cost?
The cost of hazard insurance can vary. According to a National Association of Insurance Commissioners report, the average cost of homeowners insurance coverage was $1,249 per year in 2018.
How much you pay can depend on:
The home's location

The home's age

The home's construction materials

The home's safety features

The policy limit

The deductible amount

Endorsements or add-on coverages
Higher policy limits, lower deductibles, and additional coverage endorsements can increase the price. However, you want your policy to include hazard coverage that makes the most sense for you.
Your policy won't be helpful if you live in California and it doesn't include earthquake damage. It also won't be useful if it excludes tornado damage and you're in Tornado Alley. Become familiar with the natural hazards in your area, and make sure you have the coverage you need.
The more susceptible your home is to fire, earthquake, hurricane, or other hazards, the more you might pay for a policy.
The best way to control how much you pay for hazard insurance is to find home insurance. Shopping around and getting rates from different insurers can help you get the best price and coverage.
Hazard Insurance Deductibles
Your insurance cost also includes your deductible. A deductible is an amount you pay before the insurance company starts paying its share of the loss. It applies when you file a claim for your home or personal property.
You can choose the deductible when selecting your policy. Deductibles of $500 and $1,000 are typical.
Choosing a higher policy deductible can lower insurance premiums. A policy with a $500 deductible will have a higher premium than the same policy with a $1,000 deductible.
A separate deductible can apply in some areas for catastrophe damage, such as from a hurricane. The amount is usually higher. Rather than a fixed amount, your catastrophe deductible is based on a percentage of your coverage.
How Hazard Insurance Protects Your Home
Hazard insurance is not a different type of insurance from home insurance. It's part of a standard homeowners insurance policy. It will pay to repair or replace your home or personal belongings after damage caused by a covered peril.
Two different policy types determine how hazard insurance protects your home:
In a named-perils policy, the policy specifically names each peril that is covered.

An open-perils policy lists excluded hazards and protect your home and belongings from everything except those perils.
Whether you have a named- or open-perils policy, your coverage won't include every hazard or natural disaster.
What's Covered by Hazard Insurance
Hazard insurance covers damage from theft, fire, and other perils that might affect your home. The coverage you have depends on your specific policy. Generally, coverage includes:
Fire or smoke

Lightning

Hail and windstorms

Theft and vandalism

Damage from vehicles and aircraft

Explosions

Riots and civil commotion

Weight of ice, snow, and sleet
Keep in mind that home insurance doesn't cover everything that can impact your house. Policies don't cover wear and tear, negligent home maintenance, or poor installation. Hazard insurance doesn't usually cover water damage from flooding, mudslides, hurricanes, earthquakes, or sewer backups.
Additional coverage through a policy endorsement is available for some items that your policy excludes.
If you're in a high-risk area, ask your home insurance agent if you can purchase earthquake coverage or other endorsements. You may need to buy a separate policy for flood insurance or additional catastrophe insurance coverage.
How to Pay for the Cost of Hazard Insurance
Calculating the cost of homeowners insurance is easier than other types of insurance. For example, health insurance can require co-pays, coinsurance, and other out-of-pocket expenses. With home insurance, your cost includes only the insurance premium to keep your policy active and a deductible if you file an insurance claim. How you make the payment and how often depends on the insurance company and your personal preference.
Generally, you can pay the insurance company directly with one-time or recurring payments. You can also combine your insurance cost as part of your monthly mortgage payment. If you make a direct payment, you pay the amount to the insurance company. The bill can be substantial, and many homeowners choose to set up an escrow account to help manage the expenses.
An escrow account can collect and hold funds to pay property-related expenses. These often include property taxes, homeowners insurance, and flood insurance.
When using escrow, your annual insurance premium is divided into 12 equal installments. The amount is added to your monthly mortgage payment. Each month, part of your monthly payment is put into the escrow account to cover the cost of hazard insurance when the bill comes due.
Filing a Claim with Hazard Insurance
If disaster strikes, filing an insurance claim can cover the cost to restore your home and property. Look over your policy to make sure it covers the cause of the loss. Provide as much information as possible about any damage or any stolen property to speed up the claims process.
Keeping a home inventory of your belongings and their value can help when filing an insurance claim. Nearly half of homeowners say they have an inventory of their possessions to document losses, according to the Insurance Information Institute.
An important question to consider is whether your policy will cover the total cost of repair or replacement. It depends on the reimbursement provisions in your home insurance policy. You usually have a choice between actual cash value (ACV) and replacement cost value (RCV):
Actual cash value: This covers the item's value at the time of loss. It may not be enough to replace the item with a new version.

Replacement cost value: This pays to replace the item with a brand-new version at current prices.
You typically pay less for an ACV policy. That's because the insurer uses depreciation to reduce the value of the item, so the claim you receive is often less. RCV is more expensive. Paying a higher cost for RCV can give you the peace of mind of knowing you're fully protected if you have a loss.
How to Get Hazard Insurance
Hazard insurance is part of your homeowners policy. Allstate, Nationwide, USAA, and Travelers include hazard insurance in their homeowners policies. The best way to get hazard insurance is to shop around to compare home insurance quotes and policy options.
Remember that not all policies are equal. You want to make sure your coverage is as comprehensive as possible.
For instance, ask about hurricane coverage, deductibles, and policy limits if you live in Florida. And make sure your policy covers tornadoes if you're in an area that's high-risk for them.
How Much Hazard Insurance Coverage Is Enough?
Before buying a policy, calculate the amount of insurance coverage you need. Your policy is based on the cost to rebuild your home. Your home's rebuild cost can be more or less than you paid for your home.
Your insurance agent can calculate the dwelling coverage amount you need. Consider it carefully. It's used to determine your policy limits for personal property coverage, liability coverage, and other policy components.
| Coverage Type | Common Policy Limit |
| --- | --- |
| Dwelling | You choose based on the rebuild cost of your home. |
| Other Structures | 10% of Dwelling Coverage Limit |
| Personal Property | 50% of Dwelling Coverage Limit |
| Loss of Use | 20% of Dwelling Coverage Limit |
| Personal Liability | You choose. |
| Medical Payments | You choose. |
The Cost of Hazard Insurance FAQs
Yes. Your mortgage lender requires proof of hazard insurance before closing on your home loan. The cost of hazard insurance can vary by insurer. Shopping around to compare insurance rates can help you save money on your insurance premiums.

Yes. Because hazard insurance is part of homeowners insurance, the homeowners policy deductible applies. Common deductible amounts are $500 and $1,000. Insurance companies can charge a different and often higher amount for claims related to certain catastrophes.

Yes. You don't have to own real estate to have hazard coverage. Renters insurance includes coverage for many of the hazards you see in a homeowners insurance policy. It doesn't cover all perils. Most policies exclude flooding, earthquakes, and sinkholes.
The Cost of Hazard Insurance: Is It Worth It?
Home insurance comes with many options. For homeowners, buying hazard insurance is a no-brainer. It's part of your homeowners insurance policy. A standard policy covers common sources of damage and destruction and protects you financially from losses.
The cost of hazard insurance depends on the policy limits, deductible, and endorsements you choose. Living in a high-risk area for earthquakes, hurricanes, or other natural disasters can increase your premiums. Shopping around to compare quotes from multiple companies can help you get the best coverage at the best price.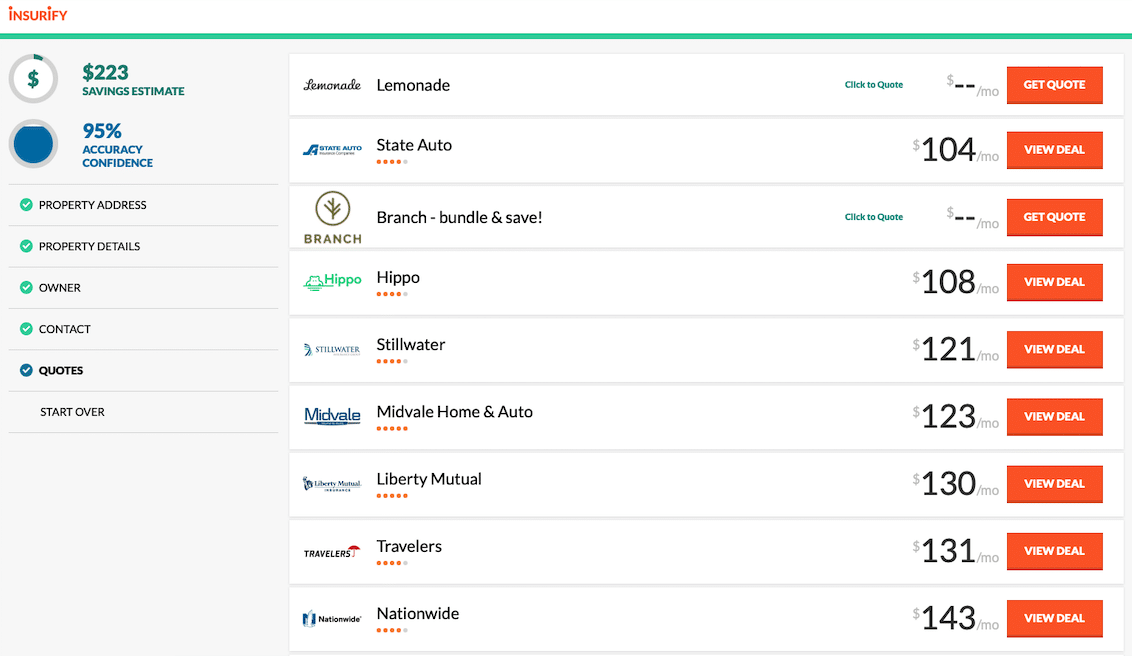 Compare Home Insurance Quotes Instantly
Personalized quotes in 5 minutes or less
No signup required