Maybe you're a snowbird who flees their Northern home in the wintertime, the owner of an unused rental property or waiting to sell your home until after you move into a new one. If you have a vacant home, you'll want to make sure your homeowner's insurance is up to date.
If you leave a property for weeks or months at a time, your homeowners insurance coverage may not provide the same coverage when your home is vacant. This means any damage your home may endure while you're away may result in out-of-pocket expenses.
A solution to this concern is unoccupied and vacant home insurance products, which offer homeowners coverage for claims that may otherwise not be covered by traditional home insurance policies.
Unoccupied and Vacant Homeowners Insurance 101
Some home insurance companies offer specialty products for unique situations. In the case that a homeowner leaves their property for extended periods of time throughout the year, some insurance providers will offer unoccupied home insurance. Traditional homeowners insurance may not cover damage from fires, vandalism, or liability claims in an unoccupied home. For example, if you leave your home for a season and it suffers damage from a fire, vacant home insurance can provide supplemental coverage for anything your standard homeowners policy may not cover.
Unoccupied or vacant homeowners insurance can be purchased in two ways, as a separate policy or as an endorsement. If you obtain vacant home insurance as a completely separate policy, you no longer need to have a standard homeowners policy. The same is not true if purchased as an endorsement, which acts as an add-on to your traditional homeowners policy.
Homeowners insurance companies see unoccupied homes as more at risk. When homes are vacant break-ins are more common, emergency response times are lagged, and therefore damage may be greater. Because of the increased risk, some insurance companies may reject such properties from their property insurance policies, resulting in the need for vacant home insurance.
What To Do If You Have a Vacant or Unoccupied Home
So, if you've realized you may be the owner of an unoccupied property and don't currently have sufficient homeowners insurance to protect that home from the unique risks a vacant home poses, what should you do?
First, you'll need to determine if your home is vacant or unoccupied. An unoccupied home is furnished with utilities already set up. A vacant home does not contain any personal property, and utilities and systems may be shut down. Insurance companies consider vacant properties as higher risk than unoccupied homes because incidents at vacant homes generally take longer to be discovered and for claims to be filed than unoccupied homes. Therefore, worse damage may occur, replacement costs will be higher for insurance companies.
If you're ready to purchase a special policy for your unoccupied or vacant property, the first thing you should do is have a conversation with your current home insurer. If your insurance provider will not continue your coverage once you've declared your property unoccupied or vacant, use Insurify to find a new one. You can compare dozens of home insurance quotes in minutes.
Most major home insurance companies have offerings for homeowners of vacant and unoccupied properties. These policies can cost up to fifty percent more than traditional homeowners insurance policies.
Compare Car Insurance Quotes Instantly
Personalized quotes in 5 minutes or less
No signup required
How to Decide if You Need Unoccupied or Vacant Home Insurance
Depending on the amount of time you're leaving your property, you may want to consider investing in a special unoccupied home insurance policy. Generally, if you're leaving your home for a month or more, it is recommended you consider vacant property insurance. Most home insurance companies will deny claims that are made if your home was left unoccupied for longer than 30 days. Whether it's a one-time thing, or you've left your home every winter for the last decade, you'll want to have this discussion with your insurance agent. Insurance companies may have differing definitions of vacant and unoccupied, so it's important to confirm with your insurance provider whether or not your empty property will be considered vacant during your time away. If your insurance company will no longer provide home insurance coverage for your unattended home, you can compare vacant home insurance policies on Insurify.
When a Home Considered Vacant or Unoccupied
There may be scenarios when a property is considered vacant or unoccupied that some homeowners may not have realized. If you think you may fall under one of these categories, you should consider purchasing a vacant home insurance policy. The following list includes scenarios that may categorize your property as unoccupied.
You own a vacation home and visit it only a few weeks out of the year.

You have recently purchased a new home but will not move for several weeks or months.

You travel frequently for extended periods of time, for work or otherwise.

You've temporarily moved out of your property for a medical procedure or rehabilitation program.

Your home is undergoing renovations and you are residing elsewhere temporarily.

You are a landlord with a vacant unit.
How to Save on Unoccupied or Vacant Home Insurance Policies
Even though most unoccupied and vacant home insurance policies cost thousands of dollars more in premiums than traditional policies, there are still ways to save. If you have a local friend or trustworthy neighbor who can act as a housesitter by stopping by your property a few times a week, your insurance company may not consider your home fully vacant or unoccupied, lowering your premiums. There are some simple tasks homeowners can take to save on unoccupied or vacant home insurance. This may include installing security systems, like alarm and camera technology, which can also lower risks of accidents and burglary, which, in turn, may lower your insurance premiums. Typically, insurance companies will determine these discounts on a case-by-case basis, so it never hurts to ask.
Use an online quote comparison tool like Insurify to compare dozens of quotes at once to make sure you've found the cheapest possible quote for your vacant or unoccupied home.
Unoccupied or Vacant Home Insurance: Frequently Asked Questions
If your standard home insurance policy does not cover your home while it is vacant or unoccupied, you'll need to obtain a special vacant or unoccupied home insurance policy. These insurance policies will protect your unoccupied or vacant home from theft, vandalism, fire, and damage from natural disasters.

Yes, an unoccupied home is one full of personal property with utilities turned on, simply without residents at a given time. Vacant homes are generally empty, either between owners or awaiting to be sold. Vacant home insurance policies will not offer protection to personal property, unlike unoccupied home insurance, which will offer protection to the contents of the home.

Most homeowners insurance companies will consider a home vacant or unoccupied if left for thirty or more days with continuous non-residence. To avoid needing to obtain a vacant or unoccupied insurance policy, ask a friend or neighbor to visit your property a few times a week. This may be enough for a home insurance company to avoid needing vacant home coverage.
Vacant and Unoccupied Home Insurance: The Bottom Line
Whether you're off to your beach house to flee the winter winds, you're a landlord with an empty unit, or you've just bought a new home but have a period of time before you move into it, you may need to obtain special protections for your unoccupied or vacant house. Check with your insurance agency to see if you'll need to purchase a special vacant home policy or if your standard one will suffice.
Whatever you do, never overpay for your homeowners insurance. Find the cheapest vacant or unoccupied home insurance quote by comparing the top home insurance companies with Insurify.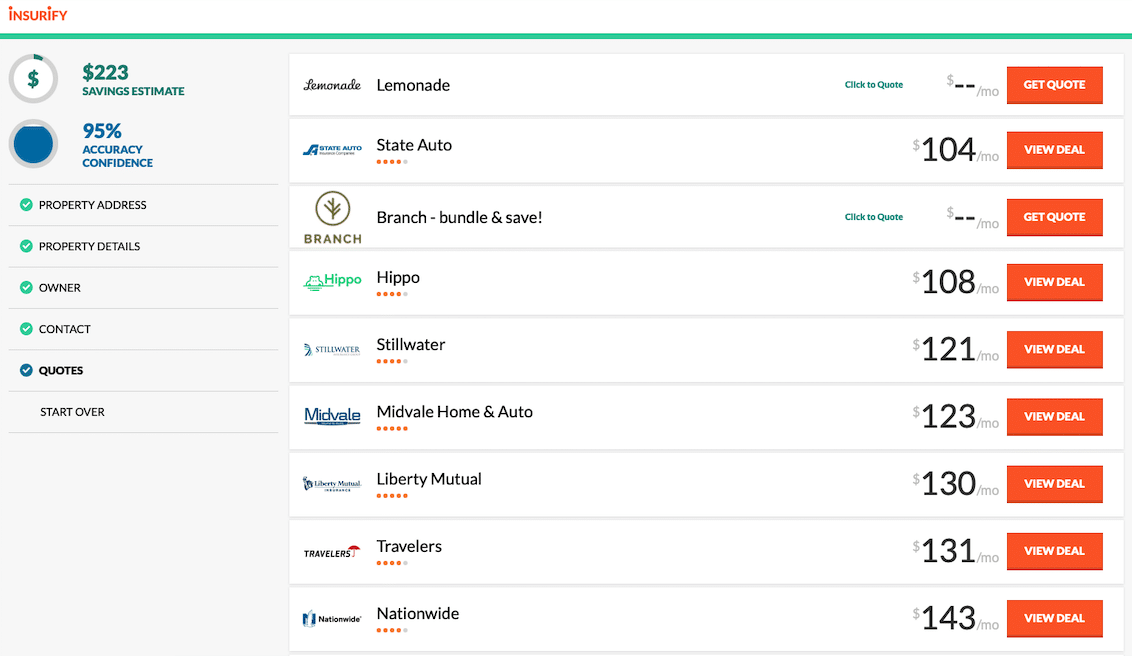 Compare Car Insurance Quotes Instantly
Personalized quotes in 5 minutes or less
No signup required
Data scientists at Insurify analyzed over 40 million auto insurance rates across the United States to compile the car insurance quotes, statistics, and data visualizations displayed on this page. The car insurance data includes coverage analysis and details on drivers' vehicles, driving records, and demographic information. With these insights, Insurify is able to offer drivers insight into how their car insurance premiums are priced by companies.