What would happen to your property if you suffered a fire or a tornado struck? The dwelling coverage on your homeowners insurance would cover your home and any attached structures, but what about your shed or your detached garage?
That's where other structures coverage—also known as Coverage B—kicks in. It's one of six areas that most homeowners insurance policies include.
Coverage A: the dwelling or main building

Coverage B: other structures

Coverage C: personal property or contents coverage

Coverage D: loss of use/additional living expenses

Coverage E: personal liability

Coverage F: medical payments for other people who are injured on your property
Other structures coverage is included in every standard home insurance policy. It covers all the structures on your property that aren't attached to your home and helps pay to repair or replace them if they're damaged by a covered peril. The perils it insures against are the same ones that your dwelling insurance covers for your home.
Finding the right Coverage B coverage starts with finding the best home insurance for you. Find the insurance coverage you need with Insurify. This speedy tool lets you compare homeowners insurance quotes from multiple insurance companies with just a few minutes of research.
What's Covered by Other Structures Coverage?
Other structures coverage covers all the built items on your property that aren't covered by the dwelling coverage. This means there is some clear space between the other structures and your house. Covered structures typically include:
Fences

Detached garages

In-ground swimming pools

Gazebos

Guesthouses

Detached patios or dining spaces

Mailboxes

Sheds

Walkways and driveways
The other structures are usually covered for the same perils that your house is insured against, such as theft, fire, falling objects, and vandalism. Double-check your policy or ask an insurance agent to make sure you know which structures are covered and what they're covered against.
There are a few things Coverage B never covers. It offers a lot of protection for other structures, but it does have its limits. For example, it won't cover the contents of the structures, like the gardening equipment or sporting goods you keep in your shed. Those are usually included in Coverage C, personal property coverage. It also won't cover any detached structures used for business purposes, and it typically excludes any farming or ranching activities or animals.
What does this mean? Some people have guesthouses on their property that renters can borrow through services like Vrbo or Airbnb or home offices where they do business. These spaces may not be included in Coverage B. If this is the case for you, look into a business or rental property endorsement for your policy to make sure you're protected if there's an emergency.
If you have an in-ground pool, you should also check with your insurer to see how and when they're covered. Some insurers cover pools under dwelling coverage, while some cover it under other structures coverage. This is important because the limit of insurance on these two coverage areas is usually very different. Above-ground pools are often included in personal property coverage.
How to Know You Have Enough Coverage
According to the Insurance Information Institute, the amount of other structures coverage you have is usually based on a percentage of your dwelling limit. So if you have $250,000 in dwelling coverage, you probably have about $25,000 to cover unattached structures if you suffer a covered loss.
Depending on what you have on your property, this may not be enough. You need enough other structures coverage to fully rebuild all of your property's detached structures. They can be more expensive to repair or replace than you might expect. You could find that a total replacement would run you around $30,000, and if you only have $25,000 in coverage, that will leave you paying at least $5,000 out of pocket. Review your policy to make sure you have enough coverage, and talk to your insurance agent if you need more.
You should also check whether your policy will reimburse you for the full replacement cost or actual cash value (the replacement cost minus depreciation). In some cases, this might depend on what kind of structure is affected. The insurer might offer the full replacement cost for buildings, like a garage, but only give you actual cash value for the fence or the mailbox.
Compare Car Insurance Quotes Instantly
Personalized quotes in 5 minutes or less
No signup required
Removing Other Structures Coverage
You may not have other structures on your property. Homeowners who don't have other structures may decide they don't need Coverage B after all and ask about removing it to save money. Some providers won't let you get rid of Coverage B, while others will let you build a custom policy that fits your lifestyle. Some insurers even let you pick and choose which structures to cover and help you evaluate their value so you know the coverage limits are accurate.
It's rarely a good idea to drop Coverage B completely. Why? Because most people do have additional structures, even if they don't realize that a certain structure counts. For example, mailboxes and driveways are covered, and you probably have those. Policies are built this way for a reason.
Other Structures Coverage - Frequently Asked Questions
You might decide to increase the amount of other structures coverage you're carrying if your other structures would be expensive to replace. You should also look into other structures under your residence premises coverage for any structures that you rent out to other people.

Sometimes. It depends on the insurer. Some will include above-ground pools in personal property coverage with your other belongings. In-ground pools are usually covered by your other structures coverage.

Yes, usually. Note that if you have an especially long or expensive driveway, you might need to increase your coverage so you can replace the driveway if something happens.
Get to Know Your Other Structures Coverage
Other structures coverage is a lesser-known part of homeowners insurance, but it can be your best friend if the detached structures on your property are damaged. Review your policy today, and make sure you have the coverage you need to protect everything on your property.
Need a new homeowners insurance policy that provides better other structures coverage? Check out Insurify 's comparison tool and compare multiple quotes for home, life, and car insurance in just a few minutes.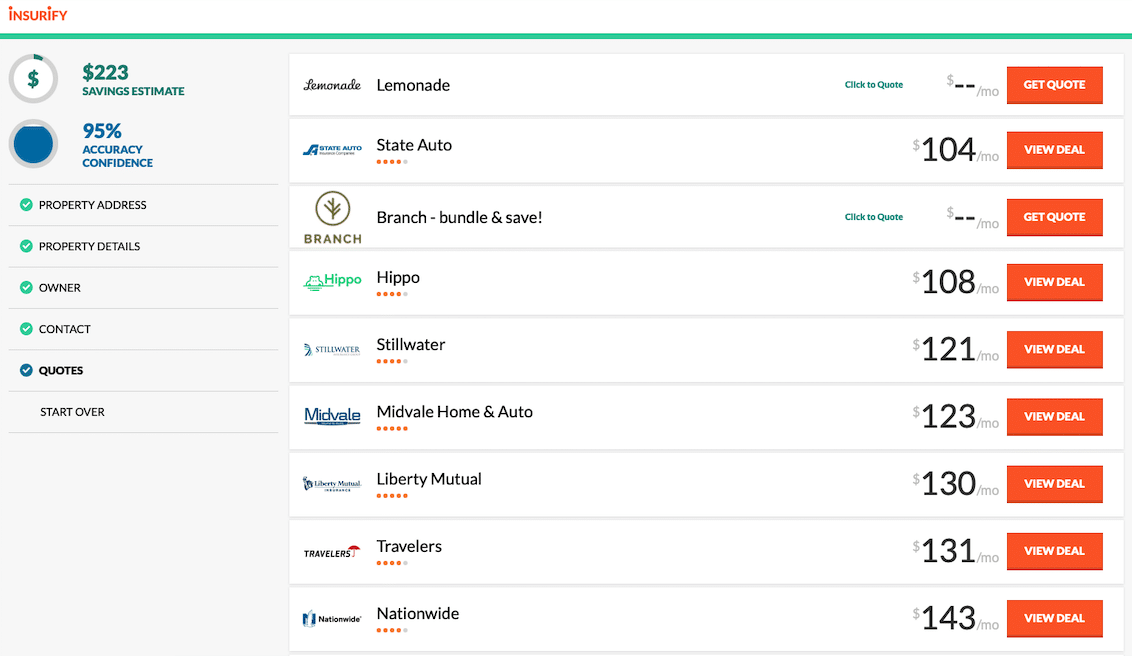 Compare Car Insurance Quotes Instantly
Personalized quotes in 5 minutes or less
No signup required
Data scientists at Insurify analyzed over 40 million auto insurance rates across the United States to compile the car insurance quotes, statistics, and data visualizations displayed on this page. The car insurance data includes coverage analysis and details on drivers' vehicles, driving records, and demographic information. With these insights, Insurify is able to offer drivers insight into how their car insurance premiums are priced by companies.