What is hazard insurance?
Hazard insurance is the part of your homeowners insurance policy that provides coverage for the structure of your home.
The time has come. Your tenure as a renter is over, and you're about to take on the role of homeowner. But you have a moment of panic and think that your dream of having a place that's all yours is about to end when your contact at your mortgage lenders asks you if you have hazard insurance. This might be on the phone days before closing or at the closing table.
You have to keep your jaw from dropping. Maybe you look at your partner or your realtor with a quizzical look. Why didn't anyone tell you about this requirement? Well actually, they did, and you're most likely all set.
Huh? Keep reading to learn precisely what hazard insurance is, what it covers (and doesn't), and how to save money on your hazard insurance.
Psst: It's easy to find a low-cost hazard insurance policy with Insurify. Get a list of home insurers that cover your neighborhood. Fill out the form and get personalized quotes, plus see what discounts are available. You can even complete your application online. Try it today!
What Is Hazard Insurance?
Mortgage lenders use the term " hazard insurance " to mean homeowners insurance; however, hazard insurance is a standard part of your homeowners insurance policy. It's the part that covers the structure of your home from hazards like fire, hail, and vandalism, among other perils.
Your mortgage company is mainly concerned about whether there is a policy to cover damage caused by natural disasters and vandalism because until the mortgage is paid off, they technically have ownership of the house. They want to prevent instances where the house is destroyed and the borrowers abandon it. They don't want to own land with unsafe or uninhabitable dwellings.
Before closing on your new home, your lender should let you know their requirements for minimum hazard insurance coverage on your home. Since this is something that can benefit them, at best, you'll be well-covered and, at worst, overinsured. In the case of being overinsured, the downside to that is that your premiums are higher.
If you don't secure a homeowners insurance policy before closing or if your homeowners insurance is canceled by your insurer because of missed payments, the mortgage company will get a policy for you and add the cost to your mortgage payment. Generally, this isn't a comprehensive homeowners policy but just enough to protect the building itself.
What Hazard Insurance Covers
Your hazard insurance covers damage to the physical structure of your home, plus attached structures like a deck and garage. The actual number of named perils (hazards that are covered) varies by policy, so it's essential to double-check your policy to ensure there's coverage for all potential threats.
Among the named perils that hazard insurance covers are:
Fire

Lightning

Hail

Windstorms

Fallen trees

Smoke damage

Vandalism and theft

Damage by a vehicle, aircraft, and falling debris

Smoke damage

Explosions

Riots

Damage from a power surge

Damage by faulty heating, AC, and electrical units

Weight from ice, snow, and sleet
Compare Car Insurance Quotes Instantly
Personalized quotes in 5 minutes or less
No signup required
What Hazard Insurance Doesn't Cover
You'll notice the above list consists mainly of natural events and a few man-made ones that you have no control over. But hazard insurance doesn't cover every peril that could befall your home. If you are in an area where there's a risk of a catastrophic event, you need to add an endorsement or rider to your homeowners insurance policy.
Hazard insurance and catastrophic insurance are often used interchangeably but aren't synonymous. A catastrophe is a significant event that affects many people and causes a massive amount of damage, racking up billions of dollars in repair and replacement costs. Superstorm Sandy in 2012, Mississippi Valley flooding in 2019, and California wildfires are examples of recent catastrophes.
Perils not covered by hazard insurance include:
Flooding

Earthquakes

Hurricanes

Sewer backup

Sinkholes

Landslides

Maintenance damage

War

Wear and tear

Neglect

Nuclear hazard

Government action

Pollutants

Infestations from pests

Mold
For some of these events, you can purchase insurance to protect you financially. Do you live along the coast? Hurricane damage is a must-have. Are you near a river? Add flood insurance to your homeowners insurance policy. Do you live in the Midwest, where there's a risk of tornadoes? Get a rider for that.
Tips for Buying Hazard Insurance
Hazard insurance is a non-negotiable expense, but your loan servicer can set up an escrow account so that you can pay a portion of your insurance along with your home loan payment. They will pay the insurance bill when it comes due each year, thus helping you budget the expense and save you time.
Before you purchase your homeowners policy, or if you switch to a new one, double-check to ensure you're getting enough coverage to satisfy your mortgage holder.

Add endorsements for hazards that pose a threat to your home. This includes hurricane insurance, flood insurance, and earthquake insurance. Ask your lender if they have requirements for endorsements.

Bundle your homeowners insurance with your car insurance. Insurance companies give discounts when you have two or more policies with them. Check with other insurance companies you use for other policies like life insurance and motorcycle insurance.

Shop homeowners insurance rates. At least once a year, you should shop insurance rates to find a lower premium or better coverage. It only takes a few minutes to make an online comparison and get quotes for a new policy.

Complete some updates and upgrades to your home. The price of your homeowners insurance correlates to the amount of risk they take on by insuring you.

Raise your deductible. Opting for a $1,000 deductible rather than a $500 one will lower the cost of hazard insurance because you are taking on more risk and will likely forgo small insurance claims that barely exceed the cost of the deductible.

Improve your credit score. Your credit score plays a role in many financial decisions, including determining the rate for your mortgage loan and maybe (depending on your state) for your property insurance. Aim to pay all of your bills early or on time, pay off debt to keep your debt-to-income ratio low, and take care of old, bad debts that linger on your credit report.
FAQ: Hazard Insurance and Mortgages
Hazard insurance is a part of homeowners insurance. It's the portion of your policy that covers the structure of your home. Homeowners insurance policies cover more than just the structure, but your mortgage lender really only cares that the structure is covered.

Anyone who has a mortgage needs hazard insurance. This is to minimize the risk to your mortgage company. If you don't have insurance and your home is destroyed, there's little to stop you from just leaving.

You need enough hazard insurance to rebuild your home. You can find out what amount your lender requires and then, if necessary, get additional coverage.
Conclusion: Save Time and Money Finding Hazard Insurance by Comparing Quotes Online
Home insurance is a necessity, even if your mortgage is paid off. Your home is your most expensive asset, and an insurance premium is much more affordable than having to shell out cash for repairs or take out a loan to rebuild after a catastrophic event. Insurance premiums go up over time, so it's a good idea to shop for lower rates every year or two.
Whether you're shopping for your first home, about to close on your forever home, or are a real estate pro, any homebuyer can benefit from shopping hazard insurance prices online. There's no need to call an insurance agent to find insurance coverage. You're just minutes away from financial protection with your new hazard insurance policy.
Insurify makes it super simple to compare homeowners insurance coverages from top-rated companies like Allstate, State Farm, and Farmers. Just answer a few questions about your home, like the address, the age of the house, and the amount of coverage you need. Submit the info and get home insurance quotes in less than two minutes. It's that easy. Try it today!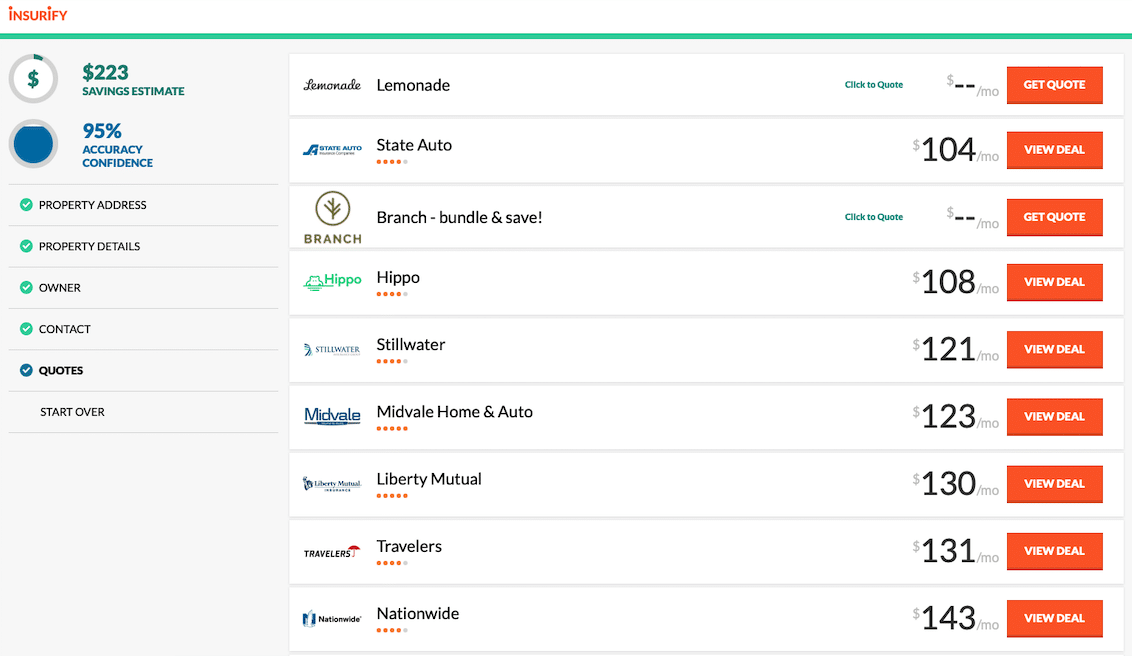 Compare Car Insurance Quotes Instantly
Personalized quotes in 5 minutes or less
No signup required
Data scientists at Insurify analyzed over 40 million auto insurance rates across the United States to compile the car insurance quotes, statistics, and data visualizations displayed on this page. The car insurance data includes coverage analysis and details on drivers' vehicles, driving records, and demographic information. With these insights, Insurify is able to offer drivers insight into how their car insurance premiums are priced by companies.