For the most part, life as a homeowner is smooth sailing. You may have an occasional leak or appliance repair, but those situations have simple solutions. But what if your home is damaged or destroyed?
Your homeowners policy can pay to rebuild or repair your home, but ordinance or law coverage ensures that the repairs meet current building ordinances.
Law or ordinance coverage is an integral part of your home insurance policy. Insurify can help you get the best coverage so you can stay up-to-date with your homeowners insurance. Discover how easy it is to get quality insurance coverage in seconds with Insurify.
What Is Law or Ordinance Coverage?
Law or ordinance coverage is something you don't know you need until you need it. It's a type of insurance that covers the cost of upgrades or increased costs due to changes in building codes, ordinances, and laws.
It's especially important for older homes, although newer homes can also benefit. According to the Insurance Information Institute, rebuilding or repairing a home to comply with current codes can be more costly than what was required when the home was originally built.
A standard homeowners insurance policy limits the coverage for rebuilding, replacing, or repairing your home or belongings. Typically, insurance will pay to repair or replace with like kind and quality. So, if your city has updated electrical codes, it may cost more to repair or rebuild your home than your policy will allow.
That's where law or ordinance coverage comes in: it covers the additional costs between what your policy covers and what laws and ordinances require for a covered loss.
You may have never heard of it. While it's a common term in commercial property insurance, law or ordinance coverage is also essential for homeowners.
If your home insurance policy includes an ordinance or law exclusion, you could be stuck paying the additional cost yourself. Contact your insurance agent to ask if it's part of your policy. Otherwise, you could pay thousands of dollars out of pocket.
Benefits
As a homeowner, there are significant benefits to having law or ordinance coverage as part of your home insurance policy. The additional coverage can bridge the gap and minimize your expenses.
According to Adjusters International, rebuilding a structure to meet current building codes can increase recovery costs by 50 percent or more.
Although the coverage can vary based on policy language, terms, and exclusions, the best way to protect against paying for increased construction costs or replacement costs is with law or ordinance coverage.
Building codes can change to reflect higher standards and improved technology. Law or ordinance coverage may be necessary for:
New plumbing or electrical codes to comply with updated safety regulations in your home.

New weatherproofing codes, such as upgraded storm windows, roof straps, or foundation requirements in areas prone to flooding.

New fire safety codes that require additional fire extinguishers or sprinkler systems.

New building codes that may require extended provisions for clean-up or demolition to the property before you can rebuild or repair.
If a hurricane or flood sweeps through your town or your house is in the path of a natural disaster or other covered peril, you expect your home insurance to cover the cost to rebuild or repair your property. You'll be responsible for any policy deductibles, and your insurer will pick up the rest, right? Wrong.
Here's where it gets tricky. Your policy generally covers replacement costs to rebuild what was lost with similar construction and materials. However, it fails to consider changes to building codes, laws, or local ordinances.
Compare Car Insurance Quotes Instantly
Personalized quotes in 5 minutes or less
No signup required
How It Works
To understand how law or ordinance coverage works, let's look at an example. Let's say a windstorm blows through and downs a large oak tree onto your house. The tree falls into your family room, causing significant damage to your roof.
While getting cost estimates for repair, you discover that local building codes now require costlier shingles and hurricane roof straps. Your home was built before the update, which means your roof didn't have the roof straps or the specific shingles now needed.
Because your homeowners insurance limits coverage to replacement cost, you could be responsible for the extra expense to bring your home up to code.
But you did your research and made sure your policy included law or ordinance insurance.
Thanks to the added law or ordinance coverage, your only cost is your policy deductible—and your insurance picks up the rest.
The ABC's of Ordinance or Law Coverage
Your home is one of the biggest investments you'll make in your lifetime. Law or ordinance insurance includes three tiers of coverage to protect your investment and minimize your out-of-pocket expenses:
Coverage A: The value of the undamaged portion of a damaged building.

Coverage B: Demolition costs relating to the undamaged portion of the building or structure.

Coverage C: Increased cost of construction due to updated codes.
If you suffer a loss, the damaged portion of your home may only include a small part of the building.
If you revisit the example of roof damage from a falling tree, you'll see why Coverage A is crucial.
Even though the tree may have affected just 20 percent of your roof, building codes may require you to replace the entire roof. While your home insurance policy may limit payment to 20 percent of the total bill, law or ordinance insurance can take care of the remaining 80 percent.
The same concept applies to Coverage B and Coverage C. Whether you have a partial or total loss, new codes or zoning ordinances may require demolishing and cleaning up the undamaged part of your home or enhancing underground pipes and drains that are only covered under your law or ordinance insurance.
Frequently Asked Questions - Law or Ordinance Coverage
Standard homeowners insurance has three basic levels of protection. The highest level is guaranteed replacement cost, which can pay whatever it costs—even if it exceeds the policy limit—to restore the home to what it was before the fire or disaster. However, it does not generally include mandatory upgrades. But adding law or ordinance coverage to your policy can cover the extra costs to include required upgrades due to changing building codes.

While all states don't require law or ordinance coverage, some states mandate that insurers offer it to policyholders. For instance, if you purchase home insurance in Florida, state law requires the agent to disclose that law or ordinance coverage is important coverage that you may want to add to your policy.

A typical policyholder pays an average of $2,071 for homeowners insurance. Since ordinance and law insurance isn't mandatory, adding it to your policy may cause increased premiums. However, the insurance industry typically offers it as an endorsement to an existing policy, which provides additional coverage for a much lower price. How much you pay for ordinance or law coverage depends on your insurance company, deductible, and policy options. A higher deductible generally means lower premiums, although you may pay more if you're in an area with a high cost of living or prone to natural disasters.
Law or Ordinance Coverage: The Bottom Line
Law or ordinance insurance can be a cost-saving addition to your homeowners insurance policy. Mandatory upgrades and changing building codes can be costly. Talk with your agent to weigh your options and decide if it's right for you.
And remember: to get the property coverage you need to protect your home, Insurify is here for you. We understand your needs and make it easy to apply for coverage and unlock discounts to save money on your premiums.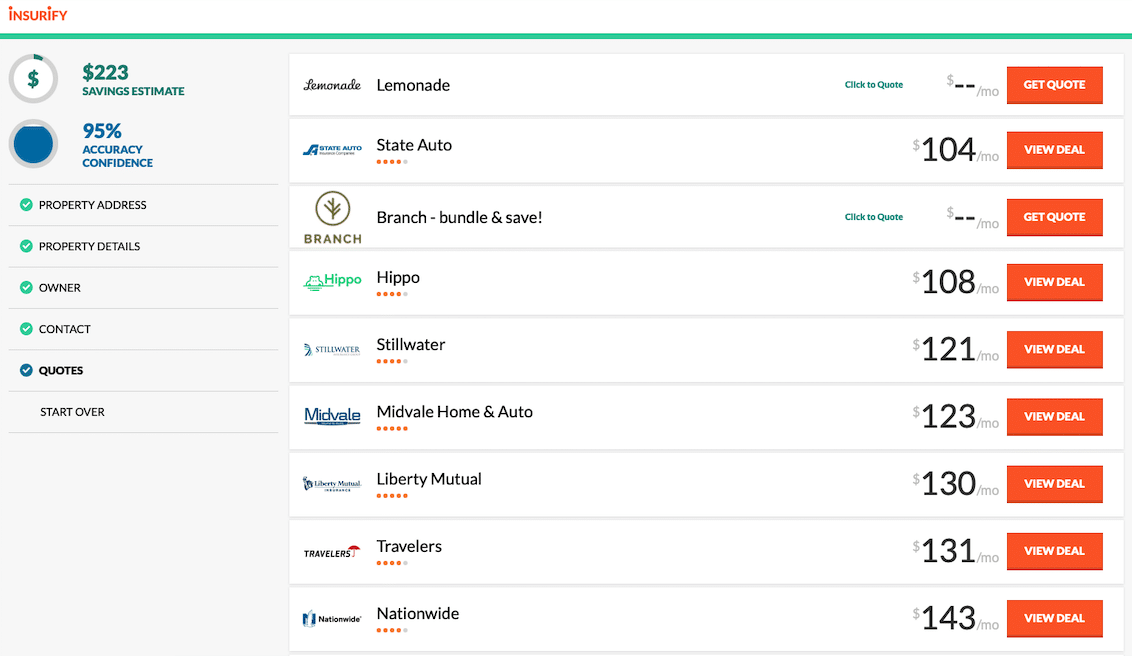 Compare Car Insurance Quotes Instantly
Personalized quotes in 5 minutes or less
No signup required
Data scientists at Insurify analyzed over 40 million auto insurance rates across the United States to compile the car insurance quotes, statistics, and data visualizations displayed on this page. The car insurance data includes coverage analysis and details on drivers' vehicles, driving records, and demographic information. With these insights, Insurify is able to offer drivers insight into how their car insurance premiums are priced by companies.