It sounds like a good deal, but are home warranty companies worth the price?
Misconceptions. That's the theme of this article and the key to understanding whether a home warranty product is right for you. The reason why it's the theme is that every article you read will tell you different information. Some writers claim these are good products for any new homeowner, while others say to never, ever buy one.
So which is it, sinner or saint? To be frank, a home warranty contract is not going to be right for most home buyers. The reasons why, and the people who probably should buy one, in this article.
What Are Home Warranty Companies?
As the name suggests, home warranty companies offer a financial product known as a home warranty. It covers some home maintenance costs, as outlined in the service contract, for a flat fee.
Similar to AAA, home warranty companies have agreements with local professionals. Usually, these folks are called "approved providers." When you contact your home warranty company, they will dispatch someone from the approved provider list to your home.
Home warranty companies are not homeowners insurance companies. It covers things that home insurance policy usually doesn't. But, if you're looking for the best home insurance, try Insurify to browse customized free quotes and explore your policy options.
What Does a Home Warranty Cover?
Home warranties cover what is outlined in the service contract. It's essential to read your documentation carefully, as there is a lot of variation. Don't substitute asking questions to a salesperson as reading documentation.
Coverage is for the maintenance, repair, or replacement of home appliances or home systems. Commonly covered items include:
HVAC (heating and air conditioning )

Water Heater

Plumbing

Electrical System

Kitchen Appliances

Garage Door Opener

Garbage Disposal
Some policies may exclude certain items, especially appliances. At the cost of being redundant, read your policy carefully to know what isn't covered.
Compare Car Insurance Quotes Instantly
Personalized quotes in 5 minutes or less
No signup required
Exclusions and Limitations of Home Warranties
There are quite a few exclusions to a home warranty. The first is that the items or systems covered are outlined in your policy. If it's not in there, it's not covered. For example, your kitchen faucet could be covered, but not the in-wall plumbing system attached to it.
Exclusions apply to the way things are damaged. Exclusions in this category include:
Negligence

Improper care or maintenance

Improper installation or use
For example, your water heater breaks because it was improperly installed. Most home warranties won't cover this even though it's not your fault. Watch out for policies that use vague and mysterious exclusions like unusual wear and tear.
Whatever that means.
Limitations, on the other hand….are just as plentiful. If your air conditioning system has pre-existing conditions listed on a home inspection, it won't be covered. Worse, most providers won't cover unknown pre-existing conditions.
If you have an older home, you'll be vulnerable to this exclusion.
Another significant limitation is the coverage limit. Your plan will have one, and it should be enough to cover replacement and repair costs. However, many plans have lower limits from $1,000 to $2,000 a year. This will quickly run out if your HVAC system, around $5,500, needs replacement.
A final limitation we should note is your replacement choices. You may think that, if your furnace dies, you have a say as to what furnace replaces it. But you'd be wrong. The home warranty company decides which furnace you get.
Your plan may have exclusions not listed here, or it could be more comprehensive. Be sure to carefully review your service contract so you know exactly what's covered and what isn't.
What Does a Home Warranty Cost?
You pay for home warranty coverage in two ways:
Annual premium sometimes paid in installments.

Service fees paid at the time of service.
Premiums and service fees vary. A premium could be as low as $450 for basic care, while comprehensive coverage could cost $1,500. Service call fees range from $50 to $150, though some plans don't charge service fees.
When buying a service contract, be sure to make an estimate of your annual costs and compare it to the coverage limits. If you have a basic plan for $450 a year, but its c limit is $1,000, it may not make sense for you to purchase the modest coverage. If there's no claim, you'll be out that $450. Even if there is a claim, you'll pay an additional service fee weakening the benefit of having the contract in the first place.
Should I Get a Home Warranty?
Now that the benefits and limitations have been outlined, let's discuss suitability. A home warranty is not for everyone. We would argue that most homeowners do not need one. But there are a few situations where a home warranty could make sense. These are:
You spent every last penny on buying the home and have no leftover emergency savings.

For whatever reason, you just want one company to deal with your home maintenance.
If you have no emergency fund, spending a little each month for home warranty protection could make sense. You'll need to make your own risk/benefit analysis based on costs and the likelihood that a covered problem goes wrong. Keep in mind that some issues like a broken dishwasher or air conditioner can be lived without while you save money for repairs or replacement.
On the other hand, some people want a business to do things for them. If you're looking for a little more luxury, and you have the budget, an enhanced warranty may be a good fit for you. However, you should also consider alternatives:
Using Angie's List or recommendations from your neighbors for local service providers

Signing up for maintenance plans with local HVAC, plumbers, etc.

Add riders to your homeowners insurance policy if possible.

Learn the basics of home repair for easy fixes

Check if you're already covered by manufacturer warranties.

Check if you're already covered by extended warranties.

Check if you're already covered by protection plans.
If you're looking for home insurance, you should check out Insurify. Shop free quotes, compare coverage, and find the right policy for you. It's never been so easy to compare home insurance!
Frequently Asked Questions About Home Warranty Companies
For some people, it may be cheaper to use a home warranty company. But this is mostly based on luck. Did your home warranty company cover a problem in your home without a hitch? Did you feel satisfied with the services it provided? You can also look at the numbers and compare what the max payout is to your annual and service fees.

No, home warranties are not meant for natural disasters. Home warranty plans are for appliance repair and replacement. Think of it as covering day-to-day expenses of homeownership. Your home insurance policy may cover some natural disasters, and you can purchase policies to cover virtually all natural disasters.

If you're buying a new home, you might hear something like this: Purchasing a home warranty is a great way to get peace of mind when an issue appears on your home inspection. It could be offered by your real estate agent or a friend. Unfortunately, that's exactly wrong. Most, if not all, home warranty companies will disclude fixing anything that had issues listed on the home inspection. You'll be denied faster than you can say pre-existing conditions.

It might be. Some people may prefer using a middle man to do things for them. But many find using a middleman frustrating.

If you've decided that a home warranty provider is right for you, your next step is research. You'll need to decide which features are right for you. Plus, you'll want to note any add-ons you want, like covering top-of-the-line major appliances. Next, you should check out reviews and ratings. Luckily, this can all be done online. Check out the Better Business Bureau, Trustpilot, Consumer Affairs, and even Reddit for more information. People post their home warranty reviews and complaints on those sites. Plus you can see how well the company deals with complaints. Once you find a few companies that seem like a good fit, be sure to review the pricing structures carefully. The cost for a comprehensive plan could be the same at two companies, but service request fees could be very different.
Home Warranties: The Bottom Line
Home warranties aren't for everyone. Home insurance is! We hope this article has shed light on the mysterious home warranty. For most readers, this will not be the right product. And for the few who fit this product, we hope you buy with confidence and knowledge.
Before you go, have you checked out Insurify 's home insurance rate comparison tool? Access free quotes, adjust coverage options and find the best policy for you. Search, shop, compare, and save today!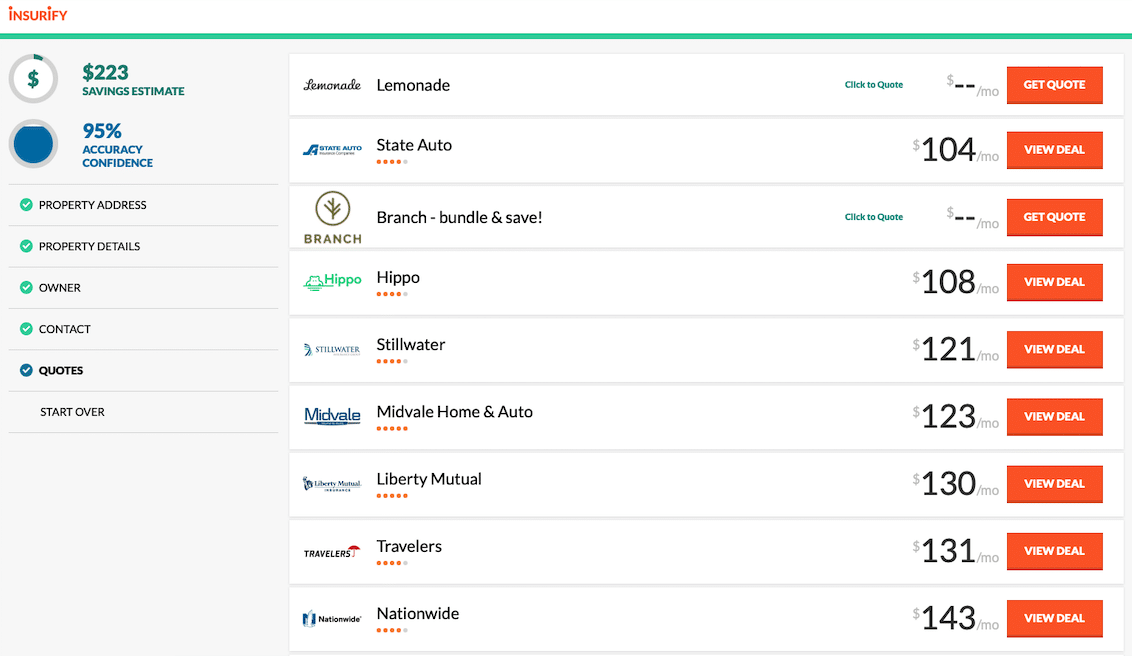 Compare Car Insurance Quotes Instantly
Personalized quotes in 5 minutes or less
No signup required
Data scientists at Insurify analyzed over 40 million auto insurance rates across the United States to compile the car insurance quotes, statistics, and data visualizations displayed on this page. The car insurance data includes coverage analysis and details on drivers' vehicles, driving records, and demographic information. With these insights, Insurify is able to offer drivers insight into how their car insurance premiums are priced by companies.